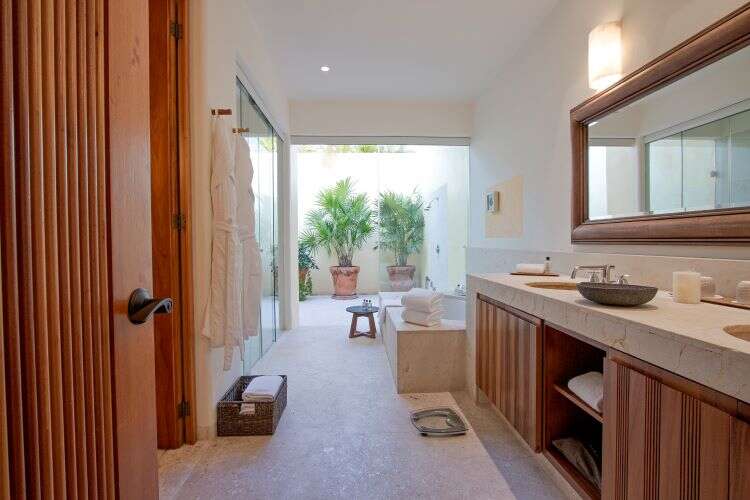 Spanning an enormous 10,000 sq ft, the expansive Villa Uno is not only situated in one of the most naturally beautiful coastal destinations Mexico has to offer, but also boasts one of the most prestigious addresses within the prized Four Seasons Punta Mita residential community.
Located on a pristine stretch of the Riviera Nayarit coastline, the five-bedroom home is perched on top of a cliff, affording its new owner year-round views of sunsets over the Pacific Ocean below, as well as the chance to spot orca and humpback whales during their winter migratory season.
The views are best enjoyed from the home's large oceanfront terrace which features an oversized infinity pool — the best spot in the one-story villa to make the most of the mild tropical climate this part of Mexico is famed for.
Indoors, a seamless blend of sophistication and relaxed Mexican coastal architecture come together with the use of a neutral palette and natural textures. Designed for family living, the home boasts an expansive lounge featuring cathedral-style ceilings as well as furniture and decorative items crafted by Mexican artisans. The living area flows into an adjoining dining room acting as the ideal social space. This in turn leads to a separate fully equipped kitchen with granite countertops and a large pantry.
At the heart of the villa is a beautiful stone-floored internal courtyard featuring a fire pit, as well as towering hardwood beams holding up a slatted wooden canopy over an inviting seating area. The courtyard leads off to the five bedrooms, all of which feature chic en-suite marble bathrooms and outdoor terraces — two of which have outdoor showers.
Nestled within lush mature shrubbery, Villa Uno enjoys an unparalleled private setting. But despite its secluded position, the property is just a five-minute stroll away from the premier Four Seasons resort. Purchasing the villa grants its new owner full access to its impeccable selection of amenities including two secluded beaches, a host of world-class restaurants, the sumptuous Four Seasons Apuane Spa and two Jack Nicklaus-designed golf courses — one of which boasts the world's only natural ocean island par-3 hole accessible exclusively during low tide.
Not just a luxury tropical playground, the Four Season's Resort Punta Mita has also been commended for its commitment to protecting the pristine natural environment it calls home, with the Mexican government singling out the destination for ecological excellence.
Villa Uno is on the market for $16.5m, puntademita-realestate.com
[See also: Gorgeous Grenadines: Laid Back Living at The Liming]