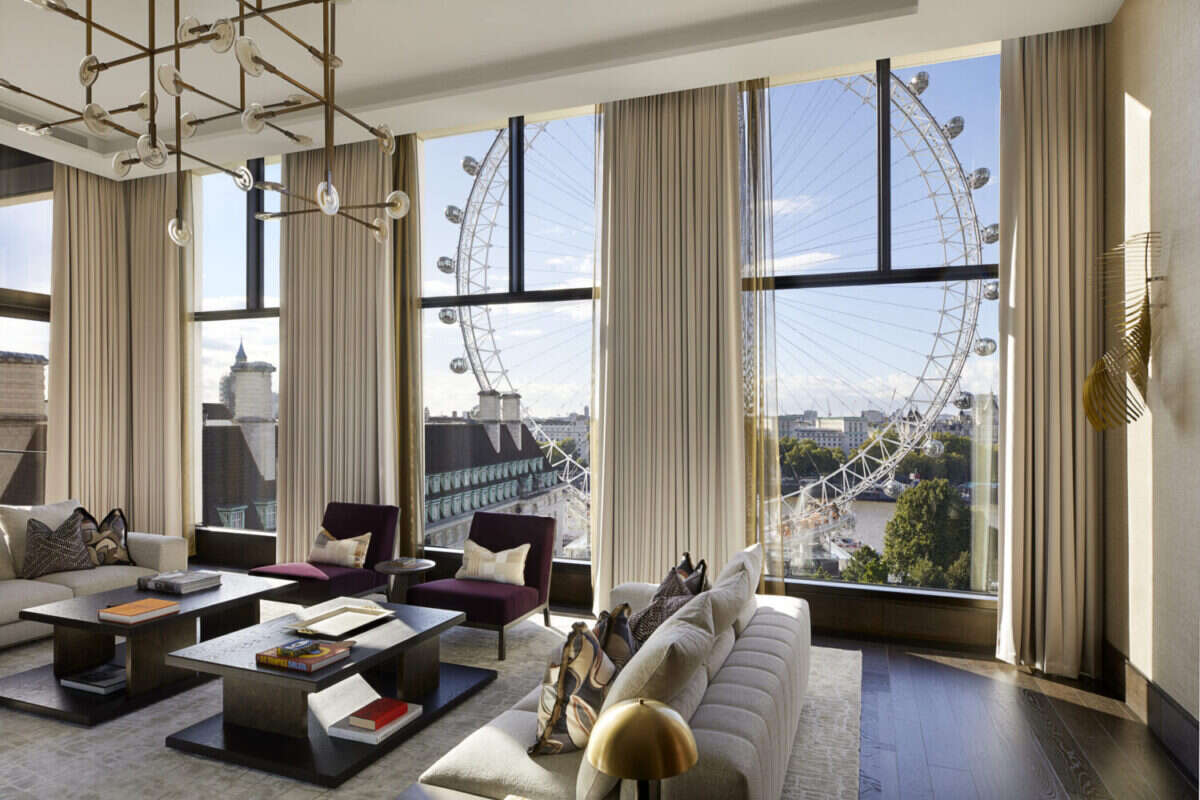 Located in one of London's most vibrant and well-connected areas, Belvedere Gardens at Southbank Place boasts some of the most spectacular views of London's skyline. The London Eye, the Houses of Parliament, the River Thames, and the City of London are visible from each apartment. Its prominent location between Waterloo and Westminster means it's easy to get to all areas of central London, and the rest of the UK by train.
Designed by the award-winning studio Goddard Littlefair, the goal was to create an opulent living experience in both the home and the shared residents' areas. With bespoke artwork throughout, statement pieces create talking points and make each of Belvedere Gardens' listings truly unique.
The Penthouse occupies the whole of the 10th floor, with 360-degree vistas allowing each room to have a different view of London's skyline. At just under 4,000 sq ft and with four bedrooms, the contemporary flair coupled with custom pieces and domestic comfort makes for a one-of-a-kind home.
Entering via a private lift, the hallways open out to the main living space. Featuring a double-height ceiling, the London Eye commands full attention. Despite being open-planned, there are cleverly positioned partitions to create warm and inviting spaces, as well as privacy. A mirrored fireplace – one of the partitions – reflects the views and makes the room feel even more expansive.
[See also: London: Luxury Travel Guide]
The living/dining area leads onto the main kitchen which houses integrated Miele appliances, marble worktops, a center island, and a wine cooler. With a direct view of Big Ben, the designers deliberately omitted a clock from the interior plans. Tucked just behind, a production kitchen provides the perfect prep station for caterers, and two guest bedrooms and a bathroom are located just beyond.
On the right of the living/dining room, there are two master bedroom suites both with generous walk-in closets and large master bathrooms. But our favorite is the principal master bedroom; facing the river, it has its own balcony so you can soak up the sunrise over London with your morning coffee.
[See also: London Super Prime Property is in Demand as £10m+ House Sales Boom]
Accessible via the kitchen or the living area, a 419-sq-ft private terrace is a perfect space to relax and enjoy long summer evenings or entertain friends and family. Facing onto Jubilee Gardens, it provides some of the best sights of the city while remaining private.
Future homeowners will benefit from direct access to a private amenities space located within the building. Southbank Place Health Club is a 17,000-sq-ft facility where every service has been thought of for residents' comfort and convenience: steam and sauna rooms, an 82-ft pool, a gym, treatment rooms, wet room, relaxation room, and even a hair and beauty studio. There is also a private residents' lounge and outdoor terrace overlooking Jubilee Gardens and the River Thames.
While you enjoy your newfound comfort and luxury in The Penthouse, you can relax safe in the knowledge that everything has been thought of for environmental responsibility. Externally, the perforated exterior panels – while being visually appealing – act as thermal retention support to keep the building well insulated. There is also a combined heat and power plant which works with PV panels to meet energy demand. Taking care of the wildlife is also key in the design, with bat and bird boxes incorporated alongside planted roofs.
The Penthouse is on the market for $23m, knightfrank.com
[See also: Tribune Tower, Chicago: A Historic Gothic Icon Reimagined]