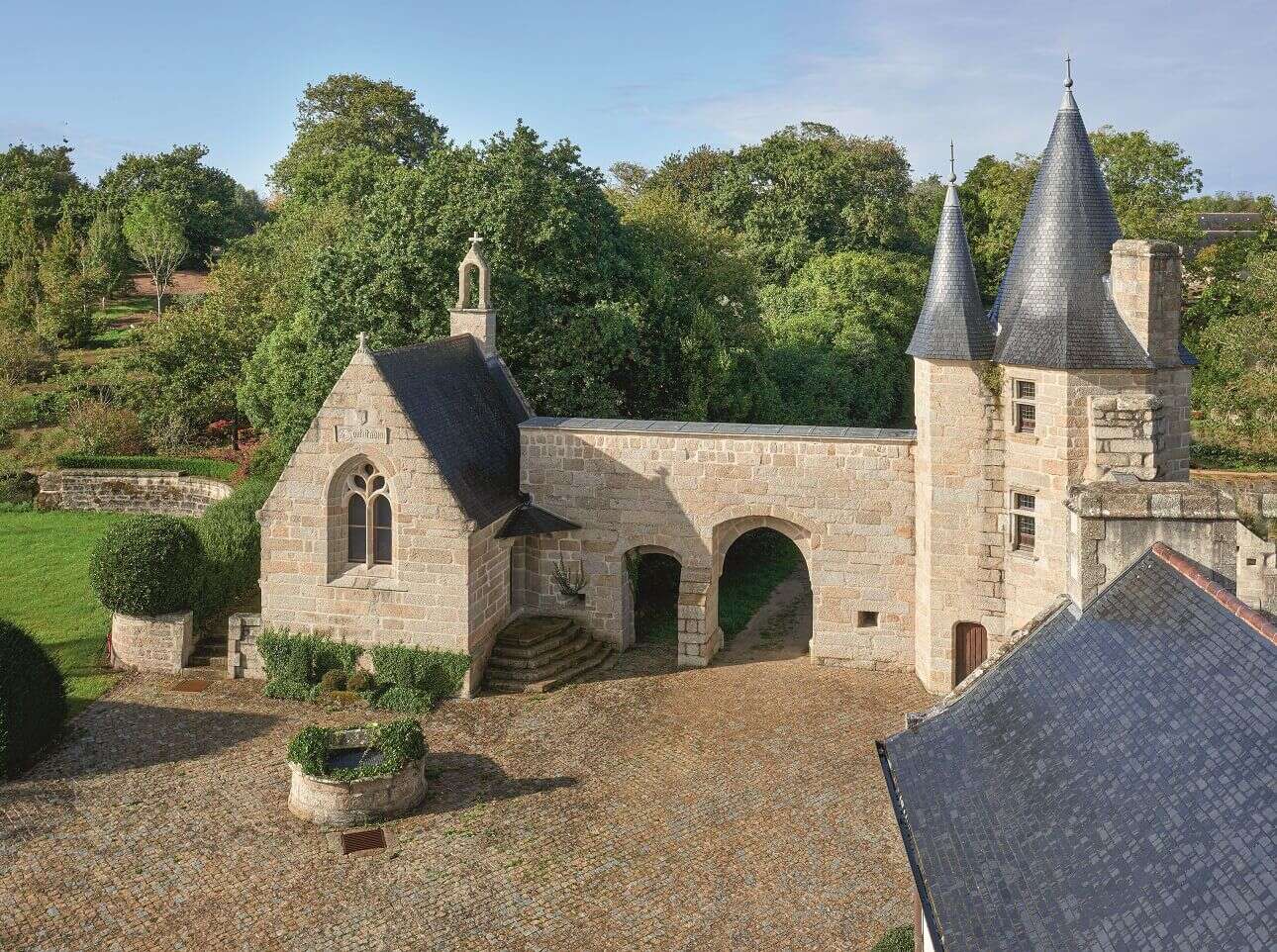 Overlooking the River Aven in southern Brittany lies a magnificent, historic Chateau – which a lucky individual could soon call home, as it is currently on the market with Christie's Real Estate. The striking French castle was originally built out of limestone and was developed from the 15th and 18th centuries. After this, the property unfortunately fell into disrepair.
That is, until around 20 years ago when an extensive renovation and restoration of the historic building began. A crew of seven stonemasons lived permanently on-site and dismantled the chateau stone by stone before rebuilding it; any new stone they needed to use was quarried within the property's grounds. The renovation used all-natural materials throughout the process, including organic paints, and took roughly seven years to complete.
The result is a chateau full of heritage, which also has the capacity to be a 21st century home. The building includes seven bedrooms, three offices featuring custom-made furniture and desks, a formal dining room, and a beautiful wood-paneled library. The 15th century and 18th century aspects of the chateau are linked in the main tower by a glass and iron roof, which allows light to pour into the spacious entry foyer.
[See also: Top French Designers Attracting Global Projects]
A number of reception rooms can be found on the property's main level; all of them feature large windows that overlook the river and the chateau's private parkland, as well as elegant fireplaces. Even more awe-inspiring is the castle's great room – perfect for hosting visitors, it is flooded with natural light and has a beamed ceiling as well as a large, eye-catching limestone fireplace.
Most of the building's insulation has been made from hemp to keep it at a stable temperature throughout the seasons in a natural way. Properties of this size are known to use significant amounts of gas or oil for heating, but the heating system at this chateau works with geothermal energy, drawing its heat from the ground and lowering the building's negative environmental output.
The grounds of this French chateau are also as grand as the building itself; the property comes with almost 100 acres of woodland and parkland running alongside the River Aven. Several themed gardens, including a Zen-like Japanese garden, have been carefully maintained on the grounds, and there is also a natural granite swimming pool. As well as this, several outbuildings can be found scattered throughout the parkland and include a monk's tower, honey shed and chapel, all of which have been carefully restored.
From $38,000,000. Visit christiesrealestate.com for full details.