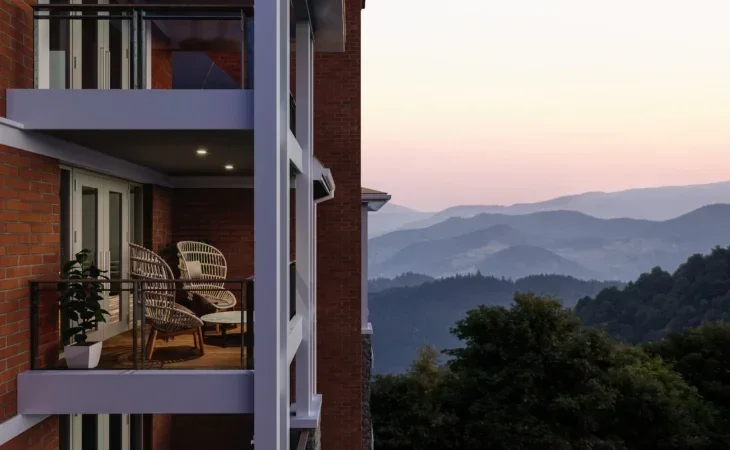 Fairmont Hotels & Resorts, part of hospitality group Accor, has unveiled plans to open its very first branded residence in the idyllic Blue Ridge Mountain region of North Carolina. The luxury hotel chain is set to transform The Cedars – a historic property located two blocks from Hendersonville's Main Street – into 127 luxury apartments.
Originally built in 1914 for Jeannie Bailey, the wife of railroad tycoon J.W Bailey, Fairmont is only too aware of the responsibility that comes with restoring the imposing neo-classical revival brick hotel.
"A rare opportunity to own a piece of one of the Blue Ridge Mountain region's most celebrated national buildings, The Cedars, will be the most luxurious branded residence offering in the state," said Heather McCrory, CEO of Accor North & Central America. "We are proud to add The Cedars iconic landmark to our rapidly growing luxury portfolio and continue its legacy for years to come."
[See also: Fairmont Maldives Unveils Sustainability Lab]
Slated to open in 2025, the hotel group will meticulously renovate the original property and add two new six-story mid-rise buildings to the 3.5-acre development to create the new private branded residence – Fairmont Heritage Place – The Cedars.
The property will comprise one-, two- and three-bedroom units and spacious penthouses boasting private balconies for taking in the stunning mountain views.
Fairmont Hotels & Resorts has partnered with Gregg Covin for the project. The Miami real estate developer is married to Shelley Shipman – the daughter of The Cedars current owners Fran and Tom Shipman. For this reason, the property holds a special place in his heart.
"My family grew up at The Cedars and there is no better time to welcome the next generation to discover and feel at home in Hendersonville," he said. "Fairmont brings decades of experience restoring historic properties to their former grandeur and will deliver a level of sophistication the market has been waiting for while complementing the region's inviting culture."
Fairmont Heritage Place – The Cedars joins the luxury hotel group's burgeoning collection of branded residences scattered across the globe, with outposts in Florida, Vancouver and Dubai. As with the other properties, future owners will enjoy a range of amenities including a signature restaurant, expansive wellness center, cooking school and access to a nearby private golf club.
fairmontresidencesthecedars.com
[See also: Luxury Brands Rush to Join Residences Craze]