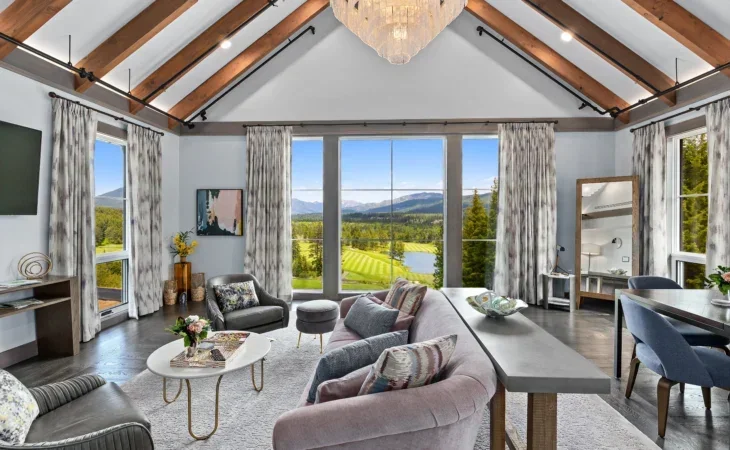 With golf season now well and truly in swing, luxury residential golfing communities say demand for golf course properties continues to reach new heights. The surge in interest in golf and outdoor recreation spurred on by the pandemic has seen resorts and residential communities invest heavily in their golf offering to keep up with demand.
Mike Jones, director of golf at Suncadia Resort in Washington State, says they have seen interest in golf increase dramatically alongside growing enthusiasm for outdoor recreation over the past few years.
"Golf is a safe outdoor activity that people have flocked to since the pandemic started," Jones says.
The number of rounds played on Prospector, Suncadia's resort course and casual practice course, Rope Rider, totaled almost 42,500 in 2021, an increase of 50% compared to 2019. The number of rounds played on the private course at Tumble Creek, Suncadia's residential community, increased by 34% in 2021.
[See also: How Covid-19 Warped US Luxury Real Estate Markets]
Clear Creek Tahoe, a golf course and luxury residential community in Nevada, has seen a similar trend. Although there are many reasons buyers choose to live in the Clear Creek Tahoe community, golf is a major draw, and Christopher Appling, director of membership, says 80% of buyers opt to upgrade to a golf membership.
Compared to pre-pandemic, Clear Creek Tahoe has seen tee times increase by 50%. In 2021, the six-month gold season saw 8,500 rounds, 40% higher than expected. And this is still with a lot of room to grow: Clear Creek Tahoe has 50 homes under construction that are expected to be finished by early 2023, and another 80 homes going through the design process.
Since the start of the pandemic, Clear Creek Tahoe has hired a wellness director to enhance the community's outdoor offerings, and now offers a huge range of outdoor activities, including yoga, paddle boarding and hot air balloon rides.
But golf remains the jewel in its crown: in January 2022 they opened a new 20,000-sq-ft clubhouse. They have also renovated their "Swiss Station", on the course for food and beverage options, which includes a seating area and bar, flat screen TVs and a BBQ smoker. It is located so golfers will pass three times during a round.
While in 2020, a golf course property lot at Clear Creek Tahoe sold for between $800,000 and $1.2m, in 2022 that price has almost tripled, reaching up to $3.4m.
There are now no golf course lots left available for under $2m, and Clear Creek Tahoe says that there are only three golf course lots left to be released.
Suncadia has also worked to cater to the increased demand for outdoor activities, adding rental bikes and boats as well as activities such as archery and axe throwing.
"After being locked up inside, families want to get out into nature and be active," Jones says.
But their research from Tumble Creek shows clearly how the lure of golf affects property prices. It also shows the effect golf has on property prices in their community.
[See also: The Most Influential Golf Courses of the 21st Century]
In 2020, the average golf course home sold for $1.4m, commanding a 22% premium over a home in another part of Tumble Creek.
But in 2022, there has been a surge on the golf course homes, which now have an average sale price of $2.65m, a 74% premium over the non-golf course properties.
Non-golf course home prices at Tumble Creek have increased by 32% since 2020, while golf course properties have increased by 88%.