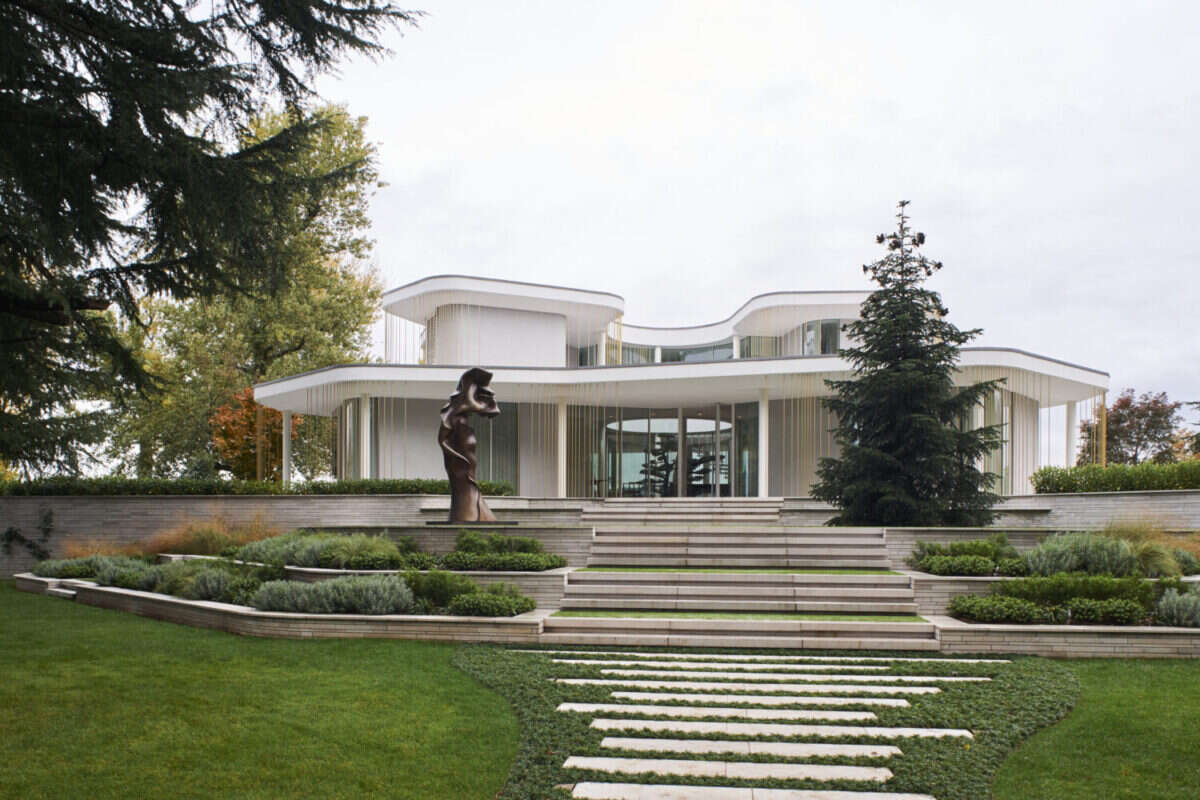 If you are looking to escape the confines of the city in favor of a peaceful Mediterranean retreat, then look no further than Villa Mosca Bianca. Situated on the shores of Italy's Lake Maggiore with the snow-capped tips of the Alps in the distance, this spectacular waterfront property is truly a work of art. With Milan's city center just 50 miles away and the Swiss border within an hour's drive, the villa is a serene bolt hole from which to explore the surrounding areas.
Seamlessly combining contemporary living with environmental sensitivity, Villa Mosca Bianca is the creative vision of Design Haus Liberty. The layout was designed for the previous owners to facilitate their daily routine: meditation, outdoor dining and soaking in views of the glittering lake. Environmental responsibility was paramount in the construction of the villa. By using solar panels, heat pumps and passive ventilation, the architects have helped to reduce energy consumption by 60%.
The unusual undulating form of the villa creates alternating internal rooms and external terraces, with a central atrium housing a 70-year-old bonsai tree at the heart. This atrium is open to the sky, allowing for natural light to flood the home, as well as acting as a passive rainwater collection system. Sliding doors and curved glass panels connect the rooms and the outdoor terraces, providing expansive views of the lake and mountains beyond.
[See also: Real Estate Listing: Connect with Nature in This Palmetto Bluff Home]
Totaling an impressive 10,000 sq ft with four bedrooms and five-and-a-half bathrooms, the rooms are decorated in a neutral palette to minimize any distractions from the scenery. The use of natural stone for the flooring as well as the accent tables complements the otherwise minimal aesthetic, with a brushed brass fireplace mimicking the structural curves of the home. Elsewhere, unpolished and unsealed stone on the walls introduces an interesting natural texture that is not often retained.
On the first level, the open-planned living area creates a seamless flow from room to room and the outdoors. The atrium provides the center point from which the multiple dining areas, chef's kitchen, living room and generous study all extend. Ascend to the second level via a curving grand staircase with suspended treads where the en suite bedrooms – all of which open out to lake-view balconies – boast resort-quality amenities. Completing the property is a game room with a home theater, an outdoor kitchen, a meditation area, and a detached garage.
Sitting on just under an acre of land, the property is set on a high vantage point in a pine forest and features a sculpture garden, multiple terraces, and a private dock. Thanks to these immaculate spaces, Villa Mosca Bianca has been the setting for multiple luxury brand advertising campaigns as well as featuring in international architectural publications.
[See also: The 7 Best Restaurants in Milan]
Price on application, christiesrealestate.com
[See also: Enjoy Sky-high Living in This Sydney Harbour Penthouse]