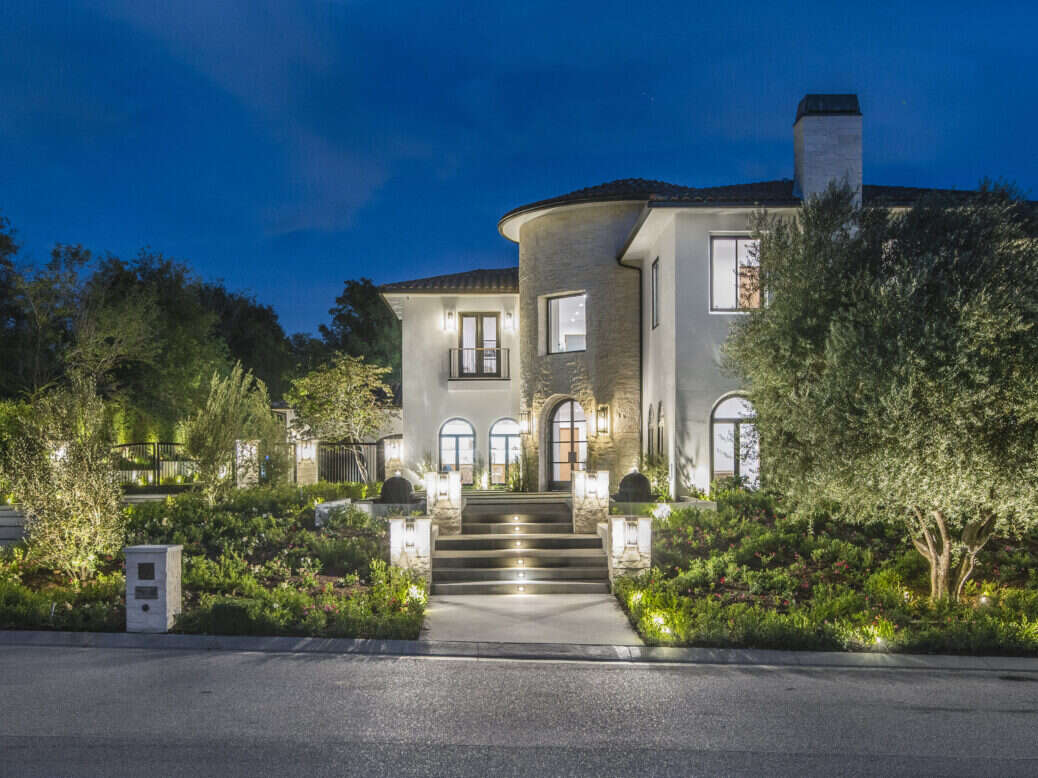 Every so often, a neighborhood finds itself host to such zeitgeist-defining interest it is launched beyond its surroundings and into the cultural lexicon of the Western world. For the 90s, it was Notting Hill, of Hugh Grant and Julia Roberts fame; for the late 00s, it was the Upper East Side, of Gossip Girl glory. And today, we crane our necks westward towards the small, Californian city of Calabasas, the oft-Instagrammed home of the Kardashians. Enter the latest Calabasas mansion to hit the market: 25242 Prado del Grandioso. 
As with the aforementioned neighborhoods of West London and New York City, you don't need to be a local to know there is so much more to Calabasas than its A-List residents, of which there are, admittedly, many. Wondrously private, and yet boasting a genuine small-town feel – whilst also benefitting from that glorious Southern Californian weather – Calabasas is a masterclass in luxurious residential living. 
So naturally any property that comes on the market in this 25,000-population city is of great interest to us, especially when that property is as magnificent as 25242 Prado del Grandioso. Coming in at nearly 15,000 sq ft, the seven-bedroom, eight-bathroom property is flawlessly designed and timelessly crafted.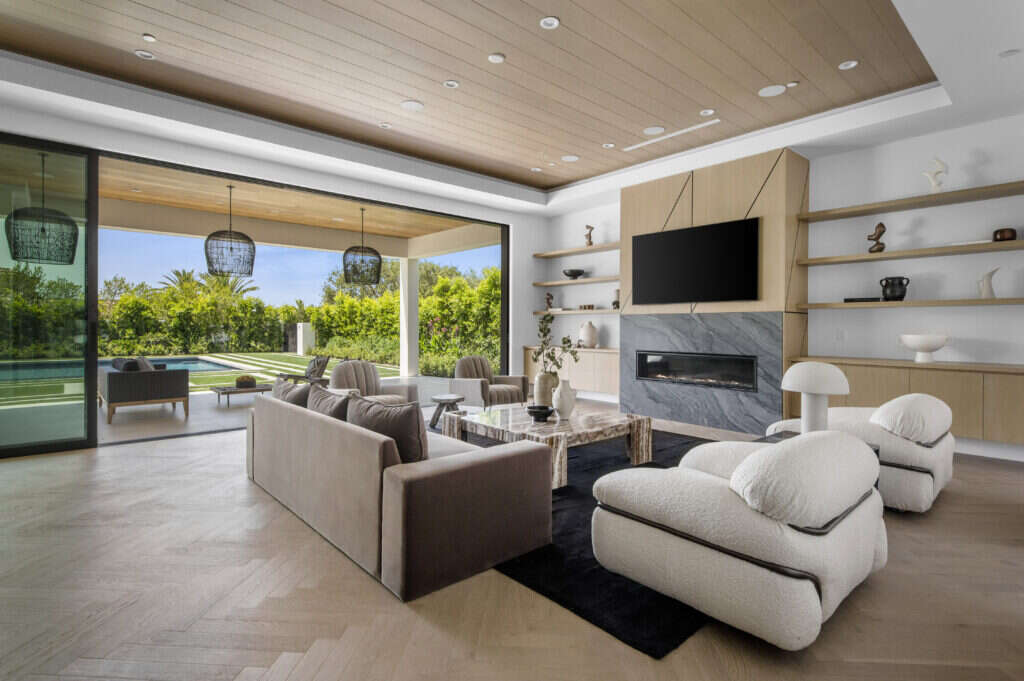 With light oak wood flooring mixed with herringbone accents, the grand entry foyer waits behind the main entrance, boasting a 30-ft ceiling and asserting the aesthetic of the property: light, space and warmth. Taking advantage of the Californian sun, this is a home that utilizes window space for maximum light, whilst also meticulously designed – and subsequently decorated – to exude a homely feel that radiates throughout the luxury property.
The dining room features the same light oak wood detailing that is a constant throughout the house, as well as several modern sculptures and artwork. The living room is similarly designed. With a gorgeous marble coffee table, coffee colored furniture that tease the line between minimalist and kitsch, and an electric fireplace, the room also includes glass doors that opens onto a shaded patio right beside a pool.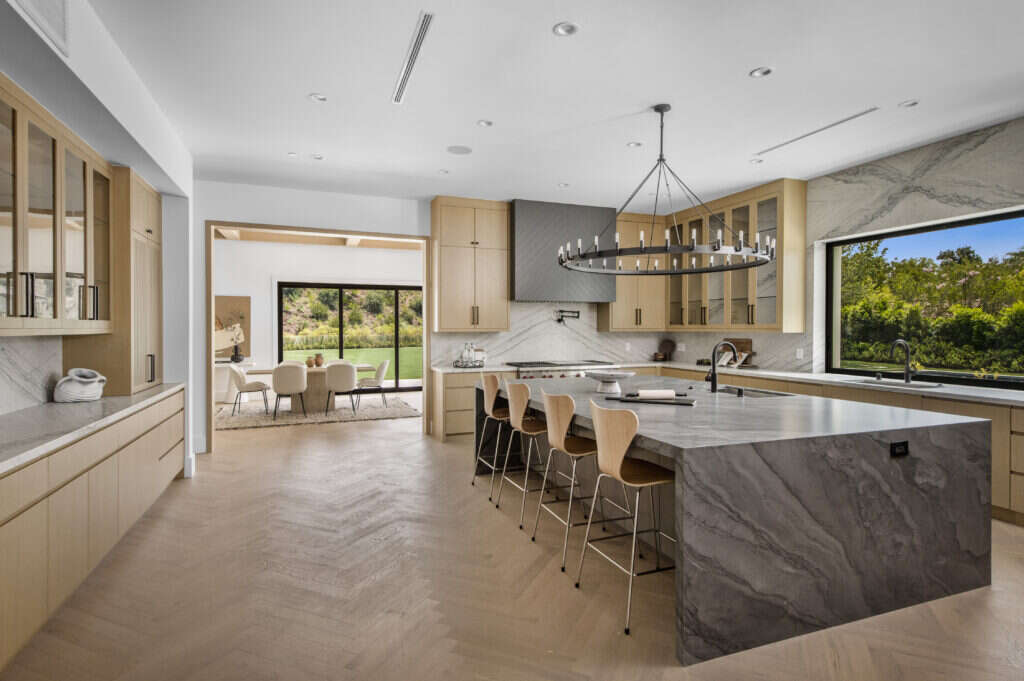 A newly built chef's and entertainment kitchen – as well as a second catering kitchen – is just as large as you'd expect for a property of this grand size. If staying in is the new going out then this is, evidently, a home to entertain in. With an extended waterfall island bar and ample storage and display space, a brand-new glass-enclosed wine-tasting lounge adds a serious layer of both fun and sophistication to the property.
As befits all properties of this scope, this Calabasas mansion encourages the notion of work hard, play hard with a gorgeous, bright private office and a generously sized home theater.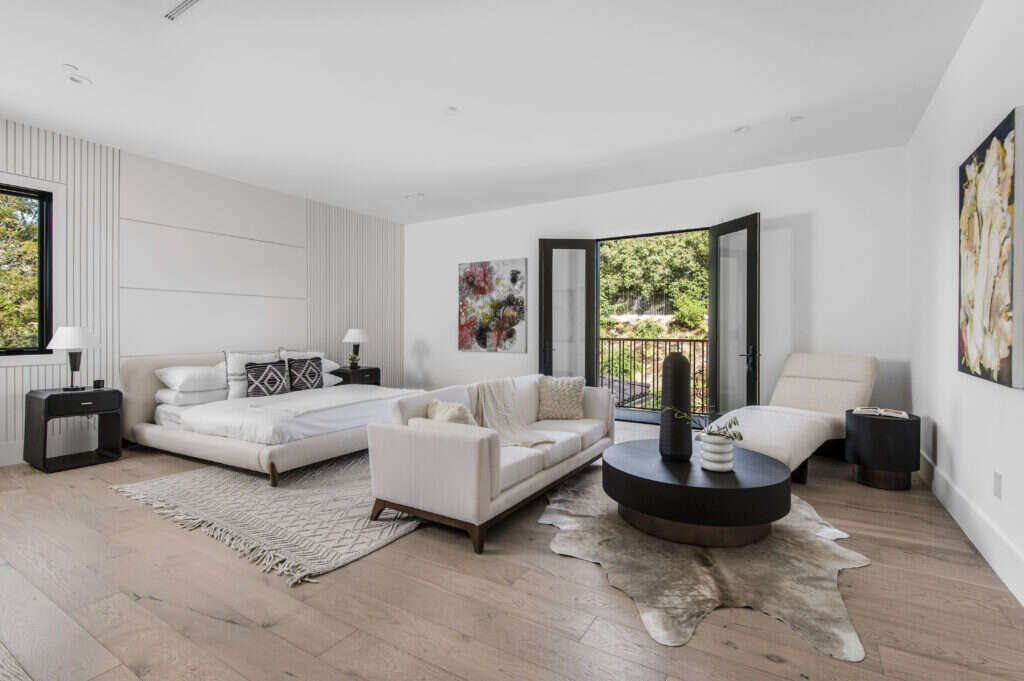 Of the seven bedrooms, the grandest of them all is, naturally, the master bedroom. With an adjoining ensuite, the feel is akin to a luxury hotel, with windows that boast vistas across the West Coast horizon. A special space, the master bedroom features a focal seating area and fireplace, two large and independent walk-in closets – one with a double island – a panic room, and a spa bath with an extended shower, double vanities and soaking tub. In fact, each of the ensuites featured in this property is full in scale, with brand-new baths and walk-in closets.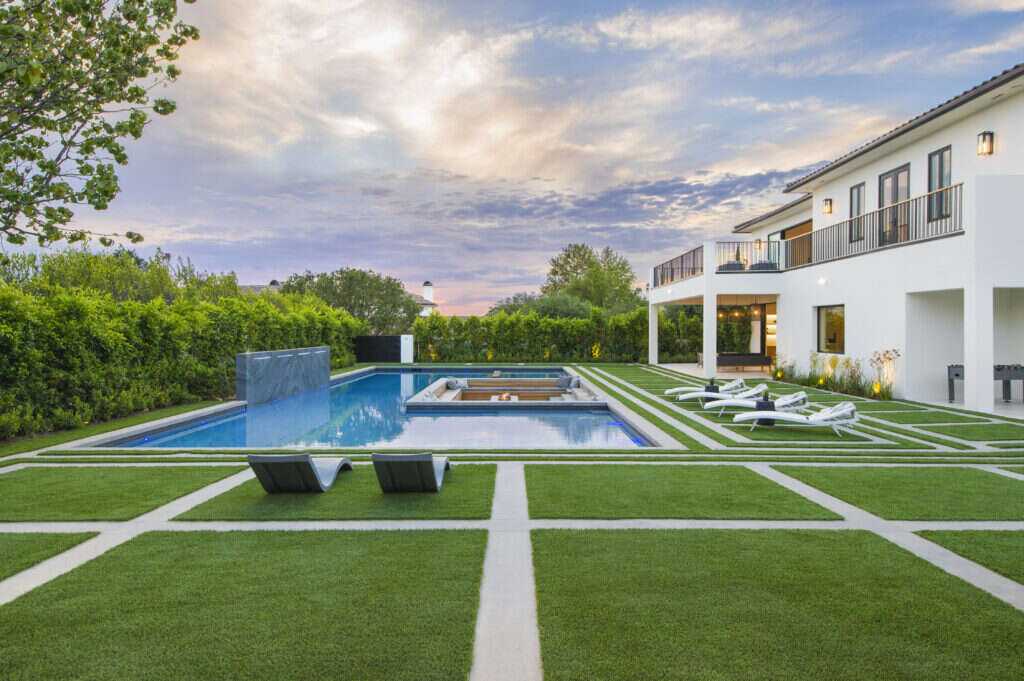 Outside, the grounds are meticulously manicured. Waterfalls characterize the led crystal lighting pool, and a half-sized basketball court resides on another section of the lawn. Rounding up this spectacular Calabasas mansion is the newly built detached guest house, which features a full living room, a kitchen, an island bar and dining area, one bedroom, a bathroom, and copious storage.
This seven-bedroom house is on the market for $21,995,000.