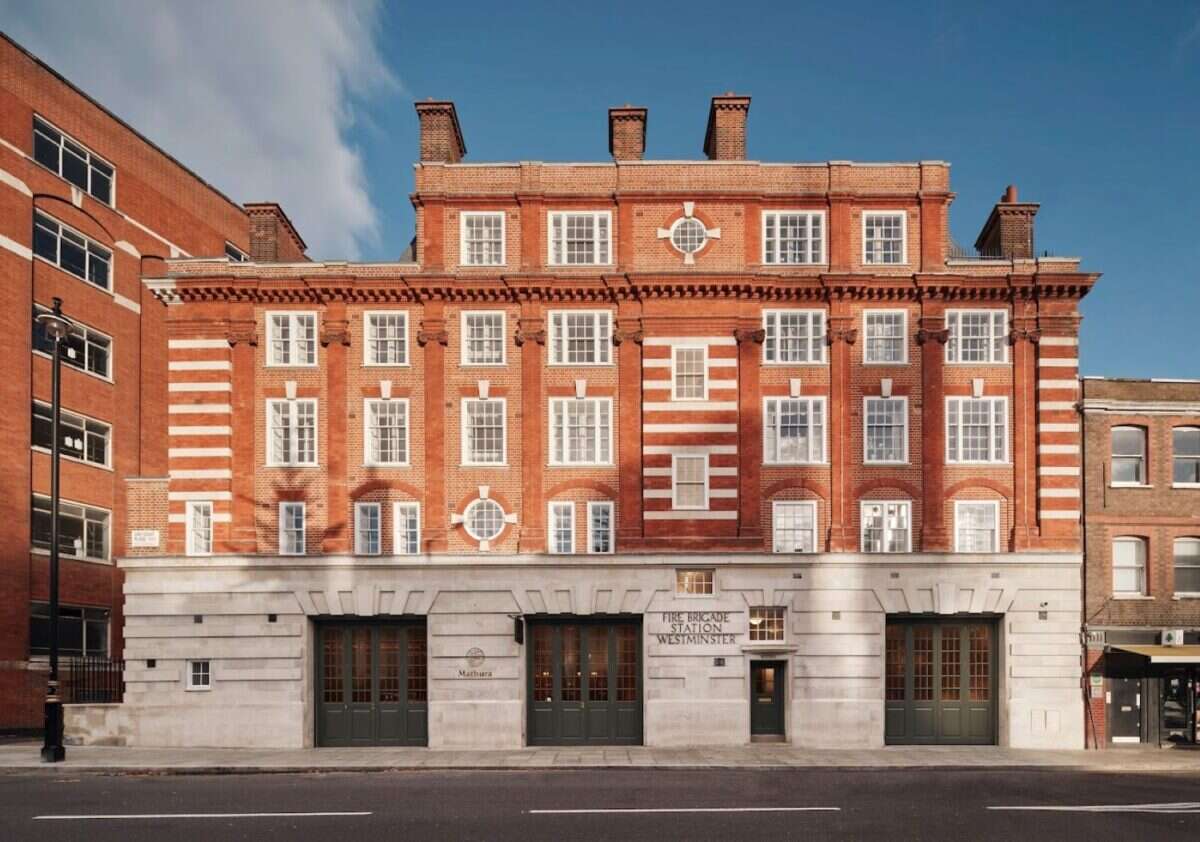 Built in 1906 and retired in 2014, Westminster Fire Station is ideally situated within the Victoria neighborhood of London. Designed by Alchemi Group, the project launches in January 2022 and breathes new life into this quintessentially Edwardian building. Offering a total of 17 no-two-the-same residences across The Fire Station and The Station House, the development is a cohesive marriage between historic and contemporary architecture.
Located on the second floor of The Station House, Apartment 16 is just under 700 sq ft of open-planned living space. With a bold primary color pallet, interior designer Laura Marino of Studio L has created a fun and vibrant atmosphere. A mixture of modern and traditional fittings and surfaces creates a quirky and unique apartment. With the option to come furnished, this property is ideal as a London bolthole or for busy city-dwellers.
Upon entering the home, a large hallway leads into the open planned kitchen and living area, and out onto a terrace offering a tranquil and private space. Wallpaper by Pierre Frey and Phillip Jefferies lines the rooms and the combination makes each property one-of-a-kind. The generous double bedroom has an eye-catching bed as the focal point, designed to look like a cupid's bow.
Using Colefax & Fowler floral chintz, the striking design echoes the style of the rest of the property and matches the antique accessories throughout. The bathroom is a stylistic blend of contemporary and traditional fittings and surfaces, from the marble floors and herringbone wall tiles from Fired Earth to the Lefroy Brooks brassware.
[See also: London Prime Property Surges as Super-Rich Return]
The on-site restaurant, Mathura, is the culinary culmination of twice Michelin-starred chef Atul Kochhar's travels around India, Pakistan and Afghanistan. Spread over two floors, the restaurant retains many of the space's original features, including the ceramic-tiled brick walls, exposed steel beams and fireman's pole. But the most notable feature is the original Watch Room – not often retained in fire station developments – which has been repurposed as a private dining space.
Another area for residents' enjoyment is the courtyard. Located just behind the Fire Station, this outdoor space unites the two buildings and provides an intimate shared amenity that creates a sense of community.
Throughout its development, Alchemi Group has kept the environment at the forefront of decision-making. The existing Grade II listed structure has been retained as much as possible, not only to keep the historic charm of the building but also to reduce carbon emissions. By installing Photovoltaic (PV) panels to generate renewable energy and a green roof to improve air quality, they have been able to reduce energy demands. Impressively, they exceeded their carbon reduction target of 35%, hitting nearly double that at 60% compared to the existing building.
Apartment 16 is on the market for $1.98m, westminsterfirestation.com
[See also: Enjoy Spring Creek Life for Less in This Co-Owned Home]