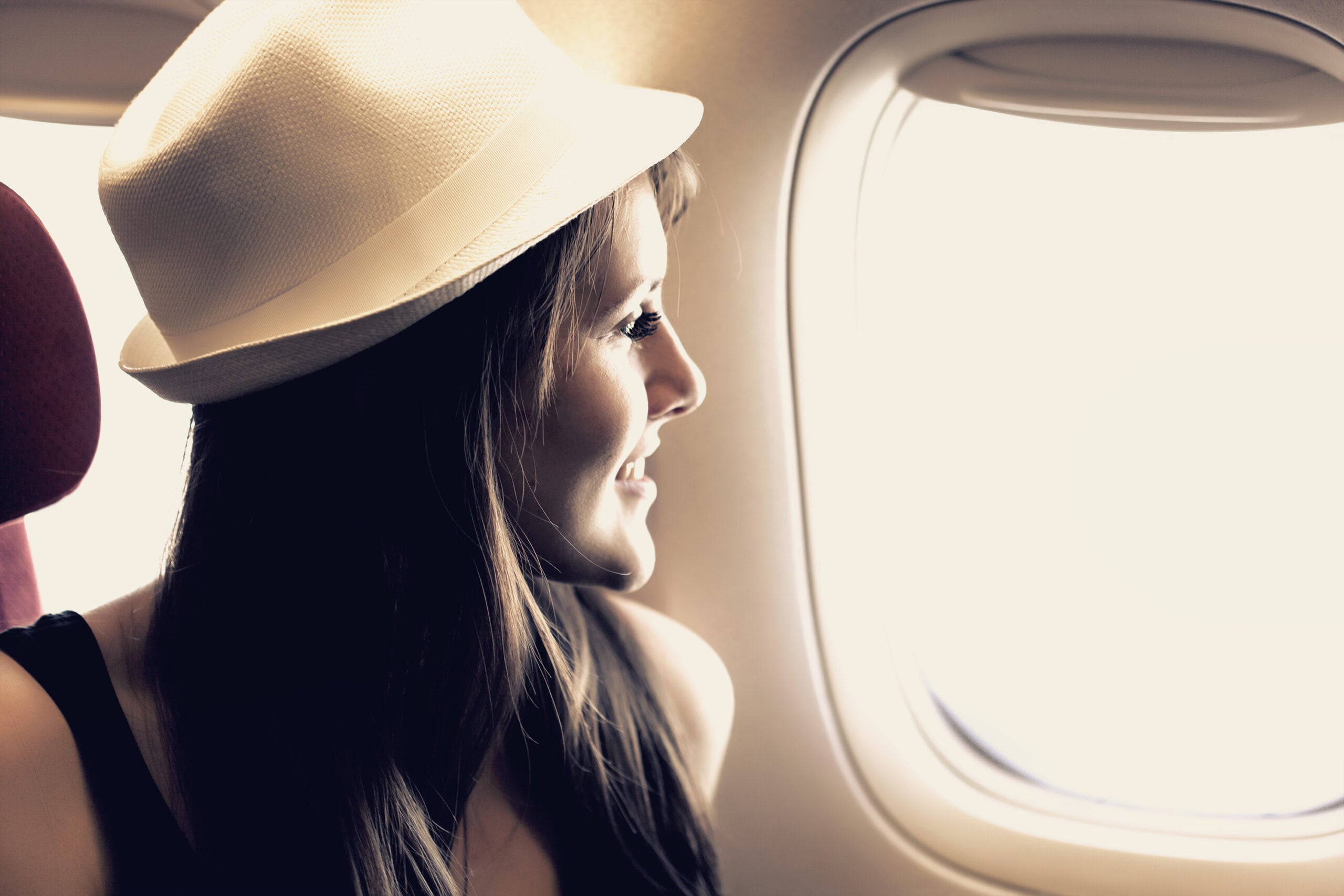 By Vivian Kelly
Dry cabin air and germ-laden surfaces on airplanes, can leave our skin dehydrated, parched and prone to break-outs. (Not to mention, dull and fatigued by touch down.)
Short-haul or long-haul, being on a plane is truly an equation for a skincare disaster, but fear not, there are many effective ways to combat the struggle.
To help, we caught up with pharmacist, homeopath and founder of the Organic Pharmacy, Margo Marrone, to reveal her best tips for jet-lagged skin. Here's how to tackle it like a pro…
How does flying affect our skin?
The dry air and lack of oxygen in plane cabins draws out moisture wherever possible, causing dehydrated skin, flaking, deeper wrinkles and sallowness as a result.
Cabins are pressurized and recirculate air every few minutes by means of low-humidity air conditioning. The lack of humidity, which is usually below 20% (a normal level is considered 40-70%) causes skin to dry out and can even make you more prone to illness.
Prepping the skin:
Prepping your skin before a flight is just as important as your on-board beauty routine. Make sure to drinks lots of water or coconut water to help hydrate your skin and body before you take off and remember to hydrate throughout the flight.
It's also helpful to do a couple of hydrating sheet masks a few days before the journey as well. The feel-good ingredients of a sheet mask, which often contains hyaluronic acid, feeds skin the nutrients and moisture that it needs to combat the dry cabin air.
In-flight skincare:
Ensure to pack a small travel sized bag with all your in-flight beauty saviors – being organised means you'll be more likely to stick to the routine. Additionally, 'always make sure to exfoliate before or during a flight, and apply a moisture, rich cream – the richest you can find, such as, Double Rose Ultra Face Cream' says Marrone.
'Finally apply an SPF – this might sound odd, but being at such a high altitude actually requires an SPF and our Cellular Protection Sun Creams range (SPF 18, 25, 30 and 50) also prevents water loss'. Which is the main culprit for airplane skin.
Another great tip is to spritz your face with natural facial mist like Chantecaille's hydrating and soothing 'Pure Rosewater' just before applying your moisturizer. This will help your skin retain its moisture to the maximum, while help keeping your skin smooth and supple for the duration of the flight.
Combat tired, dull looking skin post-flight:
To help dull, tired skin, always cleanse, exfoliate and treat. Exfoliating is an imperative step as it avoids dead skin cells sticking to the skin during keratinization (the process of skin renewal) and in turn, helps your skin look smoother and healthier while acting as a sponge for product.
'My favorite products to use are an Enzyme Peel Mask, followed by a hydrating mask, such as, Organic Pharmacy's Honey and Jasmine Mask. says Marrone.' The refreshing ingredients of the enzyme mask will help rejuvenate the skin and slough away dead skin cells while the Honey and Jasmine Mask with help nourish and hydrate parched skin.
To help seal the product in, apply a potent serum like Repair Duo- Antioxidant Serum and Gel, which will help combat dehydration and repair any damage with antioxidants and natural plant oils.
Break-outs:
Always ensure your skin is squeaky clean before a flight. If you don't want to go bare-faced apply light make up (preferably mineral-based), and pack a mini cleanser and muslim cloth with you so you can cleanse en route.
During a flight, dry skin gets dryer and oily skin, more oily. This compensates for the lack of moisture in the air so always ensure to pack an rich cream or facial oil so you can top up when you feel you need to. Marrone adds, 'You must remember this step before and after a flight and avoid touching your face once you've applied your moisturizer and SPF.'
It may be tempting to rest your hands on your face, but try to keep them well clear, especially if you're prone to blemishes. To help prevent the spread of bacteria onto your skin, make sure your hands are clean at all times by taking a pack of hand wipes or antibacterial on board.
Supplements:
A good quality fish oil supplement like Advanced Nutrition's Skin Omegas+ will do wonders for your skin. Start taking Omega supplements at least 2 weeks before the flight. Increasing fatty acids will help prep the skin while regulating oil production and boosting hydration.
Marrone's favorite on-flight supplement is the Superantioxidant Capsules. 'It gives me a powerful energy boost and helps fight jet lag', she says. These 'super' capsules contain a potent blend of vitamins A, C and E and a ton of antioxidants that can help protect against the cell-damaging effects of UV rays and the post-flight slump.
For the ultimate energy boost take three capsules a day and always ensure to take one prior to flying.
What other tips do you have for jet-lagged skin? Tweet us @Elite_Traveler!