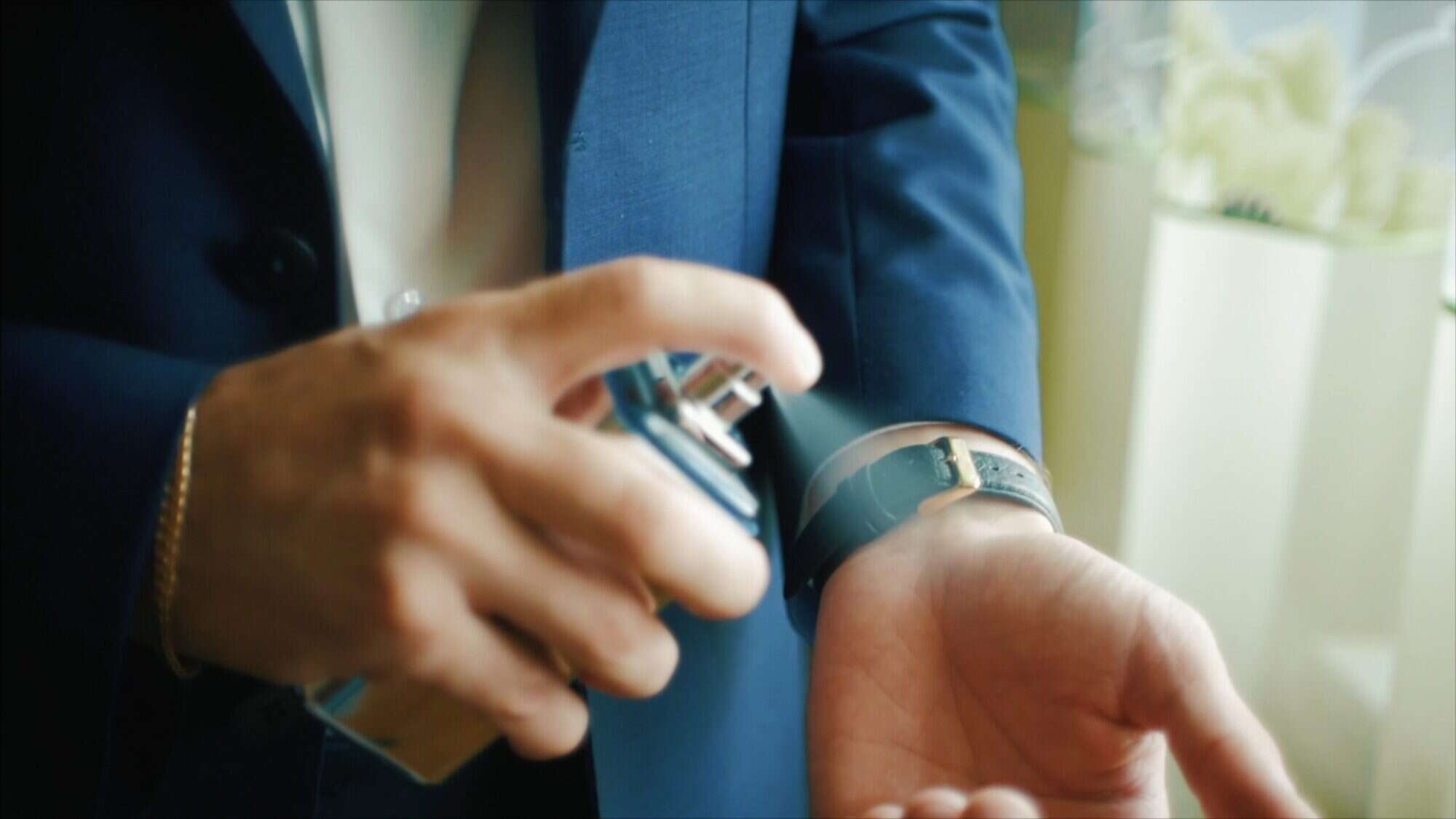 Nailing the right fragrance can be a minefield. There are brands in fashion, on-trend scents and of course, the teenage nightmare you can never seem to escape: peer pressure. The most important thing, though, is that you choose what's right for you (or indeed, them, if you're gifting) and not be forced into something that might just cost you that next big date. Plus, Christmas is around the corner and now is the time to up your scent game for the new year – or treat the man in your life to new luxury perfume.
From the dreamy scents of the Italian shore, to the whimsical scents of London Town and the dandy streets of Paris, the Elite Traveler edit of this year's most delicious men's luxury perfumes will keep you smelling your finest the world over.
Le Labo, Neroli 36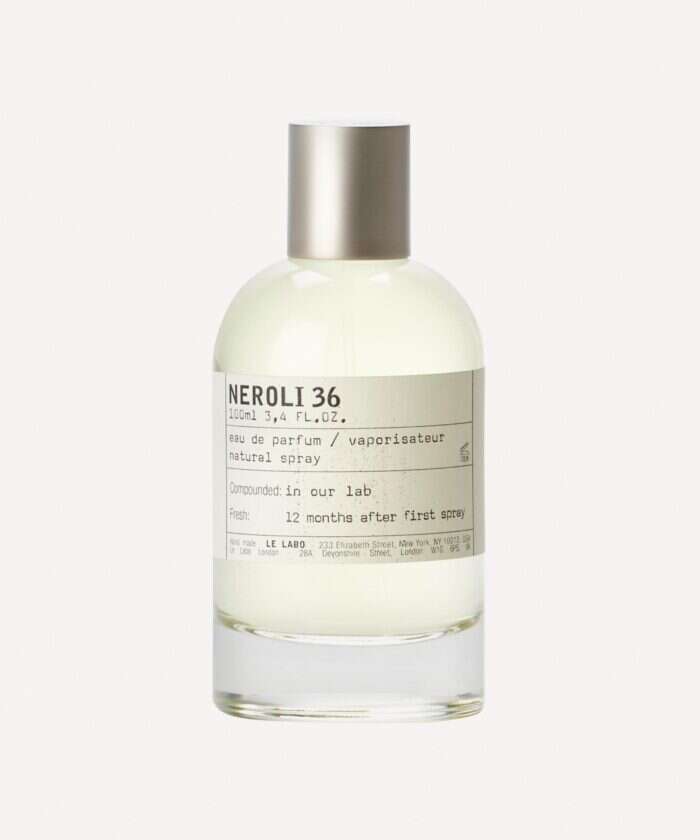 Neroli is one of those perfumes you are unlikely to forget. Why? Its smell is intoxicating and in a very good, wellness-first kind of way. Warm and zesty, Neroli 36 preaches an uplifting kind of vibe that screams European holiday under the sun. Orange blossom essence takes center stage, laid over a warm and sensual base of vanilla and musk, which is complemented by a floral jolt of jasmine and rose. In fact, the stuff smells so good, we could almost drink it.
$285, lelabofragrances.com
Maison Francis Kurkdjian, Baccarat Rouge 540 Eau de Parfum
This is on the candy shop scale of sweetness for a floral perfume. Boasting a unique mix of saffron, amberwood and cedar, the unisex fragrance is not for everyone, nonetheless, its high condensed olfactory signature zest means it's a winner for those who like their florals topping the sweet floral scale. Born from an encounter between Maison Francis Kurkdjian and Baccarat to celebrate the crystal manufacturer's 250th birthday, think of a bottle comprised of breezy jasmine facets, radiant saffron, boosting ambergris mineral notes, freshly-cut cedar and woody floral whispers. Advice: one push of the nozzle is enough to last hours.
$285, fortnumandmason.com
Byredo, Bibliothèque
Introducing Bibliothèque eau de parfum, a candle-turned-fragrance that made its debut to a bottle thanks to everyone's favorite foe: peer-pressured public demand. Flawlessly mimicking the candle's rich infusion, a fruity top of peach and plum is enveloped by a heady floral heart. Balanced by a classic, sophisticated base of patchouli, leather and vanilla, this addictive fragrance (we cannot quite stress just how addictive it is) tells the story of a flower-filled library of ancient novels and treasured poems scribed by literary geniuses in times gone by. Jargon aside, it's a heavenly scent that will never, ever be brushed off your side of the vanity.
$210, libertylondon.com
Fueguia 1833, Seda
Founded just a smidge over a decade ago, Fueguia 1833, the brainchild of Buenos Aires local Julian Bedel, is Argentina summed up in a snazzy glass bottle. The heart of the brand lies in Patagonia, within its virgin territories dominated by sublime nature, along with Bedel's fierce commitment to sustainable fragrance production. Seda, an ode to the Taiwanese Formosa forest, asks you to do one thing: close your eyes and inhale the lively scent of Fueguia 1833's very own jungle. Formulated using only natural ingredients, the powerful scent packs a punch, with jasmine sambac, jasmine Grandiflora and hints of rich amber roots that in these travel-restricted times, transport you to your very own tropical paradise.
$275, fueguia.eu
[See also: Elite Traveler's Holiday Gift Guide For Him]
Memo Paris, Marfa Eau de Parfum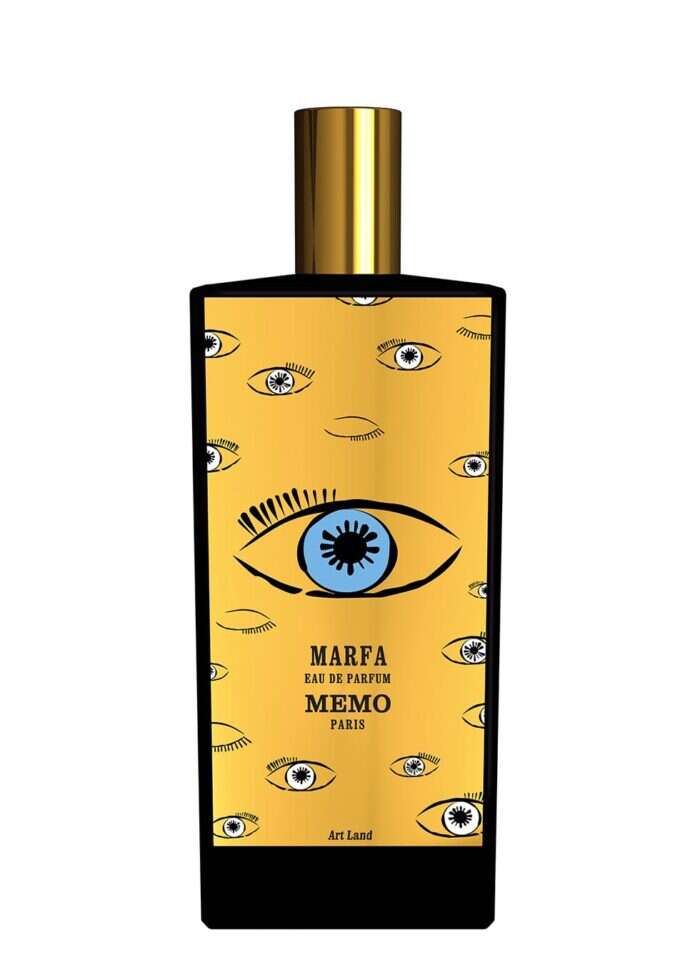 It's a word often over-used in the perfume world, but French brand Memo Paris really is all about the journey. Design duo and married couple Clara and John Molloy founded the fragrance brand back in 2007 and since then have explored the world of perfume to produce a collection of scents based on all the places they have visited and loved. Marfa pays homage to its namesake Texan city, famous for its desert and hypnotic sky. Tuberose absolute is the star in this floral scent, complemented by an almost oud-y combo of white musk and delicious orange blossom. Be warned, this men's perfume comes with a barrage of compliments.
$285, memoparis.com
Maison Francis Kurkdijan, l'Homme À la rose
Whether you're a loyal fan or a newbie, Paris-based nose Francis Kurkdjian is interested in one thing, and one thing only: scents inspired by the rich history and culture of the French capital.  L'homme À la rose is best summed as your quintessential Parisian rose garden; Palais Royal or Jardin des Tuileries come to mind. Very fresh, green and bursting notes paired with a grapefruit accord and essence of Damask rose from Bulgaria kick off the scent, finished off with lingering amber base notes that reek sensuality. Beautifully packaged, it's a fresh and radiant number that has the makings of becoming your next go-to signature perfume.
$238, franciskurkdjian.com
Byredo, Black Saffron
An homage to founder Ben Gorham's Indian upbringing, Black Saffron eau de parfum is a holy Byredo concoction based around the sacred extract of saffron. Sweetened by juniper berries, Asian pomelo and raspberry, its precious blend instantly hypnotizes. Built on the smells, tastes and colors of Gorham's childhood, Black Saffron is harmonized by a flurry of intense florals from black violet and cristal rose, then rounded off by smoky Cuir, warm blonde woods and Haitian vetiver. It's, in a word, lush.
$161, selfridges.com
Björk and Berries, September
Vegan friendly and made using organic fermented alcohol from veggie food waste, September, from Swedish brand Björk and Berries, is your new must-have woody scent. The story of how the thing came to life is pretty sweet and simple: it captures the first day of Autumn at the farm (does the seasonal name make sense now?) Ingredients include pomelo, lavender, vetyver smoke and pink praline. Will it make people turn heads? We often got stopped in the street and were asked 'what perfume is that?', so the answer is, yes.
$112, bjorkandberries.com
[See also: Elite Traveler's Holiday Gift Guide For Her]
Maison Francis Kurkdjian, Amyris Homme Extrait
Out of all the luxury men's perfumes on this list, this was the one designed to dance and play with your senses. What's the story? Amyris Homme is an ambery-woody fusion of exotic scents set to the tune of the aromas of the world. Enriched with amyris from Jamaica and iris from Florence, they are infused with a new energy, heightened by the richness of Tonka bean from Brazil and the warmth of spicy vanilla. It all sounds very intense, but it's surprisingly soft and won't overpower – lasts pretty long on your clothes and is great for those who like to layer their scents, too.
$324, franciskurkdjian.com
Officine Universelle Buly, Komi Forest
Think yourself in a fresh wintry forest surrounded by unicorns and an ogre for dramatic effect. That's Komi Forest wrapped up in a nutshell. Mineral notes shine, alongside honey-gold hues and the sweetness of snowdrops and moss. As it's water-based, the eau triple formula (one of a kind in perfume land), does not aggravate the skin in any way, so it's a good choice for sensitive skin types looking to find something that smells great, minus the dreaded burn. The packaging is also well worth shouting about – as are all the other Buly products in existence.
$194, buly1803.com
Horace & Horace
If you're a fuss-free kind of bloke, then this is the fragrance for you. A spicy, woody combo of cedarwood, iris root, white pepper, tobacco and sandalwood, the French brand's first foray into fragrance is best described as an ode to masculinity (think strong scents made for punch nostrils). Ninety-five percent of the bottle is made up of all-natural ingredients and, unlike most perfumes, it settles on base notes as opposed to top notes. It even comes with a set of alphabet stickers so you can customize the bottle with your initials, too. Snazzy.
$72, horace.co
Initio Parfums Privés, Oud for Greatness
If you love oud, then stock bottles of this in your cupboard. Oud for Greatness eau de parfum from Initio Parfums Privés is said to draw its energy from the sources of sacred geometry. Opening notes burst fresh lavender and spicy nutmeg and the heart of this fragrance celebrates the natural aroma of oud wool and agarwood oil. The finisher is a warming, lingering note that really does celebrate the natural essence of the perfume world's cover star, oud.
$358, harrods.com
Fortnum & Mason Roja Parfums, The Perfume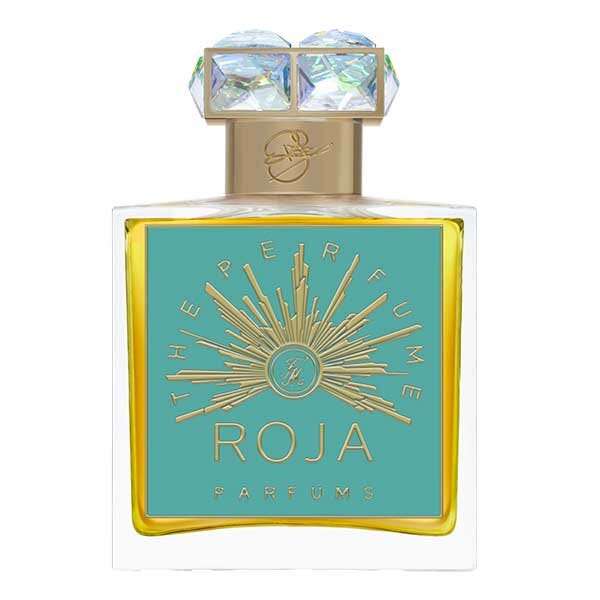 If you are looking for a pump of men's luxury perfume that oozes a touch of exclusivity, here it is. Created for purveyor of fine foods and all to HM, The Queen, Roja, The Perfume has been made especially for specialists in all things British posh, Fortnum & Mason. Naturally, the composition is luxe and over the top (the price of the bottle says it all) and as Roja Dove himself says, is 'distinctly British'. Warm and fruity, expect lavish notes of lemon, cedrat, a rarely used amber base, rose (the flower of England), and timeless precious woods.
$563, fortnumandmason.com
Tom Ford, Ombre Leather
Tom Ford's latest tribute to leather (perhaps say the sequel to Tuscan Leather) is among some of his most sensual, alluring and emotive fragrances. The desert heart of the Wild West wrapped in tanned cowhide served as his primary inspiration resulting in a raw, refined and powerful scent untethered with all sorts of sexy undertones. A whiff of cardamom opens the spectacle, followed by a strong punch of jasmine samba and leather. Once it dries on the skin, a base of heady patchouli, moss and treacle-sweet amber shine. It's a strong scent, so don't go overboard spraying yourself up.
$106, tomford.com
[See also: Elite Traveler's Billionaire Gift Guide]
Penhaligons, Halfeti Leather eau de parfum
Even the oh-so-stoic Brits can't resist the exotic delights found in this nutcracker of a bottle. Named after a small Turkish village, the parfum starts with bold bergamot twist and a subdued citrus fusion, complemented by sweeter notes of lavender, cardamom, nutmeg and cinnamon. When the haze begins to settle, you're left with the heady base notes of oud, patchouli and, of course, seductive leather. It's an iconic fragrance – but not as one knows it, redefined with a touch of Penhaligons sorcery.
$225, penhaligons.com
Acqua di Parma, Oud & Spice
Acqua di Parma's Oud & Spice, simply put, is an olfactory love letter to the world of opulent oud. The brand represents everything par excellence in the fragrance-making world, but this creation really does show off ADP's artistic expertise when it comes to mixing up some of our planet's most captivating aromas. At the core of this scent is oud, extracted from agarwood (a precious resin of the Aquilaria tree found in Laos), which for those in the know, is extremely rare. Warm spices and sunny fruits accompany, headliners including bergamot and pink pepper, for a lively finish.
$263, acquadiparma.com
[See also: Elite Traveler's Wine and Spirits Gift Guide]
Chanel, Bleu
Bleu is now one of those timeless Chanel classics; once you smell it, you'll never forget it. That's the power of wearing the French house's most popular cologne, and the fact that people will always associate you with wearing it. Best summed up as a scent that will never let the side down, the special blend of incense, ginger and citrus will add a fine touch of sensuality and musky voluptuousness to your day. In time for Christmas, the parfum is now available in a set of three discreet travel-friendly twist and spray refillables, perfect to use post-long-haul business trip or after a hard sports session.
$80, chanel.com
Le Labo, Ambrette 9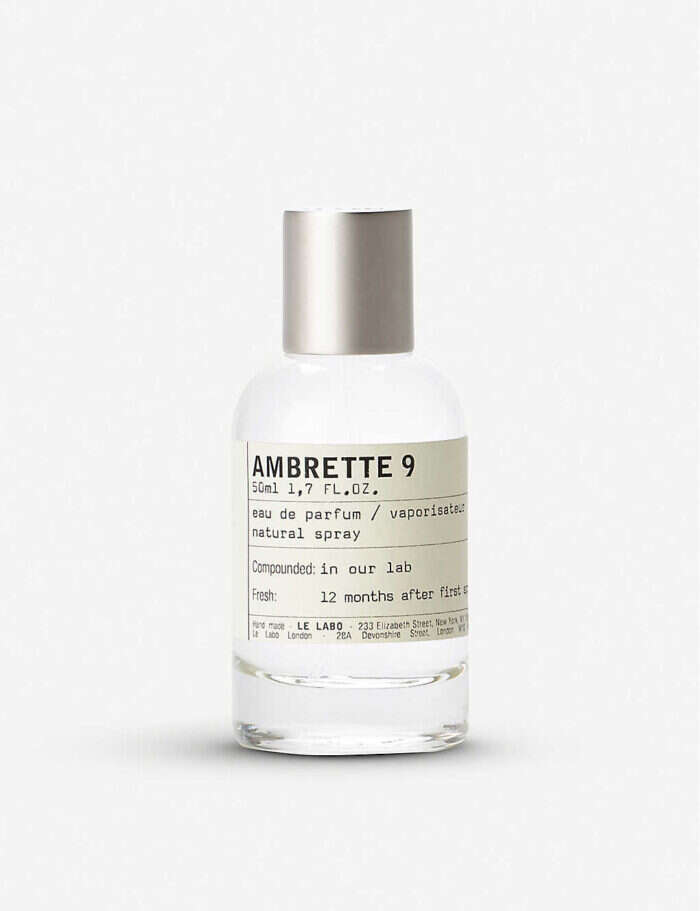 Ambrette 9 is undeniably the most precious formula in the world as it is based mainly on the Ambrette grain, the only musky scent made by nature itself and almost impossible to find. Poured into a refillable glass bottle, citrus and fruit accords liven up the fragrance to leave a vibrant scent that'll linger on clothing refreshing you throughout the day. Overall, it's a soft and light aroma that works in collaboration with its wearer to reveal an individual character oozing everything clean and crisp.
$196, lelabofragrances.com
Bon Parfumeur, Fragrance: 104
In the mood for a fantastical adventure through the woods? Then buy this. Bon Parfumeur's Fragrance 104 conjures up all the delights of the forest floor. The scent opens on the spicy citrus notes of bitter orange before giving way to subtle hints of jasmine and hyacinth, pierced by an almost aquatic accord. Like a perfect cadence, this exceptional harmony ends on a distinguished base of patchouli, amber and vetiver. It's not at all overpowering and makes for a great men's perfume on the go.
$140, bonparfumeur.com
Le Labo, The Noir
Say hello to the haute couture fragrance of the Le Labo empire, the uber-sophisticated and rich The Noir. A celebration of your favorite leafy shrub black tea, the bewitching number unites with fresh, fruity fig and bay as well as cedarwood, vetiver and musk for a deep yet soft aroma, streaked with whispers of dry, leafy hay and tobacco. The result? A sumptuous and knockout sensual scent that got us loads of attention on the metro (quite literally).
$285, lelabofragrances.com
Tom Ford, Neroli Portofino
If you didn't manage to jet set to your go-to Italian escape this summer, this deliciously transportive perfume from Tom Ford will take you there. Top notes are Tunisian neroli and Italian bergamot, with notes of Sicilian lemon and winter yellow mandarin at the heart. Focus your nose hard enough and you'll even get a whiff of some orange flower and lavender in there, too. Irresistibly light, it's a great choice for a delicate spritz and will keep you smelling like a seductive Italian sea breeze all day long.
$546, tomford.com
Penhaligons, The Impudent Cousin Matthew

Dazzlingly fresh and breezy, with a slight whiff of marmalade bitter, the storied Cousin Matthew is one of those citrus scents that stays with you. Part of the Portrait's Collection, it opens with a splash of mandarin and then transitions into a cool swish of vibrant petitgrain to give the fragrance a sense of depth rarely seen before. To keep it all level, earthy patchouli creates a rich and deep base, which makes it a perfect choice for a spring day or those looking to inject a bit of redefined seasonality into their lives, whatever time of the year. Made in the UK, this luxury perfume comes encased in a glass falcon and topped with a gilded duck stopper – all very bling.
$270, penhaligons.com
D.S. & Durga, Burning Barbershop
Bizarrely, this scent was created to paint an olfactory picture of the 1981 Curling Bros barbershop fire in New York. Sweet, smoky and medicinal (don't worry, it doesn't smell like antibiotics), Burning Barbershop is unquestionably unique, and though it won't be everyone's first choice, the perfume nonetheless offers an imperfect scent ideal for men who like to experiment on the wild side of the fragrance spectrum. Notes include spearmint, lime hemlock spruce, lavender absolute, Turkish rose, burnt oil, vanilla and hay. Reason to buy it? Because who else do you know that owns a fragrance inspired by a barbershop burning down? We rest our case.
$260, libertylondon.com
Aman Fine Fragrance
With a global constellation of exquisite properties that spans 20 countries, it was only a matter of time before Aman launched fragrances in honor of some of its most celebrated hotels. The inaugural Aman Fine Fragrance Collection kicks off with five gender-neutral 50ml eau de parfums based on emotion and memory. Mixed by master perfumer Jacques Chabert, the collection includes the deep floral scents of Vayu, inspired by Amanpuri, Thailand; Ayom, a musky ode to Amanjiwo, Indonesia; Umbr, a peppery (and ultra-Italian) nod to Aman Venice; Zuac, enthused with the spices of Amanjena, Morocco; and Alta, a rich and fresh fragrance celebrating the upcoming opening of Aman New York. All come packaged in beautiful keepsake Paulownia wood box handcrafted in Japan concealing elegant bottles and jars designed to hype their origins.
$290, aman.com
Tom Ford, Mandarino di Amalfi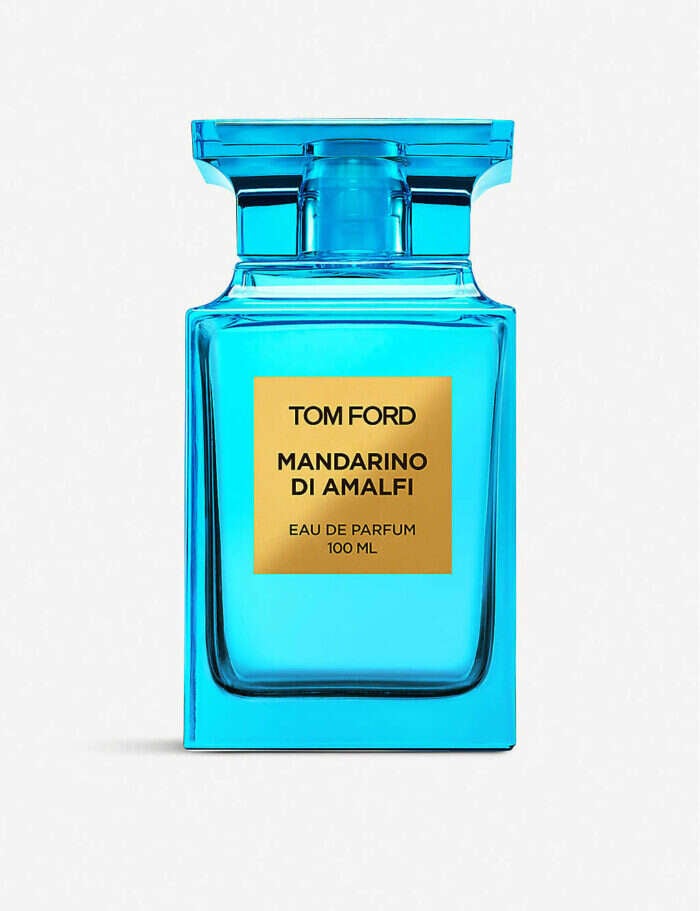 A captivating citrus scent that enwraps the senses, Ford's Mandarino Amalfi eau de parfum joins mandarin oil, orange blossom and coriander to create an effervescent coral aura concoction that lasts for hours. Part of the fashion master's Private Blends, the parfum is inspired by the calm idyll of Amalfi's plunging cliffside villas. With each push of the pump, the gentle breeze of the coast encapsulates and captures the aroma's key notes of mint and wildflowers. Warm and lingering, it's a fragrance you'll always want on your Christmas list.
$236 tomford.com
Creed, Viking Cologne
The House of Creed has been dabbling in the world of perfumes since 1760, so it knows a thing or two about what goes into making a fine fragrance. A quintessentially run family business, the brand has been handed down from father to son, with current descendent Oliver Creed firmly at the helm. This particular spritz sees a mash-up between the original Viking eau de parfum for men of 2017 and an eau de cologne-esque of breezy notes for a new, summer-ready throwback dose of estate Italiana: the zingy citrus fruits of the Amalfi coast meet a nice forest, in other words. Its base of sandalwood, frankincense, patchouli, cedarwood and vetiver give it a rich dry-down and helps to balance its initial burst of exhilarating freshness, too.
$318, creedfragrances.co.uk
Perfumer H, Lemon Tree
Classically trained British perfumer, Lyn Harris, trained in Paris and Robertet Grasse before she founded her own house Perfumer H in London's Marylebone in 2015. Her laboratory (which you can visit for yourself) creates scents unique to personal style, presented in chic hand-blown bottles courtesy of artists and designers the world over. Our pick of the vast bunch was Lemon Tree, a modern citrus fusion of Sicilian lemon rind, bergamot and neroli flowers wrapped in jasmine flowers with a hint of musk and vanilla bourbon. Think, the smell of long summer days on the riviera – you get the picture.
$185, perfumerh.com
[See also: Elite Traveler's Technology Gift Guide]