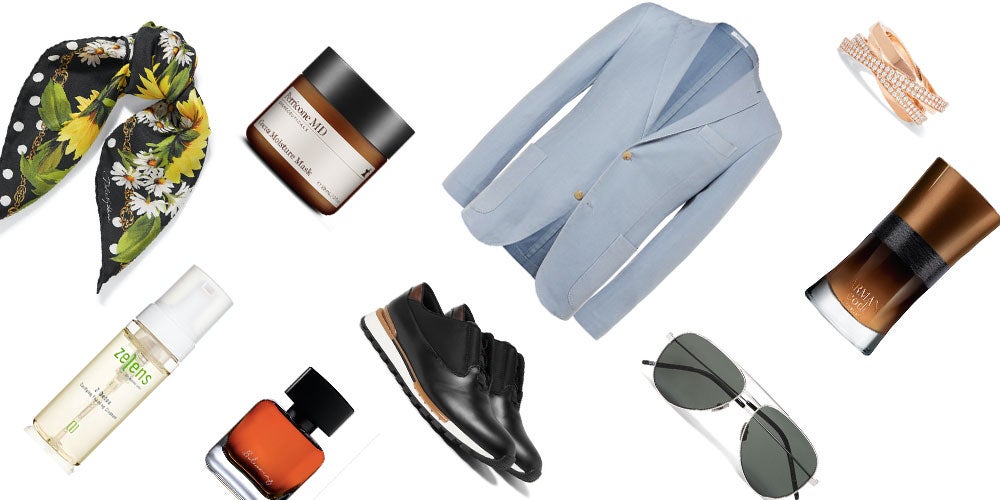 By Vivian Kelly From fashion, beauty, wellness and more, the Editors at Elite Traveler have picked their favorite products of late. So if you're looking for some shopping inspiration, look no further than this week's fabulous style edit.
Dr. Jackon's Face and Eye Essence, $75.50/£60 
Dr Jackson's Face and Eye Essence is brimming with natural ingredients including anti-inflammatory Rose Water and Chamomile, as well as, Baobab for an instant boost of vitamin-C. Available at Net-A-Porter.
Saint Laurent, Classic 11 Aviator-Style Silver-Tone Sunglasses, $332/£265
An all-classic aviator style frame made with silver-tone metal and 100% UV protection.
Available from Mr. Porter.
Cellular Recovery System, $245/£195
A 4-week intensive treatment infused with retinol for a visibly improved complexion and firmer looking skin.
Available from Vivderma. Panasonic, Spa Quality Nano-Ic, $130/£100
Bring the luxury of a spa to your home with Panasonic's deep cleansing facial steamer.
Available from Panasonic.
Ermenegildo Zegna, Blue Mélange Linen Trousers, $415/£330
These fitted trousers have a mélange finish similar to chambray making a fabulous fabric choice to keep you cool.
Available from Mr. Porter.
Guerlain, Mon Guerlain Eau de Parfum 100ml, $120/£96
A beautiful new fragrance from with feminine notes of Lavender, Jasmine, Album Sandalwood and Vanilla Tahitensis.
Available from Guerlain.
Junghans, Meister Chronoscope 40mm Gold-Tone And Alligator Watch $2,195/£1,750
Traditional watchmaking meets cutting edge innovation.
Available from Mr. Porter.
SILKE London, $57/£45
This 100% pure silk hair wrap will maintain your style overnight, as well as, help keep your locks healthy and beautiful.
Available from SILKE London. Dr. Hauschka Hydrating Cream Mask, $48/£38.50
A luxurious cream cleanser with quince, rose and jojoba oils to help keep your skin nourished and soft all day long.
Available from Feel Unique.
Boglioli, Blue K-Jacket Wool And Silk-Blend Blazer, $815/£650
Add a suave flourish to your outfit with folded pocket square.
Available from Mr. Porter.
Make Up For Ever, Foundation Brush Large no.108, $36/£26
Foundation glides on effortlessly with no streaks or uneven areas.
Available from Debenhams. La Prairie, Skin Cavair Luxe Sleep Mask, $368/£293
This brush-on, overnight mask works to nourish and renew skin cells for rejuvenated, younger looking skin come sunrise.
Available from Nordstrom.
Gucci, Leather-Trimmed Canvas Briefcase, $1,223/£975
A timeless Gucci staple guaranteed to add personality to any outfit.
Available from Mr. Porter.
Aesthetics Lab, Detox Facial, $225/£180
This wondrous new treatment at Aesthetics Lab includes resurfacing exfoliation, extraction, crystal free microdermabrasion and a special firming mask to lift and plump the skin. Perfect for dull and congested skin types. Available to book here. Jo Loves, Spring Three Scented Layers, $100/£80
A gorgeous whiff of the South of France right in your living room.
Available from Jo Loves.
D R Harris, Ebony Shaving Set $290/£230
This luxury shave kit comes complete with a razor, chrome lathering bowl and a hanging brush stand.
Available from Mr. Porter.
Heliocare Advanced XF Gel SPF 50, $30/£24
One of the very few sunscreens to provide high-level SPF50, UVA and UVB protection using the most advanced UV filters on the market.
Available from Mirabel Clinic. Guinot Time Logic Age Serum, $255/£203
A must-have anti-aging product. Studies found wrinkle depth improved by up to 59% when used for 30 nights and firmness by up to 55%.
Available from Feel Unique. SLIP Embroided Silk Queen Pillowcase, $77.50/£62 
The best preventive to nighttime wrinkles and pesky flyways.
Available from Net-A-Porter. Murad Soothing Gel Cleanser, $31.50/£25
Goji berry extract helps gently cleanse skin for soft and fresh complexion. Fab for sensitive skin types.
Available from Murad. Cellcomet & Cellmen Puffy Eyes-XT 15ml, $138/£110 
An effective Swiss infused treatment for under eye bags and dark circles.
Available from Cellmen.
Phuong Dang Perfume 50ml $300/£240
Artist Phuong Dang has created the ultimate sensory journey with a 10 fragrance line up. The stunning collection was made in collaboration with renowned perfumer Bertrand Duchaufour combing the beautiful relationship of art and science.
Available from Phuong Dang.
Rita Hazan Root Concealer Touch-Up Spray, $25/£20
Touch up your tresses between salon visits with Rita Hazen's brilliant new Root Concealer. The formula is waterproof and transfer-proof giving you peace of mind all day long. Available from Selfridges.
Dr. Dennis Gross Skincare, Alpha Beta Medi-Spa Peel $118/£94.50
A supercharged treatment using 15 powerful fruit acids that help to repair and renew for more radiant and youthful skin.
Available from Cult Beauty.
Dr. Perricone Cocoa Moisture Mask $65/£52
A delicious mask infused with Cocoa-Enriched Microcapsules providing an immediate dose of hydration for smoother, firmer and more radiant skin.
Available from Perricone MD.
Wunderbrow Eyebrow Gel, $25/£19.95
A brow game changer. Permafix technology locks in pigments helping define, fill and thicken your brows for up to 3 days.
Available from Wunderbrow.
Armani Code Profumo 100ml, $95/£76
A stunningly sensual men's fragrance with notes of bergamot, lemon and olive tree blossom.
Available from John Lewis.
Z Detox Clarifying Foaming Cleanser, $60/£48
A refreshing and clarifying cleanser that targets environmental pollutants, surface impurities and all traces of make up without upsetting your skin's natural pH balance.
Available from Zelens.
Repossi, Technical Berbere 18-Karat Rose Gold Diamond Ring, $8,777/£7,000
A beautiful statement ring with bands of rose gold sprinkled with 0.82-carats of diamonds.
Available from Net-A-Porter.
Berluti, Fast Track Glazed-Leather Sneakers, $765/£610
Sleek, sophisticated and above all, comfortable.
Available from Mr. Porter.
Dolce & Gabbana, Printed Silk Scarf $182/£145
The perfect transition accessory – this lightweight printed scarf is perfect for warm spring days.
Available from Net-A-Porter.
Gucci Bamboo Eau de Parfum 75ml, $98/£79
Scents of deep sandalwood, Tahitian Vanilla and grey Amber gives this fragrance a warm and woody scent.
Available from Feel Unique.