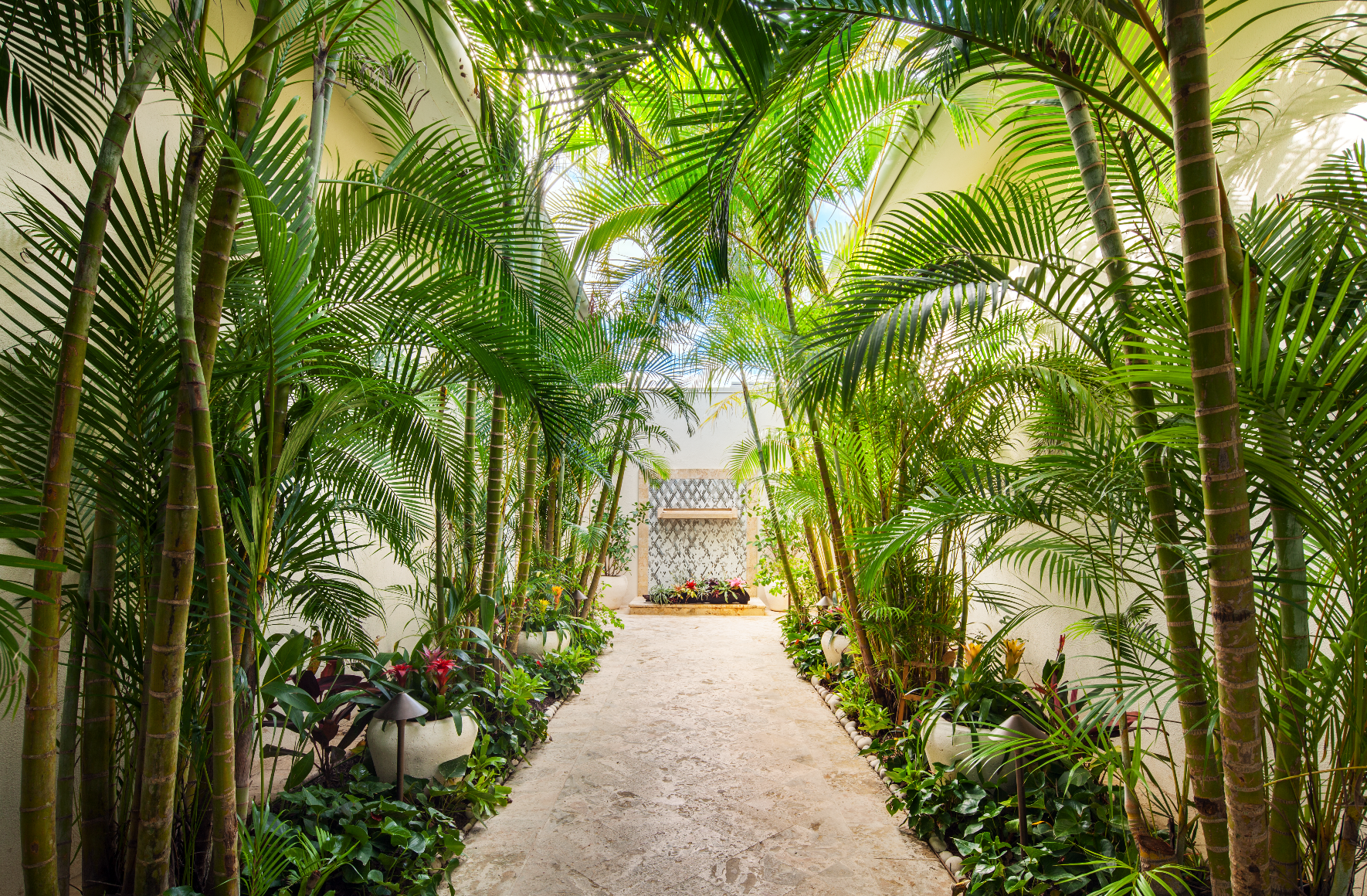 After Hurricane María's devastating damage in 2017, Puerto Rico is slowly rebuilding. After a $60 million restoration, The St. Regis Bahia Beach has officially reopened and is better than ever. In addition to its exterior, rooms and common spaces, the restoration gave the hotel a chance to completely transform its spa.
To get to there, walk through a palm-tree-lined pathway to the check-in lobby, where you'll be ushered to one of 10 private treatment rooms facing the verdant tropical garden. At 10,000 sq ft, Iridium Spa has multiple relaxation areas, a spa, sauna and steam rooms, cold and hot plunge pools and fitness center. Its menu offers facials, massages, body treatments, hair services and manicures and pedicures. The spa boasts a soothing neutral color palette of beige, light blue and purple hues, accentuated with modern furniture, minimalist furniture and doors that open out to the leafy garden.
What makes Iridium Spa so special is its connection to the local culture, from its massage techniques to its ingredients, such as coffee, rum, gold and tropical fruits. Its signature treatment, the Encanto Rum Massage, uses Don Q Rum from Puerto Rico's Bacardi rum factory that helps to alleviate inflammation, increase blood flow and reduce fluid build-up. Other treatments include the Platano Leaf Wrap, Bahía Tropical Massage, Caribbean Coffee Legend and facials, such as the Fountain of Youth and the Beauty Rose Facial.
Have your spa therapist create custom packages for you based on injuries or goals, or simply to relieve jet lag. Men, pregnant women and couples also have custom treatments. If heading to the spa isn't your preference, book a customized in-room treatment.
During your stay, rest your head in the Governor one-bedroom suite. The oceanfront accommodation has a gorgeous balcony overlooking the sparkling water and at 2,510 sq ft, you won't run out of room to gather your closest family and friends. Decorated with modern-yet-traditional decor The St. Regis is so revered for, the hotel brings island touches like turquoise blue pillows and chairs, as well as doors that completely open to create an open-plan living room and outdoor space.
For more information, visit marriott.com