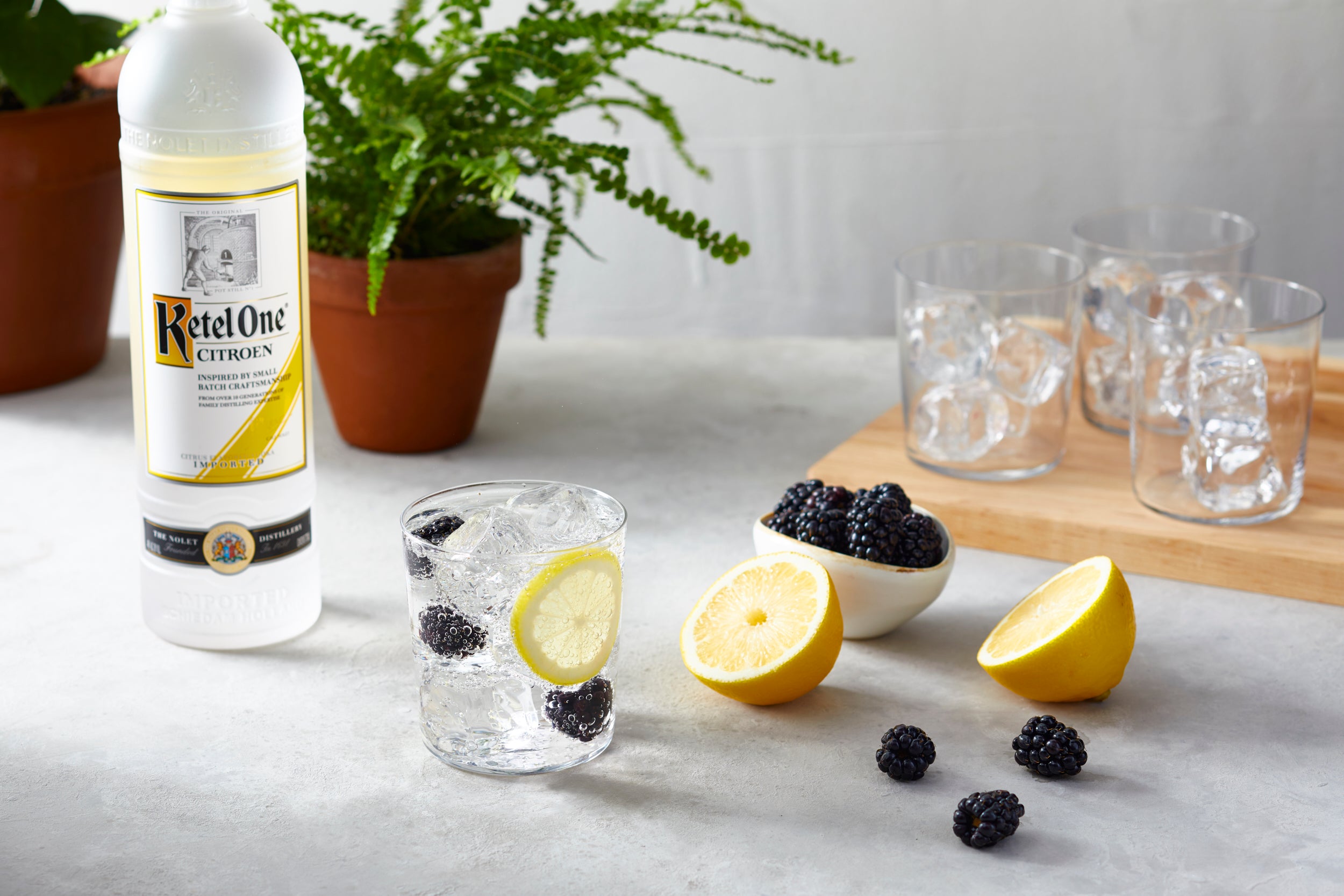 Ketel One Vodka Soda Blackberry Lemon
1.5 oz Ketel One Citroen Vodka
3 oz club soda
3 blackberries
1 lemon wheel
To create this cocktail of the week, fill a rocks glass with ice. Add Ketel One Citroen Vodka and club soda. Finish with lemon wheel and blackberries.
Hosting a successful cocktail party starts with a crowd-pleasing recipe, and what's more agreeable than the vodka soda? The classic cocktail is easy to concoct, light enough to serve throughout the duration of an event and can be customized to suit choosy guests with a variety of garnishes. At December's Art Basel fair in Miami, Ketel One unveiled its Ketel Market concept of personalized vodka sodas with an array of fresh fruit, herbs and citrus to dress up the simple cocktail. For expert tips on entertaining, we spoke to Brett Georing, vice president and national ambassador manager of Ketel One USA.
What should every host have on their bar cart?
From bar accessories to ingredients, preparation is a must for any home entertainer. In order to create a delicious, yet simple cocktail at a moment's notice, you'll need:
cocktail shaker
cocktail muddler
jigger
paring knife
glassware (rocks glasses for the above recipe)
ice
Fever Tree soda
Ketel One Vodka
fresh garnishes including cucumber, mint, thyme, rosemary, blackberries, cranberries, lemon, grapefruit and orange slices
With these, you'll be able to create numerous Ketel One Family-Made Vodka cocktails including various Ketel sodas.
How can hosts diversify options for their guests?
By mimicking the Ketel Market, you can create an interactive cocktail experience for guests. In order to execute a bar cart with nearly unlimited flavor combinations, have numerous fresh garnishes on-hand and allow for guests to create and enjoy a personalized cocktail experience. Our favorites include the Ketel Soda Blackberry Lemon, the Ketel Soda Cucumber Mint and the Ketel Soda Grapefruit Thyme.
What is the key to a great garnish?
To make cucumber ribbons for drink garnishes, use a knife to trim the ends from the cucumber. Then use a vegetable peeler to carefully slice the cucumber lengthways into long, thin ribbons. To make your mint more fragrant, place the leaves or sprig in one hand and gently smack it with the other — this warms up the mint slightly and starts to extract the oils before you use it to garnish your drink.
Which hors d'oeuvres pair with Ketel One cocktails?
The versatility of Ketel One Family-Made Vodka cocktails allows for a wide variety of hors d'oeuvres pairings with light and salty flavors such as caviar, smoked and thinly sliced salmon (as in a rillette), steak tartare, and appetizers with ricotta or goat cheese.
For more vodka cocktail recipes, see another pick for Cocktail of the Week served on the Greek island of Mykonos.