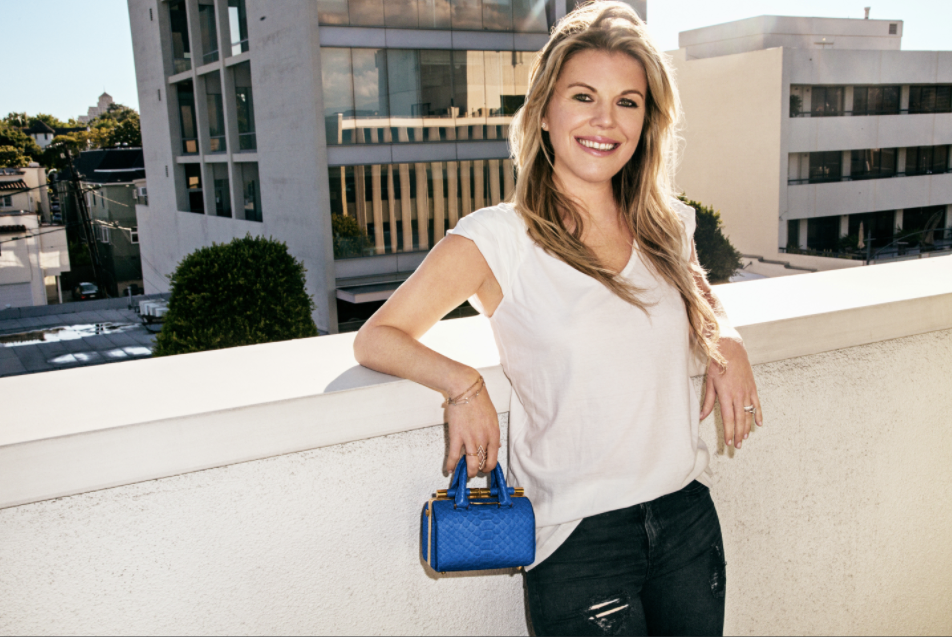 Tyler Ellis is a renowned accessory designer based in Los Angeles. The daughter of the legendary fashion designer Perry Ellis, Tyler has since made a name for herself with her own eponymous brand. Her luxury clutches have become a red carpet staple amongst celebrity fans including Cate Blanchett, Jennifer Lopez, Rosie Huntington-Whiteley and Kylie Jenner.
Here, she speaks exclusively to Elite Traveler about the inspiration behind her designs, her proudest achievements, biggest challenges and how Covid-19 might change the way the industry works.
How did the Tyler Ellis brand begin?
I love traveling and I began noticing women all over the world carrying the same few handbag labels, which inspired me to create a line of luxury accessories with the unique charm of a boutique brand. You will not find my Tyler Ellis logo on the exteriors of any of my handbags. I focus on craftsmanship, practical functionality, exquisite materials and eye-catching silhouettes. My seasonless collections are named after meaningful places rather than chronologically because I design pieces that are meant to remain relevant for generations to come.
What has been your proudest achievement?
I've had a remarkable amount of success on Hollywood's international red carpets, which continues to amaze me. From Oprah to Cate Blanchett to Jennifer Lopez, watching these talented, powerful and beautiful women (who have access to anything and everything) choosing to carry my bags is incredibly meaningful to me and my boutique brand.
I designed a one-of-a-kind Perry Clutch, named after my father, Perry Ellis, who passed away from AIDS in 1986, to be auctioned off at The Elton John AIDS Foundation Oscar Viewing Party. It was a truly special night, the clutch raised $19,000 for the cause.
And what has been the most challenging moment in your career?
If you want to produce 'true' luxury leather goods, there is only one place to be, and that is the greater area of Florence, Italy. Here, artisans have been trained for generations, honing their skills, making them the masters of their craft. The large fashion houses have been producing here for years, and continue to purchase independently run factories, making it very difficult for brands like mine to find the right factory. It took me over three years, but I am incredibly lucky to have found not only a factory but also a partner, who views the world of design the same way I do. Our partnership was established upon principles of genuine respect for each other and the thoughtful work that goes into designing and producing each handbag. We believe in quality over quantity and creating unique works of art that are customized down to the smallest details.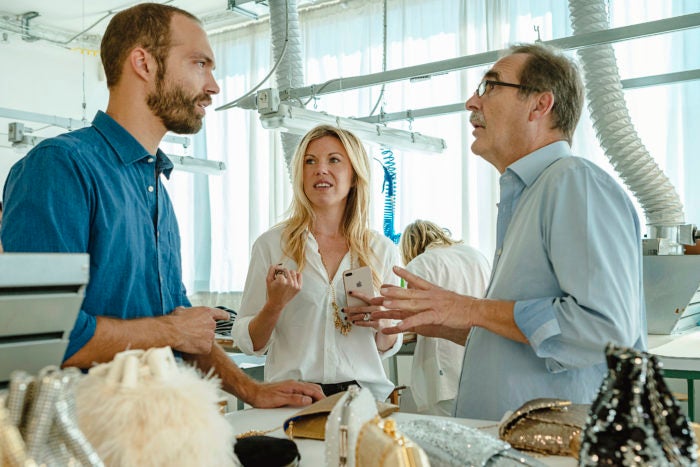 What or where inspires you?
Traveling and paying attention to the incredible details the world has to offer.  Lars Nilsson (former Creative Director of Nina Ricci) mentored me in the early stages of my design career. I was living in Paris at the time and we would wander for hours through the city's beautiful avenues. He would point out old brick walls, doorknob handles, tops of gates, interestingly shaped leaves, everywhere we turned exciting inspirations would emerge.
My Pinecone, which has become the symbol of my brand, was inspired by a trip I took to the Vatican years before I began Tyler Ellis. To this day I still remember standing in the Pigna Court looking up at the beautifully patinated pinecone fountain, enthralled by its presence. Years later, when I was naming my company, I wanted to include a subtle, yet meaningful symbol as part of my logo, which took me back to the Pigna Court. I did some research and found out that the pinecone represents your third eye and the highest form of spiritual awakening, dating all the way back to ancient Egypt, where pinecones adorned the tops of Pharos staffs. I knew immediately I had found my Tyler Ellis symbol. It's all about the details!
What does the word 'luxury' mean to you?
In today's world, the term luxury is being used as a marketing technique for mainstream, mass-produced and inexpensive brands. But historically and to me, luxury items are pieces you lust after – extremely rare, lavish, perfectly crafted designs, a concept I strive to bring back to life. My products are all handmade in a multi-generational factory in Le Sieci, Italy by highly trained native artisans. I work hard to create both atheistically pleasing and functional handbags. Every one of my pieces comes with a crossbody strap or chain, all fit the large iPhone (aside from my purposefully micro mini's), I strategically place pockets internally and externally, my custom Pinecone Feet are meant to protect skins from getting dirty, all handbags are weight conscious and my signature Thayer Blue's electric lining is not only a beautiful color but also makes it easy to locate belongings. When you purchase a Tyler Ellis product you are returning to the purest form of luxury.
Is there any advice you would give to your younger self?
Listen to your gut. Many people will give you their opinions, which at times can be very helpful, but know yours is what matters most. You have the vision, do not be afraid to make it happen. And most importantly, as Michael Kors told me, "Surround yourself with the best people possible". You are nothing without an A+ team.
How has Covid-19 affected the company?
My factory is based outside of Florence, Italy, a country terribly affected by Covid-19. Thankfully, our artisans and partners are all healthy and have safely returned to work. As an independent luxury business, I understand the incredible economic strain this unforeseen pandemic has placed on millions of people. I will continue to pay all Tyler Ellis employees and contractors in full throughout this difficult time.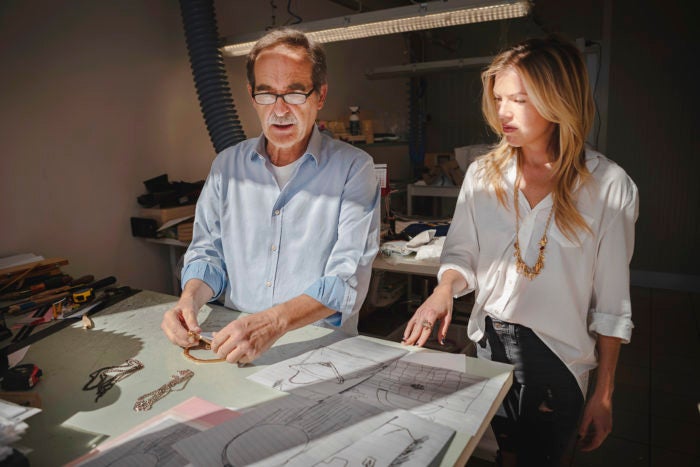 And what long-term changes has the company had to make, if any?
From the beginning, my business model has been to focus on direct to consumer sales and Covid-19 has confirmed my strategy.  I am an independently owned boutique brand, yet most of my competitors are widely known fashion houses. My product can easily get lost in department stores and larger retail spaces because clients need and deserve to understand who the brand is and what they are paying for. Brand education is of the utmost importance to new shoppers and the retail conglomerates do not have the bandwidth to provide detailed information about every brand they carry.
I recently launched Bespoke by Tyler Ellis, a service that offers our clients a personally tailored shopping experience, connecting you directly with a member of our dedicated concierge team to customize your one-of-a-kind handbag. This highly curated program allows you to hand-select every decorative aspect of your bag including; skin/material, hardware, embroidery or engraving and will be delivered to your home in just a few weeks.
When we can travel again, where is the first place you will go?
Locally, (the Americas) Las Ventanas in Cabo San Lucas. It is our home away from home. Internationally, Italy. We typically spend the last two weeks of August at Hotel Caruso in Ravello and enjoy the spectacular views, fresh fish and homemade pasta. In the fall I'm hoping to return to Aman, Tokyo. It's the most respectful, polite and clean city I've ever been to.  The food is to die for, and not only Japanese cuisine, everything you try is truly exceptional.
In your opinion, what are the biggest trends that will emerge in the industry over the next 12 months?
The industry is beginning to gravitate back towards true luxury, or what luxury used to mean and what it means to me: quality, rarity, and exclusivity. Instead of loud trends and brand logos over-powering accessories exteriors, the industry is heading toward timeless, understated designs, more customized, one-of-a-kind pieces. As the late, great Karl Lagerfeld said, "Trendy is the last phase before tacky".