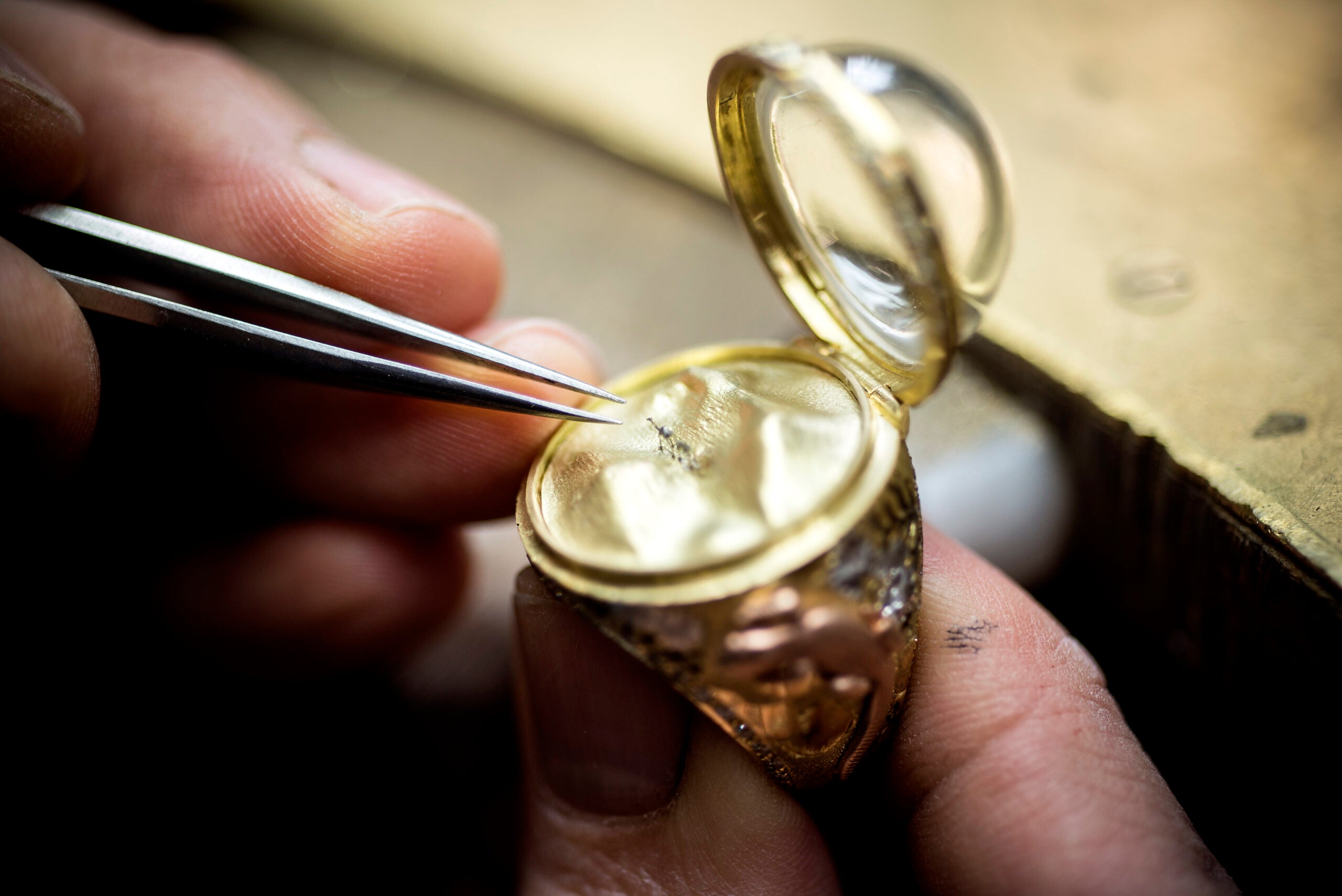 As at home in a gallery as they are adorning the designer's many clients, Theo Fennell's pieces are nothing short of works of art. From bespoke silverware, through to striking jewelry, Theo Fennell expertly combines quintessential Englishness with a unique boldness.
Theo Fennell jewelry and silverware is worn by and seen in the homes of, the world's elite. From being presented at the grandest of celebrations, or awarded for some of the most prestigious successes, there is no doubt that receiving a piece by the British designer is a mark of something special.
Each piece that leaves the studio is the result of specialist design and crafting, with Theo and his team uninterested in appealing to a mass-market: "The essence of what we are making has always been different. We aren't trying to make things that are fashionable. […] It still seems mad that anybody would want to wear the same thing as someone else."
Instead, the jewelry and silverware produced in this studio is somewhat whacky and completely unique: think, skulls encrusted with vibrantly colored stones, handmade caviar sets and ornate opening rings that tell a story about the wearer.
Since launching in 1982, the jewelry designer has only moved his workshop and gallery once – and even then, it was just a short way up the road, remaining in London's exclusive Fulham area. After nearly 40 years, bespoke pieces are still handmade by skilled craftspeople in the workshop above the gallery, all under the watchful eye of Theo himself.
As you'd expect with pieces as grand as those in Theo Fennell's repertoire, the process behind them is in many ways a labor of love, with each step as important as the next. With a bespoke piece, clients will usually arrive in one of three stages: some have no idea what they want; others have a vague idea; and occasionally, they know exactly what they want but don't know how to put it into practice.
Theo compares the initial process of designing a bespoke commission to buying a house: "Quite often people will want the equivalent of a two-bedroom flat, and ask if we've got anything. But you have to consider where the property is, how big it is, and your budget. So, putting the creative process aside, the most important thing with bespoke pieces is to ascertain how much they want it for, when they want it for and the level of grandness."
When commissioning a piece of jewelry from Theo Fennell, clients should expect their own personality to be ingrained into the final product. "We want to make jewelry that has a personality – and a bespoke piece will adopt the personality of the person who is wearing it. […] It's a case of trying to find out as much about them as you can, as well as deciding on what size and color will suit them. It's a very three-dimensional thing."
Theo relies heavily on his own artistic observations during the design process, carrying a sketchbook around and drawing what he sees. From here, he will zoom in on specific details, narrowing down until he arrives at the final, most important detail. Almost every piece that comes out of the Theo Fennell workshop will begin its life in one of the designers many sketchbooks, starting with an initial sketch, through to technical drawing, all the way to the finished product.
People often keep these initial sketches – Theo's drawings are mounted on board and presented along with the finished piece. The sketches are a piece of art in themselves, worthy of framing and displaying in your home – in many ways, the process is almost as important as the finished piece.
To be able to create pieces as unique as those crafted in Theo Fennell's workshop, a degree of flexibility and freedom is required. An apparent lover of analogies, Theo compares his studio to a kitchen, and his craftspeople to chefs, all tasting different ingredients and trialing new recipes: "We try to keep the workshop and studio as fertile and inventive as possible, because I don't see how you can design things without an organic process."
Once the design has been finalized, the process moves to the workshop, which sits just next door to the design studio. Here, skilled jewelers set to work bringing Theo's visions to life, with each element of production delivering the work-in-progress to a different craftsperson.
Even what Theo describes as a 'simple' ring (which involves a miniatures cathedral set inside a crystal dome, encrusted with diamonds) has passed through six different pairs of expert hands before it reaches the final stage of polishing. One person will carve the crystal dome, another will drill the holes in the base metal and another will cut and polish the diamonds. Once the diamonds are cut and polished, someone else is responsible for setting them, and another person will go through the painstaking process of engraving the minute details.
Unlike other jewelers, no casting is used in the Theo Fennell workshop – instead, every single detail is hand-carved. Although this invariably lengthens the process, it is this undivided attention to detail that secured Theo's cult following of clients. The length of the process will vary depending on the detail, with some items taking weeks and others, months.
The team of craftspeople working in Theo Fennell's workshop is small, with each member bringing a unique skill or specialty, adding to the distinctive process. Committed to nurturing the talents of jewelers, Theo has an apprentice working with his more experienced jewelers – several of whom have worked alongside Theo since the start of his career nearly 40 years ago.
Whilst bespoke pieces of jewelry and silverware are undeniably the specialty at Theo Fennell, the more commercial collections are still incredibly unique. According to Theo, very few pieces are made within each collection, and they aim for each to be permutable so you will find multiple versions of every item. Each piece in the collection will have plenty of room for customization, be it adding a personal engraving or selecting your preferred stone.
Naturally, with such a bespoke process, there are some pieces that Theo won't part with, and remain on show at the gallery downstairs. For example, 'The Empty Quarter' ring, which houses three miniature camels, painstakingly crafted by micro-sculptor, Willard Wigan MBE. The camels are so small in fact, that they can barely be seen with the naked eye, and the ring is accompanied by a matching diamond-encrusted magnifying glass.
Theo Fennell's jewelry and silverware can be purchased online or from his flagship Fulham gallery. Prices for bespoke pieces available on request,