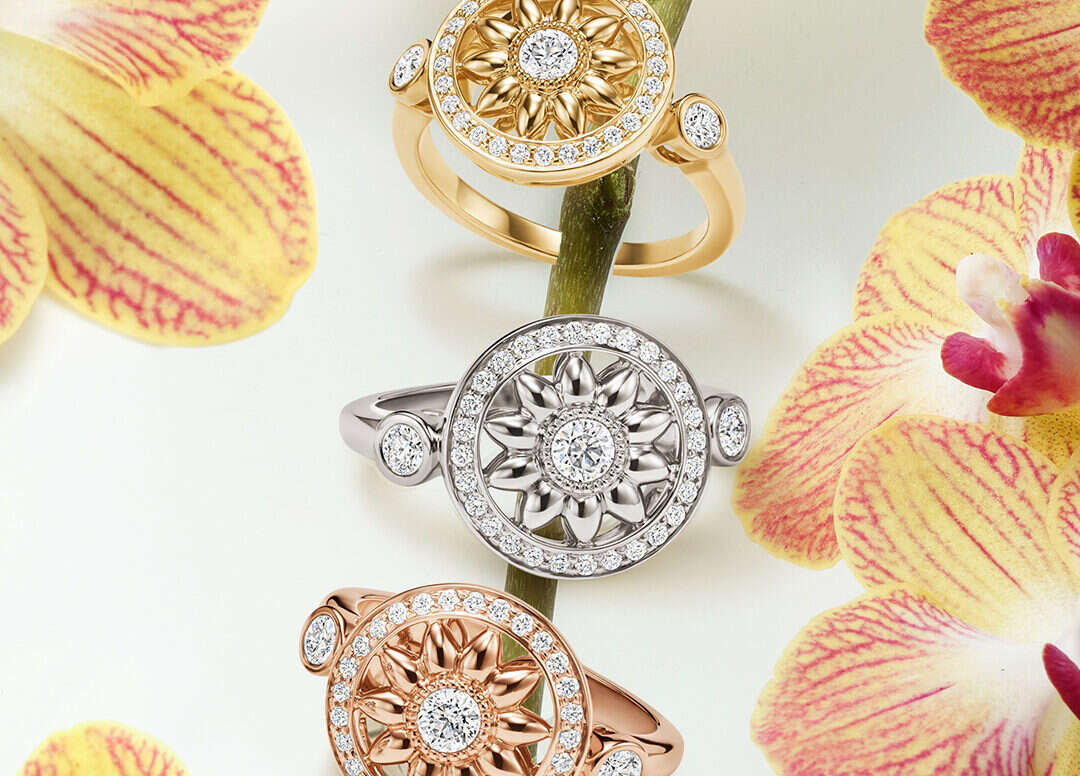 Whether it is brand new or vintage, an iconic piece of jewelry is one of the best investments you can make. But what makes a piece, or a collection, iconic? Is it emblems inspired by famous locations, like Van Cleef & Arpels' Alhambra collection? Or structured simplicity, like Cartier's Love bangle?
The mileage that comes with the foundations of big heritage jewelry houses means that turning out perpetually relevant and timeless designs doesn't have to be about age, as shown by these designs created in the last 20 years.
Much like in the rest of our lives, the pandemic has caused a ripple effect in the future of trade and trends in the industry, most specifically 'living in the now.' Not saving fine jewelry pieces for special occasions and wearing them every day instead (the Zoom effect, perhaps?) and the digital purchasing of high and fine jewelry are at the top of the list. But the trend I'm really banking on for 2021 and beyond? Sustainability and ethical practice. Watch this space.
[See also: How Ethically Sourced Diamonds Are Changing the Industry]
The Icons
Buccellati Brooches
The early aughts were a big time for Buccellati. In 2000, the Smithsonian Institution's National Museum of Natural History in Washington, DC hosted an exhibition named Buccellati: Art in Gold, Silver and Gems, which celebrated the work of Mario and Gianmaria Buccellati. A year later, the company's first watch collection was presented at SIHH in Geneva and then in 2004 came the now-famous Animalier collection.
Inspired by his great love of baroque pearls, Gianmaria Buccellati created 28 collector's edition brooches centered around the pearls with emeralds, rubies and sapphires honing the details, with mother-of-pearl, tourmaline and topaz serving as texture in these exquisite creatures. From dragons with bright ruby tongues to snails with mysteriously gleaming eyes, it was "a menagerie born from unbridled imagination."
Tiffany & Co.'s Tiffany T Collection
Just when you thought Tiffany & Co. couldn't produce more icons — the famous blue-hued jewelry brand is known for its Return to Tiffany™ key rings and elegant key collections — it drops the Tiffany T collection in 2014, "an icon for a new era" that "captures the creativity, happiness, love and strength that Tiffany stands for."
Created by Francesca Amfitheatrof, the Tiffany T collection was her first as a design director for Tiffany & Co. "I wanted to create a symbol for modern life and the relentless energy that flows through New York and drives art and culture around the world," Amfitheatrof said at the time of the collection's launch.
This 'symbol of modern life' has proven to have enduring appeal among sartorial types. Inspired by the architectural lines of the letter T, the collection has a perennial allure with its simple, timeless design. The bracelets, rings and pendants have been created in 18K yellow gold, 18K rose gold and 18K white gold, and are meant to complement one another — stacking and layering encouraged.
Since its launch, the collection has inspired the Tiffany T1 collection and T True collection, which features the signature T interlocked in rings and bracelets set in yellow gold, rose gold and platinum.
[See also: The Sustainable Jewelry Brands You Need to Know]
Harry Winston's Winston Gates
Harry Winston earned his 'King of Diamonds' moniker by opening the gates of his Fifth Avenue salon to showcase his impressive diamond collection, rather than keeping them locked up in vaults. Staging public exhibitions around the world too, Winston is said to believe that objects of such beauty should be shared.
It's these very gates to his Manhattan boutique that inspired the Winston Gates collection, paying homage to the rare jewels that gave Winston his nickname, honoring the founder's vision and lifelong passion for diamonds. The stately neoclassical travertine townhouse that houses the jewelry brand's flagship boutique at the corner of West 56th Street and Fifth Avenue was designed in a late-18th century style, complete with a gilded iron gate.
The famous iron gate features a gold rosette pattern with 10 petals, accented by scrolling leaves and sculpted urns. Its namesake collection, launched in 2019, features a medallion pendant, earrings, bracelets and rings with a round brilliant diamond center stone and a surrounding rosette pattern and pavé diamonds made in either platinum, rose or yellow gold.
The Future Leaders
Everyday Fine Jewelry
Gone are the days when fine jewelry was saved for a special occasion. A year where special occasions and celebratory events have been few and far between has ushered in a new norm: wearing fine jewelry as everyday jewelry.
Granted, it's not just a year of lockdowns, quarantines and restrictions that has led to an upward curve in the trend — some brands have been marketing themselves as such for years. Alighieri, Sophie Bille Brahe and Anissa Kermiche have all bridged the fine jewelry gap, creating artisanally crafted pieces designed to peek out from undershirts in the boardroom and slip over sweaters on the school run.
"I want to offer my clients diamonds for their everyday, whether that's pieces to wear out to lunch, dancing on tables or working from home," says designer Jessica McCormack. "We don't want the jewelry we create to be tucked away, waiting for the perfect event. It's jewelry to be worn and loved."
[See also: Honorable Gems: Sustainable and Ethical Jewelry]
Sustainability
If you follow the jewelry industry, you'll know that a magnifying glass has been focused on the ethical and sustainable practices of big brands for quite some time. Initiatives like Fairtrade and Fairmined gold as well as AGEC Africa have helped to realize the enormous scope for positive change in the precious metal and gemstone industries.
Pandora has pledged to convert to using only recycled gold and silver by 2025, and Tiffany & Co extended the parameters of its diamond provenance initiative, and there are plenty of other initiatives in place across the industry. Ana Khouri and Pippa Small have been using artisanally mined gold and ethically sourced stones for decades, and Chopard has committed to using 100% ethically sourced gold in its workshops.
And then there's the topic of lab-grown diamonds. Created by subjecting 'seeds' to intense pressure and heat, lab-made diamonds are chemically identical to mined diamonds but around 30% the price of a 'real' mined diamond.
While not marketed as a more eco-friendly option due to the significant amount of power needed to produce the lab-made diamonds, the practice certainly eliminates any doubt over ethical mining practices. In May 2018, De Beers, the world's largest diamond producer, announced its own lab-grown jewelry brand, Lightbox, marking one of the largest investments in the technology seen so far.
E-Tailer Revolution
Despite its flagship store Net-A-Porter launching over 20 years ago, Yoox Net-a-Porter only launched a high-end jewelry section in 2018. The company then doubled down on its jewelry offering by curating an invitation-only digital space entitled EIP Privé, but the shortcomings of fine jewelry available online, and the difficulty of purchasing it readily, are reflected industry-wide.
The pandemic, say Caroline Chalmer and Mie Ejdrup, co-founders of FineMatter.com, has swung open the proverbial doors to digital purchasing of fine jewelry. "We experienced an even stronger interest in our business from jewelry designers and customers," say Chalmer and Ejdrup. "Jewelry designers were facing closed stores and a sudden drop in sales. They needed an alternative distribution channel that would make it financially attractive and simple to sell online, but where their brand would still be presented in line with their standards."
Vishal Mehta, cofounder of Once, a fine jewelry marketplace, agrees: "Working from home has also meant that fine jewelry has seen decreased competition from other luxury rivals such as travel, experiences and clothing." During times of crisis, people tend to choose quality over quantity, says Mehta. "This means that people have more disposable income to invest in fine jewelry," he adds. "Add to that a growing demographic of digital natives with high income, and you have an audience for whom shopping online for fine jewelry is natural."
Elsewhere, Omnēque brings antique and vintage jewelry out of its fusty stereotype with a curated offering, and Auverture, founded by artist and designer Bibi Van Der Velden, has tasked itself with bringing unique, lesser-known brands to the masses.
[See also: Diamond Demand on the Rise, but Maybe not Forever]