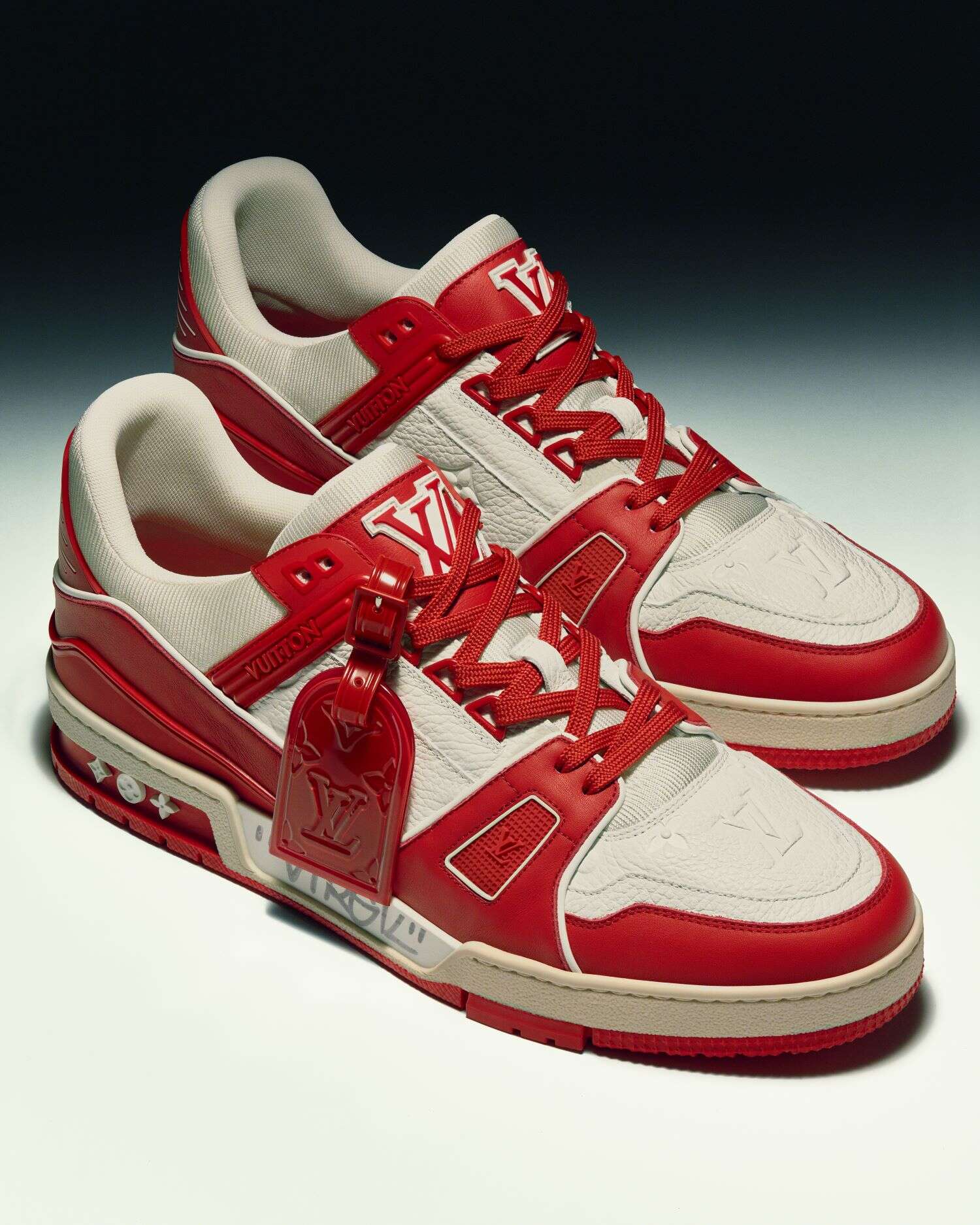 The Louis Vuitton I (Red) Trainer Prototype is going under the virtual hammer at Sotheby's this week in an online auction to raise funds for the charitable organization, (Red).
Signed by Louis Vuitton Men's artistic director Virgil Abloh, the one-of-a-kind sneakers are expected to sell for between $30,000-$40,000 when bidding closes on Thursday, March 4th.
The prototype pair features a bright red side grid, which was later adjusted to white by Abloh for the actual launch in winter 2020. As is standard for all Louis Vuitton menswear prototype footwear, the sneakers are men's UK size 9 (men's US size 10).
[See also: Louis Vuitton Launches Lockit Bracelets for Unicef]
The unique sneakers are offered with no reserve and all proceeds will be donated to the charity (Red), which was founded by Bono and Bobby Shriver in 2006 to fight AIDS. Over the past year,  the non-profit has also been fighting to mitigate the impact of the coronavirus pandemic on the world's most vulnerable.
"As a designer, I am really proud to use creativity and design to spur positive change. This partnership with (Red) to auction my Louis Vuitton I (Red) LV Trainer sneakers at Sotheby's aims to help to fight against AIDS and Covid," said Abloh.
First presented at Abloh's debut Spring-Summer 2019 show for Louis Vuitton, the LV Trainer has become a staple menswear sneaker. The Louis Vuitton I (Red) is one of the fashion house's more recent takes on their iconic trainer and features the Maison's embossed Monogram on white leather with red piping and details in a nod to (Red)'s lifesaving work.
The auction marks the non-profit's 15th anniversary and is part of an ongoing collaboration between Louis Vuitton and the charity.
Jen Lotito, president and chief operating officer at (Red) said: "Virgil's creative genius and support of (Red)'s work is an inspiring example of how art and philanthropy can come together to make a real impact. (Red) is honored to partner with Louis Vuitton, Virgil Abloh and the Sotheby's team on this exciting auction in support of our mission to fight AIDS and Covid-19."
Bidding is open now through to March 4th 2021 and the trainers are viewable by appointment at Sotheby's New York galleries, at sothebys.com