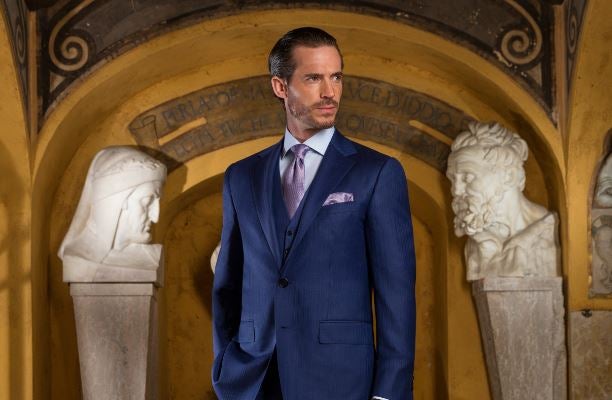 This story originally appeared in the March/April 2017 issue of Elite Traveler.
Every well-dressed man should boast at least one made-to-measure or bespoke suit in his closet. While each is exceptional in fit, there is a difference. Made-to-measure suits see existing styles and patterns tailored to the client's measurements. With a bespoke suit, the client selects everything – from fabric and cut, to the buttons and the color of the lining.
Both require the time and talents of a tailor. At Stefano Ricci, just outside Florence, a made-to-measure suit can take up to 120 hours of work. For spring 2017, Ricci is emphasizing the beauty of details in a suit that might be called the ultimate classic: three-piece styling highlighted by a two-button jacket with slightly rounded shoulders and a structured, hand-stitched lapel.
Ricci's master tailors often travel to clients for orders and fittings. Likewise, Savile Row tailor Kathryn Sargent logs plenty of frequent flier miles for her clients – in March she's slated for personal appearances in Washington, DC, New York, Chicago and San Francisco.We asked her to offer tips to ensure your bespoke or made-to-measure suit remains a forever piece in your wardrobe.
Single vs double: "Double-breasted suits look great when they are worn fastened, but they are much more formal than a single-breasted cut. A single-breasted suit is more versatile and can be dressed up or down," Sargent says. "I would advise a shorter client that a three-button suit can lengthen your torso, and if you're heavier, a two-button suit can add shape and define the waist."
Lapels matter: "Make sure your lapel size suits your frame," she advises. "A very large lapel on a slight frame can make the jacket look overwhelming, and a thin lapel on a larger frame can make the jacket look too small and out of proportion."
Opt for style vs fad. Bespoke and made-to-measure tailoring transcend seasonal trends. "Avoid overpowering statement looks," Sargent says. "A well-fitting suit is timeless and can be worn for decades to come, if it is well looked after."
Stefano Ricci, 407 Park Avenue, NewYork, stefanoricci.com Kathryn Sargent, 37 Savile Row, London, kathrynsargent.com