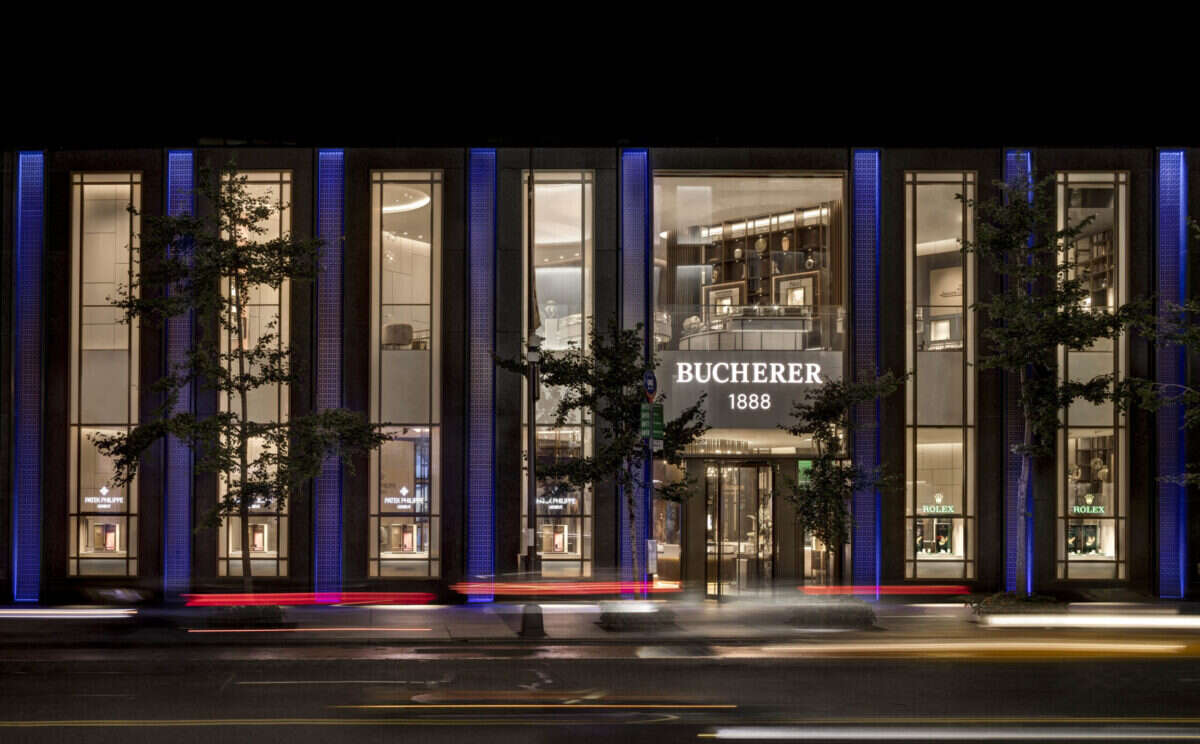 The iconic Tourneau TimeMachine watch store in New York has been renamed, reimagined and reopened after an 18-month project led by owning company Bucherer 1888. Located on 12 East 57th Street, the new store is an immersive super boutique housing almost 40 luxury brands across 18,379 sq ft of retail space.
Bucherer  1888 worked closely with Tourneau in the redesign, but its iconic storefront (all New Yorkers have been thrown off by one of the many clocks displaying different time zones) has gone. In their place, columns of floor-to-ceiling windows allow passers-by to peer in with ease. A bright, open and airy boutique floor immediately draws the eyes while the big Bucherer 1888 over the entrance leaves the rebrand in no doubt. There is also a projection system, which will display clocks and other content where the old main clock once sat.
Those floor-to-ceiling windows are not just to draw revelers in, they also flood the boutique with natural light. Its high ceilings and open plan keep the large space in touch with the outdoors, allowing people to flow seamlessly from one watchmaker to the next. And there will be plenty to peruse. All of the brands worked with Bucherer 1888 to create specialized displays and product selections not found anywhere else.
[See also: Vacheron Constantin Opens Flagship Boutique in New York]
Designers have blended marble, stone and wood with white and dark hues to ensure that natural light reaches every inch of the store. The custom-made chandeliers sparkle day and night, allowing prized watches and jewelry to be seen in their best light. Glass counters have been replaced by 20-foot marble tables, sitting areas and even bars boasting fine wine selected by Sotheby's.
Curated art exhibits will further add to this hybrid experience, giving guests plenty of reason to spend a significant amount of time inside. Art will rotate on a regular basis beginning with a fine selection of works from prominent New York artists.
"Tourneau has always made us proud since we acquired the company in early 2018," said Guido Zumbühl, CEO of Bucherer Group. "With one common goal in mind—pleasing and surprising our customers—we have planned the new flagship boutique in a way to take visitors through an engaging and lively experience."
The sheer number of vendors under one roof allows Bucherer 1888 to be "incredibly selective" about what is displayed. Only the most relevant and coveted pieces from each brand will be showcased, ensuring the boutique becomes a pilgrimage for watch enthusiasts all over the world.
Bucherer 1888 has reserved a space for its highly successful Certified Pre-Owned business. For the grand opening, it will display its most coveted pieces sourced from around the globe. The top floor will also be dedicated to Bucherer Fine Jewellery collections, marking the first time they will be available in the US.
[See also: How Covid-19 Caused a Boom in the Luxury Watch Industry]