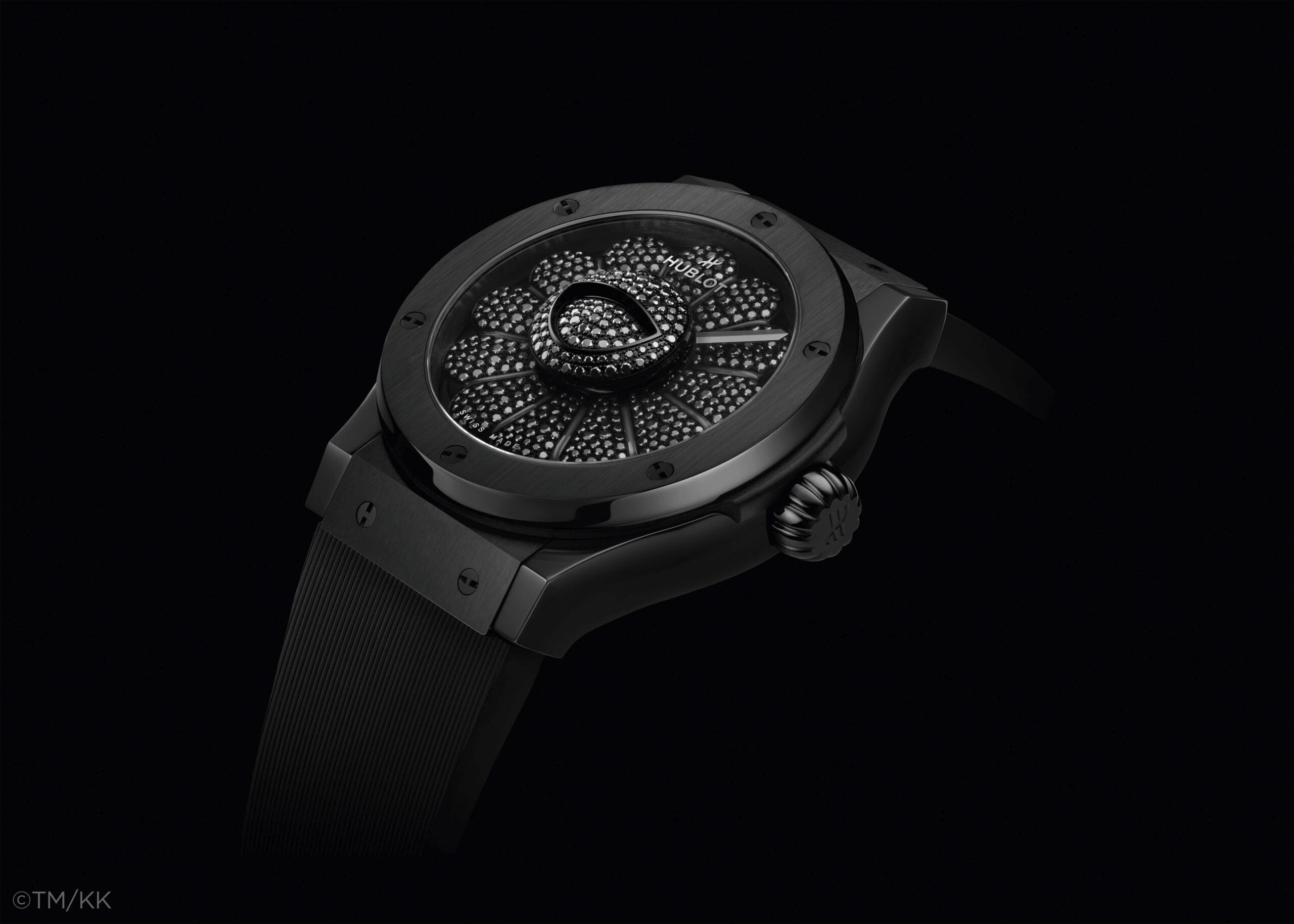 Renowned Swiss watch brand Hublot has recently unveiled the product of its collaboration with celebrated Japanese artist Takashi Murakami. The limited-edition Classic Fusion Takashi Murakami All Black combines Hublot's many years of watchmaking expertise and prowess with Murakami's contemporary style and visionary eye.
The watch itself is a reimagination of Hublot's All Black, originally launched in 2006, featuring Murakami's signature smiling flower icon in black diamonds on a backdrop of matte black ceramic. As well as existing on the watch, the motif appears within; the petals are artfully anchored to the watch's movement, allowing them to pivot as the wearer moves their wrist, giving the impression of floating petals swirling within the watch. With just 200 models available, the watch is anticipated to quickly become a coveted collector's item.
[See also: Seven of the Best World Time Watches for 2021]
The launch of the Classic Fusion Takashi Murakami All Black watch saw Hublot CEO Ricardo Guadalupe join Murakami live in Tokyo from the company's Switzerland HQ via holographic projection. Commenting on the collaboration, Guadalupe said: "Takashi Murakami is an international star, not only in contemporary art circles but also with the general public. He shakes up the borders between art and pop culture. It is a real privilege to see him join our team of ambassadors. We are delighted with the launch of this watch/work of art."
Regarded for his ability to transcend artistic barriers, Murakami successfully blurs the lines between fine and contemporary art, with his work spreading across multiple mediums, genres and tools. The artist is no stranger to commercial collaborations, having lent his talents to multiple noted brands throughout his career, including Louis Vuitton, Perrier and Vans.
Aside from its commitment to collaborating with pioneering artists, Hublot is committed to sustainable operations. As a member of the Responsible Jewelry Council, a non-profit company dedicated to promoting ethically and environmentally responsible jewelry production practices, the watch company operates in a transparent and accountable manner, from sourcing to production. It also actively works with conservation charities such as Save Our Rhinos Africa and India, providing financial support and a much-needed platform to protect the future of the endangered species.