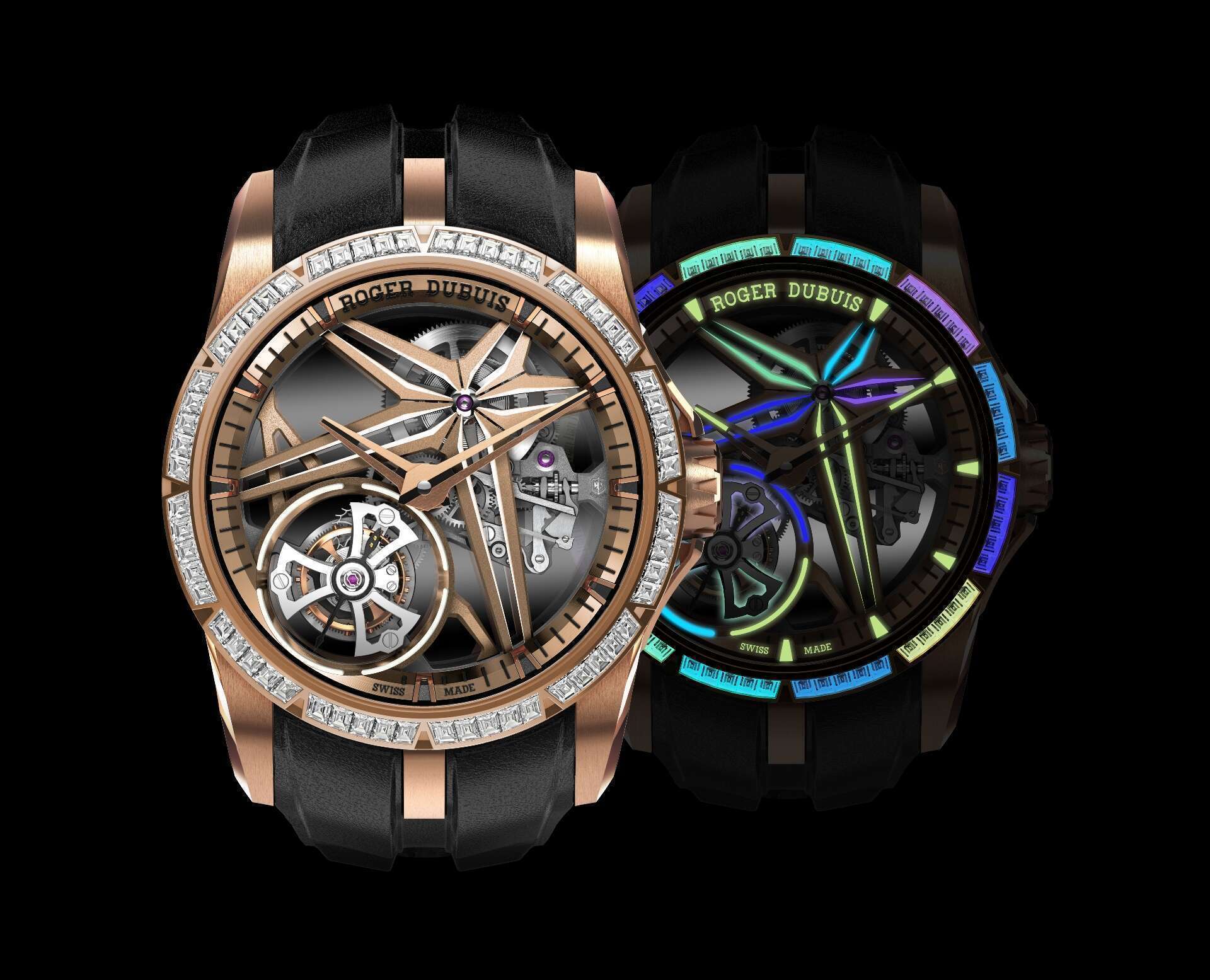 Innovative, cutting-edge Swiss luxury timepiece manufacturer Roger Dubuis has recently launched an exciting new timepiece, the Excalibur Single Flying Tourbillon – and a special, limited edition of the series called the Excalibur Glow Me Up. Using modern and technical materials, the timepiece has been meticulously reinterpreted to be a pleasure to wear and admire.
Showcasing clean-cut lines, the new design creates the impression of having a thinner look and feel while also heightening the transparency and depth of the watch face. The caliber has been rebuilt, resulting in the iconic Roger Dubuis star now levitating freely above the barrel instead of being fixed in place. There is also a range of new strap sizes available with the timepiece, with a quick-release system as standard for ease and flexibility.
[See also: Elite Traveler's Top Watches]
[See also: Watches and Wonders 2021: The Best New Timepieces]
When it comes to designing and creating new timepieces, at Roger Dubuis the wearer's experience is always at the forefront of the process. This is why the new Excalibur Single Flying Tourbillion features a titanium lower tourbillion cage, which is twice as light as stainless steel. With the weight of the timepiece reduced, the power reserve is optimized to 72 hours, meaning it can be left unworn for up to two days without needing resetting.
As part of the launch of the new collection, Roger Dubuis has also announced an incredibly limited-edition timepiece: the Excalibur Glow Me Up. With only eight watches available, the Glow Me Up is a world-premiere for the luxury watch manufacturer, featuring luminescent diamonds in different hues.
Adorned with 60 baguette-cut diamonds on the bezel, by day the Glow Me Up is an elegant watch in its own right. However, by night, a completely different version of the timepiece comes to life, thanks to a unique and patented process that enables the diamonds to appear luminescent without being altered. The process – which involves using a product called Super-Luminova – has also been applied to the chambers of the caliber, allowing the Roger Dubuis star to take on the same glow.
Both the Roger Dubuis Excalibur Single Flying Tourbillion and the Excalibur Glow Me Up are now available, with the Glow Me Up retailing for $215,000.
[See also: The Best Adventure-Proof High-Tech Watches for Men]