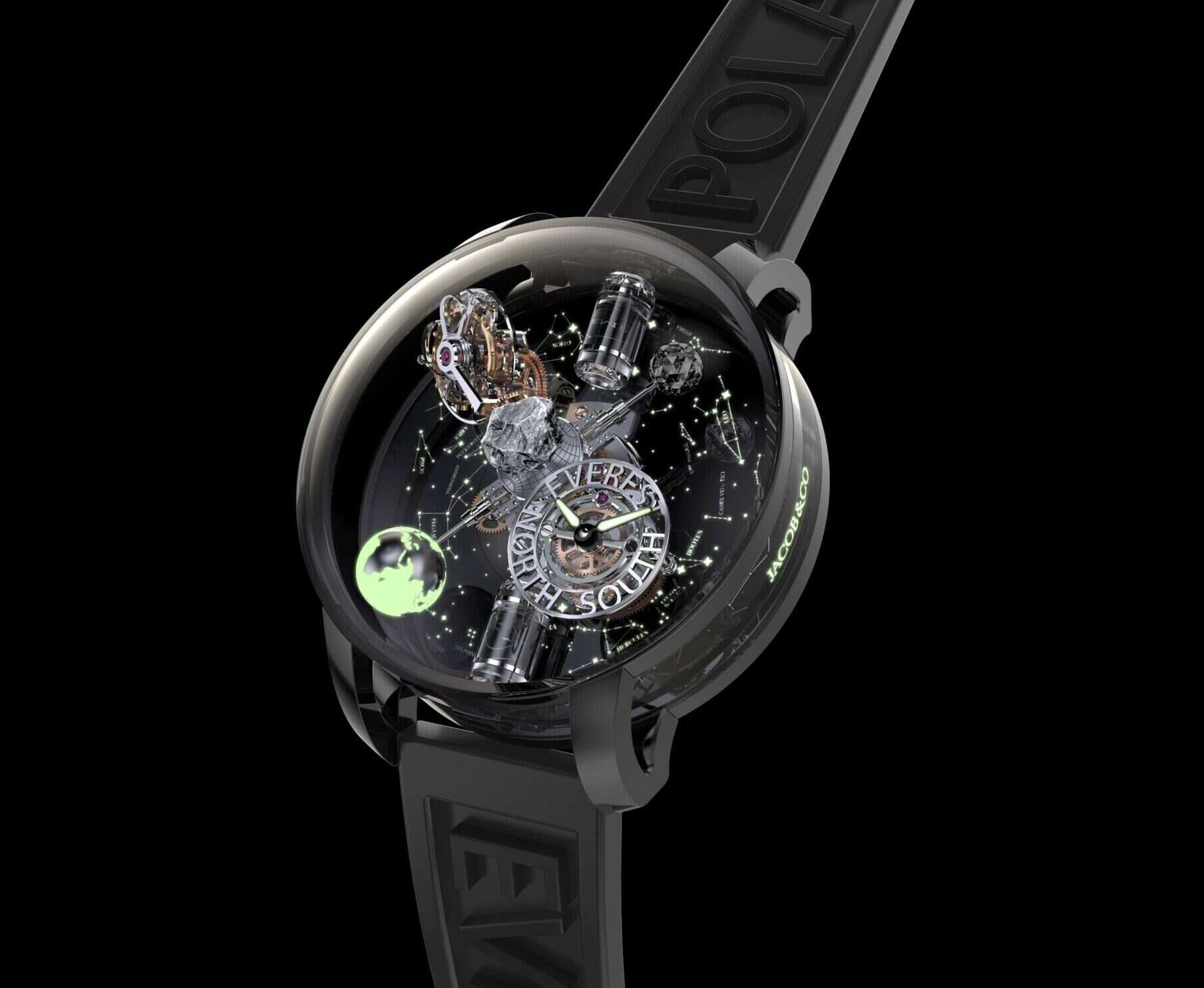 Jacob & Co has revealed an extraordinary new Astronomia Tourbillon watch that contains water from the South and the North Pole, and a fragment of rock from Mount Everest. The timepiece has been created in partnership with explorer and environmentalist Johan Ernst Nilson, who collected the precious samples of water and rock himself.
The stunning timepiece highlights Jacob & Co's and Nilson's commitment to reducing the impacts of global heating. The company will donate 10% from each sale to a charity of the buyer's choice. Once all 24 have been sold at $884,800, the total donation will amount to over $2m.
Creating a watch that had a tangible impact on climate change was an essential element for Nilson. He started exploring in the early 1990s and has since climbed all Seven Summits and visited both Poles. He has seen the effects of climate change firsthand.
Speaking to Elite Traveler, Nilson said: "I would say going to glaciers, you see them in a very different way as they are slowly disappearing. I wouldn't say that I would have big confidence in my kids growing up being able to see those glaciers. Being on adventures for 25 years, there is a big difference from when I started. If this is the rate of change in 25 years, how will it look in 500 years? And it's not only those places. They are famous locations, but you can see a lot of these changes in places like Amsterdam and the Maldives."
The Astronomia Everest has been three years in the making. Much of that time has been spent collecting the precious materials and working out a way to place them sympathetically. Each timepiece contains transparent buckets of actual water collected from both Poles. Naturally, the North Pole water is at the 12 o'clock position and the South Pole water 6 o'clock. Mounted in the center of the timepiece is a beautiful piece of rock from the world's tallest mountain.
[See also: In conversation with Jacob Arabo of Jacob & Co]
Expedition to Everest
Each buyer will be invited to fly to Everest with Nilson to see the exact spot where the piece of rock was collected. They will also see the rapidly receding glaciers of the Himalayas before flying home to spread the word. Nilson hopes the watch owner will start the right conversations in powerful circles. He believes wealthy individuals – the kind who can afford an $884,800 watch – have a big part to play in the switch to a green economy.
He said: "It will be a conversation piece. You sit at the dinner table and you discuss the North and South Pole, and it will remind you of the beautiful nature that we have on this planet.
"Even though they are a small percentage and live differently from many others, they can have a big impact. These big companies and wealthy people can have a much, much bigger impact than they think. Especially on social media, those with millions of followers, I don't think they realize what they can do with that power. I hope that every time someone looks at this watch, it will remind them to do something good."
[See also: The Jacob & Co – Mystery Twin Central Tourbillons]
The Astronomia Tourbillon's exposed mechanics make it appear fragile, but Nilson has already proved that looks can be deceiving. Nilson has worn a standard Astronomia Tourbillon in the world's harshest environments and says it held up as well as any outdoor watch.
"I wore the Astronomia Tourbillon on my last climb to the Himalayas, where I went up to 6,200m (20,341ft), in -30C (-22F), extreme conditions," he said. "It performed perfectly in all conditions. I used it climbing up ice walls, with my ice ax, banging it against rock and ice. We pushed it really hard. I will be testing the watches to see if we can do any small changes on it, but we have been testing it for three years so we are pretty set."
The Jacob & Co Astronomia Everest is limited to 24 pieces to match the 24 time zones of the Earth – 12 pieces with a black Celestial Vault and 12 pieces with a blue Celestial Vault.
Available for $884,800 jacobandco.com