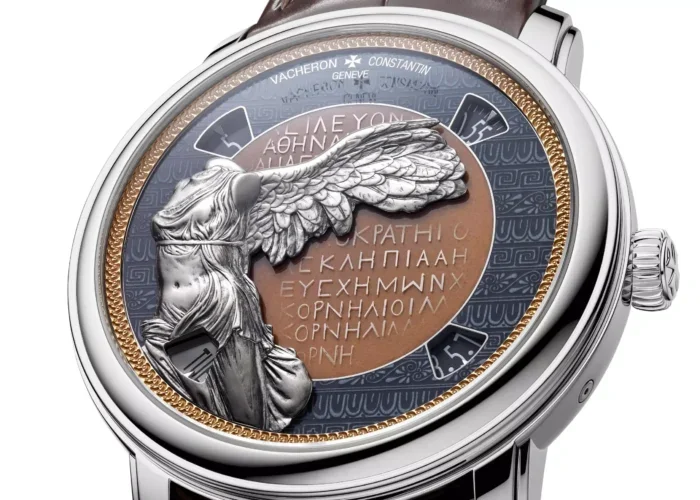 The Golden Age of Ancient Egypt; the great Roman Empire; Ancient Greek Hellenism, and the Persian Empire of Darius the Great: Vacheron Constantin has partnered with the Louvre to produce a Great Civilisations watch collection spectacular in vision, supreme in craftmanship, and glorious in its celebration of the grand empires of our shared human heritage.
Following intense collaboration between historians and curators alike, the partnership – which was first initiated in 2019 – is a homage to Le Louvre's ancient collections, placed in the center of an extraordinary watch carefully created by Vacheron Constantin's skilled craft makers and visionary designers.
"By joining forces with the Louvre in 2019, Vacheron Constantin initiated a veritable artistic and cultural partnership, in perfect keeping with its commitment to the celebration of beauty," Vacheron Constantin's press office announced.
[See more: The Best New Releases from Watches and Wonders 2022]
"This alliance echoes the respective heritages of the two institutions and the importance they attach to history, culture and heritage. From the selection of themes to the choice of representative works, from iconographic research to historical documentation and proposals for contextual texts, Vacheron Constantin's designers and creators have been able to count on the close collaboration of the Louvre's teams in defining the craft techniques to be used to pay due homage to the masterpieces."
These watches are powered by Vacheron Constantin's self-winding Manufacture Caliber 2460 G4/2, which features four discs that indicate the hours, minutes, days, and dates. The Geneva-based watch brand has also excluded the presence of hands within these watches, to minimize disturbance of these small yet remarkable masterpieces.
And in a similar vein in Vacheron Constantin's zealous commitment to beauty, each watch features a sapphire crystal bearing a sculpted gold applique that depicts one of these four eras of antiquity, as well as boasting the engraving of either cuneiform, hieroglyphic, ancient Greek or Latin script.
They are also of notable limited edition; highlighting the golden standard of the brand's watchmakers, only five timepieces per theme will be released.
And these triumphant individual of craftmanship are not only testament to the supreme quality that Vacheron Constantin has long pioneered, but the very civilizations the collaboration is celebrating.
"Our languages originate from them; our customs are influenced by them; and our political organizations, as well as our vision of the world, are inspired by them," the Vacheron Constantin press office explained. "These ancient civilizations… Will always remain essential references."