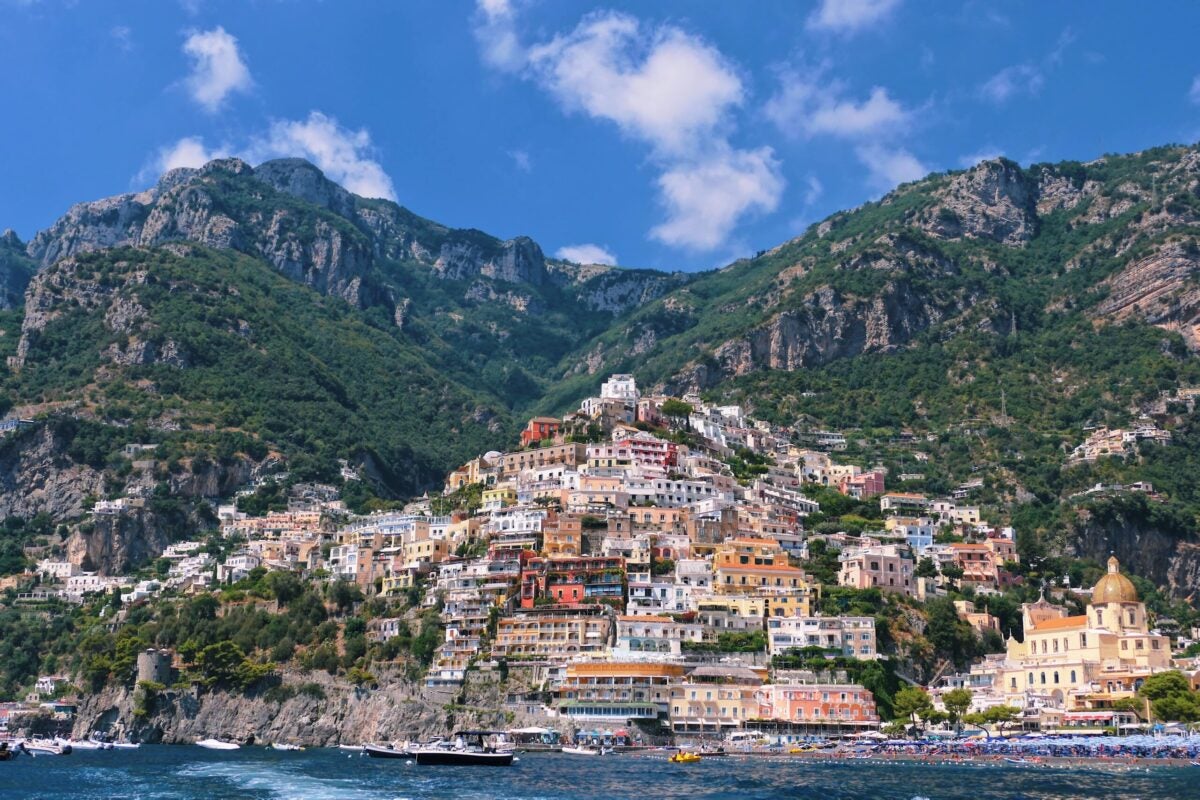 Dramatic, dreamy and oh-so-deluxe, Positano is the Amalfi Coast's front-cover star. Seductive and beautiful, vast cloud-capped mountains plunge into the sparkling sea in heartstring-pulling panoramas flecked by sheer-drop crags, colorful houses and verdant woodlands. No less Instagram worthy are its steep streets and steps, flanked by wisteria- and bougainvillea-draped hotels, decadent restaurants and the most fashion-conscious boutiques ready to dress starlets in quintessential classics. From its black-sand shores to the narrow lanes that wind their way down the precipice, you can pick up handcrafted pieces from indie 'Moda di Positano' designers, browse the showy shopfronts and relish in a quartet of fashion steals worshipped by the glitterati set. Positano is no ordinary destination, it's a lifestyle (and a style) in itself.
[See also: The Most Beautiful Wineries to Visit in Italy]
Positano style
The one-stop-shop for the most stylish Positano fashion is, without any competition, Emporio Sirenuse. Perched just opposite its namesake hotel Le Sirenuse, it's where you'll find quirky, off-the-wall boutique chic designed in collaboration with some of the finest out there, from Emilia Wickstead to Luke Edward Hall. And for those who take their swimwear very seriously, Allegra Hicks. Looks are "a romantic take on the spirit of the Amalfi coast," says founder Carla Sersale, whose lookbook is best described as easy-breezy, summer-ready style.
Dresses are romantically flowy, crafted from the finest breathable cotton (a godsend come August), linen and silks that the master indie-loving collaborator can get her hands on. Must-buys? Our personal in-store curated edit from Carla goes to the Bella Spring Flowers-print cotton midi dress— wear for days spent on the cliffs; Nerano shorts for lazy afternoons spent on the beach; and for when a night on the town beckons, the stunning Sophia dress made to keep all who wear it cool and supremely elegant.
For the guys, a linen shirt from this outpost will make sure you stand out from the rest.
Local crafts
When it comes to taking a slice of Positano home, look no further than its excellent ceramic shops. One of the best is Ceramiche Maria Grazia. Browse a sumptuous display of locally produced ceramics that are more or less guaranteed to cause a stir at your next dinner party. The colors and designs are subtle and classy, with lots of Amalfi lemons emblazoned onto urns, plates, tables and even cutesy egg cups.
The must-have
You might think it strange we dedicate an entire slot to the humble sandal, but know this: Positano is famous the world over for its handmade flops; so famous, in fact, that many of the artisanal shops scattered through the town's labyrinthine valleys will make them for you while you wait. Try La Botteguccia de Giovanni. Leather sandals are handmade by craftsman Giovanni in his small workroom at the back of the shop. All you must do is choose a color and any decorative flourishes you want (shells are always in fashion), tell him your size and then nip round the corner for an espresso while he makes your shoes. The late Jackie Onassis was a big fan, too. Custom-made sandals go for about $130.
Where to be seen
There's no question that the place to enjoy a drink in Positano comes courtesy of the now legendary Franco's Bar, perched on top of the equally legendary Le Sirenuse Hotel. Expect cocktails and oysters galore, served alongside breathtaking views of the coast and the town itself. Best time to visit? Pre-sunset to watch the skies turn a mesmerizing gold. After, throw on your finest attire for dinner at La Sponda, the hotel's magnificent bougainvillea-flecked restaurant that looks out onto the sea. The mood is wildly romantic. Think 400 glowing candles and a trio of musicians who serenade you with guitars and mandolins as you feast on excellent pasta spun with local lobster, mouthwateringly tender slabs of veal and incredible desserts. It's a Positano experience not to be missed.
[See also: The Cambridge Look: Fashion in the Historic City]
This article appears in the 26 Aug 2021 issue of the New Statesman, Fall 2021