The Plaza Hotel first opened in 1907, and today it remains one of the most important hotels in New York. This 20-story building now includes both hotel and condominium accommodations. On Central Park South, The Plaza is across the street from the park, luxury shopping, music venues and Michelin-starred dining — there is truly no better location in New York City. The Plaza is not only a luxury hotel, but an iconic landmark for film and history buffs (many books and movies have taken place or referenced The Plaza in some way, including children's book Eloise, for which there is a suite designed after). The hotel is also home to The Palm Court (known for power-lunching executives), The Champagne Bar and The Rose Club. Service is unparalleled, and the concierge can organize any excursion in the city. Be sure to take advantage of the Guerlain Spa and Warren Tricomi Salon. Inside The Plaza, there are also luxury shops and a chic food court so you never really have to leave. 
Top Suite: Grand Penthouse Two-bedroom Terrace Suite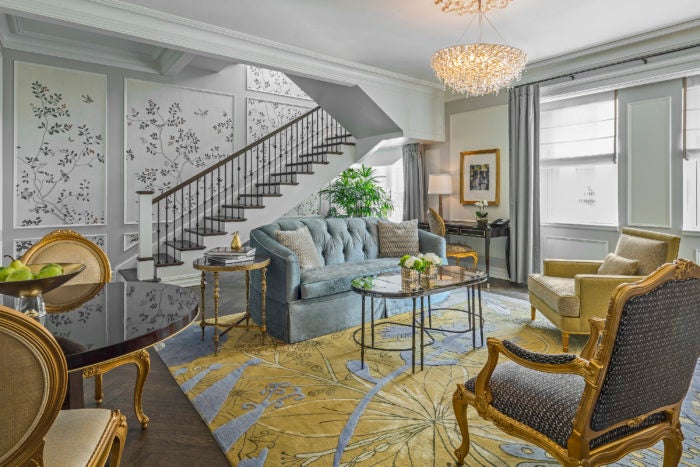 Rest your head in the Grand Penthouse Two-bedroom Terrace Suite, a large 2,100-sq-ft accommodation on the penthouse floor. There is a staircase that leads to the second floor with a master bedroom and a massive terrace. Enjoy white-glove butler service and elegant features, like 24K-gold fixtures and detailing throughout the suite.
768 Fifth Avenue, New York, NY 10019
+1 212 759 3000, theplazany.com