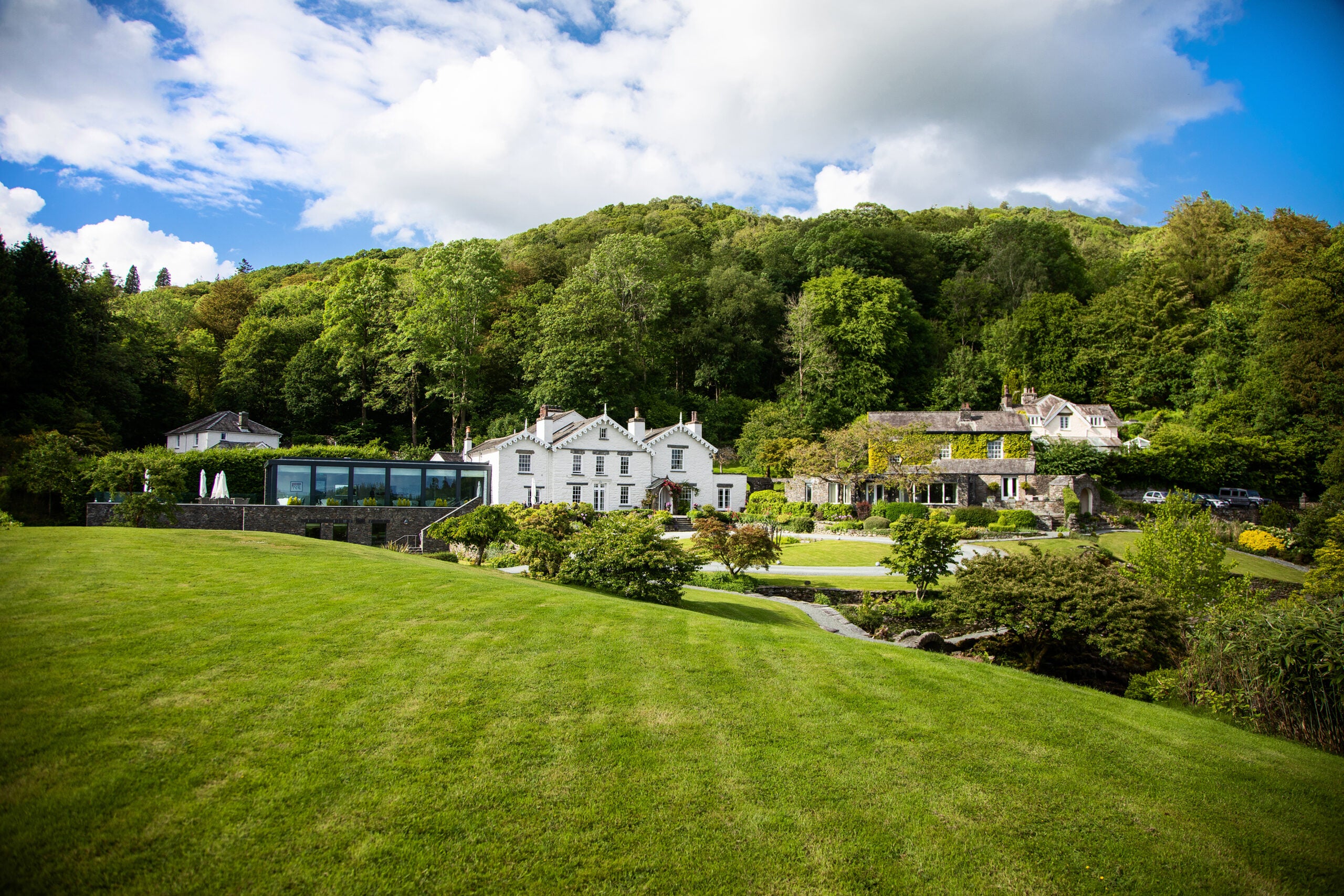 The Covid-19 pandemic is likely to keep our feet grounded this year, and even the jet-set elite are looking for home-based holiday alternatives. When the lockdown is eased enough to allow for a countryside retreat, social distancing measures will be in place for the foreseeable future. Only the hotels that can offer enough personal space for every guest will be able to operate as normal.
We have searched up and down the UK to find secluded luxury hotels that are best placed to thrive despite the obvious challenges. The hotels chosen all have a specific feature conducive to social distancing, and many are preparing to reopen for the summer on July 4. Some are set within expansive private grounds; others offer amazing private residences away from the main property. All of them have one thing in common: they offer the ultimate in luxury accommodation.
The Samling
Set within England's Lake District, a UNESCO World Heritage Site, The Samling Hotel (pictured above) offers guests their very own slice of one of the world's most coveted natural landscapes. With just 12 suites, the hotel can offer space and attentive service to every guest even when it is fully booked.
The boutique hotel sits on 67 acres of private land, so no matter how busy the rest of the Lake District gets, you are guaranteed to have ample space to explore the wonderous woodlands that sit behind it. You can hike up to the top of Jenkins Crag to soak in expansive views of Lake Windermere and the numerous fells that surround it before returning for a well-deserved afternoon tea on the hotel's expansive outdoor terrace.
The Samling also has a large dining room that will easily convert to adhere to social distancing measures. Guests will be able to safely enjoy the seasonal delights of Executive Head Chef Robby Jenks. The highly-rated chef creates elevated traditional Cumbrian dishes using only the most sought-after local produce. The Samling also has an expansive wine cellar and offers private tastings with their accomplished sommelier, Robert Patla.
Monkey Island Estate
Even though Monkey Island Estate is a quick train ride from central London, it feels like it's a world away. Tucked within the impossibly pretty village of Bray, the seven-acre-island is flanked by the River Thames. The hotel opened in spring 2019, but its history spans centuries: In 1197, monks settled nearby, and while this could explain the island's unusual moniker, the true root is hard to pin down (it's also rumored that King George III was banished here with a pet monkey).
It is made up of two landmarked buildings; one has the bar, restaurant, ballroom and Spencer Suite, while the other houses the guest rooms and two other suites. However, guests seeking the most private experience should opt for its collection of luxury private residences. These standalone properties are all located close to the hotel in Bray, offering the warmth of a period home alongside excellent five-star service and amenities.
There are six to choose from and, although not the largest, Dormer Cottage is certainly the most charming. This quaint residence in the heart of Bray is over five centuries old and was recently restored to an extremely high specification. For larger groups, the four-bedroom Long White Cloud cottage combines the intimacy of a 19th-century property with modern comforts.
Cliveden House
Sat on the edge of 375 acres of National Trust garden and the snaking River Thames, Cliveden House is about as British as it can get. The grand estate retains notoriety in pop culture: It was once a love-nest for the Duke of Buckingham and Anna Maria in the 1660s and a party house for the Astors throughout the 1920s and '30s. Although the estate remains quietly proud of its scandalous past, today's guests are advised not to attempt to emulate previous residents.
The hotel, which plans to reopen on July 4 in line with government guidelines, has published its updated policy to reflect social distancing rules. This includes a new awareness training program for all its staff and ongoing commitment to hygiene. Tables in the Cliveden Dining Room will be distanced from each other while staff and guests will have to adhere to a one-way system in and out of its three doors.
As well as beautifully appointed suites and vast shared spaces, the hotel also offers guests ample room to enjoy the great outdoors. Guests can wander around the magnificent formal gardens, explore tranquil trails, and play tennis on outdoor courts.
Coworth Park
Coworth Park is a 45-minute drive from central London yet succeeds in delivering the essential elements of the British countryside: wide-open spaces that are sparsely populated and an abundance of wild foliage. It is hard to imagine a more accessible city escape. Owned and operated by Dorchester Collection, you can expect the utmost in service and amenities while Adam Smith's on-site Michelin-starred restaurant is utterly superb.
The majority of the rooms are located in the Mansion House, but you can guarantee more space for your friends or family by renting out the exclusive Dower House. This Grade II-listed cottage was built in 1775, making it a full year older than the United States of America. It has undergone a couple of renovations since then and is now literally fit for royalty–this is where Prince Harry spent his final night as an eligible bachelor before marrying Meghan Markle in 2018.
With a chef-grade kitchen and expansive dining room, there is no need to leave The Dower House throughout your stay. You can even enlist Adam Smith's Michelin-starred team to cook a private dinner for you. It also has its own secluded garden complete with a river running through it. Enjoy the long summer days with a walk through the hotel's private grounds before indulging in an afternoon picnic on your own patch of grass.
Beaverbrook
With 470 acres of private grounds in the heart of Surrey, Beaverbrook can naturally operate according to social distancing guidelines. The luxury hotel is preparing to reopen on July 4, offering reservations for stays, spa treatments and at its restaurants. It has just 35 rooms spread between three buildings – the Main House, Garden House and Coach House – making it an ideal location for a post-lockdown treat. Its famous gardens have been maintained throughout its closure, so it is looking as good as ever as we hit mid-summer. There is ample space for all guests to keep their distance and the option to dine al fresco should the weather allow.
Beaverbrook has also put in a number of strict hygiene practices to ensure guests feel both safe and spoilt during their stay. There is a strictly reservation-only policy for entering the estate. Restaurant floor plans have been reorganized to allow for two meters between tables, and all therapists at The Coach House Spa will be provided with full PPE for the safety of both themselves and guests. There will be temperature checks upon arrival for guests and staff, plus a sanitizing and disinfecting service for hands and luggage. Personal hand sanitizer bottles will also be available on guest rooms and from The Coach House shop.
The Torridon
Nowhere is quite so naturally conducive to social distancing than the Scottish Highlands. The scarcely populated region seems to have more grand manors than permanent residents and The Torridon is one of its finest examples.
The turreted main house will remind you of a certain famous school of witchcraft and wizardry, and its beautiful location on the edge of a loch enchants all who visit here. The resort is set on 58 acres of pristine parkland at the very end of a loch of the same name. It is an ideal location for a secluded retreat, offering the height of luxury in one of Europe's most remote regions.
Take residence in the resort's private Boat House for the ultimate private escape. Close to the water's edge, guests can soak up the uninterrupted views across the loch through the panoramic conservatory or the unique arched window in the master bedroom. It is the perfect place to spot eagles, pine martens, otters and the huge variety of sea birds that busy themselves around Loch Torridon.
There is also a range of socially distant activities to enjoy, from supercar drives around the North Coast 500 (The Torridon sits in close proximity to the route) to a stargazing excursion with an experienced astronomer.
The Newt
Opened in 2019, The Newt is one of the UK's newest countryside retreats. With an expansive spa and gym, and sustainability-focused restaurants, there is a strong emphasis on wellness. The main house dates back to the 17th century, but it was extensively remodeled in Georgian times to reflect local architecture. Today, it retains its sense of old-world charm whilst offering all of the comforts of modern living. There are just 13 rooms in the main house, offering guests space to meander through the hotel's splendid gardens and woodland.
The estate's gardens are a haven of tranquillity. Much of the land has been dedicated to cultivation. The team grows high-quality ingredients that go onto be used in the hotel's restaurants, offering one of the freshest farm-to-fork dining experiences you are likely to get.
[See also: Top suites in the world – Hadspen Garden View Room, The Newt]
The wide range of cultivated areas includes a Kitchen Garden, Fragrance Garden, Greenhouse, Colour Gardens, cascades, ponds and lakes, and a walled Parabola concealing an apple tree maze. Guests are also invited to explore the ancient woodlands and orchards that surround the property. Over 3,000 cyder apple trees grow on the estate and, unsurprisingly, the hotel puts them to good use by producing its very own version of Somerset's most treasured export.
Ynyshir
Cutting edge Michelin-starred cuisine inside a remote Victorian manor house set in a remote part of Wales may seem like an unworkable juxtaposition, but in the case of Ynyshir it just works.
The head chef and owner Gareth Ward has made a huge success of his unique approach to fine dining, earning one Michelin star and five AA rosettes. Guests book months ahead for a chance to experience his extraordinary 20-course menu and stay in one of the manor's beautiful rooms. Yes, as well as a restaurant Ynyshir is also a luxury boutique hotel.
The rooms offer a far-more traditional take on British countryside living with plush furnishings and wood-burning stoves. Guests can wander around the manor's 11 acres of pristine Welsh countryside or use it as a base to explore even more remote corners of the country, such as the nearby Brecon Beacons National Park.
The house can also be bought out for private parties, allowing guests the opportunity to experience the wonderful landscape and incredible food with only their closest friends and family.
Soho Farmhouse
With over 20 sites around the world, Soho House usually offers its members a private sanctuary in the heart of the world's busiest cities. Having originated in London in 1995, it now boasts locations everywhere from Los Angeles to Mumbai. Many of them follow a similar theme, but Soho Farmhouse is something completely different.
This beautiful 100-acre piece of Cotswolds countryside has been converted into a luxury haven for those looking for a long weekend out of London. Think of it as a holiday camp for the super-rich, offering the very best of a rural retreat alongside all of the luxury amenities of a resort. Best of all, you don't even need to be a member of Soho House to stay.
The site, originally a large farm, has 40 luxury cabins set among its original 18th-century buildings. There are also many on-site facilities, such as a swimming pool, tennis courts, stables, and even an ice-rink in the winter months. Along with several on-site restaurants serving typically great food, guests never need to leave until their stay is over. The open-air space makes it the perfect place to enjoy a socially distant staycation.