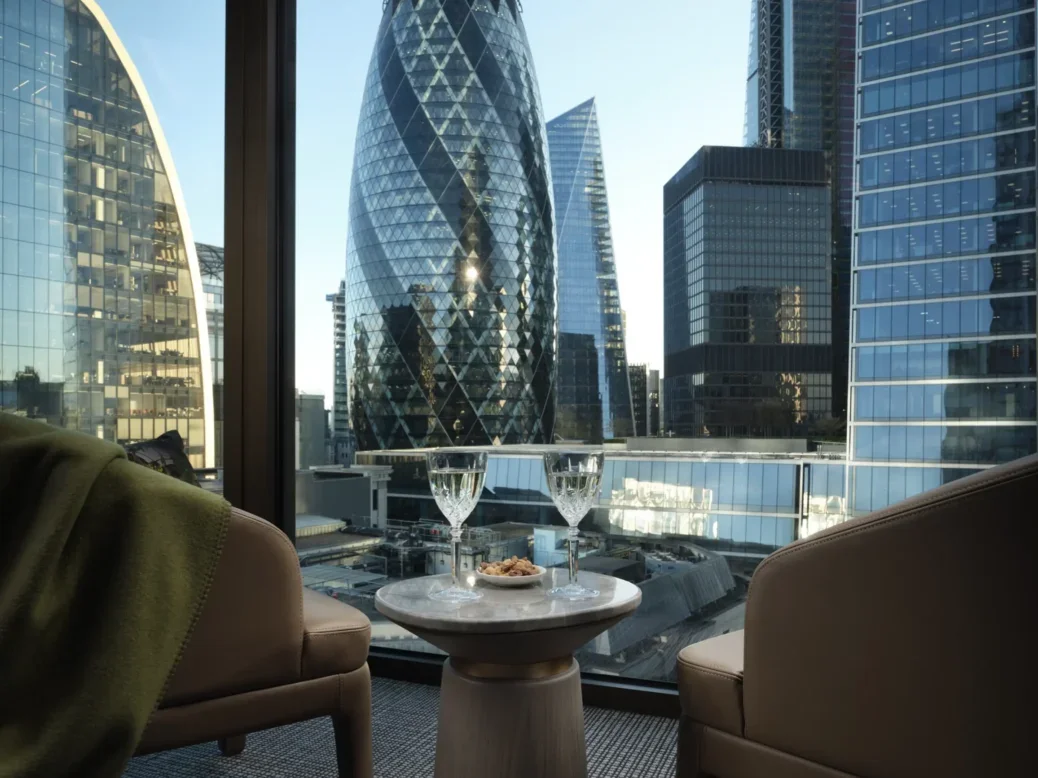 Found just two minute's walk from Liverpool Street station, Pan Pacific London is a fairly new contender on the high-stakes London hotel scene. Opened in 2021 (but, as the story with so many hotels that opened around that time, it was subjected to lockdown restrictions), it's the Singaporean chain's first opening in Europe. 
Despite Pan Pacific's location in the heart of the City, it's surprisingly serene and welcoming and naturally has all the trappings you'd expect from a five-star hotel in London. Multiple dining options (Straits kitchen serves southeast Asian-inspired cuisine such as Redang Jacob's ladder beef short ribs; the beautiful Orchid Lounge serves traditional British afternoon tea and a Singaporean version, both presented in a golden cage), chic bars serving cocktails and private dining.
[See also: The Chefs Fighting to Make Fine Dining Sustainable]
Wellness
Perhaps Pan Pacific London's most impressive amenity, however, is the 11,000-sq-ft wellness area. A novelty in the city as not only is there a 60-ft infinity pool that overlooks the red-brick architecture and St Botoloph Bishop Gates, but it's not housed underground as many spas in the city are. 
The mammoth floor-to-ceiling windows stream the area with natural light and, even though there are offices opposite, Asian-style blinds and blooming foliage help to subtly block out the view of desks. There's also a steam room and sauna within the changing rooms and a cozy lounge where you can relax with a weighted blanket and a cup of herbal tea.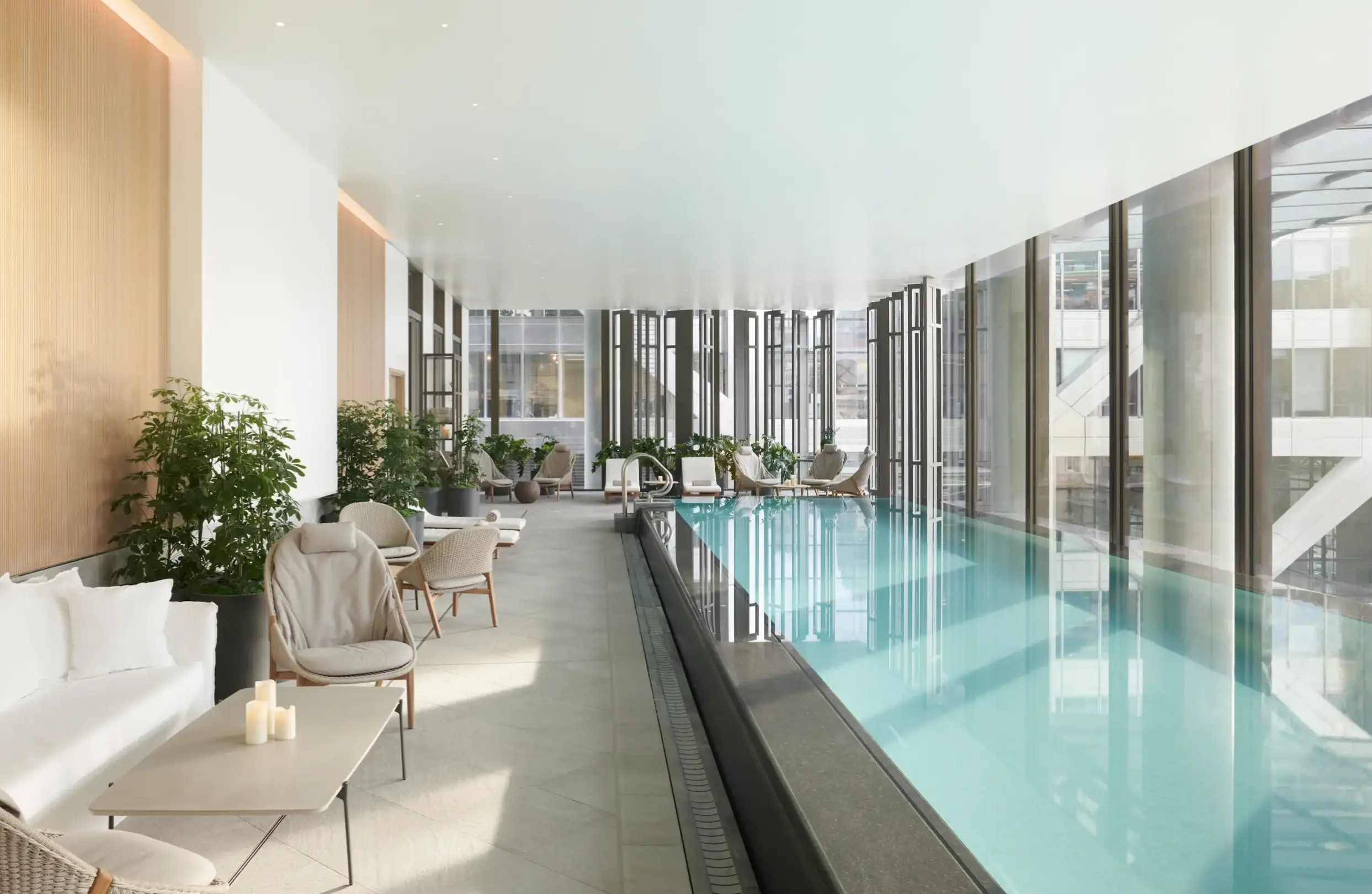 The gym is surprisingly enormous and incredibly well equipped — there are free weights, treadmills, air bikes and ski ERGs as well as reformer Pilates. If you don't feel like working out in the gym, equipment can be brought up to your suite. 
Pan Pacific Body MOT
I was booked in for the Body MOT, a program designed to take a thorough look at internal and external health using state-of-the-art technology. It takes around three hours to complete so my initial thought was that I would gain some insight but was astounded by how thorough the program is — especially when I was presented with a 60-page report the following day.
My Body MOT, which takes place in the gym, began with a session on the TecnoBody D-Wall. The high-tech system uses body recognition and provides biometric feedback in real-time. I performed a series of exercises (overhead squats, push-ups, standing on one leg and running on the spot) to test my mobility, balance, strength and power. I was given a score and given practical advice on how to improve areas of weakness — for example, despite an 'impressive score' on the right-hand-side of my body for balance, the same can't be said for the left-hand-side so I am instructed to work on the weaker side to provide better stability.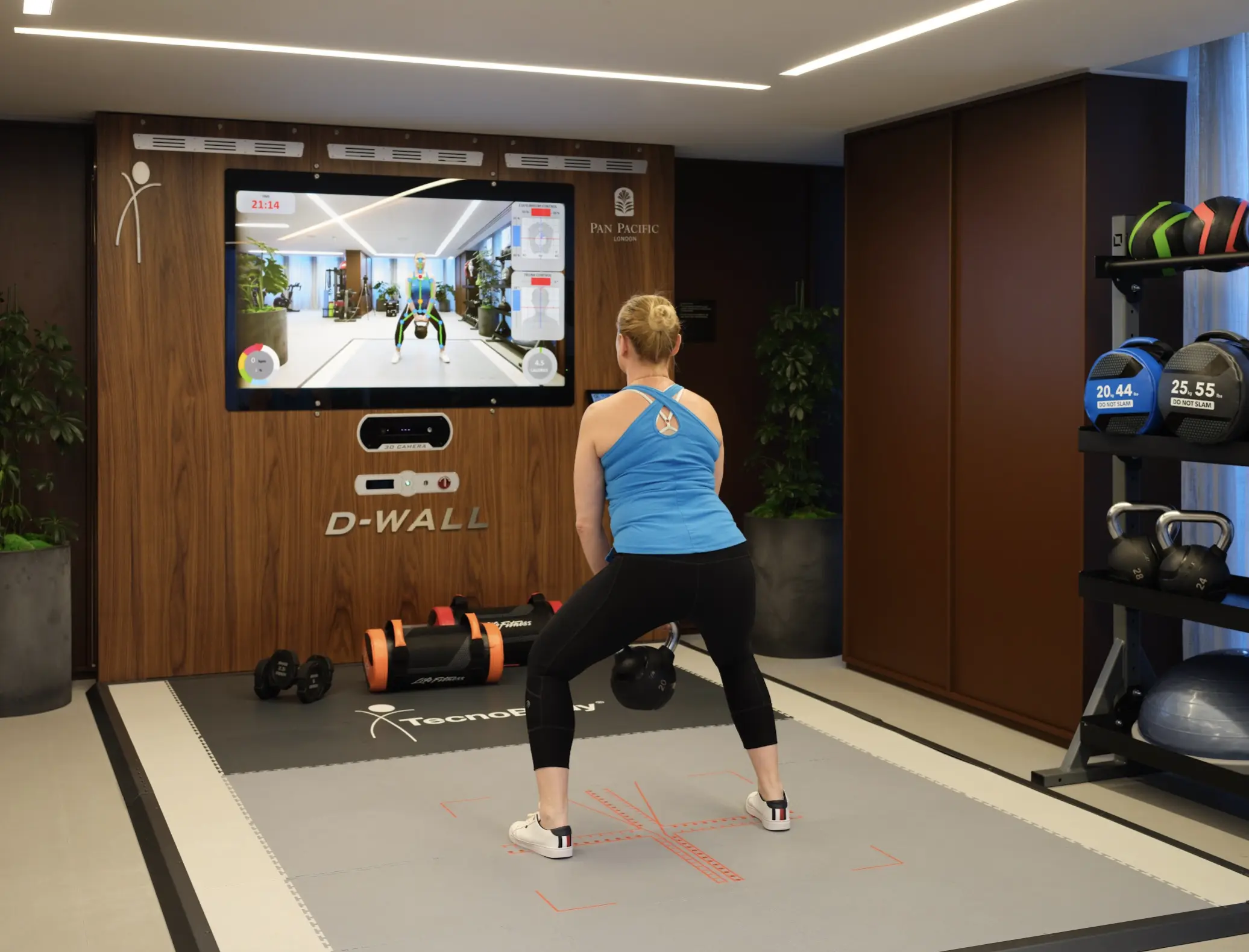 Next up is a PNOE fit test which measures VO2 fitness. A VO2 max is the amount of oxygen your body uses while exercising at full capacity — the higher the VO2 max the better, as this means your body is better at delivering oxygen to your muscles. PNOE is pegged as "a lab in a case" and "delivers clinical accuracy in measuring metabolic, heart, lung and cellular fitness." For my test, I wore a chest strap heart monitor and a face mask to measure my breathing. 
Stepping onto the treadmill feeling a bit like Bane, I began with a brisk walk. The speed was increased every minute until I was at a fast running pace. Then, a two-minute recovery (with the mask and chest strap still on). The data from this test was quite mind-boggling  — the in-depth, scientific detail is invaluable; many guests who do this part of the test do so when training for an event (i.e. the London Marathon) and are able to get crucial intel on how their body works and how to improve that coveted PB — and can track their progress over the training period with scientific accuracy.
[See also: Top 50 Wellness Suites]
The final test is NutriSmart, an aid to help recognize food intolerances. A quick and painless pin-prick in my index finger in the comfort of the gym's lounge is all it took to learn that egg whites and legumes are off the table for me as I showed a strong reaction. This information is also presented in a digestible (excuse the pun) report with the more reactive foods shown in red, medium reaction in yellow and no reaction in green. 
The Body MOT is unique to the hotel and while the one-off provides a deep-dive into your overall health, many guests opt to implement the advice given and return to track their progress. 
Stay
All of the 237 guestrooms — 43 of which are suites — have king-sized beds, floor-to-ceiling windows with fantastic views over the city (wake up early to watch the sunrise over the sky scrapers and pews while you sip your morning coffee), marble bathrooms with heated floors and Diptyque toiletries, Dyson hair dryers, and come with complimentary access to the swimming pool, sauna and steam rooms, and the gym.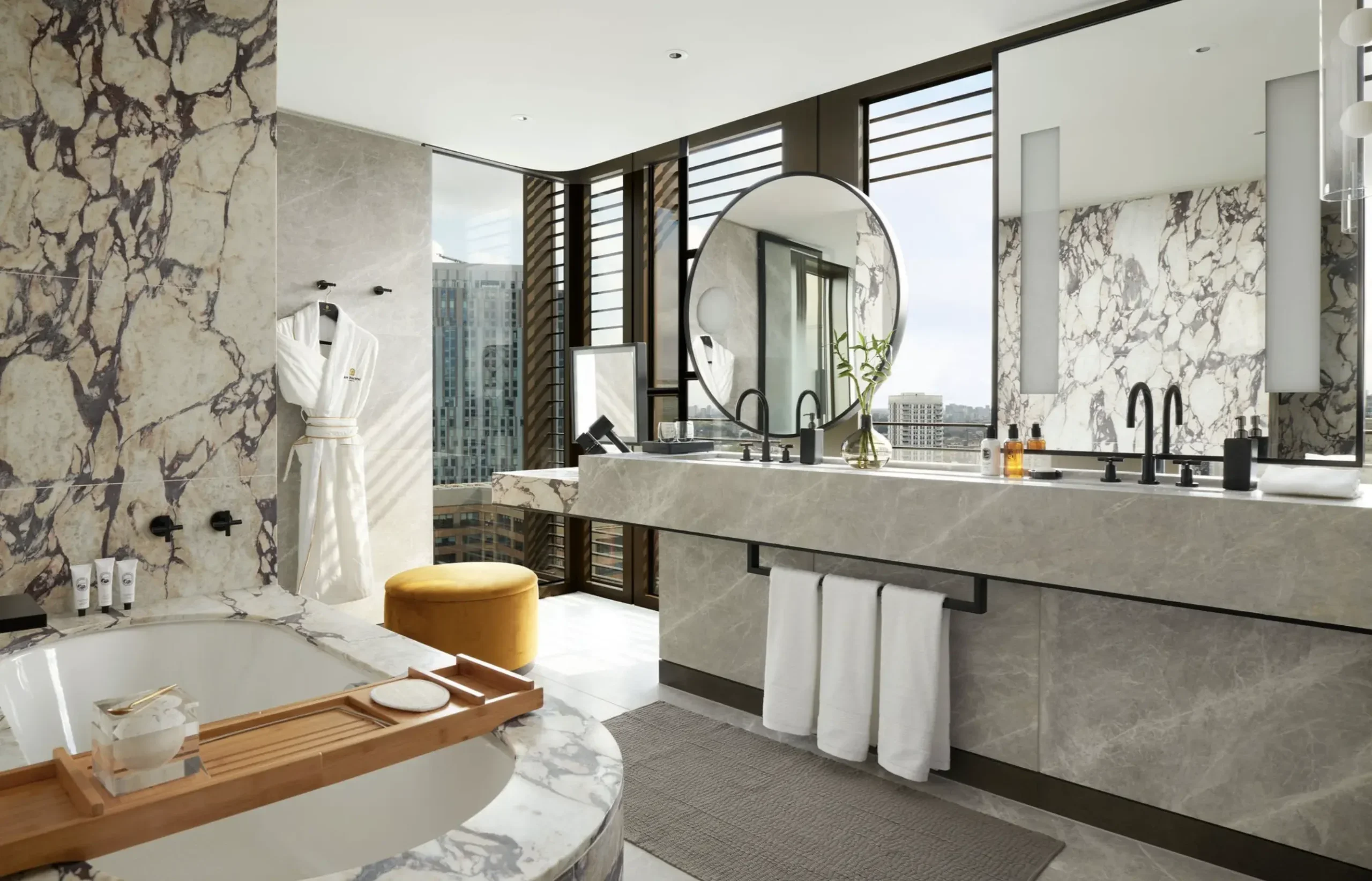 The Pan Pacific Suite is the largest at 1,280 sq ft and has envious views across London's skyline. The one-bedroom suite has a separate lounge, private study, dining area, marble bathroom with heated floor and a dressing room and can interconnect with another suite. 
Body MOT £305 per person; suites from £795 per night. Contact enquiry.pplon@panpacific.com +44 207 118 6888, panpacific.com