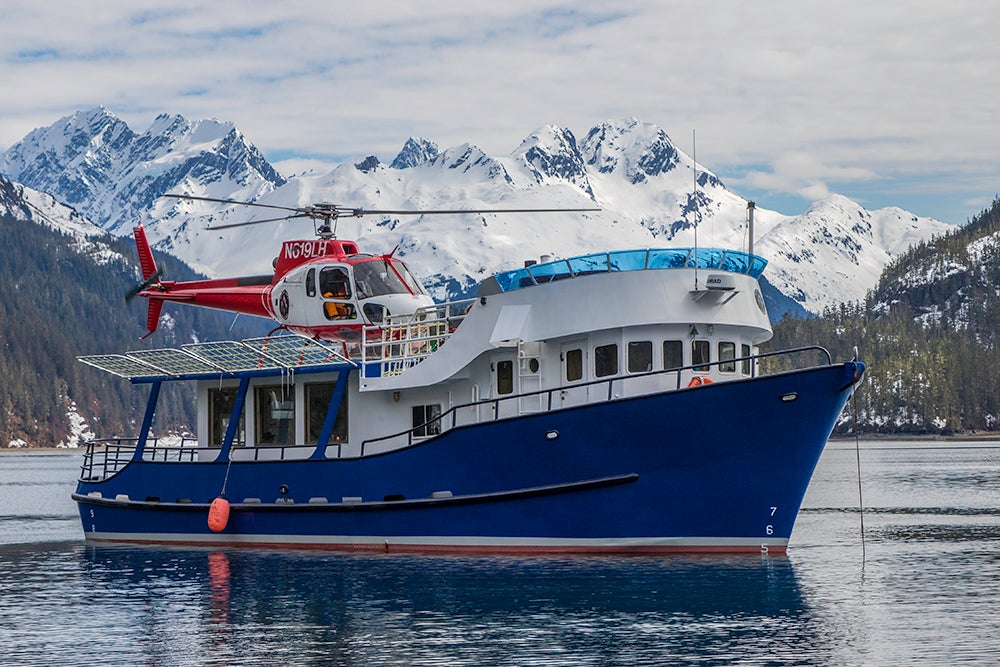 Alaska should be on every adventure traveler's bucket list: It's one of the final American frontiers, full of wildlife, open space, mountains and glaciers. Through experiential travel and yacht expedition specialist company, Pelorus, you can explore the wilds of Alaska aboard a private expedition yacht as part of its custom exclusive wildlife viewing expedition.
Through your custom itinerary you and your group will have access to several activities. Explore the vast wilderness from the sky with unique flying safaris on board a helicopter; and if that's not enough, go heli-skiing at a nearby mountain. To do any flying activities, you'll never even have to leave the boat: A helicopter will take you directly from the yacht to the sky and back. During the safari, an expert will help you spot grizzly bears and black and brown bears from the sky, as well as reindeer, moose and wolves. While you sail along the Prince William Sound, look for orca and humpback whales as they rise to the surface and descend beneath the icy water.
Wildlife isn't the only thing you will see on the trip: Get a sneak peak at dozens of the 100,000 glaciers in Alaska from your private boat, where you can get incredibly close. Of course, vistas of the snowy mountains will greet you every time you look out the window of your ship. By sailing on an expedition yacht, the boat will have access to narrower passages so you can see Alaskan wonders up close.
The 95-ft yacht only has capacity for eight on board, making it an extremely private experience. Cozy up with friends while a private chef serves you dinner. The exterior may look rugged and utilitarian (and it is) but inside, you'll be relaxing in luxury. Each day you will sail to a new location and get to take in all Alaska has to offer, from early morning skiing to kayaking to seeing the Northern Lights.
Founders of Pelorus Geordie Mackay-Lewis and Jimmy Carroll have years of experience under their belts as former members of the British Army and vast knowledge of helicopter operations and traveling through some of the most remote parts of the world. In a past life, Carroll worked at Winch Design, the famed interior designers of superyachts and private jets. Pairing this exploratory spirit with a sense of luxury, Pelorus trips are nothing short of five-star experiences for adventurous souls.
From $12,500 per person, pelorusx.com