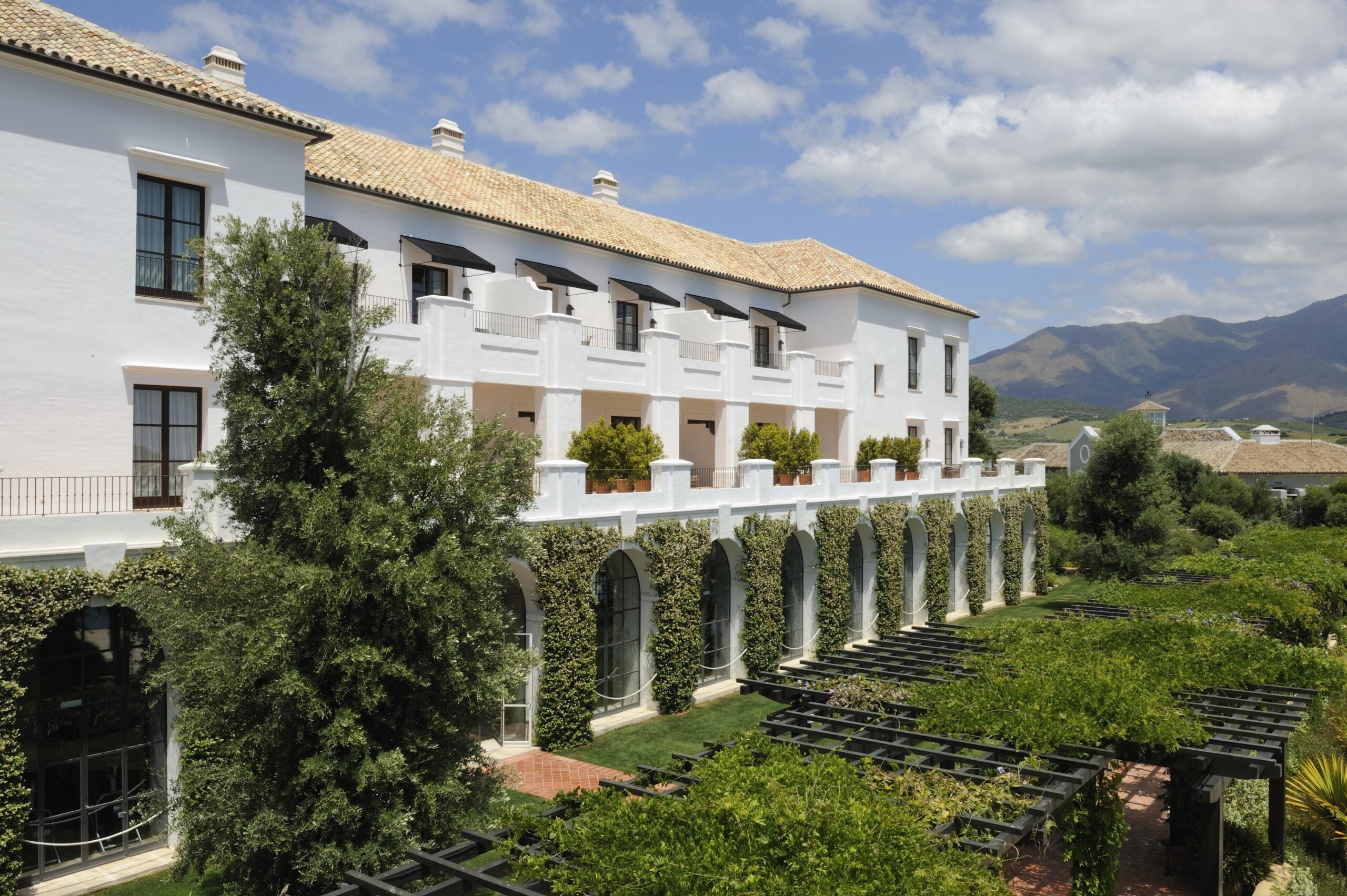 Few countries have been hit harder by the Covid-19 pandemic than Spain. It has had to cope with many tens of thousands of deaths and its people have endured one of the harshest lockdowns in the Western world. Following months of hardship, Spain is seeing light at the end of the tunnel. It may be a while before its major towns and cities fully open their doors to the world again, but there are many remote corners of the country that are perfect destinations for those seeking more privacy. Here, Elite Traveler takes a look at some of the best remote hotels that have cut out their own corner of Spanish-style paradise.
Finca Cortesin
This exclusive resort (pictured above) is situated in one of the most sought-after enclaves of the Andalusian coast between Marbella and Sotogrande. The property is easily accessible from several major transport hubs but still has the feel of a true luxury bolthole. It is surrounded by undisturbed nature and offers sweeping views of the Casares Mountains and the Mediterranean coastline. Finca Cortesin is all about offering guests a sense of personal space. The property is situated on an extensive 532-acre estate and guests are welcome to roam around 250,000-sq-ft of manicured gardens. It has just 67 suites and eight luxury villas, so guests rarely come across one another. The on-site restaurant, El Jardín de Lutz, is also naturally designed for social distancing. It offers al fresco dining on a spectacular terrace with views of the Mediterranean Sea and gardens, filled with centuries-old olive trees. As well as an extensive spa, Finca Cortesin also has an acclaimed golf course and a range of sports facilities.
Belmond La Residencia
The Belmond name guarantees a certain level of luxury, and La Residencia in Mallorca is no exception. The hotel is the combination of two 16th century properties, both refurbished and repurposed to house one of the island's most acclaimed retreats. Many of its beautiful suites come with panoramic views of the surrounding mountains, which can be enjoyed from private terraces and pools. The hotel also offers high-end dining options, including the El Olivo restaurant situated in a 17th-century olive mill. The restaurant serves seasonal fare using only the finest local ingredients. If you do want to explore, however, you don't have to travel far. The property is located a short walk away from the village of Cala Deia, which boasts a number of high-end boutiques, atmospheric cafés and quaint restaurants run by locals.
Sant Francesc Hotel Singular
Situated in Mallorca's capital of Palma, Sant Francesc Hotel Singular is not exactly a remote retreat, but this five-star boutique hotel is a safe haven from which to explore one of Spain's most beautiful city. The absence of cruise ships will also mean Palma is significantly quieter this summer, making it one of the most exclusive destinations in the Mediterranean. The hotel is situated with a 19th-century mansion and will reopen on July 15 alongside its signature restaurant Quadrant. In order to give guests peace of mind, the hotel has made just 25 of its 42 rooms and suites available for reservations. The decision means guests will benefit from a wealth of luxurious amenities almost to themselves. That includes the hotel's private rooftop terrace and swimming pool, one of the island's most Instagrammable hot spots.
Abadia Retuerta LeDomaine
Situated on a huge 1,730-acre estate, 500 of which is dedicated to wine growing, Abadia Retuerta LeDomaine is one of the top wine and spa resorts in Spain. There is ample opportunity to explore the vines on foot or by bike, making it a perfect base to reconnect with the natural world. The hotel can also take guests on a tour of its vineyards in a Land Rover and host generous tasting sessions. There are just 27 rooms and three suites in the main building, so each guest gets all the space or attention they desire. All guests are assigned a butler who can arrange everything before and during your stay. As well as sitting in the heart of Spain's wine region, it is also close to its Michelin belt. It is no surprise, therefore, to see top chef Marc Segarra overseeing the hotel's restaurant, Refectorio. The restaurant lives up to Mugaritz's world-class standards and has its own Michelin star.
Ca Na Xica
It may be some time before Ibiza is able to reopen its super clubs, but there is plenty about the island to enjoy. Ibiza is, of course, most famous for its hedonistic scene, but with that side of the island likely to be closed this summer, it is the perfect time to explore its other main product: unrestricted luxury. Ca Na Xica is a secluded resort on the north side of the island. The whitewash walls give it the feel of a holistic retreat, which is further amplified by its wonderful spa and T-shaped swimming pool. There are just 20 rooms and 14 suites on the property, so there is always space to wander around the hotel grounds. The on-site restaurant Salvia is also easily configured for social distancing with two separate outdoor spaces for al fresco dining.
Le Meridien Ra Beach Hotel & Spa
At first sight, Le Meridien Ra Beach Hotel & Spa looks like a gigantic Dubai-style resort, but despite its vast size, it has just 143 rooms and suites. The hotel sits about an hour away from Barcelona on the outskirts of Calafell. Its remote location means you are unlikely to want to leave the resort, but there is enough going on within its walls to keep even the most active of minds occupied. The reduced room numbers mean every guest has ample space to enjoy the amenities, including the vast spa and private beach. There is also a rooftop pool for sunset hour. The hotel has six different dining options, so guests will also be spread out at dinner time. The options range from the informal Beach Club bar to the very formal DO, which serves elevated versions of traditional Catalonian cuisine.
La Donaira
La Donaira is a biodynamic farm first and a hotel second, but it still manages to do both to a very high standard. The property is situated in the middle of the Sierra de Grazalema Natural Park, one of the most dramatic landscapes on the mainland. Naturally, the view of the surrounding valley is incredible and can be soaked in from the hotel's freshwater pool. It is almost an hour's drive away from the nearest town and even cars need to be parked in the village of El Gastor a mile away. The tranquil location is supplemented with extensive spa facilities, including the 24-hour freshwater pool, a wood-fired sauna, a steam room and an ice fountain. Guests can also explore the vast grounds on the back of one of the hotel's horses. There are just nine rooms so guests rarely, if ever, bump into each other. One place they do come together is at dinner, which is a communal affair. The menu is created almost exclusively from vegetables grown from the farm and anything else is locally sourced.
Finca Serena
Finca Serena is widely regarded as one of the finest accommodations in Mallorca. That is quite some feat when you consider the entire island has become a millionaire's paradise in recent years. The luxurious five-star resort has been built in an elegantly restored 18th-century farmhouse that sits on 40 acres of private land. With wineries and orchards all around, you will find yourself almost completely relaxed by the time you arrive. The hotel sits at the very heart of traditional Mallorca. While it maintains a sense of history on the outside, on the inside it is unmistakably modern. There are just 24 rooms in the adult-only hotel, so guests find it easy to distance themselves from one another. Wander around the olive groves before enjoying a sunset cocktail at the bar before heading to the delightful restaurant, Jacaranda, which focuses on seasonal produce and local cuisine.