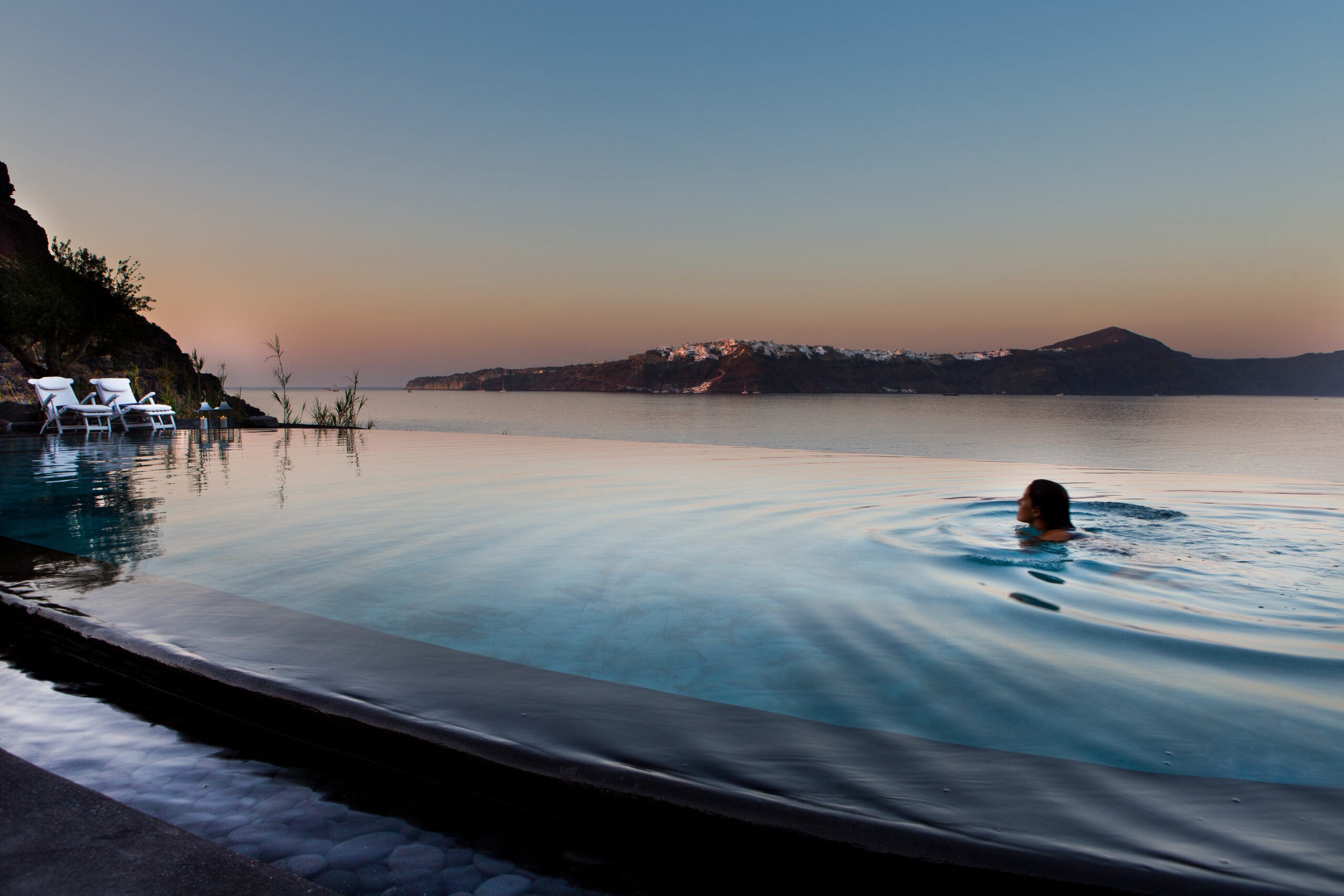 With its distinct volcanic landscape where picturesque houses cling to cliff-tops overlooking the Aegean Sea, Santorini is considered one of the world's great romantic settings. The island is home to a number of luxurious places to stay but some stand out in particular for their seclusion, unparalleled views and lavish amenities. We take a look at the five best hotels in Santorini.
Grace Santorini
With its contemporary design and breath-taking views over Santorini's caldera, this boutique hotel has become one of the most coveted places to stay on the island. Uninterrupted sea views can be taken in from the hotel's infinity pool, Mediterranean restaurant Santoro, or from 363 Champagne Lounge where dishes by chef Spyros are also served. Particularly well suited to honeymoon couples, the hotel features spacious and stylishly designed suites with private plunge pools, plus The Villa which has its own private spa and outdoor space with a private swimming pool, outdoor fireplace and gazebo.
Perivolas Hideaway
Combining Santorini's traditional architecture with modern design, Perivolas Hideaway is unique yet elegant with the sweeping arches and white interiors Greece is known for. It also stands out for its secluded setting; as it's located on the island of Therasia, just minutes away from Santorini, the hotel is only accessible by water. Naturally the hideaway commands panoramic views over the water making it ideal for alfresco dining and sunset cocktails. In addition to having an infinity sea water pool and spa, Perivolas Hideaway has its own private beach, a helipad and private dock, and is equipped with private boats and water sports facilities.
Erosantorini
This exclusive-use estate sits in a secluded cliff-top location on Santorini, 1,000 feet above the sea. Up to ten adults and four children can organise a bespoke retreat incorporating Greek gastronomy and an introduction to the island along with a range of activities. The light-filled interiors by Italian designer Paola Navone are modern in design while incorporating local handicrafts and emanating barefoot chic. Each guest's curated stay can include highlights such as a gourmet caldera cruise, a vineyard tour or VIP caldera dive and sailing.
Iconic Santorini
Located in the village of Imerovigli, Iconic Santorini is set into the hillside and carved into the historic volcanic caldera wall. On each of its five levels, the boutique hotel looks out across the water and has been designed with a different style in each room and suite, while incorporating local handicrafts. The hotel customizes each person's stay from authentic Greek dining using the local produce to personalized excursions such as hiking, sailing and scuba diving. Iconic Santorini prides itself on the first class service it provides along with the hotel's luxury amenities.
Volcano View Hotel
Located on the cliff-tops of Fira, Volcano View Hotel is another of Santorini's most scenic places to stay. Here, Cycladic architecture meets minimalist design and modern furnishings. The Grand Suites have private balconies and terraces to make the most of their views and are fitted with luxurious amenities such as hydro massage tubs and sea-view pools. Local cuisine is the focus at the fine dining Caldera Restaurant, Harbour Watch Bar sits alongside one of the three panoramic pools here, and indulgent massages are given in the hotel's spectacular open-air treatment space.