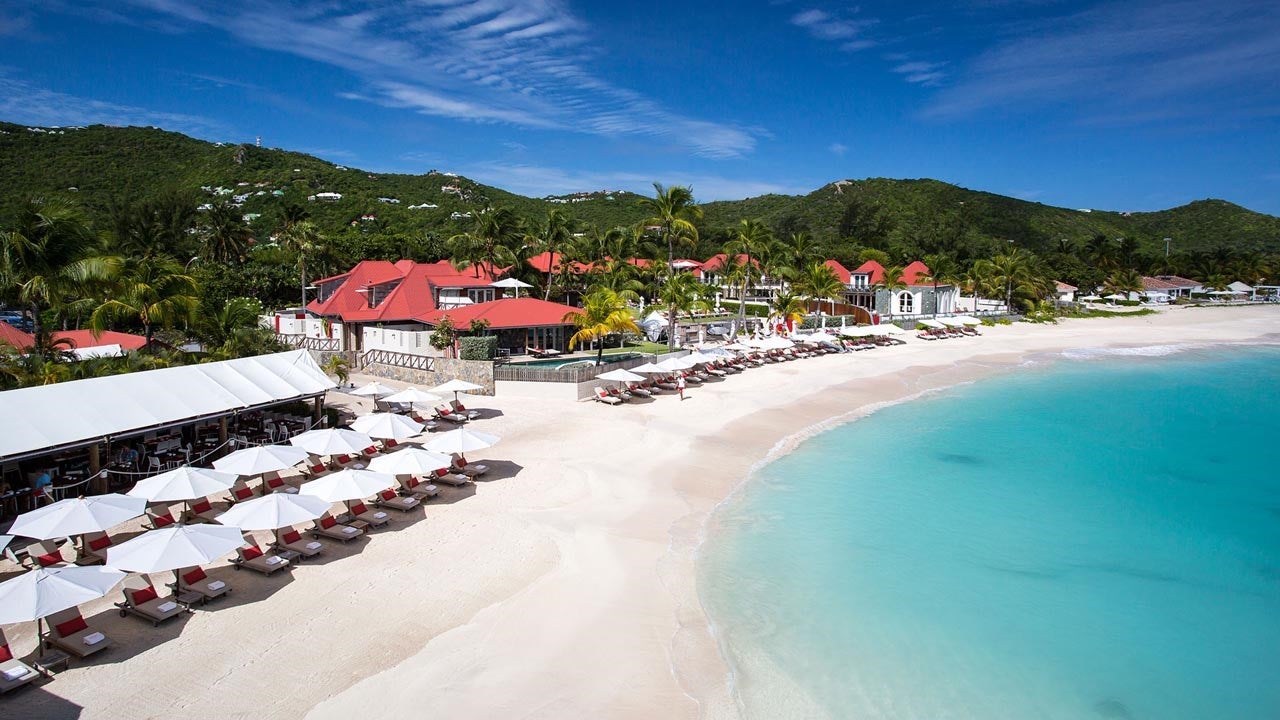 St Barths is ready to welcome tourists once again. The Caribbean island has reacted rapidly to the new challenges faced by novel coronavirus Covid-19 and has put new protocols in place to keep residents and visitors safe.
While the island has been more or less unaffected by the virus itself (it has reported just six cases and no deaths at the time of writing), the economy faced turmoil if its tourism trade could not restart. Over 200,000 people visit the island in a normal year, many of them high-spending individuals arriving by boat. Having recently lost three years of tourism due to the devastating destruction of Hurricane Irma in 2017, the pandemic could not have come at a worse time.
After banding together to rebuild the infrastructure destroyed by the storm, it is no surprise to see the battle-hardened community once again rise to a new and significant challenge. Working with the island's luxury resorts and partner airlines, St Barths has opened its doors well ahead of its high season in November. From June 22, all beaches, restaurants, boutiques and nautical activities will be open without restriction.
"St Barths has been free of Covid-19 for more than two months, and we have worked diligently with the French government to develop effective and efficient health and safety protocols to protect our locals, partners and visitors," says Nils DuFau, president of the Tourism Committee of St Barts. "We are excited to reopen the island and welcome travelers back to our tropical paradise. We have a great deal to look forward to here on the island, including the upcoming St Barts Gourmet Festival in November."
Protocols for entry
While St Barths has done exceptionally well to this point, reopening its borders represents a significant risk to its population. Many of the tourists will arrive from the USA where rates of transmission are high and even rising in some quarters. In order to stop the importation of the virus, the island has put strict protocols in place, which are as follow:1
–  Visitors will be asked to provide documentation of a negative Covid-19 test performed within three days prior to their arrival.
– If visitors are unable to produce such documentation, they will be required to test for Covid-19 within 24 hours upon arrival to St. Barts. Until their test results are revealed, visitors will be required to observe strict quarantine at their host accommodations. Test results will be released in under 24 hours.
– If a visitor stay exceeds seven days, they will be subjected to a second Covid-19 test on the seventh day following their arrival.
– Children below age 10 are not subject to testing.
The Guide
Last year, we brought you the ultimate guide to St Barths. From the best restaurants to the finest hotels, it covered absolutely everything you need for a luxurious stay on the island. You can see the full story by Emma Reynolds by clicking here, but below we detail the island's top accommodations including both hotels and private residences.
Getting there
After landing in St Maarten or Puerto Rico, take a puddle jumper to St Barths' Gustaf III Airport (no large passenger planes, private planes included, can land on its 2,170-ft runway — one of the shortest runways possible).
It's touted as one of the most hair-raising landings on the planet: As the pilot turns off the engine as you coast through two peaks, the propellers guiding you down to safety just feet from St Jean Beach.
tradewind.com, stbarthscommuter.com, winair.com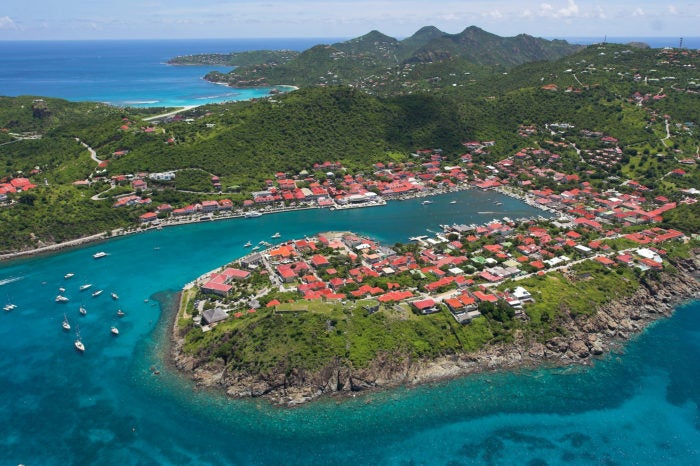 Where to stay
Villa Wake Up
Villa Wake Up Unlike most villas on the island, the 16,145-sq-ft Wake Up has direct beach access from its prime location just off Flamands Beach. It has three levels with six bedrooms, living area, kitchen, office, cinema, sauna and hammam, massage room, gym, staff quarters and a courtyard screen for watching movies under the stars. The ultra-modern decor features a calming color palette of neutrals and dark, smoothed wood, all complemented by marble and travertine. Artwork by local St Barth artist Kay Quattrocchi hangs throughout.
Weekly rate from $150,000. +1 401 849 8012, wimco.com
Palmier Royal Estate
This sprawling 13-bedroom estate is without question the largest and most opulent villa on the island — if you can even call it just a villa. Located within a private gated neighborhood, Mont Jean, it's a three-part compound with three pools, mountaintop views and direct beach access via a private road. The first compound has two master bedrooms, two kids' rooms, a kids' pool, staff quarters and a kitchen, while the second compound contains the spacious living area and kitchen (including an alfresco dining table). Finally, the third has two master bedrooms, two king bedrooms and a gazebo with ocean vistas. Each is connected through greenery-lined pathways.
Weekly rate from $200,000. St Barths Properties, +1 508 528 7727, stbarth.com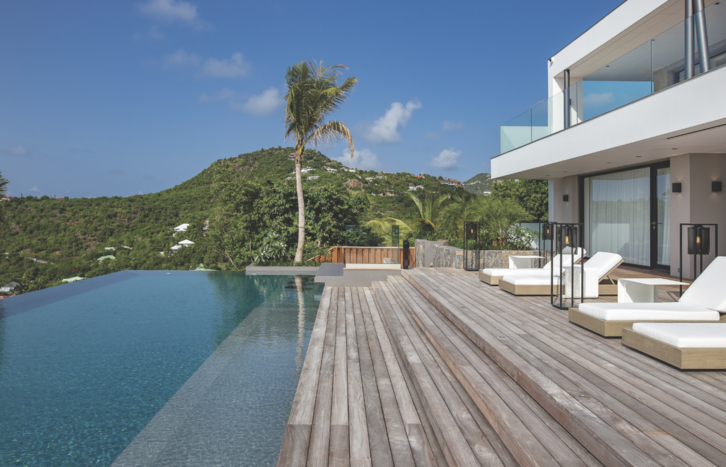 Villa Neo
Tucked in the hills overlooking Baie de St Jean, Villa Neo is a contemporary six-bedroom villa split into two stories with some of the best views on the island. It's available through Eden Rock Villa Rental, meaning you can access Eden Rock hotel amenities, such as the Jean-Georges Sand Bar and priority access to its private beachfront. It's hard to imagine you'll ever need to leave though, with a 108-ft infinity pool, hammam, cinema, gym and even a private nightclub. But if you get a little stir crazy, have your butler book you a beach or boat picnic at the secluded Colombier Beach.
Weekly rate from $125,000. +590 590 29 79 99, edenrockvillarental.com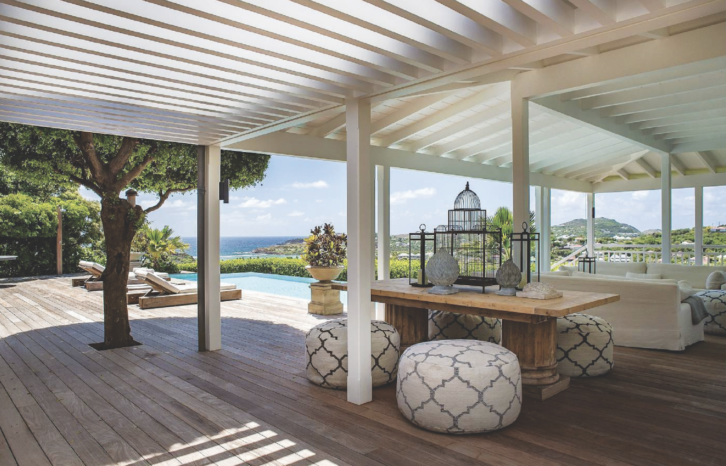 La Villa, Hotel Le Toiny
Opened in 1992, Hotel Le Toiny, a Relais & Châteaux property, is a St Barths favorite for those who seek a more relaxed visit to this energetic island. Continually reinventing itself, the hotel underwent a renovation post-hurricane that welcomed an eight-suite expansion and brand-new beach restaurant, while still keeping the same simplistic elegance for which the property is so revered.
Offering the seclusion of a private villa, but with access to the hotel's luxe amenities, La Villa is replete with neutral wood, stark white linens and views of Toiny Beach.
From $4,630 per night. reservations@letoiny.com, +590 590 278 888, letoiny.com
Villa Aqua and Villa Bleu, Le Barthélemy Hotel & Spa
Le Barthélemy calls the nearly uninhabited nature reserve of Grand Cul du Sac home, trading splashy crowds for beachside seclusion. The hotel is one of the newer on the island, and after the hurricane, it revealed refreshed interiors, a new spa and Villas Aqua and Bleu. You can rent the villas separately, or combine them to create a dreamy compound.
Each villa has two master suites on the top level (each with its own staircase) and four bedrooms on the main floor. An entertainment area, kitchen and living room face out to each villa's terrace and 55-ft lap pool.
From $121,000 per week for exclusive use. +590 590 774 848, lebarthelemyhotel.com
Beach Suite, Cheval Blanc St Barth
From the moment you arrive at Cheval Blanc on Flamands Beach tranquility sets in. French designer Jacques Grange reimagined the property after Irma's devastating damage with 41 rooms and suites (another 20 suites will open later this year).
The 1,300-sq-ft Beach Suite is awash in neutral woods, and it mimics the surrounding island scenery with rattan furniture, breezy cottons and hints of blue the exact color of the sea. Lounge on your private terrace near tropical flora or in your infinity pool while gazing at panoramic ocean views. The suite opens directly onto the beach and is ideal for those seeking complete privacy.
From $9,080 per night. info.stbarth@chevalblanc.com, +590 590 27 61 81, chevalblanc.com
Images: Wimco Villas, Laurent Benoit, laurentbenoit.com, V.MATI, Tourism Committee of St Barts