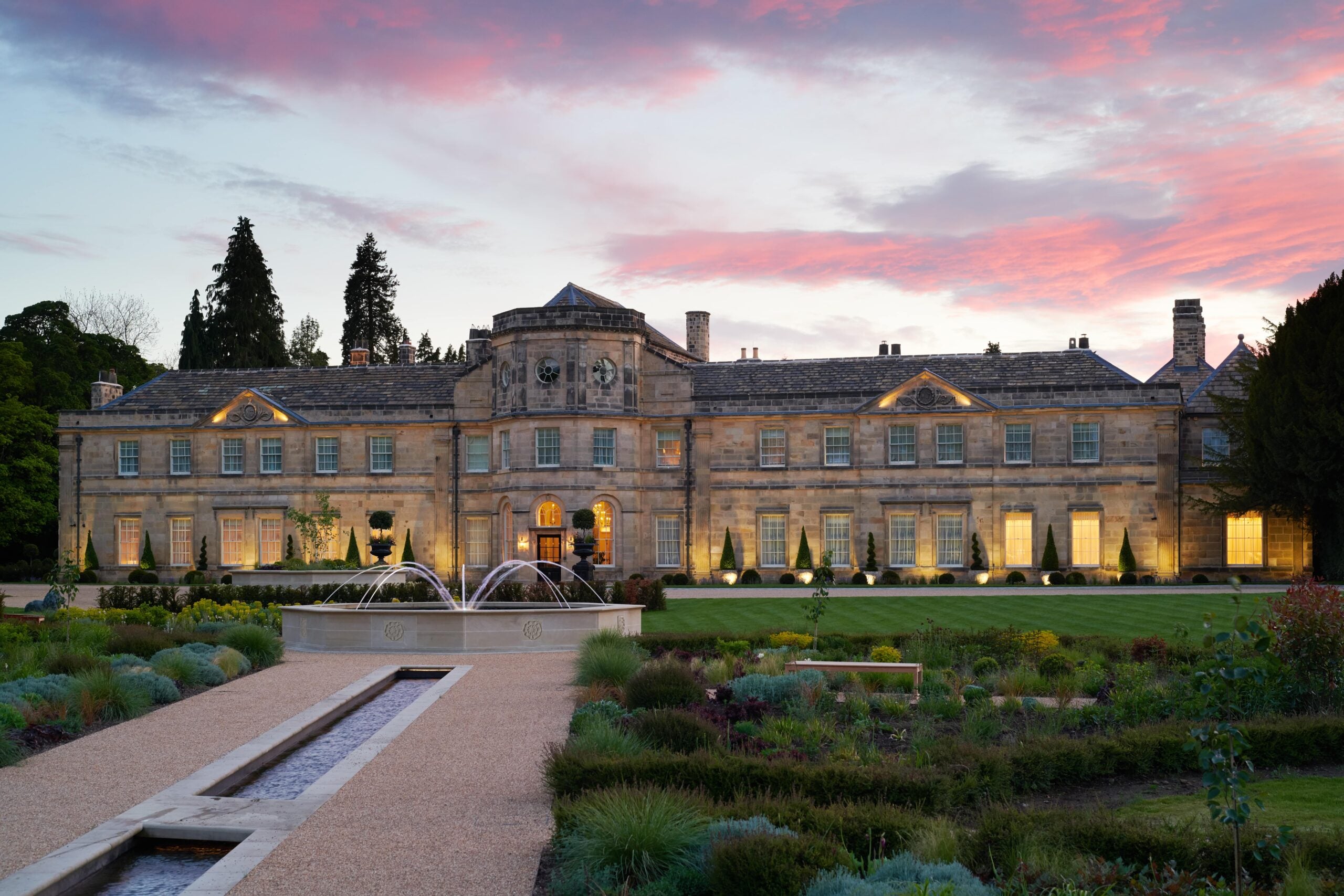 A 17th century stately home in the Yorkshire Dales, Grantley Hall has taken on countless guises: from family mansion to a convalescent home during the Second World War to a college and now a Relais & Châteaux hotel, served up on the world's shiniest silver spoon.
Those in the know flock to the North Yorkshire, England, estate to play in the spa's fabulous marble-clad pool, train in the elite gym, go wannabe royal in the classically chic boudoirs or simply spend their days eating themselves silly in one of chef Shaun Rankin's swath of swanky dining hangouts – but get this: A new hot Grantley ticket has come to play, and this time bling reigns seriously supreme.
The hotel's new special-occasion jewelry experience brings all the perks of bespoke sparkle straight to your regal chamber in a partnership with prestigious Yorkshire-based jeweler NJ Geddes (think Belle Époque meets Art Deco chic). Guests will sit down with the bijouterie expert and craft their very own personalized set of jewels, from engagement rings to bracelets, gifts and commemorative pieces (diamonds, sapphires and all shades of rose gold included).
There are three levels of experience to choose from, based on one's budget, but we recommend the full-blown £30,000 (approx. $39,000) two-night Grantley Hall extravaganza. Pair the sparkle with the moat-surrounded love seat and you've got all the hallmarks for a romantic yarn of yore. A stay in the resplendent Presidential Suite is part of the deal. Secluded and oh-so over the top, it is hidden away in the Fountain Wing and is accessed only from the rooftop atrium via a discreet hallway.
Inside, there's an imposing lounge with baby grand piano, an eccentric sitting room and a stately dining salon. Views of the gardens and the River Skell are perks, as is the huge bedroom. Major highlight? The Italian marble-clad bathroom. Expect a four-piece affair with double vanity, roomy tub and a walk-in shower that is also a Klafs steam room. The classical features of the hotel itself have been elegantly reinterpreted for the 21st century: Bay trees in urns guard the entrance; paneled reception rooms are doused in soft creams, Wedgwood blues and oak; and theatrically perfect art covers every wall in sight.
Post-exploring, the Three Graces Spa is a must. Specialist massages, full-body treatments and signature facials (go for Grantley's high-performance wave facial) form the bulk of the menu, but the apogee comes courtesy of the spa's excellent hydrotherapy rituals. Relax in the outdoor cedar hot tub, sweat it out in the sauna, brave the snow room or simply up your stroke game in the 59-foot pool; whatever you choose, you'll leave the place in a new state of nirvana.
End your decadent trip with dinner plated up by none other than celebrated chef Shaun Rankin. Locally grown and sustainably sourced produce form the heart of his fine-dining concept, with everything from a 10-course menu – featuring venison loin, scallops and an army of desserts – to traditional Sunday lunches. Wine pairing is non-negotiable.
From $39,300 for a two-night jewelry package. Contact Andrew McPherson, general manager, hello@grantleyhall.co.uk, +44 176 562 0070, grantleyhall.co.uk