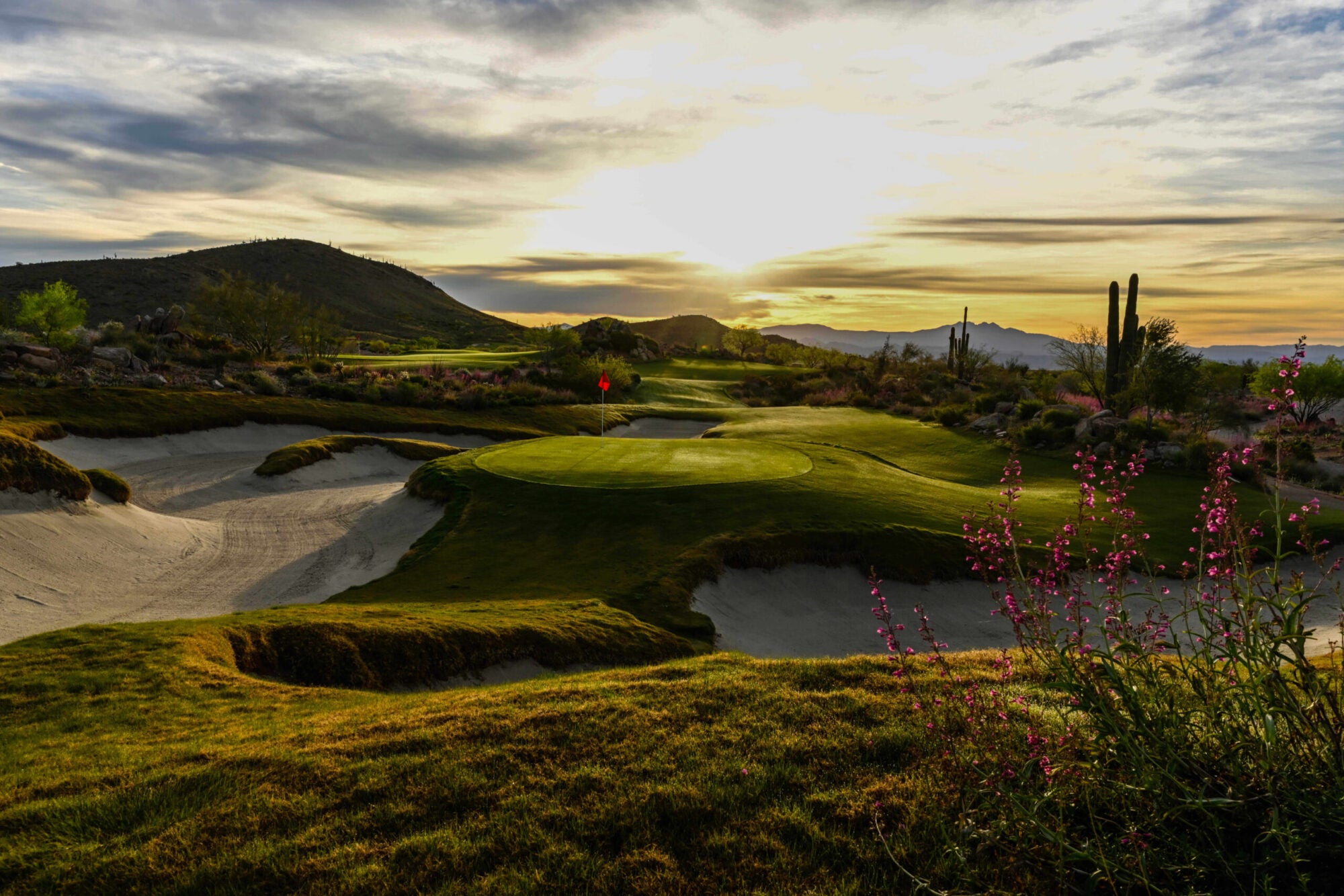 Deep in the Sonoran Desert, surrounded by three million acres of protected desert, is the Scottsdale National Golf Club. It is owned by Bob and Renee Parsons, who also own PXG (which fittingly stands for Parsons Xtreme Golf), and this is one of those rare hospitality venues that was not built to make money.
The Parsons have, instead, built it to be enjoyed; to gather interesting people; to create a family hell-bent on having fun and sharing this ethos with its members. As Kristin Newman, general manager, explains: "The one and only objective we have is having fun, and creating fun for our members."
And there are only three ways to play — as a member, as a guest of a member or as a participant in The Xperience. The Xperience is a three-day golf immersion program that Newman describes as "a bit like a two-way interview. It's three days of nonstop food, action, endless golf." It offers a sneak peek inside one of the most exclusive golf club memberships in the country and touches on every aspect of club life. And though it may only last 72 hours, it leaves an indelible memory of fun.
As well as the standard things you'd expect from an experience like this (two nights accommodation, access to the spa, airport transfers, and unlimited golf, food and drinks), guests also will get something that money usually can't buy.
On arrival you'll be whisked off to a fitting bay (there are three on the property), where you'll have access to all the technology and expertise on which PXG has built its reputation. Your clubs are custom-fit to your swing, ensuring you get the best results, and you'll also have access to clubs that haven't even been released to the public yet.
As soon as Dan Dahlberg (head golf professional at the Scottsdale National) submits your specs, you are whisked to the front of the order queue. And, staggeringly, when you arrive bleary-eyed to the range the next morning, your custom-fit, perfectly balanced, marvelously optimized clubs (this includes 14 clubs, golf bag and headcovers) will be there waiting for you.
The cuisine at Scottsdale National is a source of pride for the team. Executive Chef Mel Mecinas alongside Shaun Adams, director of food & beverage and club sommelier, have made the club a dining destination in itself.
[See also: The Top Luxury Hotel Golf Courses in the World]
With only 150 members, Adams and Mecinas can focus on creating personalized epicurean experiences for members, guests and Xperience participants alike. Adams shared a story about one member who loves tasting menus; when he last came to stay he asked that a wild game tasting menu be crafted just for him and his guests, with wine pairing to boot.
The Chef's Table can seat up to 10, and the menu is created based on the preferences you give prior to your arrival. This includes specific whiskeys, gin or wine — but be prepared for Adams to pour some unexpected treats as well. Aside from having the food and drink tailored to your preference, the real experience at the Chef's Table is the engagement between you, your guests, Adams and Mecinas.
As your dinner is beautifully plated in front of you the ingredients, provenance, flavor profile, as well as wine pairing elements, are all explained, steeping you in the contagious passion of these gastronomic artists.
Aesthetically, the look and feel of the club give the impression it was designed as an extension of the Parsons' home. Renee Parsons undertook the architecture and interiors of the club (down to the artwork), and its design ensures it still feels cozy even when there are only a few members on site. The golf courses themselves are as you would expect — absolutely immaculate. From a total of 180 employees, 100 of these individuals' sole raison d'être is to care for the golf course, and the agronomist, Clio, has been there for 18 years. He is given every single resource imaginable to ensure the course is world class, and it doesn't disappoint.
As Bob Parsons loves to say, "We're not here for a long time, we're here for a good time." And this really embodies the vibe at Scottsdale National.
[See also: Discover the Best Alpine Golf Courses on One Exclusive Escape]
Elite Tip: Take advantage of our favorite member perk — night golf. Played on The Bad Little Nine, which is hard enough in the daytime, it's a round lit by light bars mounted on carts, accompanied by a cocktail and your Arturo Fuente of choice.
From $30,000 per person, contact Claire Hinsch, thexperience@sngc.com, sngc.com