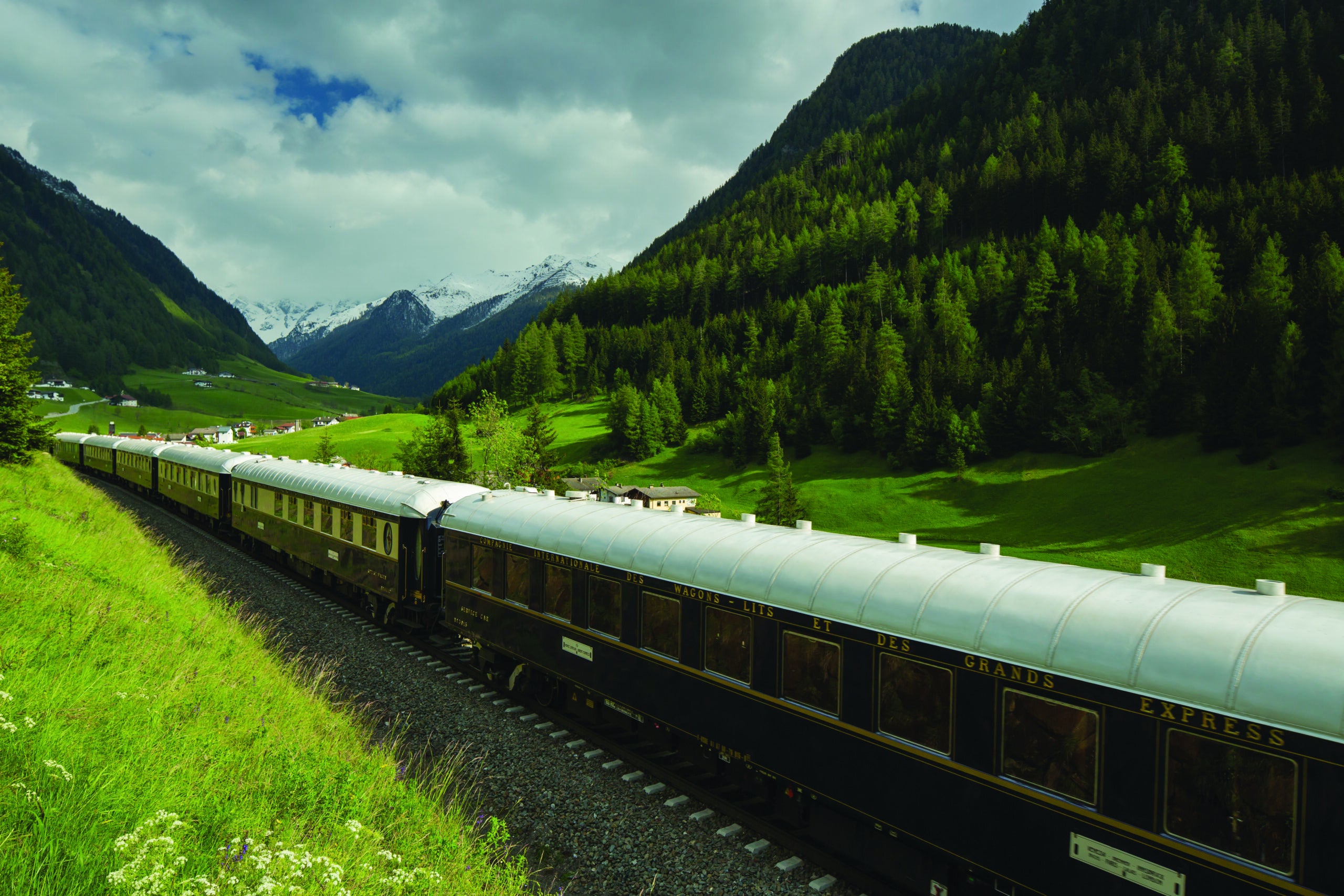 International hotel and travel group Belmond has recently unveiled a series of new cultural experiences across Europe including two all-new train itineraries. The trips give guests the chance to experience the wealth of European culture in a slower, more considered way, without the need for air travel.
The legendary Art Deco Venice Simplon-Orient-Express, A Belmond Train will kick off the summer season on June 21 with a series of one-night trips to must-see European cities, including Amsterdam, Brussels, Geneva, Rome and Florence. The routes take guests through some of Europe's most stunning regions, with views across snow-capped Swiss mountains and glassy Italian lakes.
Inside, the Venice Simplon-Orient-Express is the vision of 1920s glamour. The meticulously restored cabins feature polished cherrywood walls, flashy Art Deco detailing and plush furnishings, creating a truly luxurious home-away-from-home. The train has also recently debuted three new Grand Suites which are located in its oldest carriage, dating back to 1926. In-suite amenities include free-flowing champagne, a 24-hour cabin steward and private dining.
During the journey, guests can enjoy a welcome lunch, an indulgent four-course dinner, in-room breakfast and evening entertainment courtesy of the train's resident pianist.
To prolong the adventure, Belmond is also offering guests the chance to combine some routes with a stay at one of its Italian sister properties. Choose between a stay at the Villa San Michele – which features a façade designed by Michelangelo – and Castello di Casole, an inviting retreat in the Tuscan countryside.
The second of the all-new Belmond train itineraries takes guests on a culinary journey through England aboard the British Pullman, A Belmond Train. Departing from Victoria train station London, each of the roundtrip journeys will welcome a different guest chef on board to create a specially devised five-course menu, as well as share stories of their career.
The series runs from July through October, with Ollie Dabbous of London's Michelin-starred Hide kicking things off on July 16. Dabbous will serve a menu focused on seasonal ingredients alongside a wine pairing courtesy of Mayfair wine emporium, Hedonism Wines.
Next on board will be sustainable cuisine pioneer Simon Rogan, who owns multiple restaurants throughout the UK as well as an outlet in Hong Kong. Rogan will host an evening on British Pullman as it journeys through the picturesque North Downs and Guilford. Alongside serving up his curated menu, the renowned chef will talk guests through his signature culinary style, which draws heavily on the natural world, as well as discussing the rise of the eco-conscious farm-to-fork movement.
September 23 will see the inimitable Michel Roux Jr. of Le Gavroche take over the British Pullman's kitchens for an evening of seasonal fine dining. The final installment of Belmond's culinary train journeys will be on October 15, when founder of Le Manoir aux Quat'Saisons and culinary heavyweight Raymond Blanc will take the stage, serving a menu that champions local, organic and seasonal produce.
In addition to the train itineraries, Belmond's range of new cultural experiences includes a sailing experience on the Italian riviera with Olympian Mauro Pelaschier; private champagne region tours for Pivoine, A Belmond Boat guests; a Roman and Greek jewelry making workshop at Caruso, A Belmond Hotel, Amalfi Coast and a gastronomy festival at Reid's Palace, A Belmond Hotel, Madeira.
Venice Simplon-Orient-Express packages from $2,735 per person; British Pullman culinary journeys from $660 per person.
belmond.com/venice-simplon-orient-express, belmond.com/belmond-british-pullman