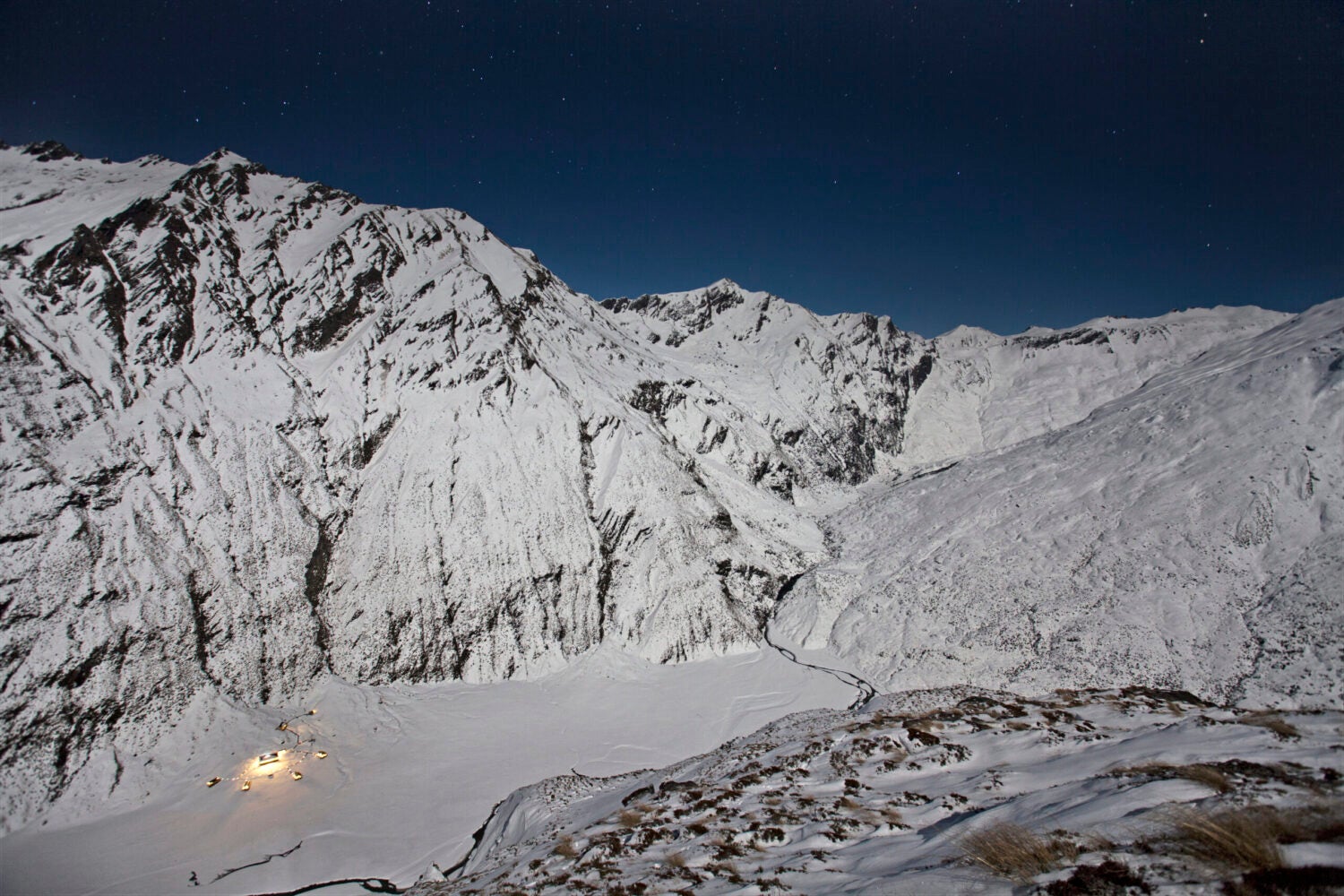 If you've seen the northern lights, consider their shyer, southern cousins — the aurora australis. More elusive than their northern counterparts, the aurora australis (aka the southern lights) can only be seen in a few less-traveled places. Black Tomato has launched a grand new itinerary in New Zealand to hunt out the mesmerizing display, with a sharp focus on night sky exploration.
The star-spangled trip begins in Dunedin, where you'll reside at the Camp Estate at Larnach Castle. The tip of the Otago Peninsula is a mere 11 minutes away, and this pristine coastline provides a clear view of the night sky, along with a magical backdrop of coastal bird calls echoing across Hoopers Inlet. Learn about the unique celestial map of the southern sky and waiata, songs about how the Māori viewed the night sky. In the right conditions, the area is a prime spot to see the aurora australis.
The next stop is Wanaka and the Minaret Station Alpine Lodge. The exceptional property is only accessible by helicopter and is in an epic spot for stargazing: It sits right on the edge of an International Dark Sky Reserve (one of the largest of its type in the world).
During the day, head on a heli-tour of Fiordland, Aspiring National Park, Milford Sound and the Southern Alps. Expect to see tumbling waterfalls, fjords and glaciers, and perhaps a few New Zealand fur seals. Make a snow landing for a champagne picnic lunch with the awe-inspiring, mountainous skyline as your backdrop.
Travel on to Mount Cook Lakeside Retreat, where you'll have your own stargazing experience at a private observatory nestled between Lakes Pukaki and Tekapo. You'll have a private summit experience at the Mount John Observatory, the world's southernmost research observatory (aside from those at the South Pole), located in the Aoraki Mackenzie International Dark Sky Reserve.
An expert astronomer will introduce you to the southern skies, sharing their wisdom as you peer through an optical telescope. Marvel at the planets, star clusters, nebulae and distant galaxies while seated amid extraordinary astronomer research equipment normally out of bounds to the public.
The final stop is the otherworldly Ahuriri Valley, where you'll stay at The Lindis, a spectacular accommodation that blends into its mountainous surroundings. The valley is famous for its soaring mountains; you'll see them in the most thrilling way — on a glider plane. Soar deep into the mountains and, if you're feeling brave, pilot the glider plane yourself.
From $29,500 per person. Contact Tom Marchant, founder, enquiries@blacktomato.com, +1 646 558 3644, blacktomato.com