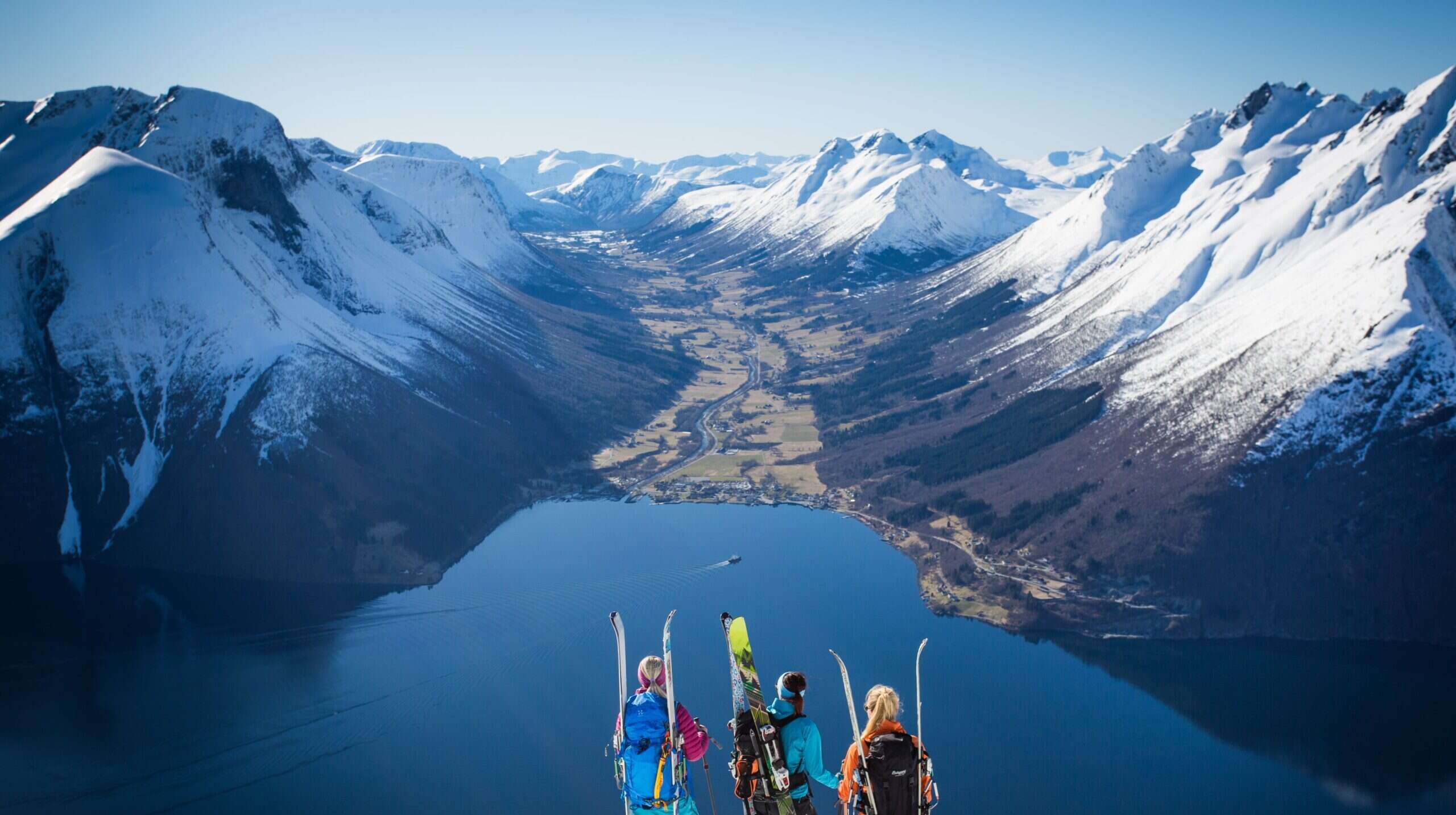 As leaders in creating once-in-a-lifetime and super sustainable Scandinavian travel adventures, Up Norway is always looking for new ways to showcase its stunning home country. The latest launch in the operator's repertoire of Nordic itineraries is the Ski and Sail Package, which gives travelers an immersive look at two of the country's most stunning landscapes.
Customized to all skills and abilities, the three-night Up Norway Ski and Sail Package takes guests to the Sunnmore Alps, where picture-perfect snowy summits descend into icy fjords. The tour starts off with one night in the city of Ålesund, where guests will be treated to a five-course meal of local, seasonal ingredients at Apotekergata, before embarking on a sailing expedition through the majestic Hjørundfjord toward Storfjord.
Here, guests will spend two nights in the five-star Storfjord Hotel, from which they can absorb unrivaled views of the surrounding landscape, relax in an outdoor sauna and enjoy traditional local meals. The daily skiing expeditions will be led by a professional private instructor, with routes catered to individual skiing ability.
And, for anyone who wants to extend the Nordic magic, Up Norway can arrange for guests to stay onboard the sailing boat for more cruising through the Hjørundfjord. The adventure can also be combined with a trip to Svalbard, where travelers can search for the Northern Lights, go dog sledding and witness native wildlife including whales, reindeer and polar bears.
[See also: Up Norway Reveals 'World's Most Sustainable Journey']
The launch of the new Ski and Sail Package follows the recent announcement that Up Norway has become the first Norwegian travel operator to be awarded B Corp certification, in recognition of its commitment to sustainable tourism.
"We continuously strive to not only meet but exceed the highest standards of social and environmental return," said Up Norway founder and CEO, Torunn Tronsvang. "Our success is measured every day by creating meaningful experiences that have a net positive impact on society and nature and inspiring others to do the same."
Up Norway joins just 40 other travel companies in the world to receive B Corp certification, which is only awarded to those businesses that successfully balance profit and purpose, with a transparent and accountable focus on environmental performance.
[See also: Fair Winds and Distant Shores: The Best New Cruise Journeys]
The Up Norway Ski and Sail Package is available January – April, from $2,016 per person.