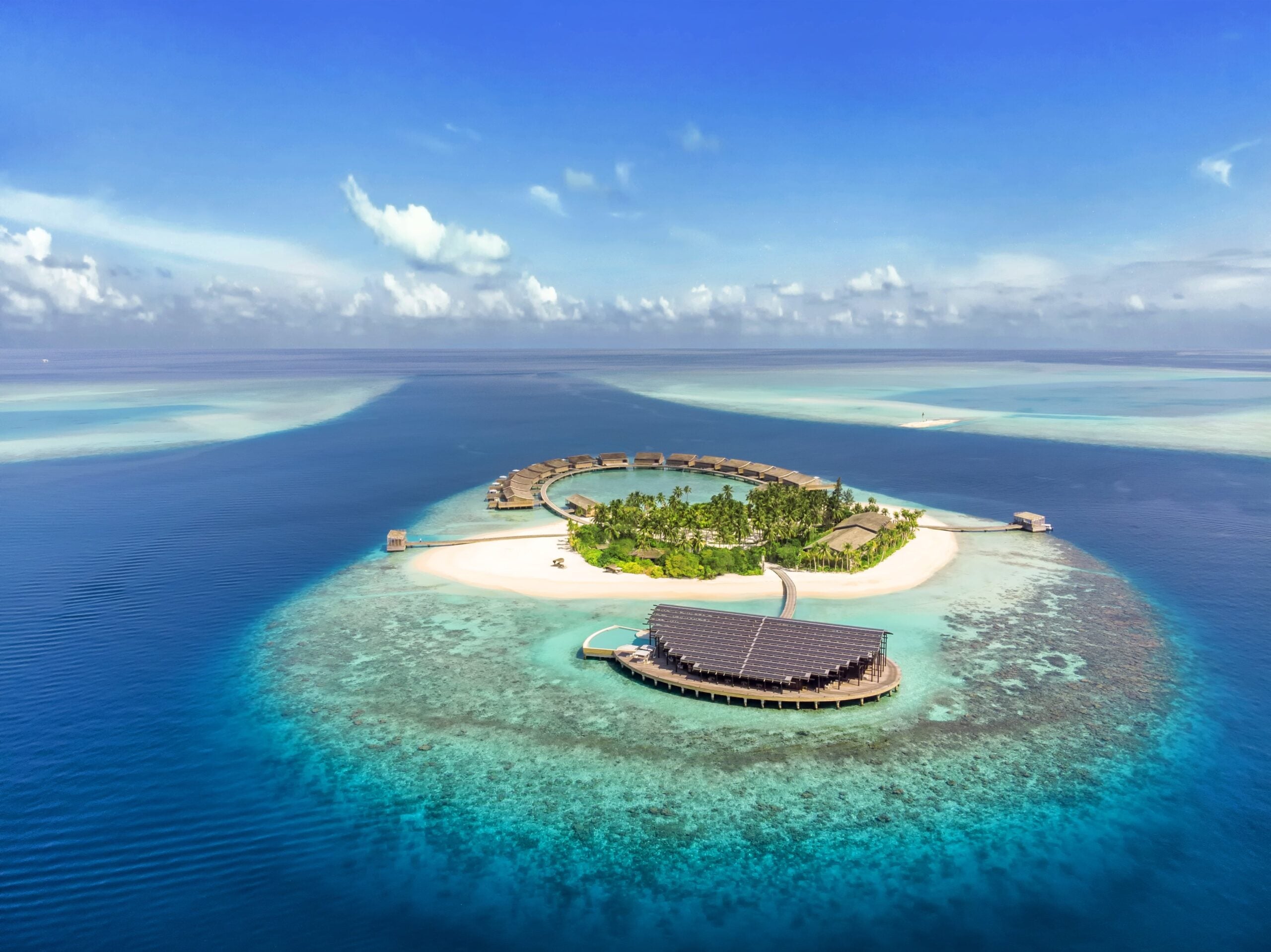 Unrivaled island luxury, stunning white-sand beaches and a truly otherworldly underwater environment make the Maldives one of the world's most unique and coveted places.
Ask anyone who's been lucky enough to visit, and they'll tell you that it's home to the best beaches on the planet — truly paradisiacal scenes. They are not lying. There is nowhere else in the universe that can compete with the consistently perfect, whiter-than-white powder sands and luminous cyan-blue waters of this remote paradise.
The 26 vast atolls that sprawl throughout the Arabian Sea shine like a shimmering broken necklace. So the only question is — where to stay? Exclusivity rules supreme here — practically every resort is its own secluded slice of private island living, with major hotels constantly competing to conquer all the on-trend perks of off-the-scale luxury.
[See also: A Luxury Guide to a Long Weekend in French Polynesia]
Countless retreats have private lap pools, over-the-water villas (many with slides) and even underwater restaurants and suites. Beyond the romance of the five- and six-star palaces, nature awaits. The Maldives is a must for anyone who has a soft spot for marine life: dazzling coral reefs, majestically colored caves, rainbow schools of fish, manta rays, turtles and huge whale sharks lurk in the depths. Of course, with such a plethora of nature and wildlife, most resorts have stellar eco-credentials, too — from solar-powered structures to coral nurseries and designated eco-centers.
Now that we've tempted you, Elite Traveler has chosen some of the grandest, iconic and most exclusive Maldivian hideaways where you can enjoy your next lazy hazy summer, from grand dames to Robinson Crusoe castaways and the most fabulous private islands known to man. While you can certainly hop from island to island (seaplanes are the norm here, or sail through the turquoise waters to get to your next destination), there's so much to do (or not to do, depending on your preference) that it's easy to spend your whole vacation on just one island for a true escape from it all.
Velaa Private Island, Noonu Atoll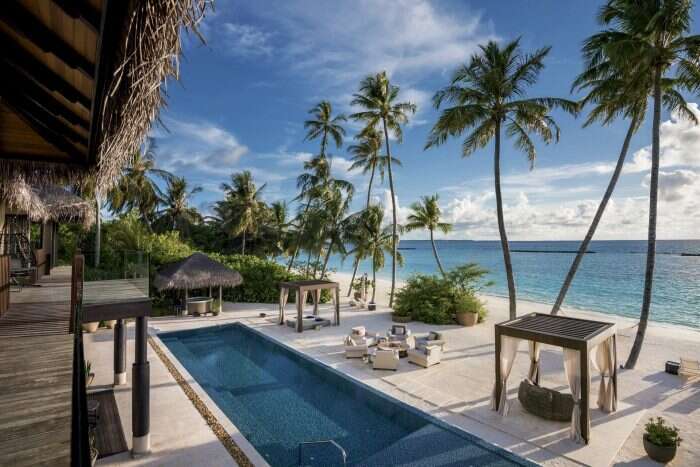 A short 45-minute seaplane ride north of the capital Malé lies the stunning white sand beaches and dazzling palm tree flecked shores of the astonishingly polished Velaa Private Island. Born from a love for the Maldives, it's the passion project of couple Radka and Jiří Šmejc, whose mission was to create the world's most luxurious private island.
The resort's designer, Petr Kolar, uses the phrase "polite luxury" to describe the isle's castaway aesthetic. In place of all the extravagant conveniences and champagne popping bling you'd find elsewhere in the Maldives, functional (and subtle) practicality is the name of the game here. Think paving stones that don't burn your feet and exceptionally slick and understated conceptual minimalist surroundings crafted by master European designers.
The Residences are the best of the 47 abodes. Book the Nika, designed by renowned architect Patricia Urquiola. Four large en-suite bedrooms open out onto balconies and terraces with views of the ocean and your very own private beach. A vaulted living area is filled with designer furniture and custom-made decor, and there's a gym, spa room and outdoor relaxation area with hot tub and private pool, too.
What's there to do? You are in the best diving spot in the Maldives to see turtles, sharks and eagle rays. Venture out for big game fishing adventures meets snorkeling trips to see them all, or max the adrenaline out on the latest tandem jetovator.
Fun activities and swanky digs aside, perhaps the major bonus of staying here is the exceptional dining options. Simple eats come courtesy of Athiri, a lovely cocktail spot that dishes out a medley of seafood and modern European dishes. Tavaru, a teppanyaki venue with a three-story wine cellar (home to over $1,000,000 worth of bottles of booze), offers intimate eats that look out over the entire island and beyond. Star of the show? Easily Aragu, the fine-dining, quintessentially Maldivian option that plates up local and international eats. Post grub, pull up a chair and toast out the day with some bubbly at the champagne bar — pure magic.
From $20,900 per night. Contact George Dammers, director of sales, reservations@velaaisland.com, +960 656 5000, velaaisland.com
Kudadoo Private Island, Kudadoo Island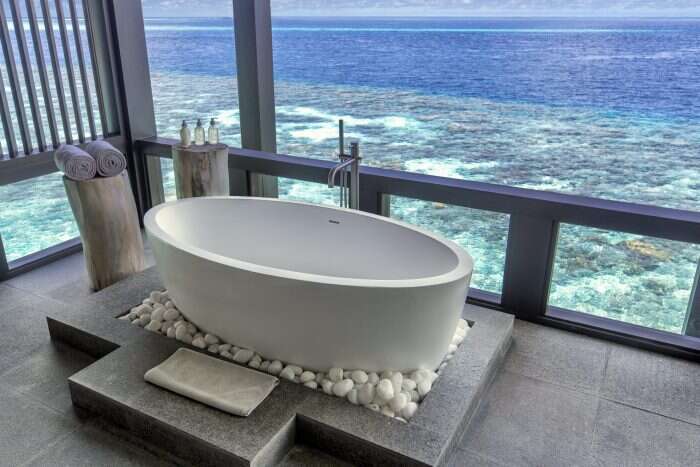 This tiny, secluded Indian Ocean party pad takes luxury Maldivian living to the next level. Kudadoo Private Island is a crash course in over-the-top luxury where anything, literally, goes. Almost entirely solar powered, the teeny luminescent island is fringed with blinding white sands and palms hung with hammocks, garnished with a little forest in between.
Its story begins with Swedish-born Lars Petre, who back in 1985 came to the Maldives when there were just a handful of hotels here. The sunshine, along with a host of dreams, kept him here, and now he looks after countless hotels throughout the nation. His grand plan for Kudadoo? To take all-inclusive to another universe. And that he has.
Yuji Yamazaki (he's the man behind a host of Armani stores in the US) was brought on as chief architect. The result is a tranquil spot that's more luxe-pad-away from-home than it is a private island resort hotel. All 15 of the villas, as expected, are gargantuan, with wooden walls and floors, stone bathrooms and marble dressing rooms. Out on the deck of each there's a pool, crowned with day beds and endless breezy sea views featuring the odd manta ray.
Foodies will be exceptionally spoilt here, too. Chefs will make what you want, whenever you want it — no matter how hard it is to get or cook. Head chef Antoine Lievaux has worked alongside the likes of Joël Robuchon and Alain Ducasse, so expect decadent seasonal menus that dip into recipes inspired by the flavors of the globe. The best part is that you can dine wherever you like, and there's no dress code either.
Those looking for fun will also be seriously impressed. Water sports and more are unlimited in these parts. Discover idyllic lagoons by speedboat, explore nature solo atop a paddleboard, learn how to kiteboard, or go on a parasailing trip — dolphins regularly make appearances, frolicking in the turquoise waters.
From $3,400 per night, exclusive use from $80,000 per night. Contact Bradley Calder, general manager, reservations@kudadoo.com, +960 662 2000, kudadoo.com
[See also: The Most Luxurious Eco-Friendly Hotels]
Anantara Kihavah Maldives Villas, Kihavah Huravalhi Island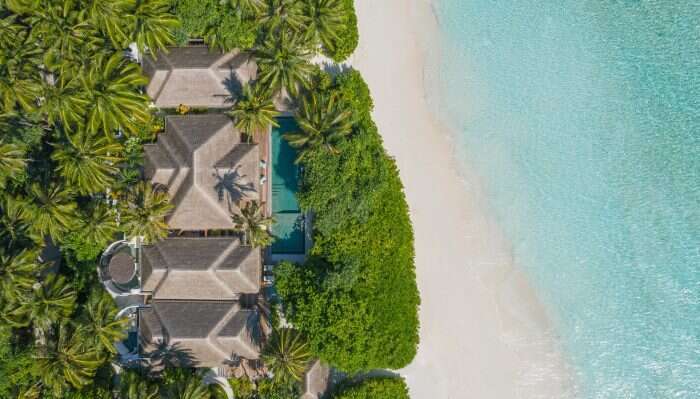 A stunning 35-minute seaplane ride north of Malé, Anantara Kihavah Maldives Villas resort is the remote paradisiacal wonder of your post-lockdown dreams. Lots of timber and traditional thatched roofs instantly establish a low-key, barefoot kind of vibe — but don't be fooled, because this island is as luxe as they come. Signature high-end Anantara touches (think glass-bottomed tubs looking into the seabed in the villas) dazzle alongside 'out there' sculptures, splashes of bold colors and a fine curated selection of art pieces.
Out of the 80 over-the-top villas, the stunning Beach Pool Residences are best. The two- to four-bedroom glass palaces pack in all the contemporary elegance: Light and airy, neutral palettes blend together with rattan details, woven carpets, Maldivian motifs and exquisite teak furniture. Floor-to-ceiling doors open for views out to the beach, and a personal chef and sommelier are also yours any time of day on request.
Located in a hub towards one side of the island is a collection of drinking and dining dens, all taking inspiration from the resort's surrounding environment: Fire is the Teppanyaki restaurant; Manzaru serves classic Italian bites; Sky Bar is where to sip an ultra-fabulous cocktail (Maldivian sunset and the region's largest telescope included); while Sea has the world's first underwater wine cellar as well as a fine-dining restaurant (also very Insta-friendly). Newcomer to the scene, Spice, offers a mix of Asian fare, while Plates dishes out a wonderful patchwork of international cuisine come breakfast time.
Experience-wise, don't miss a nighttime ride aboard Ocean Whisperer, Kihavah's superb private 78.7-ft sailing yacht. Expert guides will take you into the depths using state-of-the-art tech in search of turtles, dolphins and all the bio-fluorescent magic of the marine world not usually visible to the naked eye. Back on dry land, hit up the observatory, the only over-the-water celestial hangout of its kind in the country, and stargaze into the early hours.
Four Bed Beach Residence, $16,000 per night. Contact Ross Sanders, general manager, reservations.maldives@anantara.com, +960 664 4111, anantara.com
Soneva Fushi, Kunfunadhoo Island
At Soneva Fushi, civilization as you know it is a long way away, which is precisely why so many people choose to stay here over all the other stylish Maldivian beach huts scattered throughout the deep blue sea. The vibe is laid-back shorts and eternal summer dress chic driven by an unpretentious crowd, not at all concerned with designer labels or anything remotely too showy.
Style-wise, it's classic island living, but perhaps the major sell is the brand's responsible sustainability philosophy. Fushi spearheads a marine conservation program, and there's a special Eco Centro that handles all of the waste management and recycling. It is also forbidden for the overwater villas to be built over coral.
But speaking of villas, these are stunning. For total luxe, book the Private Reserve. Set over more than 32,000 sq ft, the nine-bedroom island mansion features a master suite with private pool and its own spa suite with bath, sauna and treatment room; an outdoor pool with sunken daybed; a gym; and no less than six guest rooms.
Mihiree Mitha rustles up the biggest breakfast we've possibly ever seen, with eggs any style, fresh-from-the-oven pastries, healthy ayurvedic tonics and rooms dedicated to cheese, charcuterie and more. Cocktails are best enjoyed from an overwater hammock at Bar(a)bara, and for dinner, head to the stunning Out of The Blue. Expect Asian and international bites, including salads, grilled meats and seafood. The chocolate and ice cream parlors and the cheese room are also highlights, along with the into-the-ocean slide (yes, slide — but it's probably best to enjoy that pre-dinner).
For an extra slice of exclusivity, escape the island for your very own private sandbank for the night, where you'll enjoy a candlelit dinner and sleep under the stars in a luxurious Bedouin-inspired tent. Hot stone massages at the award-winning Six Senses spa are a must before you leave, too.
From $19,240 per night (season dependent). Contact Frederic Brohez, general manager, reservations@soneva.com, +960 660 0304, soneva.com