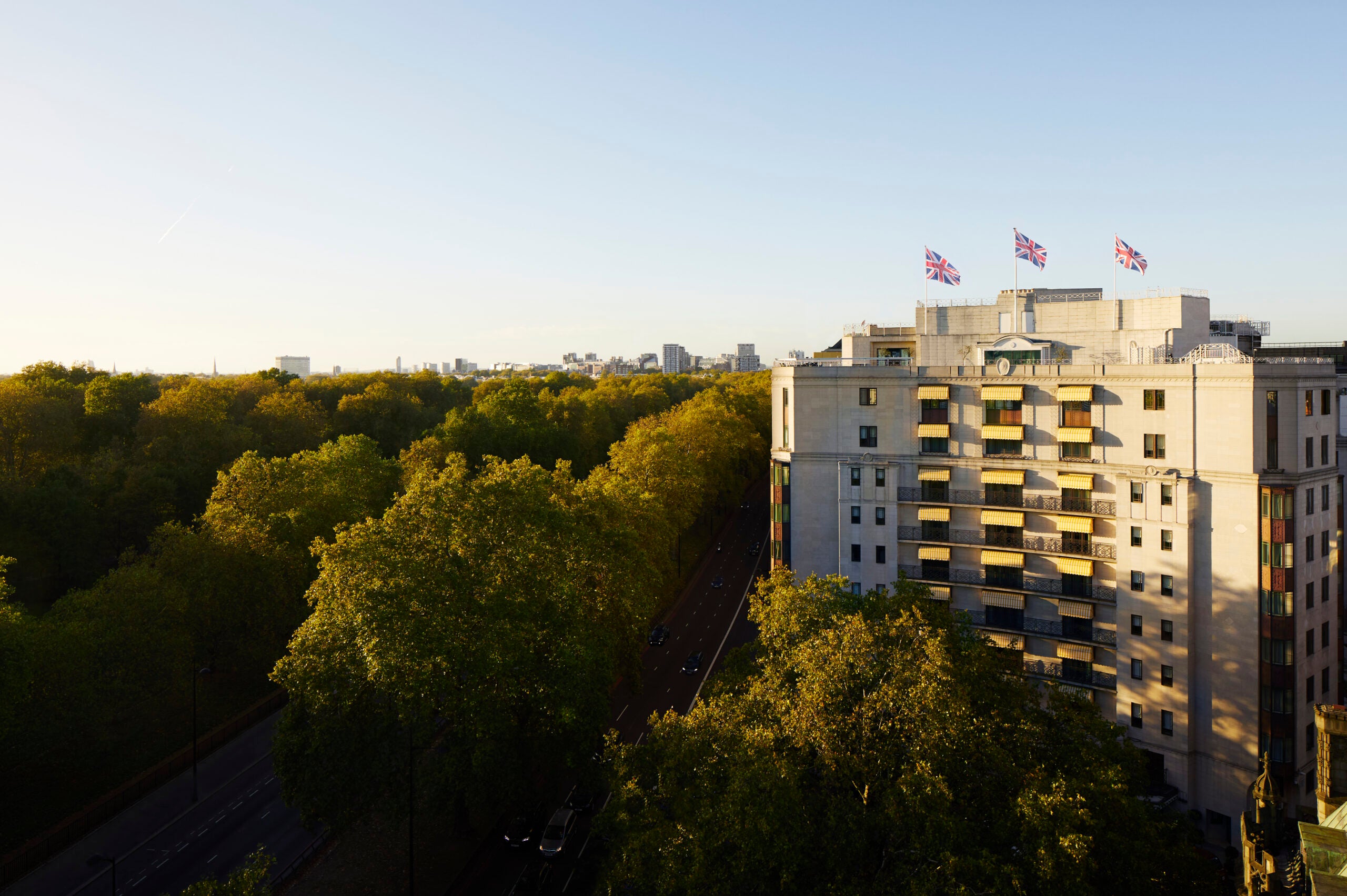 When the UK emerged from the harshest levels of lockdown in June, many of London's hotels, bars and restaurants rushed to reopen. After three months of closure, they were desperate to get the cash registers chiming again. Reopening may sound like a simple process but for a hotel as big and reputable as The Dorchester, it was a huge undertaking. Hundreds of staff had to be reintroduced, produce had to be sourced and almost 300 rooms and suites had to be checked and cleaned. As a result, The Dorchester did not welcome its first guest back until September 4, two months after lockdown lifted.
Far from an indication of unpreparedness, The Dorchester purposely sacrificed significant revenue to ensure that when it reopened, it was done right. The extra time behind closed doors was spent developing industry-leading hygienic protocols and refining a host of new experiences. Chefs returned from lockdown with redesigned menus and mixologists with new cocktail recipes. Lockdown gave them all a chance to rethink their approach, and now it has emerged from hibernation with a fresh feel. Elite Traveler was invited to experience the ultimate staycation at The Dorchester.
Stay
For a luxury hotel, Covid-19 protocols are a difficult balance to strike. The staff are there to ensure utmost comfort for every guest, and many of us are still getting used to the new normal. However, from the moment you step inside, you are reassured. You can decide the level of service you want and the staff make every effort to ensure health and safety protocols are followed discreetly. Guests are given a welcome bag of essentials including hand sanitizer and a mask, offering the politest of reminders that we too must wear them in shared spaces. Compliance amongst guests was high and, of course, perfect amongst staff. It is as if they have been preparing for the new normal for years, not months.
Like London, The Dorchester is quieter than it has been in years. The lack of tourists and business travelers may be bad for business, but it is great news for locals. In fact, if you can get there safely, it is the perfect time to visit the hotel. Despite the lack of guests, the staff are still there in their droves, making for a remarkably high staff-to-guest ratio. At times, it can feel as though you have the hotel's amenities to yourself. The spa is quiet and the usually bustling Promenade has a little more than a relaxing buzz on a Saturday lunchtime.
When you stay in one of the suites, the shared spaces are very much optional. Stay in the lavish Dorchester Suite and you could have a very enjoyable weekend without ever stepping outside. With abundant light and views of Hyde Park, this comfortable 1,001-sq-ft suite is the epitome of the hotel's classic luxury style. Its residential feel makes you feel at home almost instantly. The large living area has a dining table, so in-suite dining is a pleasure. All the usual services are still available on request, such as twice-daily room refreshes, turndown service and even in-suite spa treatments, but nothing is done without your permission first.
Drink and Dine
Afternoon Tea
Afternoon tea is a time-honored tradition in Britain and The Dorchester has played a significant role in keeping it alive. The hotel has offered one of London's finest selection of finger sandwiches and scones since 1931. Seasonal delights are served in the hotel's world-famous Promenade by executive chef Daniel Texter. Texter returned to his duties in the kitchen with a fall-inspired menu. The intricate delights are so intricate it seems a shame to eat them. The sweet treats only come at the end, however. The best way to begin an afternoon tea is with a glass of champagne from the impressive drinks trolley. You can then choose from a wide range of teas from traditional English breakfast to fine silvertip white tea and a selection of delectable sandwiches. There are, of course, the quintessential scone, which is freshly baked each morning. It is perfect for a special occasion. The pianist plays happy birthday three times during our sitting while the couple next to us are celebrating their anniversary.
The Bar at The Dorchester
As day turns to night, The Dorchester becomes a sophisticated and accomplished evening destination. The Bar at The Dorchester is one of the most storied in the city. The bar is run by cocktail legend Giuliano Morandin. This proud Italian has guided the bar to numerous awards with an ever-changing cocktail menu, and it is easy to see why. I tell Giuliano of my penchant for Scotch whisky and he immediately insists I try a cocktail created specifically to enhance its unique flavor profile. The cocktail was delicious, but what I was most impressed by was Giuliano's passion for mixology. It was palpable. The Bar has adapted to the new normal by opening a charming Terrace & Garden. Outside seating is the order of the day in London and this area makes the most of a small space with lush greenery keeping diners separate from the outside world. The area will soon be transformed into a winter terrace to make sure it still appeals when the temperatures drop.
The Grill at The Dorchester
We certainly enjoyed our first visit to the restaurant when it was relaunched last year, and it is good to see head chef Tom Booton growing into his role. When not performing charming live cook-alongs on his Instagram during lockdown, Booton was developing new additions to his refined menu. New seasonal dishes include a stunning squab pigeon served with salsify, cavolo nero, confit leg ragu and borlotti beans, and the delica pumpkin with seed pesto, trompettes and English pecorino. Both are fantastic examples of Tom's creativity and passion for seasonality. A 'white snickers' dessert, inspired by a beloved British candy bar, displays his youthful innovation.
Relax
The Florist at The Dorchester
The first thing you notice when you walk into The Dorchester is the roses. There are over 1,000 on display on the Promenade, each of them delicately placed by in-house florist Philip Hammond and his team. Philip has also overseen the introduction of the Dorchester Rose, a flower that is deserving of its famous name. You can buy a bouquet of them from The Florist at The Dorchester, but while you are staying at the hotel you may as well learn how to make one yourself. We undertook a floral masterclass with the man himself and were welcomed into his charming shop with a glass of champagne. If I had known the challenge that lay before me, I would have opted for a clear mind. Philip took us through each part of the bouquet-making process and even let us in on some trade secrets. He showed tremendous patience as I fought to tame 12 roses and their accompaniments. They seemed intent on escaping my grasp and almost succeeded on several occasions. It took me an hour to produce a bouquet that was nowhere near as beautiful as one that Philip can produce in a matter of minutes. He focused on the positives and gave me a few quick fixes that made it passable, but the message was clear: Don't quit the day job. I may have revealed a lack of natural talent for floristry, but it was a memorable experience and one I would recommend. As Christmas approaches, the team will start to offer wreath masterclasses as well.
The Spa
The return of The Dorchester Spa would have been hailed by dozens of locals who frequent the stunning 1930s Art Deco space. A pampering is long overdue for most of us and the expansive spa is the best place to forget the trials and tribulations of today's world. But while the spa remains quiet and follows strict social distancing protocols, guests can also opt to have in-suite spa treatments. These new treatments are designed to reset guest's wellbeing in the comfort of their own room. Choose from one of four offerings including a perfect bedtime routine to ensure a good night's sleep, a de-stress treatment to relieve tension, a full recharge of mind and revival of the skin, or to restore with a Forest Therapy grounding and restorative treatment.
And now… have a Merry Christmas at The Dorchester
Following London's Lockdown 2.0, The Dorchester is ready to kick off the Christmas period in earnest. The new Dorchester Winter Garden immediately becomes one of the city's alfresco hotspots. Nestled in front of the grand facade, the two private Garden Globes offer beautiful views of the famous landmark for five guests nestled under luxurious Johnstons of Elgin blankets.
The cocktail menu for the Winter Garden has been created especially by The Bar at The Dorchester including festive cocktails such as Naughty or Nice mulled wine and a Snowflake Negroni.
The Dorchester Winter Garden is open daily from December 4. The Winter Garden Globes seat up to five guests for a three-course lunch or dinner, or for a special Winter Garden Party Menu.
The Dorchester Suite from $4,900 per night. Champagne afternoon tea from $90 per person. Florist masterclass from $160 per person. dorchestercollection.com +44 20 7898 9870, reservations.45L@dorchestercollection.com. For Winter Garden Globe reservations, contact restaurants.tdl@dorchestercollection.com
Images: The Dorchester Collection