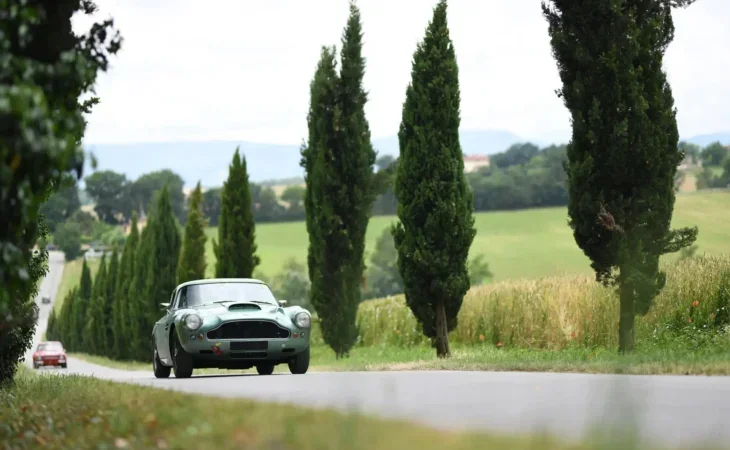 Four Seasons has long been known for its ability to create unrivaled experiences, with outlandishly luxurious hotels and resorts in some of the world's most beautiful locations. Now, with the launch of the Beyond by Four Seasons, An Exclusive Driving Journey Through Tuscany road trip, the illustrious travel group is offering guests a new way to see the Italian wine country.
With the stunning Four Seasons Hotel Firenze acting as home base, guests will be able to take their choice of a classic Italian car – be it a Lamborghini or a Ferrari – and embark on a carefully created seven-day itinerary through Tuscany. Created in partnership with luxury driving experiences company, Canossa Events, each step of the journey has been carefully selected to showcase the best of this one-of-a-kind Italian region, with plenty of access to otherwise off-limits attractions.
The experience kicks off with a welcome dinner in the hotel's Faggio Garden, followed by a good night's rest before the first day of driving, which will feature a journey through the beautiful vineyards of so-called Chiantishire. The day is rounded off with a private tour and tasting (for passengers) at Antinori Cellars, run by one of the most historic wine families in the region.
[See also: A Luxury Guide to a Long Weekend in Florence]
Day two takes guests to some of Tuscany's most secret hidden gems, where they will enjoy access to areas not usually open to the public, followed by an authentic Florentine dining experience. The next day, the Four Seasons road trip itinerary travels to the province of Siena, famed for its patchwork of vineyards and olive groves that cover the rolling hills. After a scenic drive through the countryside, stop for a private lunch at the storied Montalcino City Hall.
The following day, the road trip takes guests west of Florence, to Tuscany's strip of coastline. Cruise through picturesque seaside towns before heading back to drive through the famous cypress-tree-lined roads of Bolgheri on the way to visit the picturesque vineyards of Ornellaia.
[See also: The Best Restaurants in Florence]
The final two days are more relaxed, with guests invited to explore Four Seasons Firenze – as well as the city itself – at their leisure on day six, before enjoying an evening at the Opera. Rounding the itinerary off will be a farewell breakfast at the hotel.
"The guest experience is at the heart of everything we do, inspiring our teams to innovate and elevate each new Four Seasons offering," says Christian Clerc, president of hotels and resorts, Four Seasons. "We came together with Canossa Events to create something truly spectacular for our guests – an ultra-luxury drive adventure where the journey is to be enjoyed just as much as the destination.
"Against the backdrop of the Tuscan countryside, punctuated by the region's best wine and culinary offerings, and delivered by our talented and caring craftspeople, Beyond by Four Seasons sets a new standard for luxury road travel."
[See also: Gucci Opens Stylish Cocktail Bar in Florence]
The Beyond by Four Seasons, An Exclusive Driving Journey Through Tuscany will take place from September 24 to 30, 2022; from $50,000, fourseasons.com