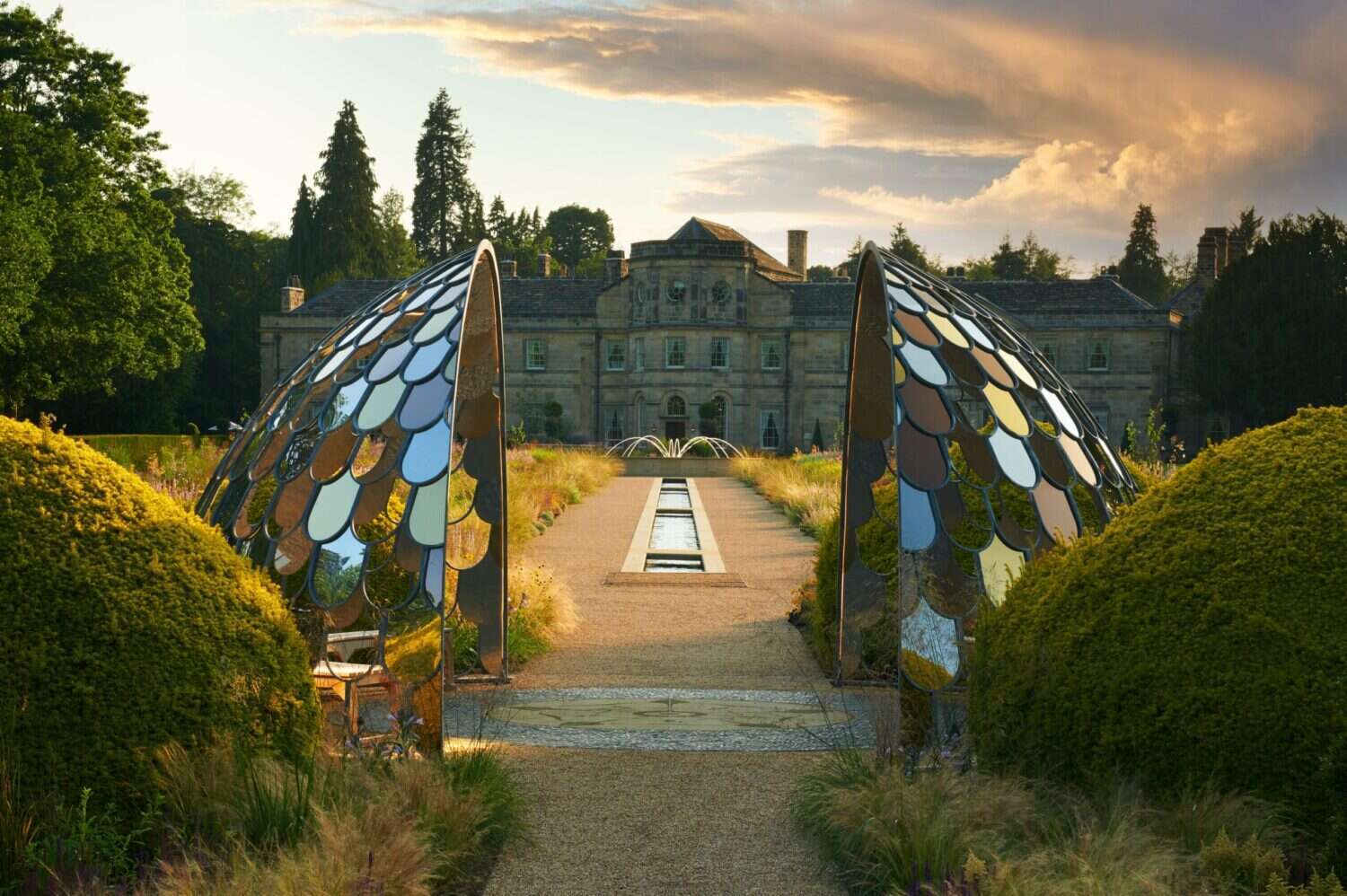 Grantley Hall caused a stir when it opened in summer 2019, before Covid-19 forced the storied building to close its doors before reopening in fall 2020. Despite its faltered start and limited time open, the hotel has won many awards. Situated just outside the pretty town of Ripon in the Yorkshire Dales, the Relais & Châteaux hotel is flawless from its grand facade, perfectly pruned gardens (with speakers hidden among the foliage for a soothing background jazz soundtrack as you wander around), trickling streams and flowing waterfalls, to its exquisite dining, impressive spa and beautiful suites.
Stay
Superior Suite
Size – 840 sq ft Nightly rate – From $1,000
Set in a serene rooftop atrium, these suites are plush and inviting: There will be a bottle of sloe gin to welcome you, and the shelves are lined with meticulously curated books—titles about Yorkshire and 'the wonder of the north,' local cricket grounds and short story collections by British authors. The artwork hanging on the wall transforms into a TV at the touch of a button. The bathroom is cool Italian marble, with a steam shower, separate tub and Lalique products.
Dine
Both locals and visitors flock to Grantley Hall to dine at Shaun Rankin's restaurant. The charming 10-course tasting menu is inspired by his childhood memories (Rankin grew up in nearby Durham). The rich and hearty beef tea with bonemarrow butter and dipping bread is a particular highlight. Rankin is passionate about sustainable practices; most produce is sourced from the hotel's kitchen garden (of which Rankin oversaw the construction) or from within a 30-mile radius. The affable and entertaining sommeliers pair wines with infectious gusto. Celebrating a special occasion? Book the Chef's Table; it's set right at the heart of the action in Rankin's kitchen.
Relax
I visited while the UK's lockdown was loosened, but with some restrictions still in place. This means a visit to the spa needs to be pre-booked, and you're given a two-hour slot. A wonderful upside is that you'll only have to share this glorious spa with one or two other guests. Cushy daybeds surround a 59-ft swimming pool with Romanesque columns; a second pool flows outside into the fanciful garden and has hydrotherapy stations; an outdoor hot tub is lovely even if it's chilly; the sauna has a large viewing window to gaze out over the aforementioned gardens; and the fun snow room is there for when you need to cool off.
Contact
Andrew McPherson, general manager, hello@grantley.hall.co.uk, +44 176 566 7970, grantleyhall.co.uk