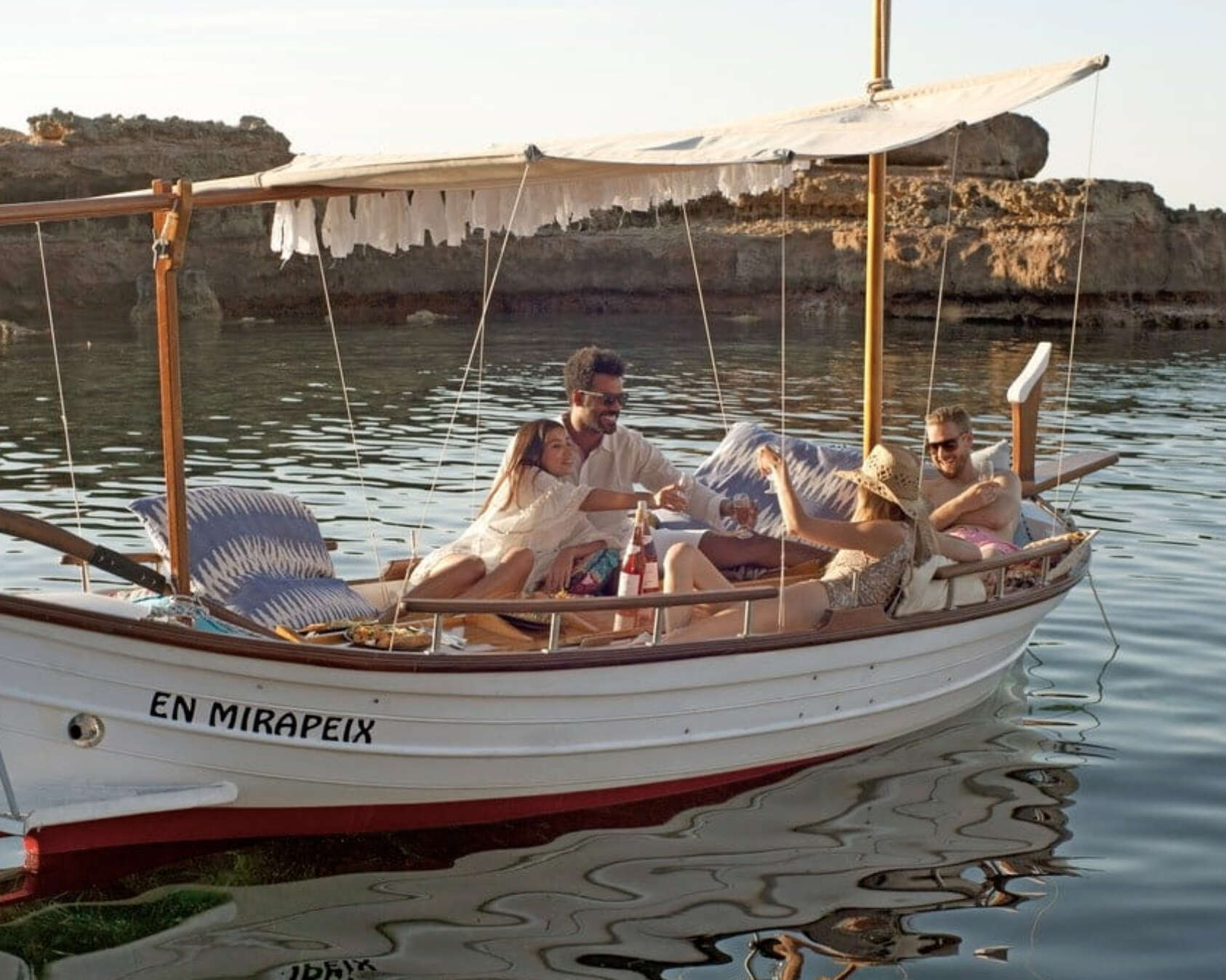 Ibiza's leading independent hotel, Ibiza Gran Hotel, will open its doors for the new season on May 27. Ahead of the reopening, the hotel has introduced a series of new experiences designed for guests to replenish body and soul. Guests will be invited to indulge their senses with a holistic programme that includes exclusive access to some of the island's leading contemporary artists, restorative wellness programmes, private dining experiences and lesser-known corners of the famed white isle. Each experience has been designed specifically for couples and small groups to offer friends, family and loved ones the perfect opportunity to reconnect and restore.
Ibiza Gran Hotel has been curating intimate moments for guests for more than a decade and is perfectly placed to guide guests as they look to restore harmony after the past year. Guests can revel in the infinite night's sky and learn the meaning behind the constellations with dinner on their own private yacht hosted by one of Ibiza's leading astronomers or reawaken the senses with a tour of the hotel's exclusive contemporary art collection and a private view of the famous Studio Micus. A trip to Ibiza's finest organic winery is also on offer, followed by a bespoke tasting at La Gaia under the careful guidance of Ibiza Gran Hotel's expert sommelier, Vasili Abodzich.
[See also: The Most Secluded Beaches in Spain]
"The past year has undoubtedly left its mark on the world. We want to help our guests restore their spirit, renourish the soul, rekindle their relationships and find wonder in the world around them again. Our new program is hand-picked by our expert team and draws on our experience curating memories for guests for more than a decade," said Raúl Sierra, general manager at Ibiza Gran Hotel. "We look forward to welcoming guests back to our beloved hotel on May 27 to reignite their essence."
Celebrated as a sanctuary in the heart of the action, Ibiza Gran Hotel enjoys an enviable position in Ibiza's Paseo Marítimo, adjacent to the island's finest marinas. The hotel's 185 tranquil suites, many with their own private pools, provide solace for guests drawn to the island's bohemian culture. The Ibiza Luxury Gran Suite can accommodate up to six guests across three bedrooms, each with its own private bathroom. The spacious penthouse enjoys views of the Mediterranean and Bay of Ibiza from the heated pool on the terrace, with solarium and whirlpool bath.
Four restaurants serve locally sourced produce as part of creative, innovative menus, led by executive chef Óscar Molina. Dining is intimate and private, designed to provide a platform for guests to share and connect. The flagship restaurant, La Gaia, delivers seasonal, locally inspired cuisine with celebrated Mediterranean flare, while Downtown Ibiza by Guiseppe Cipriani serves authentic and indulgent Italian favorites.
The most exclusive spa in Ibiza, Open Spa, comprises world-class health, beauty and fitness programs including a comprehensive hydrotherapy circuit, beauty treatments from international brands such as Linda Meredith, Elemis and Ayuna, and a state of the art TechnoGym. Patricia Fuertes, the property's expert wellness ambassador, is on hand to construct bespoke programs for guests that draw on a range of disciplines. The property is also home to 400 pieces of contemporary artwork commissioned exclusively for Ibiza Gran Hotel by artists such as Tatiana Sarasa, Ñaco Fabre, Eduard Micus and Fabian Schalekmap, as well as the elegant Casino de Ibiza.
The hotel's highly trained team will continue to maintain the hotel's exceptional health and hygiene policy to keep both staff and guests safe. PCR testing will now be offered in-suite to ensure simple and stress-free transit, with guests receiving a certificate of a negative test for their onward travel within 24 hours.