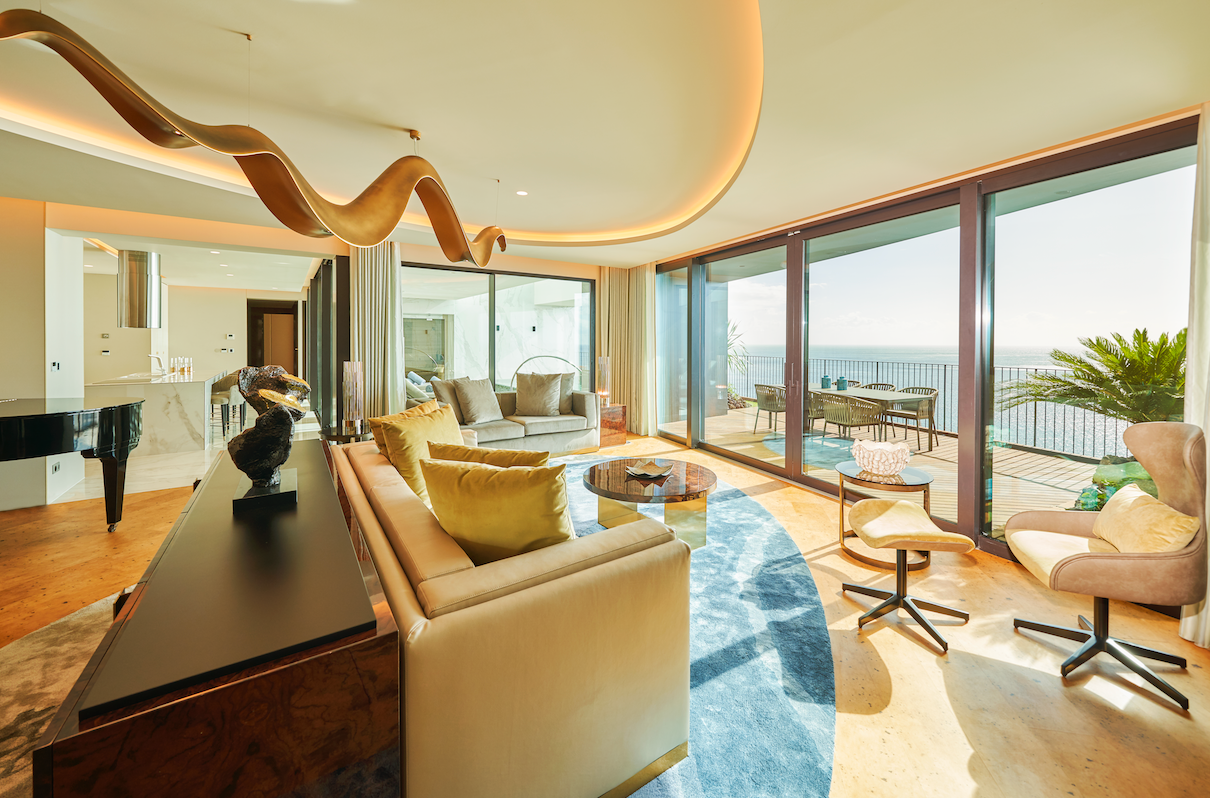 You might cry. That's what Savoy Palace's celebrated designer, Nini Andrade Silva, did the moment she saw her stunning chandelier hung in the hotel's foyer for the first time. She wept, as did the hotel's owners, all of them moved by the fixture's jaw-dropping beauty.
Guests, too, will fall under the chandelier's spell, but they'll be equally enchanted by Silva's overall expressionistic design throughout this elegant seaside sanctuary. Emblematic of Silva's bold perspective, the showpiece lighting fixture — a 33-ft-high fantasia of metal, purportedly incorporating four miles of chain — is only one of many elements conjured by Silva (and her collaborating team, plus locally based RH+ Arquitectos) to reimagine what was once one of Madeira's most iconic hotels.
Now, rebuilt to meld past and present, and occupying a swath of the island's best real estate, this five-star refuge blends old-school European cachet with an edgy, up-to-the-minute style. It strives to be equal parts local living room, hideaway for all types of vacationers, and snazzy place to do business.
Stay
Stretch out in one of two Presidential Suites; each spans 2,691 sq ft of Silva-designed beauty. A calming retreat on the 17th floor, the amply sized, VIP-inspired suite (with a butler on demand) has been designed with celebrity guests in mind. It boasts two bedrooms and a living area, a huge terrace, kitchen and bathrooms — plus a separate sauna and Turkish bath. Consider a Savoy Signature package, which offers a private-jet transfer both ways between Lisbon and Funchal, dedicated concierge service and two nights in the Presidential Suite.
Design
The flagship of Savoy Signature (a newly minted hospitality brand that also owns other Madeiran hotels and businesses), the newly built, 352-room Savoy Palace was erected on the site of its beloved namesake, the Savoy Classic, which was built in 1912. A member of Leading Hotels of the World, the Savoy Palace incorporates scores of historically glamorous elements, from gold-framed vintage mirrors to Vermeer-esque, black-and-white checkerboard floors and pink boudoir walls. At the same time, Silva's eye-popping creations conceptualize the hotel as a reborn classic, fearlessly trumpeting Madeira's exceptional attributes.
Throughout, voluptuously suggestive plant shapes abound as flower light fixtures, etched ceilings, curved custom furniture and art installations. Lacework, a centuries-old island talent, gets a nod in filigree-shaped stairwell details, among blinds and within bedside panels. The island's basket-making and wine industries, too, show up in woven textures and corkwork flourishes. Numerous pools, two on dueling rooftops, refer to the sea; and the gardens recall the verdant hinterlands.
Most awe-inspiring, the 33,000-sq-ft Laurea Spa, one of the biggest wellness sanctums in Europe, plays out as an artsy metaphor for the Unesco World Heritage-listed Laurisilva Forest. With tunnels, caves and myriad water features, the haven stands out as a harmonious retreat.
Dine
As the social center of Funchal and as a hotel splendid enough to persuade guests to repeatedly dine on property, Savoy Palace strives to offer variety in its dining venues. Galáxia, a rooftop restaurant with otherworldly decor, achieves cuisine worthy of its artistic, star-inspired ambience. Expect farm- and sea-to-table, locally inspired dishes with a contemporary spin. Its adjacent Skybar serves gastronomic cocktails spun from unexpected combinations.
The more casual Alameda borders the main pool and beckons sunbathers to drop in for wood-fired pizza, grilled meats and first-class seafood. Wake up early for breakfast at stylish Orchidaceae Atelier, and don't miss the festive afternoon tea in the Lobby Lounge Bar.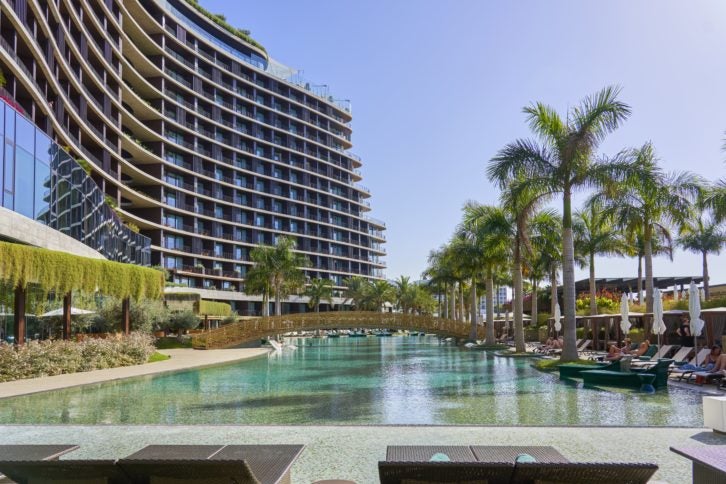 Explore
Madeira, part of Portugal but autonomously governed, lies closer to Morocco than Europe. Charmingly frozen in time, it evokes traits of a bygone Europe. Its strong seafaring and wine-making culture, dramatic landscape, welcoming populace and adherence to festive traditions (try the indigenous spirit poncha, or join the locals for a unique New Year's Eve) lend it a storybook magic, an otherness strengthened by its isolated setting in the remote Atlantic.
Composed of countless cliffs and rocky precipices, the mostly undeveloped paradise boasts diverse ecosystems including a cloud forest, one of just a few in the world. Some have called this island the Hawaii of the Atlantic for its flora, fauna and geological composition. Hiking, sea adventures (from whale watching to sailing), riotous sunsets and wine tasting (the island is revered for its sweet, fortified wine) compose just some of the requisite activities.
Don't miss a hike along Levada Dos 25 Fontes to the waterfall, sunrise on Pico do Arieiro, a mad hatter's ride downhill on historical wicker toboggans or a visit to Old Town (eat limpets and drink the potent poncha), and be sure to taste delicious local wine at Blandy's Wine Lodge.
Presidential Suite from $5,000 per night. Contact Cristina Mata, VIP manager, cristina.mata@savoysignature.com, +351 291 213 000, savoysignature.com
Photos: Henrique Seruca