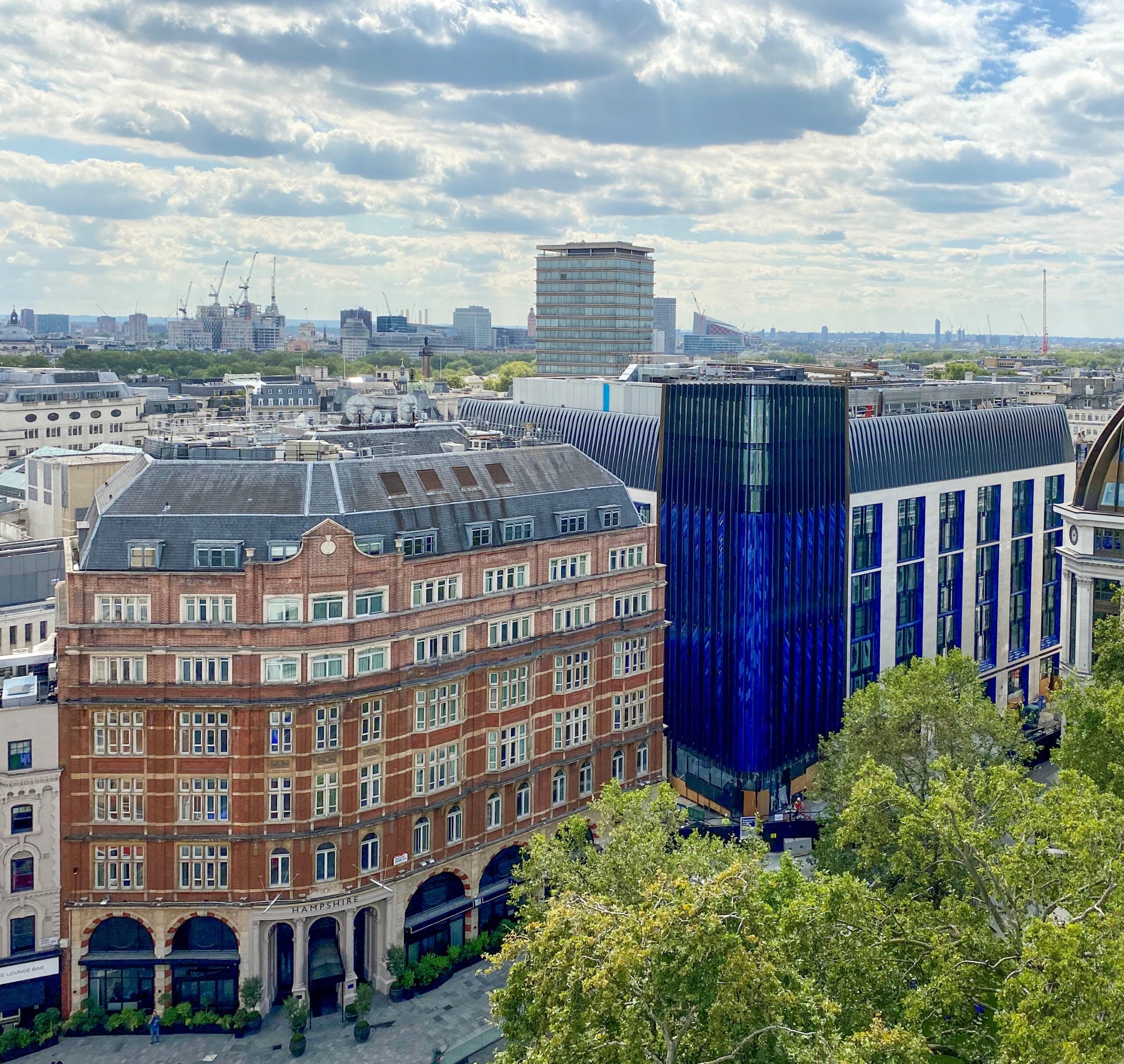 With a London Fashion Week catwalk show already under its belt, as well as hosting the a-list Vogue x Tiffany & Co. and BFI London Film Festival parties, The Londoner Hotel has already garnered a reputation as a place to see and be seen since it opened last month. 
Boasting a price tag of over $500m, the hotel took over eight years to complete from its initial inception through to the very last one of the 15,000 hand-crafted blue tiles being carefully fixed to its facade. Why? This is one complex building, the likes of which London hasn't seen before. 
The self-styled super boutique hotel in London's Leicester Square spans 16-incredibly-Instagramable-floors, six of which are below the capital's street level, bestowing it the title of London's deepest habitable basement. And it certainly does pack a lot in.
The Londoner spans 350 guest rooms and suites, two private Odeon screening rooms, six concept food and drink destinations, an expansive ballroom, stylish meeting spaces and a luxury spa. This is less a hotel, more an "urban resort" as Edwardian Hotel's creative director Rob Steul likes to put it — the luxury hotel firm behind The Londoner. 
Walking into the sprawling bronze and dusky pink lobby, past the original artwork and The Stage (an enormous marble champagne bar and grand piano that occupy the open plan space), it's hard to believe the hotel is built on a plot spanning less than 165ft wide by 165ft long. Despite its size, it has changed the Leicester Square landscape for good. And not just aesthetically.
Opting to position the hotel in the heart of London's film and theatre district, Edwardian Hotel's founder and chairman Jasminder Singh wanted to breathe a new lease of life into a location that, some may say, was beginning to lose its sparkle. His aim was to create "a centerpiece and anchor of the West End; a celebration of London; its history, aesthetic and people." If the past month is anything to go by, he's already achieved it. 
Stay 
Like the rest of the hotel, all 350 loft-inspired guest rooms and suites at The Londoner have been designed by celebrated New York and Toronto-based design agency Yabu Pushelberg and offer a sense of contemporary luxury with a soothing color palette. Each room is kitted out with the latest tech ranging from a premium Japanese Toto washlet toilet with a heated seat in the bathroom, to a digital concierge panel beside the bed. Playful details such as a glamorous vanity with an illuminated Hollywood mirror and theatre binoculars remind guests that they are in the heart of London's theatreland.  
Of all the hotel rooms, the Deluxe King City View on the 8th floor offers the most space and the best vistas, however, those with a penchant for captivating skyline views should look no further than one of The Londoner's 35 individually designed uber-luxe suites. In particular, the architecturally beautiful Tower Penthouse Suite offers some of the best in the city. 
The suite can be reserved in part or in its entirety and features a Calacatta Tucci marble bar for entertaining; a wall-to-wall windowed bathroom with a gorgeous Apaiser bath and a collection of art, sculptures and furnishings from around the world, making for a truly magnificent two-story home away from home. 
[See also: Gleneagles Announces Rosemary Ferguson Wellness Retreat]
Relax 
The Londoner's Spa and wellness offering, The Retreat,  is positioned within the hotel's depths, offering a modern subterranean space dedicated to mind and body. Safely cocooned from the hustle and bustle of the metropolis above, it contains a tranquil pool and hydropool surrounded by secluded cabanas as well as a sauna and steam room.  Juices and vitamin-infused potions are served poolside by Refuel, The Londoner's superfood and drinks clinic.
Down the hall is a state-of-the-art gym with access to personal training sessions courtesy of elite Mayfair fitness offering, SB Wellness. 
Those in need of pampering can access the onsite hair and nail salon as well as an indulgent selection of skincare and aromatherapy treatments. These are led by a team of expert therapists using luxury sustainable and cruelty-free products, in one of the two zen-like treatment rooms. Signature body treatments include 'Harmony' designed for easing tension, which combines Tibetan cupping and acupressure as well as a full body massage using a blend of aromatic essential oils.
For the face, the signature Gold Hydralifting Facial is 60 minutes of interrupted bliss that focuses on repairing and hydrating skin through a combination of exfoliation, Hungarian massage and Colloidal Gold to leave skin plumped with a youthful glow. 
Dine
A stay at The Londoner grants guests use of The Residence, three exquisitely designed spaces just for hotel residents. These are The Y Bar which serves a delectable selection of cocktails; The Drawing Room lavishing guests with complimentary antipasti, soft drinks, tea and coffee all day;  and of course the already fabled Whisky Room. This petite bar houses an impressive global selection of rare bottles and is only accessible through a secret door in the Drawing Room's toilets.
As well as The Residence, guests at The Londoner have four other options to choose from. Those looking for something light might opt for  The Stage, which serves champagne, oysters and afternoon tea in the lobby. There is also Joshua's Tavern, a relaxed neighborhood pub named after Joshua Reynolds, an 18th-century artist and former Leicester Square resident. Here you can enjoy an eclectic selection of gin, draught beers and small plates. 
Whitcomb's serves elegant yet simple French cuisine, borrowing influences from Italy and beyond with dishes prepared using high-quality local ingredients. Highlights include the indulgent Fromage au four which generously combines baked French cheeses with a crusty artisan baguette, and the moreish Risotto aux truffes et champignons, a deliciously creamy wild mushroom and black truffle risotto. When it comes to drinks, diners can opt to pair cocktails with select dishes or call on a knowledgeable sommelier to guide them through the global wine list. 
After dinner, head up to 8 at the Londoner, a decadent Tokyo-inspired rooftop lounge, with views over some of the city's famous sites at one side, and an inviting outdoor terrace centered around a circular fire pit at the other. As well as cocktails and fine Japanese spirits, the skytop destination serves a modern Japanese menu featuring Wagyu beef, robata and sashimi. 
Protect
The Londoner may have already made its mark on the capital's hotel scene but it is determined not to leave it on the planet. The hotel's undisputable green credentials come at a time of rapid change in attitudes, as sustainability becomes increasingly important to a large swathe of today's travelers. 
Having achieved a BREEAM rating of 'Excellent' (BREEAM is an international benchmarking scheme that assesses the sustainability performance of buildings), The Londoner is officially one of the greenest hotels in the UK.
To achieve this,  Edwardian Hotels secured a £175m 'Green Loan' from HSBC UK. Sustainable design solutions were implemented at all scales throughout the build process. This ranged from using construction materials with a low environmental impact to innovative heating design. All of this is set to result in the Londoner using 30%  less carbon than regulations demand.
Suites at The Londoner hotel, a member of Preferred Hotels & Resorts, start from $1,270 per night, reservations@thelondoner.com, +44 20 7451 0101
[See also: Experience the Magic of Cornwall at The Idle Rocks, St. Mawes]