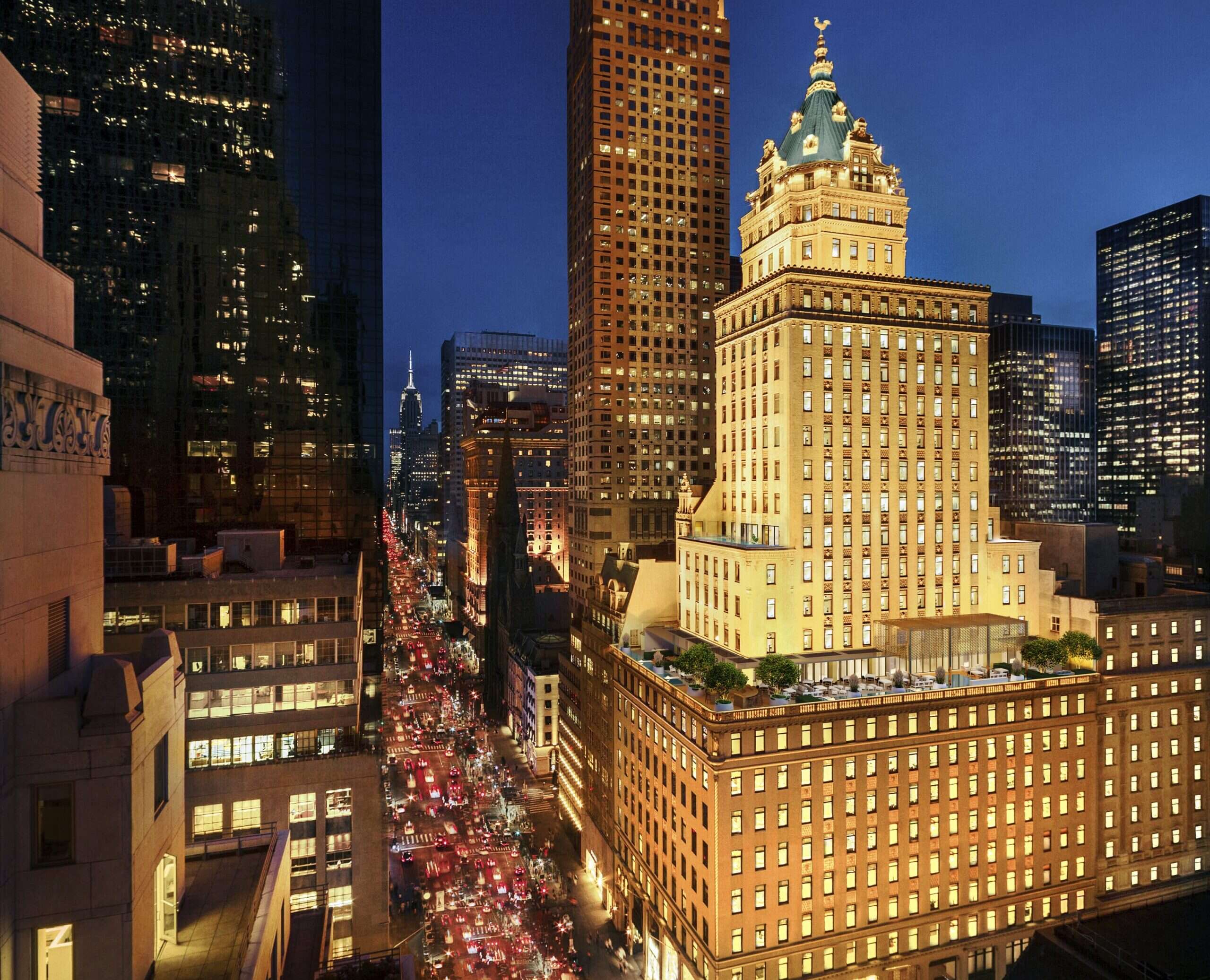 This article contains affiliate links. See our Privacy Policy for more information.
When Aman opens a new hotel, it's a big deal — especially when it's the brand's first urban retreat in North America. Where is it? New York City, of course.
Housed in the glorious Beaux-Arts Crown Building, former home of the Museum of Modern Art, the sky-high addition to the Aman portfolio sits on the roaring crossroads of Fifth Avenue and 57th Street, overlooking the lush and grandiose expanse that is Central Park.
Ask a local, and they'll tell you that this is where New York comes to life — where tourists marvel over the madness of the city; where lovebirds enjoy pre-museum dates; where performers chase a lucky buck; and where the movies and shows of Hollywood take their cue. It's everything Aman is not: exuberant madness. So it's only natural that a peaceful oasis preaching a calming Asian philosophy pops up here.
Anyone who has visited recently will tell you the city has changed. The energy is still there, perhaps a little flat and moody these days, but as always, the city remains hopeful, and this stellar new opening proves it.
[See also: The Most Anticipated Hotel Openings of 2022]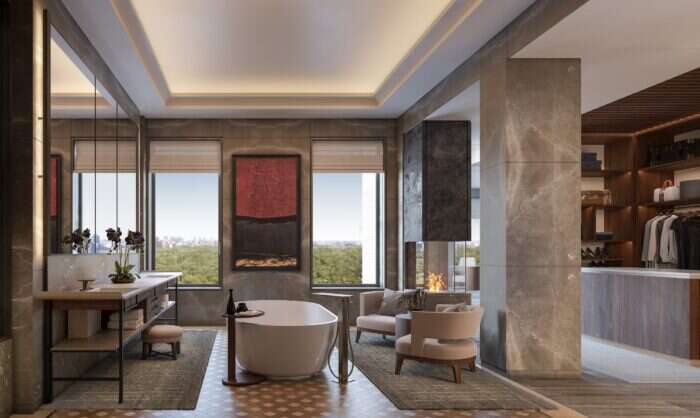 Stay
In typical Aman style, it's all about those muted tones and minimalist interiors. The guest rooms, by New York City standards, are huge — suites start at a very impressive 750 sq ft. The aesthetic? If you are a devoted Amanite, you'll know that true luxury exists in all those subtle, calming details.
Belgian designer and longtime collaborator Jean-Michel Gathy hones in on the brand's healing and very minimalist philosophy. The offset lighting and nuanced hues give off an almost cocooned, Sunday-spent-under-the-covers vibe that keeps you feeling cozy throughout the space.
Furniture is contemporary and stylish, and original Beaux-Arts features, from fixtures to paneling, remain untouched in some rooms. Bathrooms are roomy, with jetted tubs and impeccable showers, and stocked with products courtesy of the Aman spa.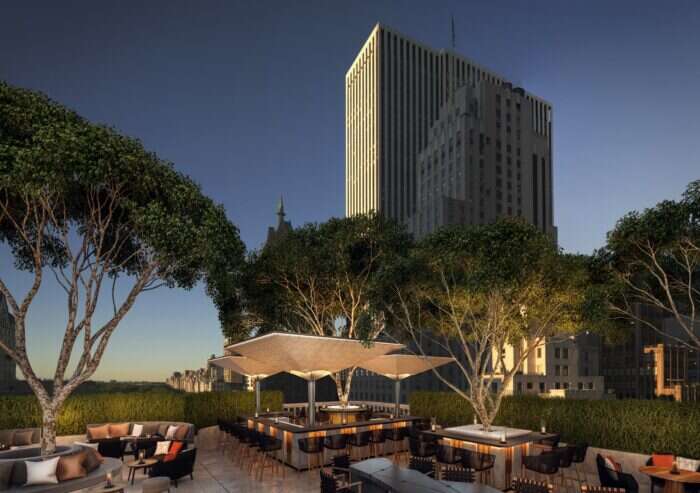 Dine
At Aman New York, there's so much to choose from. The food pays homage to Aman's Asian roots, so don't expect the usual American fare you find at many other New York City spots. The menus take their lead from nama, the Japanese word for 'raw' (also the reverse spelling of Aman, as the slick staff proudly proclaim).
Under the direction of master chef Keiji Matoba, all things Asian-inspired take center stage: rich smoky flavors, tender meats (go for anything with beef) and excellent servings of sushi and sashimi. The tasting experiences are well worth the splurge.
Visit the stylish Piano Bar in the sky lobby for a drink and a show, and if you're still standing, the Wine Library will test even the most seasoned grape aficionados this side of the Western hemisphere.
[See also: Introducing Project Sama: The First Aman Superyacht]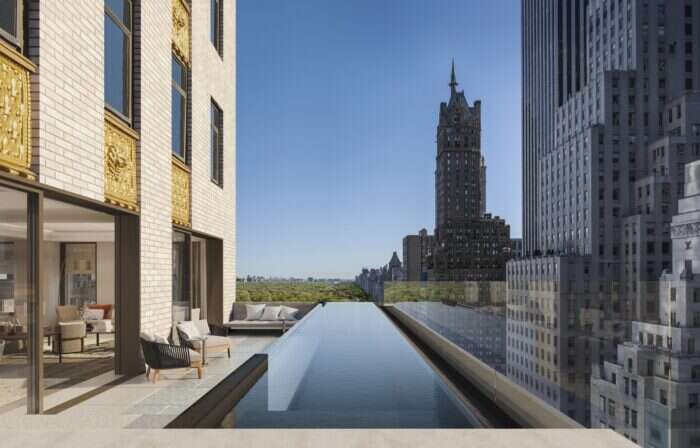 Relax
Aman New York's subterranean Jazz Bar is a decidedly cool, sophisticated spot that serves good, stiff drinks. Up in the heavens, the Garden Terrace wows with its panoramic, Instagram-ready views of Central Park. Add in the Cigar Bar and a collection of eclectic water features and a firepit, and you've got yourself one of New York City's most dramatic hangouts.
Elsewhere, the exclusive guest-only spa features a mammoth indoor swimming pool flanked by daybeds and firepits, spacious treatment pads, extra-roomy sauna and steam rooms, and hot and cold plunge pools — plus, there's even an outdoor terrace furnished with lounge chairs, ready for those notoriously hot New York summers.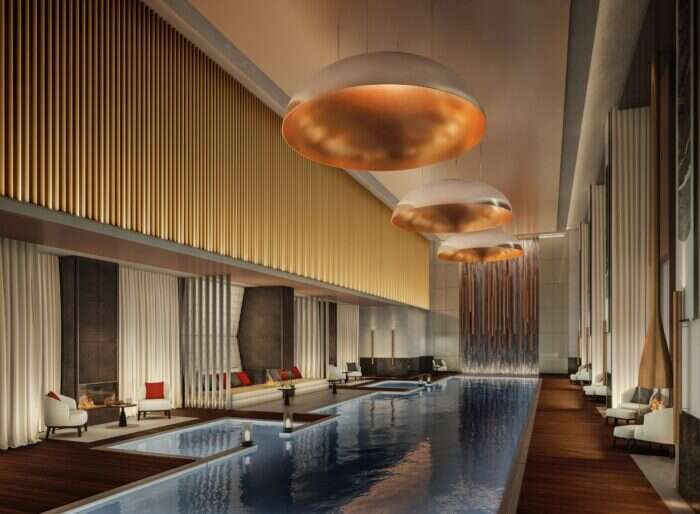 Explore
If there's one thing you should know about Aman New York, it's that you are staying in the best part of town. Of course, the concierge can sort out everything from chopper rides and romantic trips upstate to personal art tours (let's not forget — you are staying in the original home of MOMA) and tickets to the latest on-and-off Broadway shows, but let's face it: The best way to explore this delicious slice of Manhattan is on foot.
All the usual shopping pit stops from Saks and Bloomingdale's to Tiffany and Cartier are quite literally around the corner, as are the likes of Central Park, the present-day Museum of Modern Art, Radio City Music Hall and, of course, the city's classic Rockefeller Center.
Those in search of something new will find Summit One Vanderbilt (the city's new glitzy and very immersive observation deck) blocks away from the hotel. And if you really fancy a classic, there's the Polo Bar on 55th. My advice? Save some room for the cheeseburger.
[See also: The Best Restaurants in New York]
This article appears in the 04 Mar 2022 issue of the New Statesman, Spring 2022