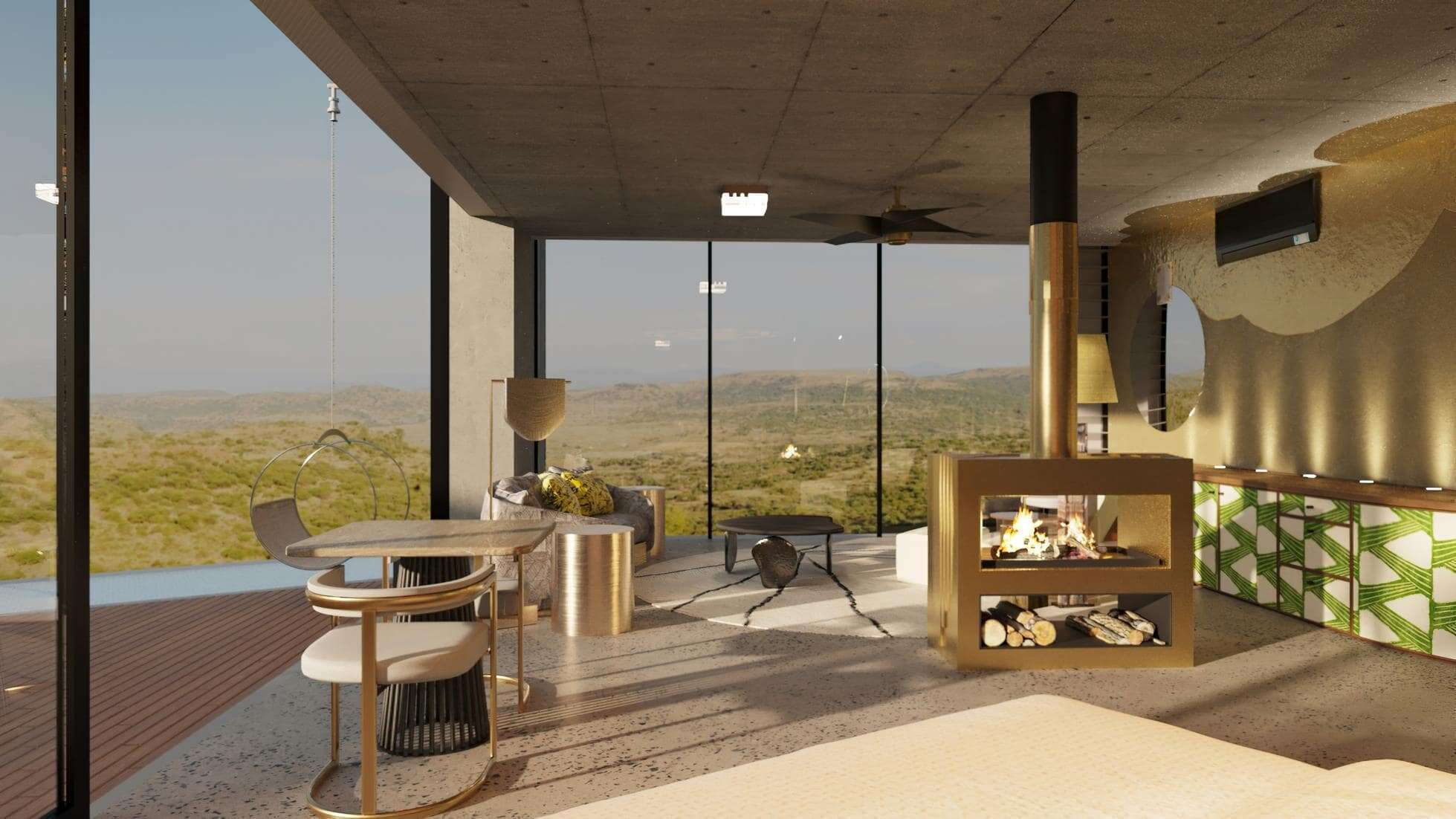 With the dawn of 2022 comes a host of brand-new hotel openings to look forward to. As always, here at Elite Traveler we have our ears to the ground when it comes to new hotels and we've compiled our favorites here, so you can get a headstart on vacation planning.
As you'd expect given the past 18 months, many of the new hotels opening in 2022 have a firm focus on health and wellness, with bolstered spa facilities and personalized treatment plans. In addition to wellness, the most exciting new hotels are thankfully recognizing their responsibility to encourage more meaningful and considered travel, with sustainability being high on the agenda.
Without further ado, from eco-lodges in South Africa to stately mansions in England, these are the most anticipated hotel openings of 2022.
The Homestead, Nambiti, South Africa – March
Kicking off our list of the most anticipated hotel openings of 2022 is The Homestead – an eco-luxury resort in South Africa's Nambiti Game Reserve. The resort will feature 12 meticulously designed lodges – each complete with its own infinity pool – as well as world-class spa and fitness facilities, and a culinary outlet headed up by chef Kamarl John.
The resort is being created as consciously as possible with a design that seamlessly blends into the surrounding environment. The build will see original 19th-century structures combined with new buildings crafted from sustainable materials such as local ironstone and ethically forested wood. Once in action, The Homestead will operate almost entirely on solar power, with smart heat maintenance in place to limit overall energy usage.
The resort's diverse programming will focus heavily on encouraging regenerative travel, with guests invited to embark on tailored game drives (delivered via a fleet of all-electric vehicles), educational anti-poaching workshops, animal photography sessions and more. Each of these excursions is designed to actively give back to the surrounding wilderness and wildlife, not just observe.
Svart, Meløy, Norway
Billed as the world's first energy-positive hotel, Svart has been causing quite the stir since it was first announced way back in 2018. And while the official opening date remains under wraps,  we've got our fingers crossed for 2022.
Cradled within Norway's stunning Helgeland coastline, the hotel will sit at the bottom of the Svartisen Glacier, with its impressive circular structure intended to complement rather than obstruct its surroundings. In line with its energy-positive aims, Svart is being constructed using entirely solar-powered electric energy, with all operations relying on the same source once it's open.
In addition to sustainability, one of the main focuses at Svart will be on wellness. The two-floor Spa, Health and Wellness Clinic will integrate traditional Nordic remedies into high-tech modern therapies for an all-encompassing approach to health. However, tech and advanced treatments aside, just visiting this amazing part of the world, where the summer weeks see no darkness and the winter skies are dominated by the dancing northern lights, promises to deliver a new meaning to the idea of wellbeing. We can't wait to check in.
COMO Le Montrachet, Côte-d'Or, France
As the group's first French property, COMO Le Montrachet is set to become a hotspot when it opens its doors next year. Located in the historical Burgundy region (which of course any wine fans will already be more than familiar with), the hotel will combine classic French elegance with COMO's renowned level of conscious luxury.
Le Montrachet will be thoughtfully spread across four 18th century heritage buildings, with esteemed designer Paola Navone – who also assisted in bringing COMO Castello Del Nero in Tuscany to life – having been enlisted to help bring a contemporary yet sensitive touch. The hotel will have a total of just 31 rooms and suites, hinting at an impressively intimate and dedicated level of service.
Of course, Burgundy is not new territory to wine buffs, with the region producing some of the world's most famous grape varieties, including Pinot Noir and Chardonnay. Naturally, Le Montrachet will be tapping into its prime spot in the heart of the Côte-d'Or region by offering guests unparalleled access to some of the finest Grand Cru vineyards.
[See also: The Most Beautiful Wineries to Visit in France]
100 Princes Street, Edinburgh, UK – June
There's nowhere quite like Edinburgh, with its historic buildings standing proud against the dramatic backdrop of Arthur's Seat. Next year will see a brand-new addition to the city's thriving hotel scene courtesy of Red Carnation which is opening its first Scottish property: 100 Princes Street.
Sitting in the heart of the city which bridges the gap between historic and modern Edinburgh, 100 Princes Street will occupy an old department store with views out to Edinburgh Castle. The project will see the building's historical features carefully restored and proudly showcased, with local designers enlisted to create a host of custom-made artwork and furnishings.
The accommodations will be comprised of 30 sumptuous rooms and suites, with guests invited to enjoy the hotel's Explorer Club – a residents-only bar with a custom wine wall and, of course, an incredible selection of Scotch whiskies. As with all Red Carnation hotels, the level of service is set to be unrivaled at 100 Princes Street, with an impressive 2:1 staff to guest ratio and a 'whatever, whenever' approach. The hotel will also join its sister properties in offering a range of eco-conscious experiences that showcase the surrounding area.
Emerald Faarufushi Resort & Spa, The Maldives – May
If you thought the Maldives didn't have room for any new resorts, you thought wrong. The year 2022 will see the opening of Emerald Faarufushi Resort & Spa, which marks The Emerald Collection's second Maldivian property. Located on the 14.8-acre private island in the unbelievably beautiful Raa Atoll, the resort will have a total of 80 private villas, including a number of family-focused accommodations and one Presidential Villa, all of which have been designed to celebrate the beauty of the surrounding environment.
As with most Maldivian resorts, wellness will take center stage at Faarafushi. Among its amenities will be the Emerald Spa – a state-of-the-art facility with eight cocoon-shaped wellness suites elevated to hide within the lush palm trees. Here, therapists will perform a host of treatments that draw inspiration from traditional Balinese remedies. The expansive spa also features a steam room, yoga pavilion and plunge pools, as well as a range of fitness facilities.
Just like its sibling resort, Emerald Maldives Resort & Spa, Faarafushi will be committed to operating in a responsible and sustainable way. Day-to-day initiatives, such as limiting plastic usage and using electric vehicles and bicycles to navigate the island, already dominate at Emerald Maldives, with other efforts including composting waste and solar panel usage going on behind the scenes.
Fairmont Windsor Park, Windsor, UK – January
In the past year, London has had an impressive number of exciting hotel openings, but for a more rural (but still well-connected) English vacation, the Fairmont Windsor Park looks like it will be ticking all the boxes. Sitting just next to Windsor's historical Great Park, the hotel will combine English country charm with a touch of sophisticated modern style – all within just over 25 miles of central London.
Opening on January 1, the Fairmont will offer an impressive 200 rooms and suites throughout its stately build. The most lavish of all is set to be the Royal Suite, which will boast its own separate entrance and dedicated access to a private spa suite.
As with many other 2022 hotel openings, special attention has been paid to wellness offerings and facilities at Fairmont Windsor Park. The hotel will boast a sprawling spa, complete with a 65-ft swimming pool, a cryotherapy chamber, gym, Pilates studio and 18 treatments rooms. The dining offering is another key draw, with a total of seven restaurants and bars serving up delicious food and drink using locally sourced ingredients, some of which will be from the nearby Royal Gardens.
[See also: New UK Hotels That Shouldn't Slip Under Your Radar]
Aman New York, New York, USA
A new opening from Aman is always big news, with the ultra-luxury hotel group playing host to some of the world's most notable guests. Next year will see it open its first New York property as it breathes new life into the iconic Crown Building to create a chic urban retreat.
Aman New York will uphold the impeccable Aman standards that we know and love with a super sharp design, which is being imagined with architect Jean-Michel Gathy at the helm. From the outset, the vision has been to both celebrate the Crown Building's striking architecture, while simultaneously injecting a good dose of Aman spirit and style.
In addition to the 83 elegantly appointed guest rooms and suites (all of which have their own functioning fireplace), Aman New York will open with 22 full-service branded residences, including a five-story penthouse. Residents will have access to all of the hotel's exclusive amenities, which is set to include three restaurants, a jazz club and, of course, an enormous Aman Spa.
andBeyond Grumeti Serengeti River Lodge, Tanzania – June
Although andBeyond Grumeti isn't strictly new, the destination's transformation following flood damage in 2020 is set to be an impressive reveal. What was once the Grumeti Serengeti Tented Camp will now be the andBeyond Grumeti Serengeti River Lodge, complete with reimagined accommodations and communal areas.
andBeyond's take on understated luxury will remain in place, with Fox Browne Creative brought on board to create super-cool yet relaxed interiors that celebrate the beauty of the lodge's surrounding environment. The guest rooms have almost doubled in size, with raised ceilings and taller doors allowing for an abundance of natural light. A state-of-the-art gym is another welcome addition.
As part of the lodge's refit, designers have upped the sustainability initiatives with the installation of a new solar system that will allow it to run on 80% renewable energy. Wastewater will also be smartly re-used, and rainwater collected to fill the lodge's pools. Together with andBeyond's existing sustainability commitments, these initiatives will help cement Grumeti's status as a leader in eco-tourism.
One&Only Aesthesis, Greece
With understatedly luxurious resorts in handpicked locations around the globe, One&Only is a safe bet when it comes to out-of-this-world vacations. Among its 2022 hotel openings is One&Only Aesthesis, which will throw open its doors in Greece's Athens Riviera next fall.
Tucked away on the Glyfada coastline, the new hotel will open directly out onto the mesmerizingly blue waters of the Mediterranean, giving guests a private slice of paradise. Included in the resort's 51-acre estate will be a lively beach club, dining destinations dishing up Greek delicacies and a Chenot spa offering tailored health and wellness programs.
In true One&Only style, the majority of the accommodations will be secluded villas with private pools. The hotel's design will take inspiration from its stunning surroundings, using natural stones and timbers to create a serene sanctuary that invites guests to melt into the Grecian way of life. This is one 2022 hotel opening that you do not want to miss.
Sommerro, Olso, Norway – September
We're already sensing that Olso will be a 2022 hotspot among responsible travelers. Environmental sustainability is high on the Norwegian capital's priority list, with bold aims to become carbon neutral through promoting electric vehicles, introducing green public transport and launching car-free zones.
Adding a touch of art deco glamour to the city's hotel scene is Sommerro, which is set to open next September. Occupying an iconic 1930s building in one of Oslo's oldest neighborhoods, Sommerro is bidding to become a community hub, welcoming both locals and international visitors alike to enjoy its rooftop bar and restaurant with panoramic city views, a 200-seat gilded theatre and an expansive underground wellness space.
Responsible for the 231-room hotel's ultra-chic aesthetic is local design firm LPO Architects, which has collaborated with New York- and London-based studio GrecoDeco. Together, they have artfully combined neoclassical design with contemporary touches to create a stylish sanctuary. Like the city that it will soon call home, Sommerro is committed to sustainability with a focus on hyper-seasonal and locally sourced cuisine, partnering with like-minded brands for in-room amenities and smart use of green technology.
Four Seasons Resort Tamarindo, Jalisco, Mexico
Hidden away on a private eco-reserve on Jalisco's Pacific coastline, Four Seasons Resort Tamarindo is promising to deliver a new level of conscious luxury when it opens in early 2022. In addition to its 157 rooms and suites, the remote resort will offer a plethora of amenities across its 3,000+ acres.
Guests can indulge in a trip to the organic spa nestled within the tropical forest, a workout at the comprehensive fitness center, a lap or two in one of three pool areas, as well as round at the award-winning 18-hole golf course. All this is topped off with an impressive choice of four dining outlets, including an ocean-view restaurant and a beach bar.
To ensure the stunning natural beauty surrounding the resort is both showcased and protected, Four Seasons worked closely with a team of experts to support existing rewilding efforts and create a design that blends seamlessly into the environment. The resort will also be home to a Discovery Center, which will invite guests to embark on interactive activities aimed at educating children about the area's diverse native flora and fauna.
Cashel Palace Hotel, Co. Tipperary, Ireland
Occupying a magnificent manor building that dates back to 1732, Cashel Palace Hotel is awash with history. As one of the latest installments in the ever-expanding Relais & Chateaux property, the hotel is promising to deliver the finest in welcoming Irish hospitality.
The building has been sensitively restored to offer 31 guest rooms, as well as nine individually designed suites, all of which have been elegantly finished in homage to the hotel's history. Accommodations are spread across the property, from the main building and the newly built garden wing to the old schoolhouse and the carriage house.
Cashel Palace's dining outlets are set to be exceptional, with culinary director Stephen Hayes showcasing fresh, local produce in a series of seasonal menus. At the Bishop's Buttery guests can indulge in first-rate fine dining, with the nearby Mikey Ryan's Bar & Kitchen serving light bites and more casual fare. For a pre-dinner drink or a nightcap, guests can head to the original Guinness Bar, which serves up pints of the Irish favorite in relaxed, cozy settings, or to the intimate Residents Cocktail Bar, serving signature cocktails and fine whiskeys.
Spirit, Utah, US
Another 2022 hotel opening that is focussing its attention on the growing demand for more immersive, conscious travel is Spirit, which is set to start welcoming guests to its Utah retreat in summer. Bordering the stunning Zion National Park, Spirit's offering is rooted in creating a purposeful tourism experience that encourages a meaningful relationship with the world around us.
As the latest opening from the eco-conscious Zion Spirit Group, Spirit's accommodations have been carefully designed to celebrate and showcase the stunning surrounding landscape rather than infringe upon it. Forty individual suites, ranging from two- to five-bedrooms, are nestled discretely across the 1,100-acre resort, with incomparable views out to Zion's famous rock formations.
Each suite features a separate living area with floor-to-ceiling windows, wraparound terraces and lavish bathrooms with deep soaking tubs, as well as their own versatile wellness space, which can be used for in-suite spa treatments, exercise or meditation. Each also has its own adjoining bike station, which will house two electric bikes for exclusive guest use.
Raffles London at The OWO, England
The Old War Office, which sits in London's prestigious Whitehall, is easily one of the English capital's most impressive addresses, with its pure white Baroque-style exterior making it quite the monument. And so, it is only natural that a hotel group like Raffles wanted to make it it's home.
Renovations started on the 19th century, grade II-listed property in 2019, with developers focusing on restoring it to its former glory. The building has seen much in its lifetime, having acted as the base for prime minister Winston Churchill during WWII, and being the birthplace of Ian Fleming's James Bond. The redesign sees the property's architectural details celebrated, with modern touches elevating it to fit current tastes.
Raffles London will have 120 stylish rooms and suites, as well as 85 private residences. Guests can indulge in 11 separate restaurants and bars, as well as an expansive spa and grand ballroom. And, naturally, the impeccable level of Raffles' service comes as standard. This could easily be one of London's most exciting 2022 hotel openings.
StarDome Peru, Peru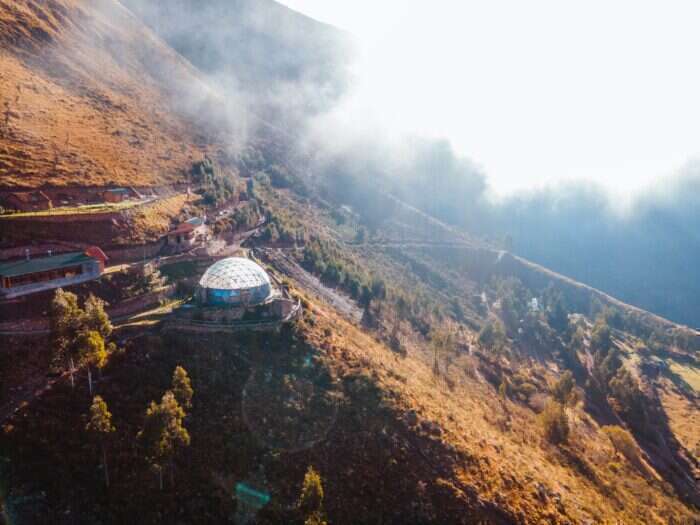 One of the most exciting 2022 hotel openings for South America is the unique StarDome Peru, which is set to start welcoming guests from February. Tucked between the historical city of Cusco and the ancient Inca citadel of Machu Picchu, StarDome Peru packs some serious punches when it comes to location, with a host of immersive experiences planned to act as a gateway to this cultural region.
With just six accommodations and access only by private road, the hotel is highly intimate. Guests can choose between one of the five suites within the main StarDome – a transparent geodesic domed structure that acts as the heart of the hotel and houses its StarDeck and restaurant – and the Royal Apu Suite, which sits away from the main dome in its own cabin-like structure. Each suite comes with a host of luxurious touches, including heated marble floors, giant plush beds and handmade furnishings.
The real beauty of this boutique hotel, however, is its commitment to celebrating and protecting the rich cultural traditions that made its existence possible. Independently owned and managed by the local indigenous Quechuan community, StarDome's staff will be entirely made up of local people. Not only will they be providing a dose of welcoming hospitality, but they will also be hosting the hotel's experiences and excursions, ensuring that guests experience this wondrous part of the world as authentically as possible.
Castle Elvira, Puglia, Italy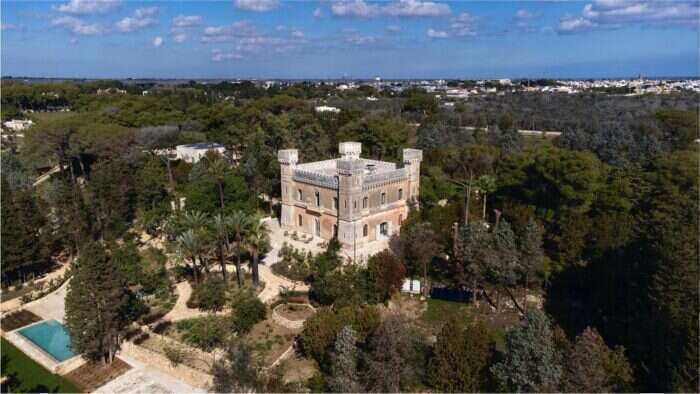 "Design-led", "restored castle" and "Italy" are three terms that get us seriously excited when it comes to new hotels. Ticking off all three is Castle Elvira, which is preparing to open the doors to its stunning Puglia estate this spring. Over the past three years, the 20th-century castle has undergone an extensive project to return it to its former glory, with the resulting hotel being a careful mix between original features, eclectic furnishings and modern comforts.
As well as four en-suite guest bedrooms, Castle Elvira boasts two dining areas, a piano room, two lounges, a cinema and a spectacular roof terrace. A further two rooms can be found in the neighboring groundskeeper's cottage. Outside, guests can truly relish the famed Puglianese climate in the castle's expansive private gardens. Covering 37 acres, the estate features a 754-sq-ft swimming pool, winding secret pathways and abundant olive and lemon groves.
As you'd expect of any new Italian hotel, the culinary offering at Castle Elvira is a big deal. Breakfast, lunch, aperitivi and dinner will all follows the traditions of Cucina Povera Salentina cuisine, made using both fresh produce from within the hotel's own estate, as well other seasonal ingredients from local farmers.
[See also: The Most Exciting Restaurant Openings of 2022]