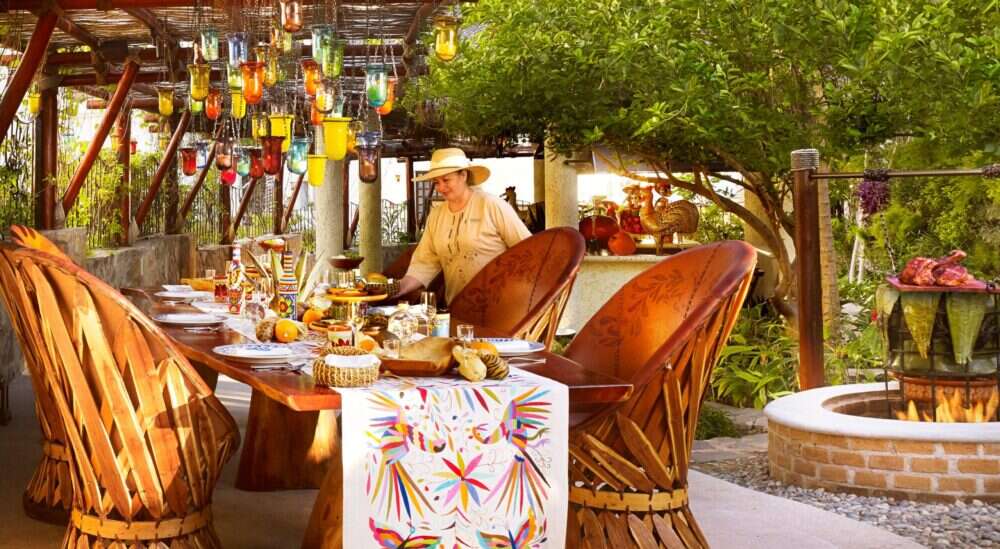 The artistic traditions of Mexico have rich pre-Hispanic origins. This influence is still evident in the lauded handicrafts of the region that maintain many of the ancient techniques. One shining light is Guadalajara-based artist David Luna who utilizes natural materials in his installations as an ode to his cherished cultural roots. Thanks to his appointment as the Rosewood PlaceMaker, Luna is able to share his passion for Mexico with the guests at Las Ventanas al Paraíso, a Rosewood Resort, in Los Cabos.
There are multiple rewarding options within the curated experience. The Tequila Tasting & Art Tour brings you through Jalisco amongst the famed agave field. Not satisfied with this behind-the-scenes perspective, the tour then whisks you away to a private tequila tasting in the eponymous town, at La Rojeña, the Jose Cuervo flagship distillery.  You can enjoy the end product safe in the knowledge that the oldest distillery in the Americas provides a landmark experience. David Luna will escort the guests through the distillation room, which has been in use since 1795, and present his own personal favorites at La Rojeña.
Guests can pair this with a studio tour of ceramicist Rodo Padilla in Tlaquepaque (where he also has two galleries) and dinner at the restaurant-come-art-gallery Casa Luna then relax after the itinerary in their private infinity pools at the headlining Ty Warner Mansion.
[See also: Las Ventanas al Paraíso MD Frederic Vidal on the Future of the Resort]
The unspoiled view of the Pacific Ocean acts as a stunning background for an evening margarita, or two. Conversely, those who wish to explore another dimension can organize a spiritual meeting with the shamans of Baja before being greeted with the relaxing scent of the personalized aromatherapy turndown service that is individually mixed for each guest upon completion of the "Choose your own adventure" survey.
For those who want a more hands-on experience, a second option, L'art de la Table, launches in November inviting guests to design their own dinner settings at Las Ventanas under the artistic guidance of Luna himself. But beware, bring some heavy-duty gloves as you will have the opportunity to experiment with dramatic rainbow cacti and red-hot pokers, hand-picked from the deserts of Baja California Sur, that have inspired generations of artisans, all from the sumptuous setting of Las Ventanas.
The sense of community is clear to see under the influence of Luna who fully subscribes to the A Sense of Place philosophy. This thought process demands that the ethos of the community be translated into the architecture and ethics of the property. Luna believes that "for Mexico, tequila means happiness and friendship, a way to connect." And there is no more authentic way to connect than over a shot of local tequila and dinner set you've hand-painted in the same materials used across the centuries.