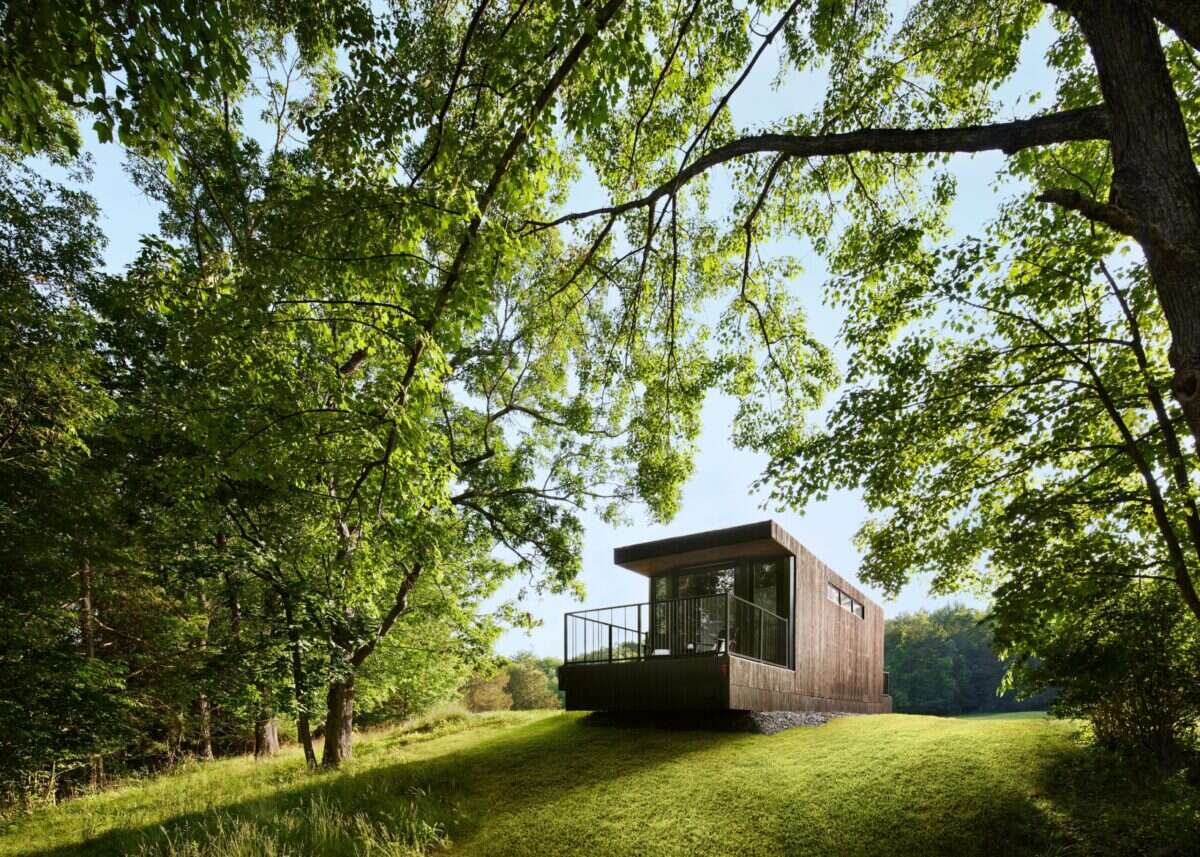 Since announcing plans to open its very first luxurious hotel in Upstate New York earlier this year, Moliving has been turning heads with its sustainable, movable pods. Now, the hotel group has partnered with non-profit One Tree Living to plant one tree for every reservation booked at its eco-resorts.
Self-described as the 'world's first nomadic hotel concept', Moliving's mobile pods take only a matter of months to construct at a fraction of the cost of permanent buildings and can pop up anytime, anywhere.
At the heart of the business is a dedication to ensuring the pods have as little impact on the environment as possible. Built from recycled green steel and other eco-friendly materials at local American factories to minimize their carbon footprint, the prefabricated units feature a self-leveling system which means they won't damage the ground below and can be removed without a trace.
[See more: Earth Day: The Luxury Hotels and Resorts Going Green]
When it comes to energy use, the pods can operate entirely self-sufficiently using an off-the-grid setting that utilizes solar power generated from panels on the roof.
The collaboration with One Tree Living will bolster Moliving's green credentials. Since 2014, the non-profit has made huge strides in aiding global reforestation efforts, planting 40 million trees in over 43 countries.
"We are privileged to partner with One Tree Planted and expand on our mission to democratize hotel development in a unique, sophisticated and most importantly, a sustainable manner," said Hanna BEM, CEO of Moliving.
"We are always looking for new ways to give back and help the environment, and we look forward to continuing this partnership with the opening of every new Moliving hotel."
The partnership is set to begin at Moliving's flagship location, Hurley House, in New York's Hudson Valley this summer before being rolled out as new destinations open throughout the East Coast in 2023.
And while you might be wondering whether a prefabricated pod can really be as luxurious as a bricks-and-mortar hotel, if the pictures of Moliving's Hudson Valley property are anything to go by the answer is 'yes'.
Designed by an in-house team led by architect, Steven Cheng, and constructed by Brooklyn-based modular fabricator, SG Blocks, the 400-sq-ft pods feature sleek wood-clad interiors and can be custom designed with separate living, sleeping and eating areas.
[See more: The Most Luxurious Eco-Friendly Hotels]