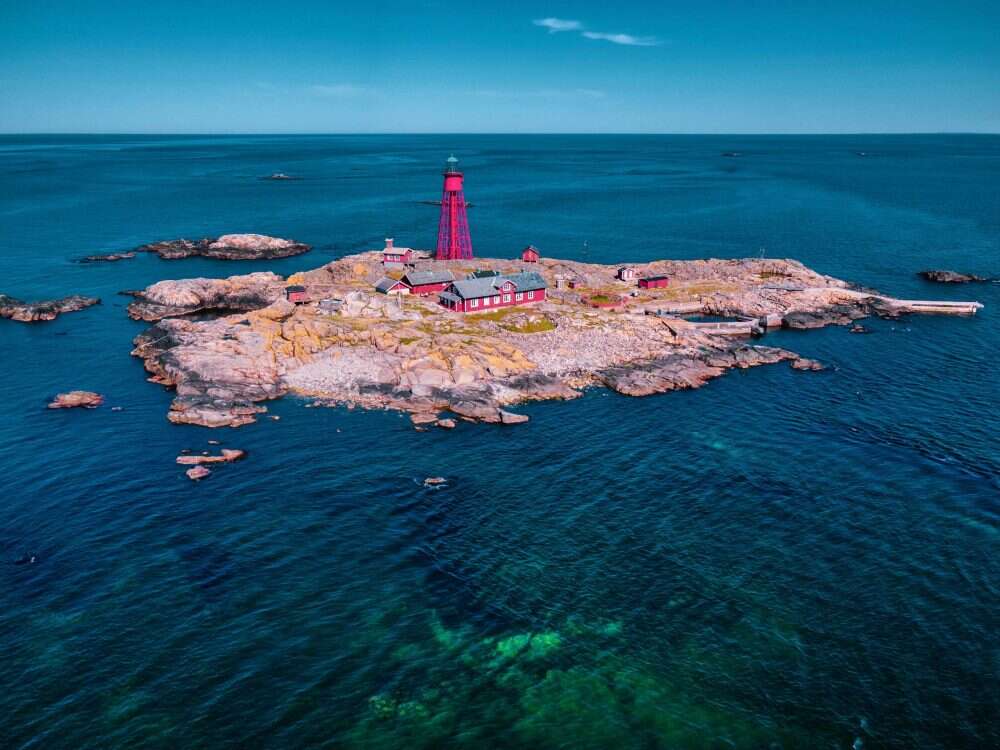 There are secluded hotels, and then there's this: Pater Noster is a mythical lighthouse (known as 'king of lighthouses' to locals) that occupies the tiny island of Hamneskär off the western coast of Sweden. The wild and dangerous waters that surround Hamneskär have been feared for centuries — sailors would recite The Lord's Prayer (or Pater Noster in Latin) when their ships approached. The lighthouse was first built in 1868 and, although the island was considered barren and uninhabitable, a home for the lighthouse master was built the same year; the lighthouse and lighthouse master's home are still the only structures on the island.
For almost 110 years, generations of lighthouse masters have lived in this extreme environment and cared for the island and the lighthouse — as well as a shipwrecked sailor or two. Now, an expert team of movers and shakers (entrepreneurs, hoteliers, professional sailors and designers) have revamped the lighthouse master's home to create an extraordinary abode. Available for exclusive use, the lighthouse can be reached by boat or helicopter (depending on the infamous weather) and can house up to 18 guests in the stylish-yet-cozy eight double rooms and one suite.
The house has a restaurant, bar, an outdoor cafe and a hot tub with heated seawater. But this is the rugged adventurer's dream: Head out into the bracing fresher-than-fresh air to kayak, sail, or go beneath the depths and scuba dive. Want to fish for your own catch of the day? Head on a deep-sea fishing expedition and dine on your freshly caught lobster for dinner.
From $10,000 per night. Contact Mirja Lilja Hagsjö, operations manager, mirja@paternoster.se, +46 733 247 704, paternoster.se