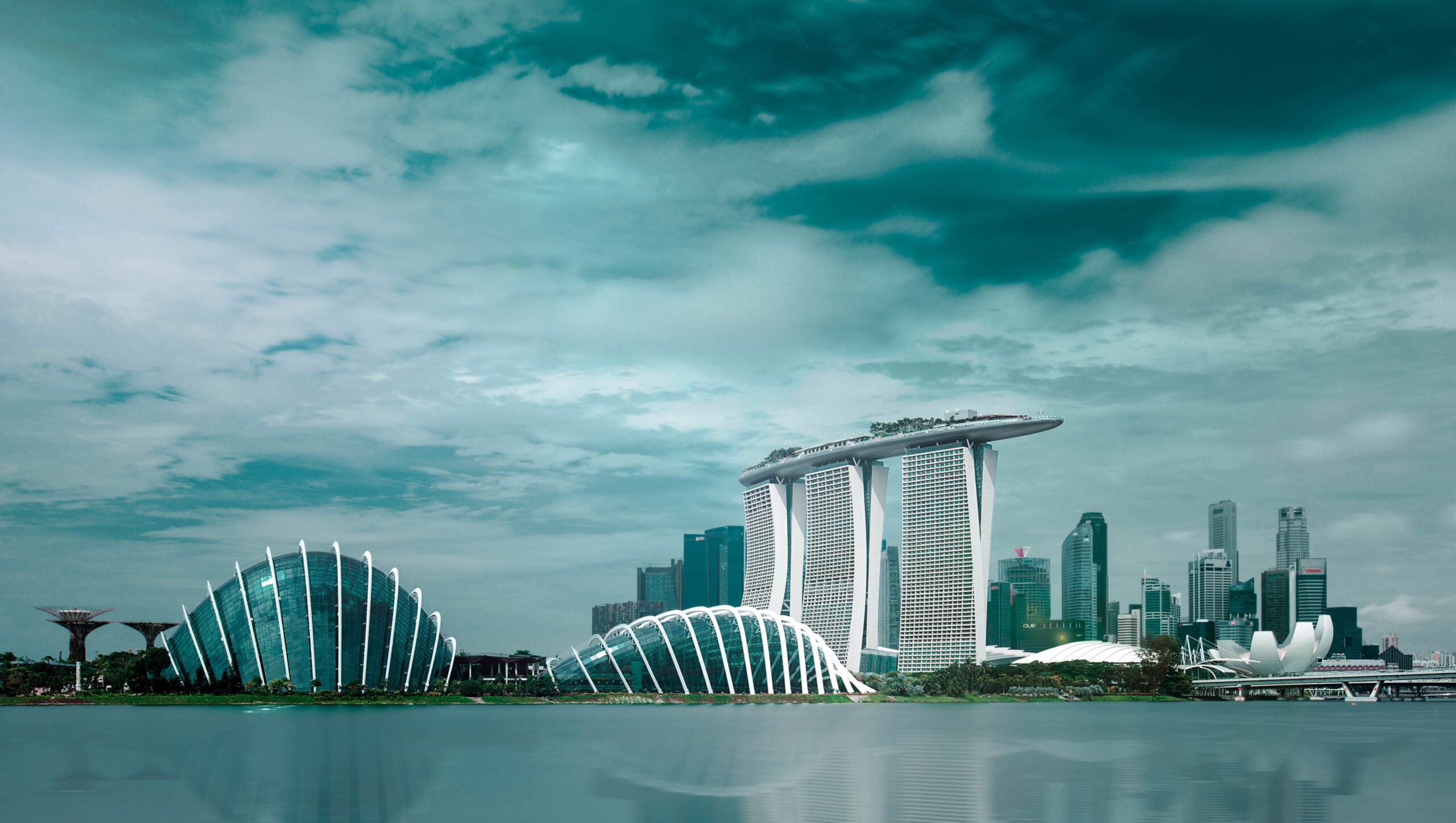 Singapore is the ultimate melting pot. This tropical Southeast Asian island deftly blends Malaysian, Chinese, Indian, Arab and English cultures throughout its tightly packed neighborhoods, where modern skyscrapers and luxury shopping sit next to Old World markets and food stalls. After so much to do and see, you'll happily rest your head in one of the most spectacular suites in Singapore.
Marina Bay Sands, Chairman Suite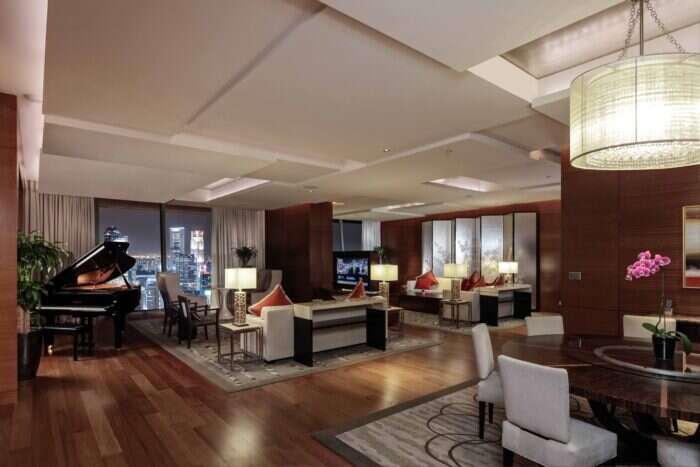 Marina Bay Sands (pictured above) is one of the most notable buildings in Singapore, with its three glass-enclosed towers connected by the three-acre SkyPark along the top of the building that overlooks Marina Bay. It's also one of the biggest entertainment attractions: It is home to the world's largest atrium casino, The Shoppes at Marina Bay Sands, a museum, theater, floating Crystal Pavilions, art-science exhibits, a public cantilevered platform, the SkyPark, jogging trails, the world's largest infinity pool, and venues that can hold up to 3,900 people. Its over-the-top atmosphere attracts gamers and entertainment aficionados, as there is so much to do without even leaving the property. The 6,458-sq-ft Chairman Suite is sheer luxury and has four en-suite bedrooms, two living rooms, a kitchen, dining room, media room with karaoke, and not one but three furnished private balconies. There is also a billiards room, private gym, massage room, steam room and sauna, and study. Amenities include Hermès bath products and Frette linens.
Singapore sights
The 55th floor of the hotel is where you'll find Club55. It can only be accessed by guests who are staying in one of the hotel's suites, and it has exceptional views across the city and the Gardens by the Bay. We recommend pulling up a chair and having cocktails as you watch the sun set over the city. Guests of the Chairman Suite also enjoy the dedicated services of a butler.
From $17,000 per night.
Contact Linda Loke, reservations manager, room.reservations@marinabaysands.com, +65 6688 8888, marinabaysands.com
The Capella Singapore, Capella Manor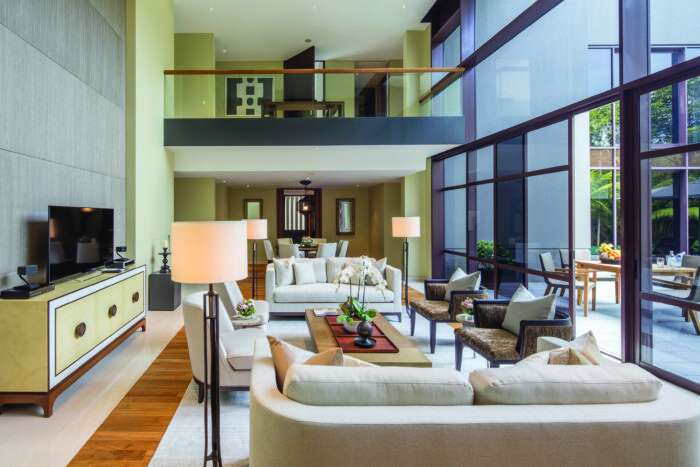 The Capella Resort, Singapore is a hidden, tropical sanctuary located on Sentosa Island, just off the southern coast. The resort is set on 30 acres of lush land (with resident peacocks wandering throughout); at its heart are two restored Tanah Merah colonial bungalows dating back to the 1880s. There are also incredible standalone manors — ranging from colonial-style to ultra-modern — that dot the land surrounding the main building. Each room has a modern style and the decor utilizes natural materials, as well as a cream-and-gray color palette.
There are three dining venues plus a Chef's Table reserved for private events; outdoor bars overlooking the rain forest; the tranquil Auriga Spa; and cascading pools built to resemble the rice paddies of Bali. To experience the ultimate Singapore vacation, book the three-bedroom Capella Manor, which is split over two levels. It features a stunning minimalistic aesthetic with elegant interiors and windows in nearly every room, as well as contemporary artwork and Asian-inspired decor.
Sliding glass doors on the main floor open to a massive pool terrace with several loungers and a private lap pool. There is also a full kitchen, dining room, staff's quarters and a spacious living room. Enjoy butler service and a dedicated villa host to organize fun excursions.
Singapore sights
Capella connects guests with Singapore's vast history, heritage and culture through the Capella Curates program, whether they're interested in bonding with nature, embarking on a local food tour, creating a one-of-a-kind postcard on a vintage letterpress or learning the art of feng shui. We recommend visiting Mummy Soh, which is a modern kampong (or village) home with an urban farm, cooking school, art gallery and community center. Learn to make traditional Singaporean dishes like fish laksa, mee siam or chicken curry made from scratch using local ingredients.
From $12,000 per night.
Contact Fernando Gibaja, general manager, res.singapore@capellahotels.com, +65 6377 8888, capellahotels.com
The Ritz-Carlton Millenia, The Ritz Suite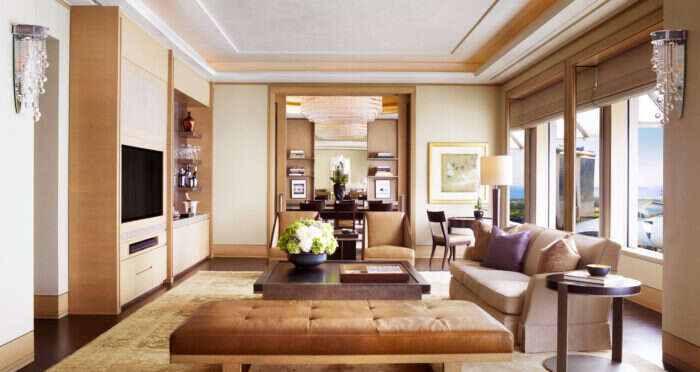 With sweeping views over Marina Bay and the Singapore skyline, there are few more stunning places from which to enjoy the city. The Ritz-Carlton Millenia, Singapore is just minutes away from the city's best attractions like Kampong Glam and Little India neighborhoods, Victoria Concert Hall and Gardens by the Bay.
The hotel itself has one of the largest contemporary art collections in Singapore (4,200 pieces to be exact) from artists like Andy Warhol and Dale Chihuly, and guided art walks occur each day. The hotel also invites you on a culinary journey within its five dining venues, including the one-Michelin-starred Summer Pavilion, which serves wonderful Cantonese cuisine. The resort also has a La Mer spa and is very family friendly, offering several cultural kids' programs.
The Ritz Suite on the 32nd floor is sumptuous, residential living at its finest. The contemporary suite has panoramic views over the city, and there is a chic bar with an impressive spirits collection, a kitchenette, entertainment room with a Sonos sound system, bespoke furniture, dining room, desks, and art from Andy Warhol and Damien Hirst. The marble-walled bathroom is particularly impressive, with a 6.5-ft bathtub, Asprey amenities and panoramic city views.
Singapore sights
Booking The Ritz Suite gives you access to The Ritz-Carlton Club Level, which comes with a series of unique experiences. Within the club on the 32nd floor, The Drawing Room has uninterrupted views of the city. Channel your inner artist and sketch the Singapore skyline; you'll be provided with an easel and drawing materials as you sketch your personal view of the skyline from your front-row seat. As you work on your drawing, tuck into gourmet canapés and a crisp glass of bubbly (or two).
Price on request.
Contact Peter Mainguy, general manager, sinrz.leads@ritzcarlton.com, +65 6337 8888, ritzcarlton.com
W Singapore, Extreme Wow Suite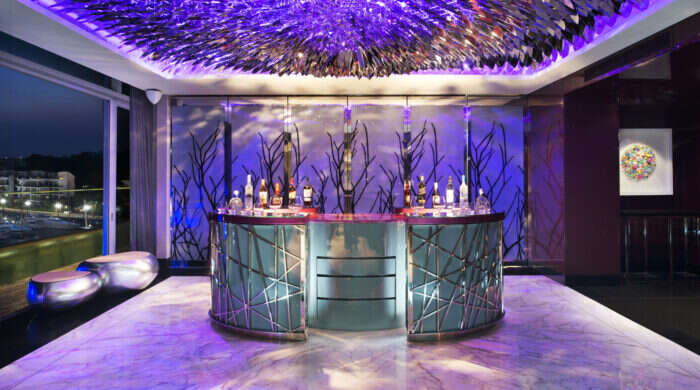 The dazzling W Singapore – Sentosa Cove was built to entertain. The high-octane resort emphasizes modern luxury with its glass building, futuristic, brightly colored furniture, whimsical artwork and W's colorful luminescent lighting in the common areas and rooms. Enjoy the Wet pool, one of the largest outdoor resort pools in Singapore, which has an underwater soundtrack, glow-in-the-dark pool floats, and a swim-up bar with snacks and cocktails.
The resort also has the AWAY Spa; two dining venues, Skirt and The Kitchen Table; and the buzzy Woobar. Whether you're celebrating a life event or simply want to host a large get together, the Extreme Wow Suite is the perfect place. The one-bedroom suite on the resort's top floor is illuminated with W's signature purple-hued lighting and has a private bar, expansive private terrace with a plunge pool, full kitchen, entertaining space, DJ booth, 10-person dining area, bathroom with a Jacuzzi tub and exquisite art installations. From each room there are wonderful views over the marina and South China Sea.
Singapore sights
Privacy is key for guests of the W Singapore — so private, in fact, that even when Elite Traveler requested details, staff at the W remained tight-lipped. What you do need to know, however, is that the brand's 24-hour 'Whatever/Whenever' service allows you to request anything and everything you want — 'as long as it's legal.' And if you're not sure what it is exactly that you do want, the hotel has a 'W Insider': a person who has access to the top programs and exclusive events happening in the bustling city.
From $5,000 per night.
Contact Triana Sani, reservations manager, whotels.singapore@whotels.com, +65 6808 7288, w-hotels.marriott.com
The Fullerton Hotel, Presidential Suite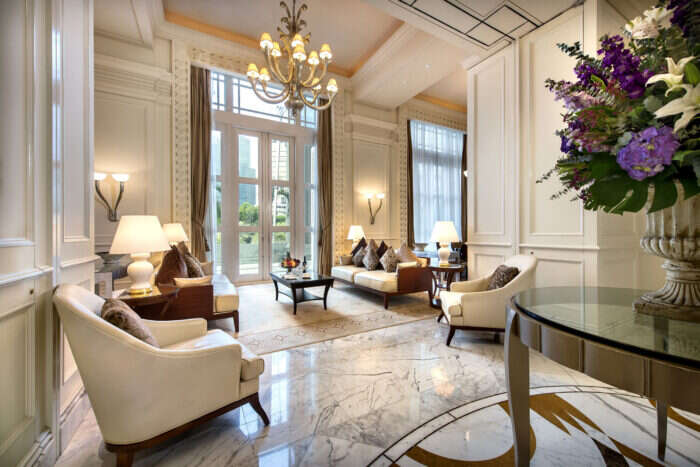 You can't miss the grand, neoclassical facade of The Fullerton Hotel, which overlooks the Singapore River. First built in 1928, the hotel is ingrained in Singapore's rich, colonial history; it was once home to a post office, library and a prestigious social club (there is even a museum-like gallery in the lobby showcasing its many lives). Expect elegant interior design elements, like high, coffered ceilings, magnificent columns in the lobby and on the terrace, and Italian marble flooring. Today, the modernly restored hotel is home to several fine-dining restaurants, which range from Cantonese dim sum to Italian food to afternoon tea, as well as a transformative spa focusing on Asian techniques.
Formerly the card room of the exclusive Singapore Club, the Presidential Suite is an opulent, residential-style suite that feels like a home away from home. Enter through the expansive foyer, where you're greeted with high ceilings, a grand piano and massive living room with elegant furniture and decor, and continue through to the glass-enclosed terrace, which is surrounded by striking 20-ft Doric columns and has views of the surrounding city. The suite has a spacious bedroom connected to a study, a dining room with a kitchenette and a generously sized bathroom. You can expect the ultimate privacy; there is a dedicated elevator that opens directly into the suite.
Singapore sights
Why drive around the city in a car when you can see its many historical sites from a vintage Vespa sidecar? The Fullerton Hotel treats guests to the ultimate guided sidecar tour, driving through Singapore's heritage neighborhoods such as Chinatown, Tiong Bahru, Marina Bay and the Civic District, to name a few. See both the colonial and modern marvels of the city, and stop off at museums, boutiques, cafes and monuments as you see the sights from a unique vantage point.
From $4,840 per night.
Contact Sharon Ng, director of reservations, tfs.reservations@fullertonhotels.com, +65 6733 8388, fullertonhotels.com
Mandarin Oriental Singapore, Mandarin Suite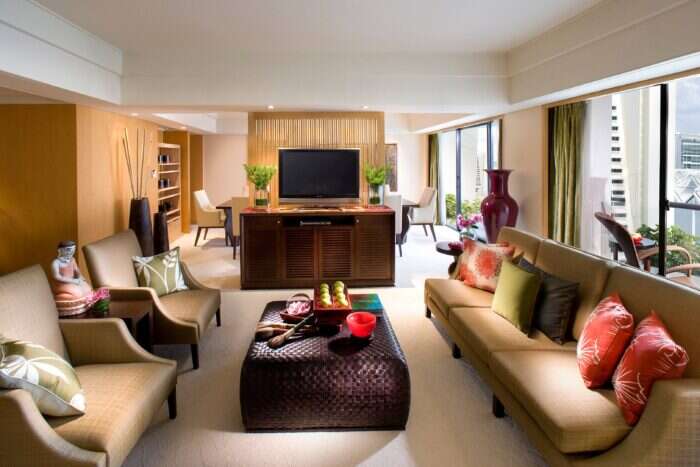 Mandarin Oriental Singapore is one of the largest hotels in the company's portfolio, but in true Mandarin Oriental fashion, the staff maintains an intimate experience through their warm hospitality and attention to detail. You can't miss the hotel's grand, white exterior; the building is shaped like Mandarin Oriental's fan symbol turned upside down. Inside, the hotel has seven restaurants, three of which are fine dining venues; a wonderful spa; and an enormous swimming pool with private cabanas and views over the city. The hotel's prime perch along Marina Bay guarantees excellent views of the water and city, and is just a short walk from the luxury boutiques at The Shoppes at Marina Bay Sands and the Esplanade performing arts center.
Rooms feature Asian-inspired decor, including original Asian artwork and floral-patterned carpeting, and each has a recessed ceiling with ambient lighting to create a sensual vibe in each room. Stay in the Mandarin Suite, which is more akin to an urban residence than a hotel room. There are two bedrooms, two massive balconies, a dining room for eight, living room and study area, and two powder rooms. Enjoy the city skyline and verdant greenery from the floor-to-ceiling windows. The room decor also features bright pops of color, to provide each guest a sense of place.
Singapore sights
The Singapore Grand Prix is held each September as part of the FIA Formula One World Championship and, each year, racing aficionados flock to the city for this major world event. Mandarin Oriental guests have a unique vantage point from the exclusive Oriental Lounge located on the 19th floor, as it overlooks street circuit turns 16 and 17 of the Marina Bay Street Circuit. In a unique race-day package, you can also experience a 60-minute drive around the city in a luxury car to feel like you're part of the action.
From $3,880 per night.
Contact Christian Hassing, general manager,
chassing@mohg.com, +65 6338 0066, mandarinoriental.com
JW Marriott Hotel Singapore South Beach, Presidential Suite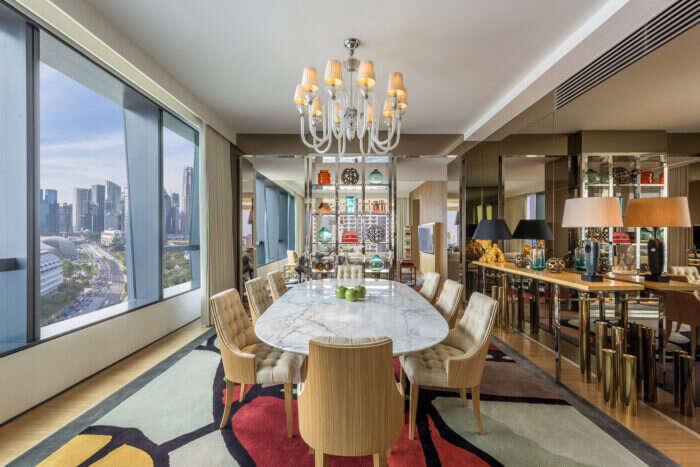 Every hotel in Singapore offers something totally unique, and JW Marriott is no exception. Housed in a large complex with retail spaces, offices and residences, JW Marriott is a modern glass-and-steel tower with a chic interior designed by Philippe Starck. Each public space feels like a contemporary art gallery, whether it's the 160 LED candle display in the lobby or the video installation from Korean artist Lee Lee Nam. There are eight trendy dining and bar venues, including Akira Back, the eponymous Japanese restaurant from the celebrity chef; Beach Road Kitchen, which serves foie gras on toast and shucked Fine de Claire oysters in the dinner buffet; the Cantonese Madame Fan; and amazing cocktail lounges and bars, including Cool Cats, Stags' Room and the fabulous Fish Pool, a champagne bar from Louis Roederer serving bubbles, caviar and oysters. Stay in the Presidential Suite, a contemporary haven that infuses striking color with modern furniture, decor and artwork. The two-bedroom suite has a living room, dining room, kitchen area and study. Floor-to-ceiling windows let in plenty of natural light. It's a modern suite that is a welcome departure from the city's traditional, colonial aesthetic.
Singapore sights
Art is a huge draw in Singapore, so it's not surprising that the top hotels also have top art collections. The JW Marriott Singapore South Beach is home to masterpieces by artists including Colombian sculptor Fernando Botero. Head on a tour to view the collection displayed while also sharing the history of the storied South Beach locale. Learn the inspirations behind art through the hotel's iconic video wall digital art installation at the hotel entrance; take a walkthrough of the South Beach development (including heritage buildings from the 1930s); or see the pioneering architecture with its engineering-marvel microclimatic canopy; it supports irrigation and generates solar power while also directing airflow to pedestrians.
From $5,000 per night.
Contact Angelia Lim, reservations manager, angelia.lim@marriotthotels.com, +65 6818 1888, marriott.com
The St Regis Singapore, Presidential Suite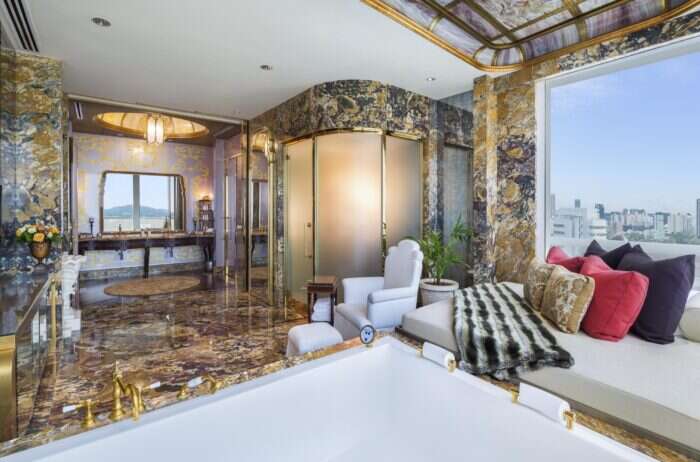 The St Regis Singapore (the first in Southeast Asia) honors Asian culture through its lavish lobby, common spaces and dining venues that feature traditional Asian decor, artwork from renowned artists and exquisite furniture. The hotel's stately vibe continues in the six dining options, which serve cuisine inspired from countries around the world, including Italy, France, China and Japan. There is plenty to explore under the hotel's roof, including the decadent Remède Spa. This incredibly glamorous retreat features crystal chandeliers, marble soaking tubs and private, ambient-lit rooms that encourage deep relaxation. The glitz doesn't end there; the Presidential Suite at The St Regis Singapore is favored by various heads of state from around the world, and it's easy to see why. The opulent one-bedroom suite features high ceilings; painted silk artwork panels; rare artwork from Marc Chagall, Mark Tobey, Le Pho and Sam Francis; crystal chandeliers from the Czech Republic; and sumptuous purple-and-cream fabrics. Each room is lined with gold, onyx, brass and silver accents, plus gold leaf trim along the cornices. Enjoy the beauty of the living room (which has a grand piano); the study; fitness room; and dining room, which can host up to 12; or soak up the view from the spacious terrace overlooking the city.
Singapore sights
The St Regis Singapore's exceptional art collection has over 70 works of art by international masters including Pablo Picasso, Joan Miró, Li Chen and Cheong Soo Pieng. Guests of the hotel are invited to peruse the pieces in a tour known as 'The Art of Living.' A St Regis butler will escort guests on a detailed tour of the hotel's collection of sculptures, paintings and prints and provide detailed insight on the display.
From $6,000 per night.
Contact Marisa Ng, director of sales, marisa.ng@stregis.com, +65 6506 6888, stregis.com
Raffles Singapore, Sir Stamford Raffles Suite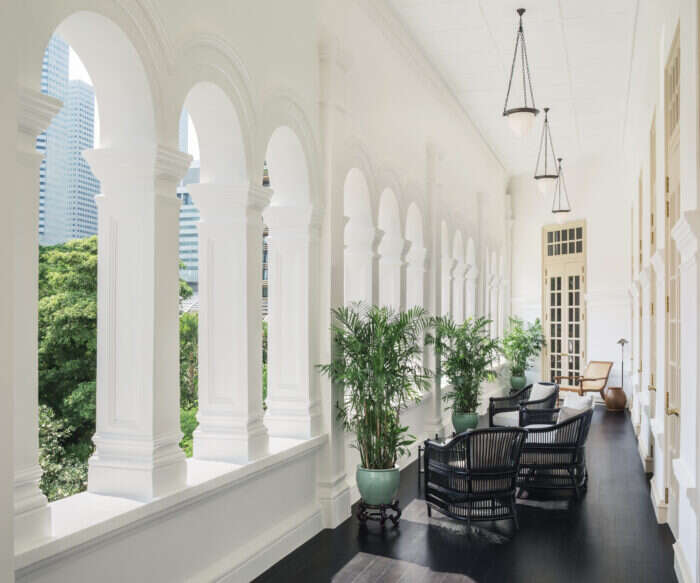 Raffles Singapore is not just a grand-dame hotel in Singapore, it is one of the world's oldest luxury hotels. Staying here transports you to another, more gracious era of travel. The hotel retains much of its original charm, including its landmark white facade with neo-Renaissance architecture, dark wood verandas and lush greenery. It reopened in 2019 after an extensive two-year renovation that restored the hotel to its former glory; it looks as if it just opened in 1887, but now with all of the amenities and options that modern travelers expect. There are luxury boutiques; world-class dining in six restaurants with new openings from famed chefs Alain Ducasse, Ann-Sophie Pic and Jereme Leung, plus the beloved Tiffin Room, which has been open since 1892; three bars, including the iconic Long Bar with a new Singapore Sling recipe updated for today's palate; a luxurious spa and a rooftop pool. There are two identical Presidential Suites: the Sarkies Suite and the Sir Stamford Raffles Suite, named for the hotel's founding family and the founder of modern Singapore, respectively.
Both are located in the historic main building and have separate parlors, dining rooms, living rooms and pantries, as well as large private verandas overlooking the verdant Palm Court. All suites in Raffles come with world-class service; butlers are available 24 hours a day and are guests' main point of contact for everything from restaurant reservations to spa appointments and personalized itineraries throughout the city, using Raffles' incredible connections and access.
Singapore sights
If you're looking for a culture hit during your stay, Raffles Singapore has just the thing. The hotel has a close relationship with the National Museum — it was formerly known as the Raffles Library and Museum. It is the oldest museum in the nation, and a prominent monument. The grand neo-classical building dates back to 1849. Today, the enormous museum has exhibits spread across six galleries and tells the story of Singapore. As a Raffles Singapore guest, you can explore the grand space in total privacy: The hotel can arrange a special tour that is not available to the general public.
From $8,680 per night.
Contact Christian Westbeld, general manager, singapore@raffles.com, +65 6337 1886, raffles.com
Four Seasons Singapore, Presidential Suite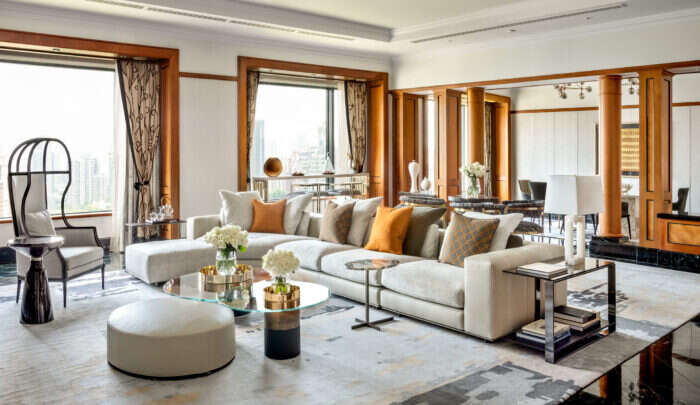 The Four Seasons Hotel Singapore takes inspiration from the nearby Botanic Gardens with its stunning floral displays in the lobby and common areas, courtesy of floral designer Nicolai Bergmann, as well as the fresh floral arrangements in each room. The hotel has an Asian-inspired decor with an understated, contemporary design; guest rooms have a neutral palette with contemporary artwork. There is a one-Michelin-starred Cantonese restaurant, Jiang-Nan Chun; the Provençal-Asian themed One-Ninety Restaurant; and the stunning One-Ninety Bar. The hotel also has a lovely spa, lap pool fringed by towering trees, tennis courts and a fitness center. The Presidential Suite is exceptionally chic. From its perch on the 19th floor, you can see both skyline views and views of the lush greenery. Medium-colored wood paneling, black marble flooring, marble furnishings, gold accents and creamy beige hues make the suite feel like home. There's a private bar, kitchenette with a private entrance and dining table for eight. Guests of the suite can customize bedding prior to arrival.
Singapore sights
Four Seasons Hotel Singapore is conveniently located on fashionable Orchard Road, which is full of boutiques, but guests don't even have to leave the comfort of their room to get the latest designer fashions. In partnership with Club 21, a local luxury fashion company, guests may receive a one-on-one, bespoke fashion consultation in the Presidential Suite or at any of Club 21's boutiques (Acne Studios, Stella McCartney, Jil Sander and Marni, to name a few) and have clothes delivered directly to their door.
From $9,835 per night. Contact Peter Draminsky, general manager, reservations.sin@fourseasons.com, +65 6734 1110, fourseasons.com
Images: Robert Reck, Tooten, C I&A Photography, Scott A Woodward