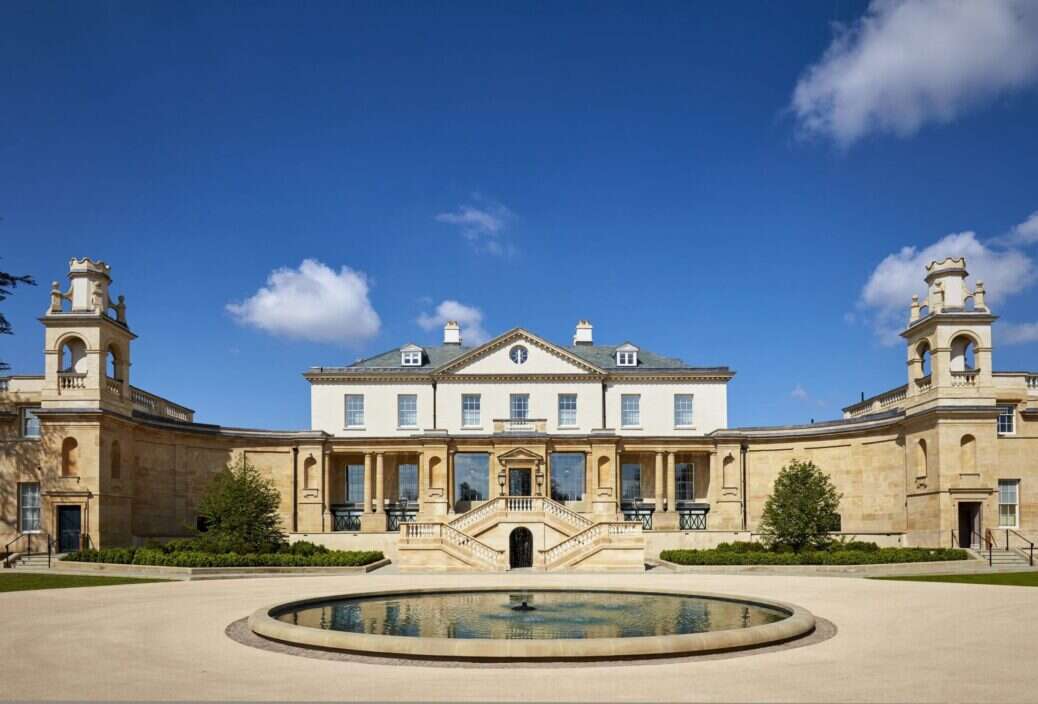 The Langley's location is somewhat surprising. Under 15 minutes from Heathrow airport and a short drive from Slough – a town outside London best known as the setting for Ricky Gervais's decidedly unglamorous The Office – it's not the type of place you would expect to find a high-end hotel.
One minute, we're getting petrol on the A40, the next we've turned onto a long, sun-dappled drive fringed by oak trees. Set within 150 acres of lush greenery in Buckinghamshire, less than an hour's drive from central London, The Langley is ideally situated for those looking to escape the city – without straying too far.
Once the hunting lodge of the third Duke of Marlborough, the property was bought by hotel magnate Khalid Affara and underwent a multi-million-pound renovation before welcoming its first guests back in 2019 (only to shutter its doors soon after the pandemic struck).
[See also: South Lodge Review: The Ultimate English Wellness Break]
Everything still feels remarkably slick and polished. The 18th-century Palladian mansion has been impeccably restored; a circular fountain trickles softly in the driveway, an imposing twin stone staircase leading up to the front door.
Inside is equally as opulent. The first thing I notice is the beautifully preserved original mosaic floor. A glittering chandelier hangs overhead; oil paintings in gilded frames line the walls. It's the type of place that is unashamedly extravagant and lives up to Marriott's "Luxury Collection" label.
[See also: Michael Caines's Lympstone Manor: A Delight for the Senses]
Stay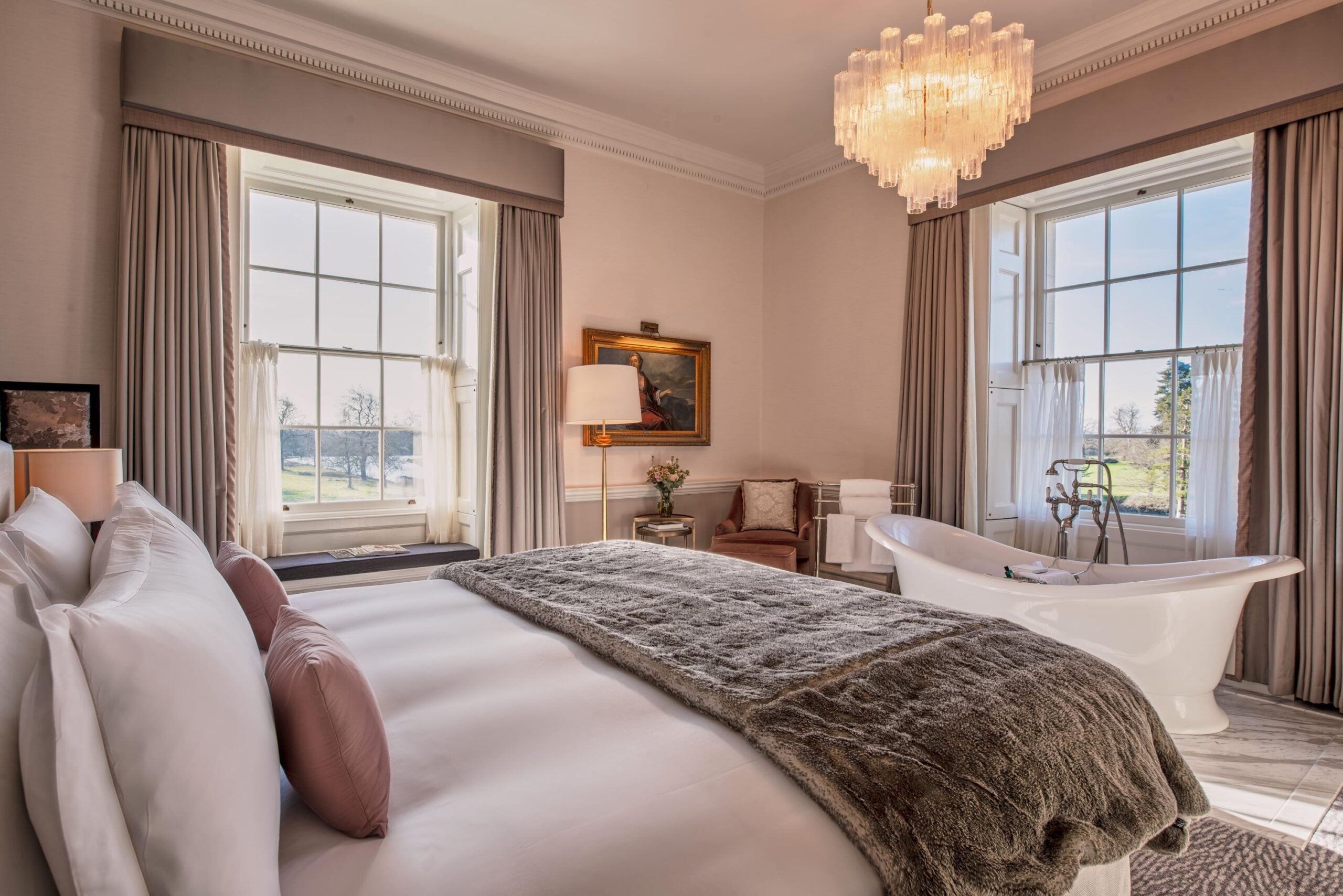 The Langley is very much a boutique with just 41 rooms split between the main house and the Grade II listed outbuilding, The Brew House (a former stables and brewery).
Marriott brought in London-based design studio, Dennis Irvine, to revamp the interiors. Gone is any whisper of a draughty English mansion; rooms are adorned with plush furnishings and modern fittings (most have glossy marble bathrooms, too).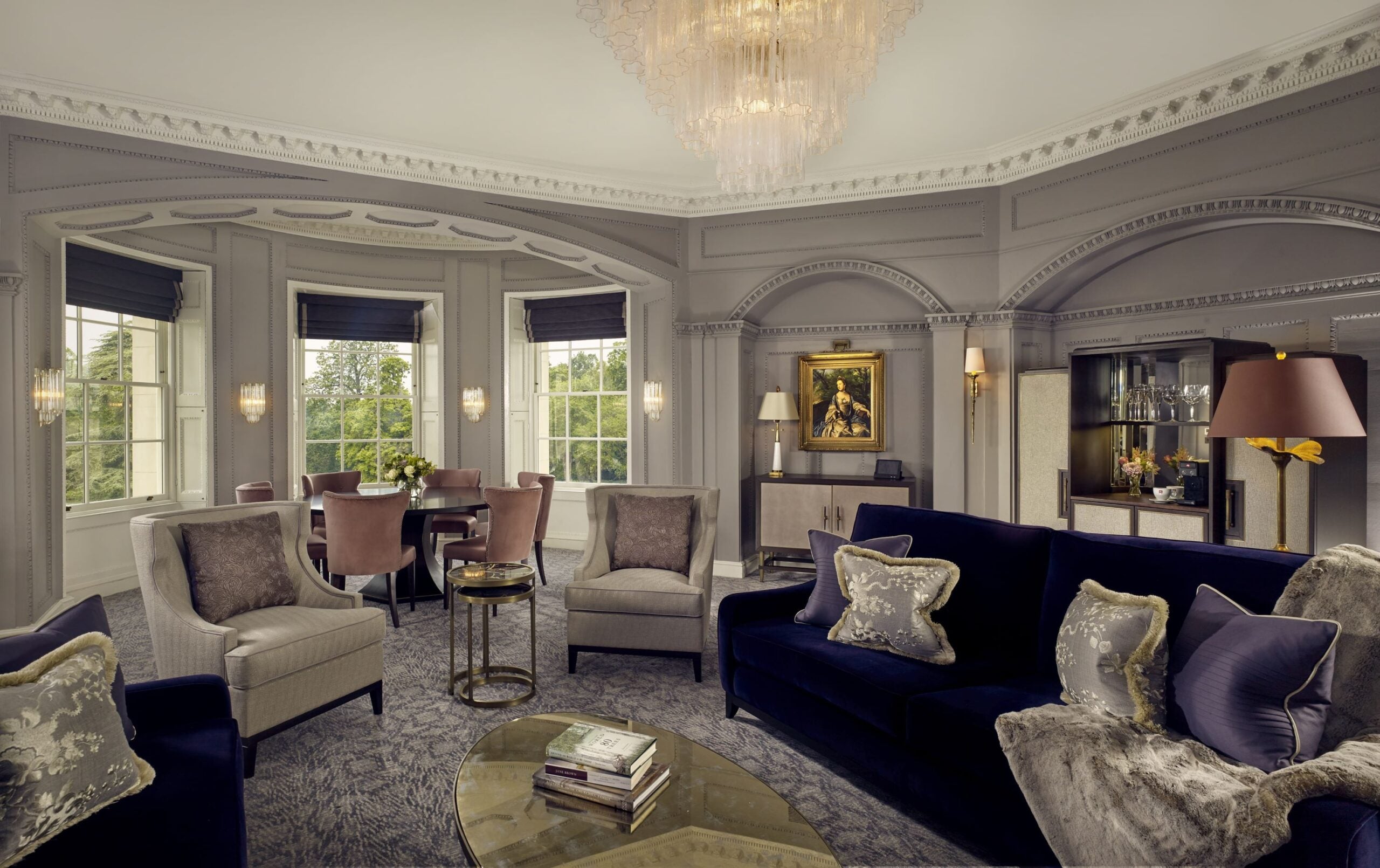 The most exclusive accommodation is the Duke of Marlborough Suite (the Duke's former bedroom). Located up on the second floor, the three-bedroom suite boasts a unique octagonal living room with sweeping views of the lake and gardens below.
If you're looking for something a bit more laid-back, book a room in The Brew House. With its wooden beamed ceilings, dark oak furnishings and tartan pillows, the outbuilding is reminiscent of a comfy English lodge. For an extra £30 (approx. $38) you can also bring your dog (four-legged friends aren't allowed in the main house).
Dine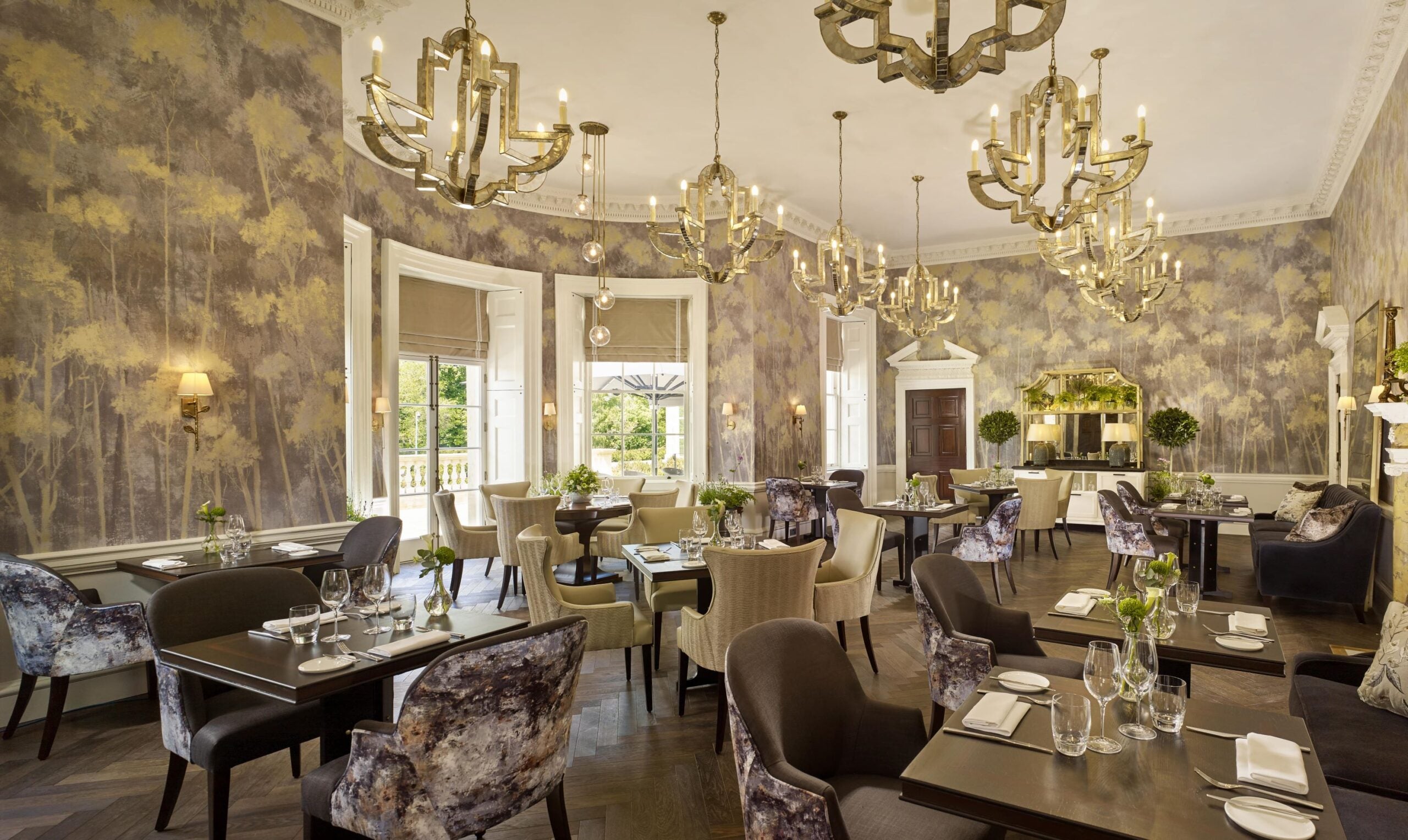 A real highlight of our stay was spending the evening at The Langley's fine dining restaurant, Cedar. In keeping with the property's luxe feel, the eatery is decked out with marine-blue velvet sofas, mirror chandeliers and potted plants. Staff are knowledgeable and attentive, going above and beyond to make recommendations and suggest perfect wine pairings.
Head chef Antonio Sanzone has crafted an excellent menu rooted in the flavors of Italy that makes use of the highest quality produce sourced locally from around Buckinghamshire. The freshly baked sourdough with sage butter was a lovely touch to kick things off.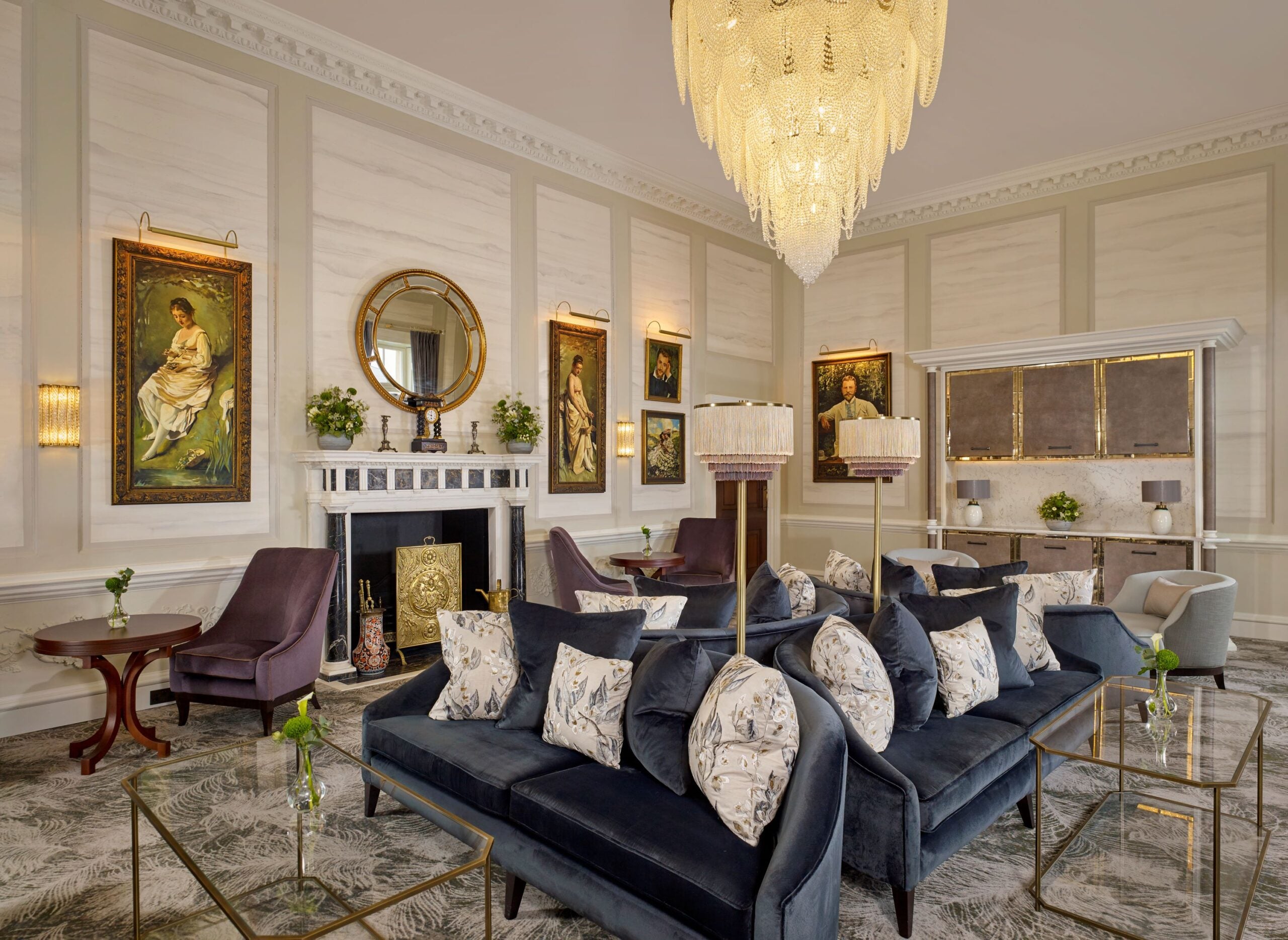 Expect dishes like homemade spaghetti with fresh clams, swordfish with figs and raspberries, and turbot topped with caviar and served with a prosecco broth. Desserts are outstanding: the passion fruit cake with matcha ganache was a revelation and the lime sorbet was the best I've ever tasted. After dinner, head to the cozy Churchill Bar for cocktails and cognac (there's also a collection of rare cigars).
Breakfast is superb. We visited during a rare gloriously sunny weekend and sat out on the terrace; it's worth ordering the Continental for the homemade granola or opt for something heartier (the Full English comes with honey-glazed steaky bacon).
Relax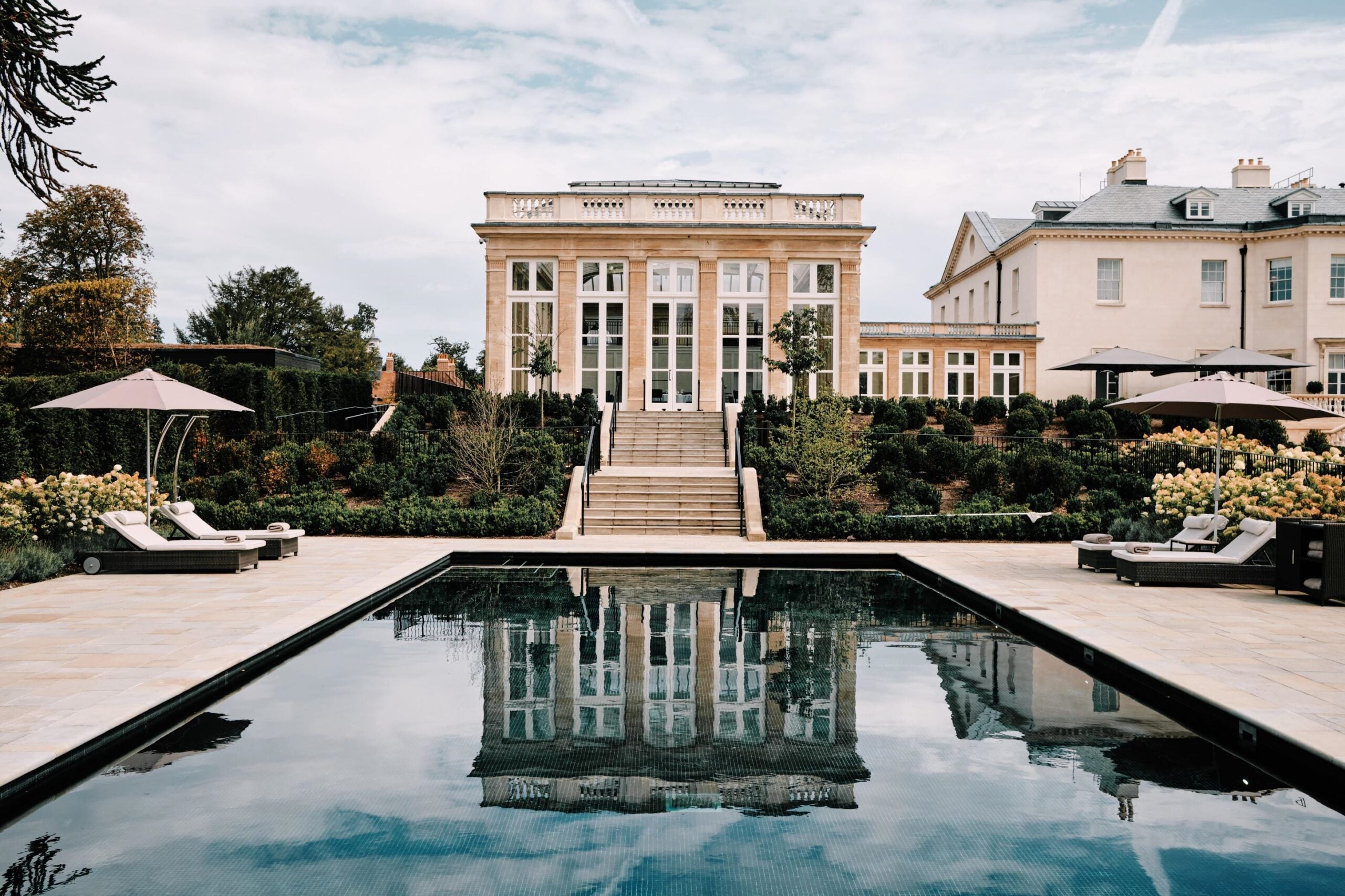 The other major draw at The Langley is the expansive spa. As well as an outdoor pool dotted with sun loungers, you'll find a heated indoor pool, sauna, salt-infused steam room, and hammam.
There's also a women's-only spa area complete with a private Jacuzzi, rose steam room, and heated loungers, plus a fully equipped gym offering personal training sessions.
While it's easy to while away hours in the spa, it's well worth booking a treatment with one of the skilled therapists, too. I opted for the hotel's signature shea massage – a personalized hour-long full-body massage with calming scented oils that left me feeling completely rested and refreshed.
Elsewhere, The Langley boasts tennis courts, a cinema and, perhaps most of exciting of all, two friendly Pygmy goats – Nutmeg and Cinnamon – who love being stroked and brushed.
Explore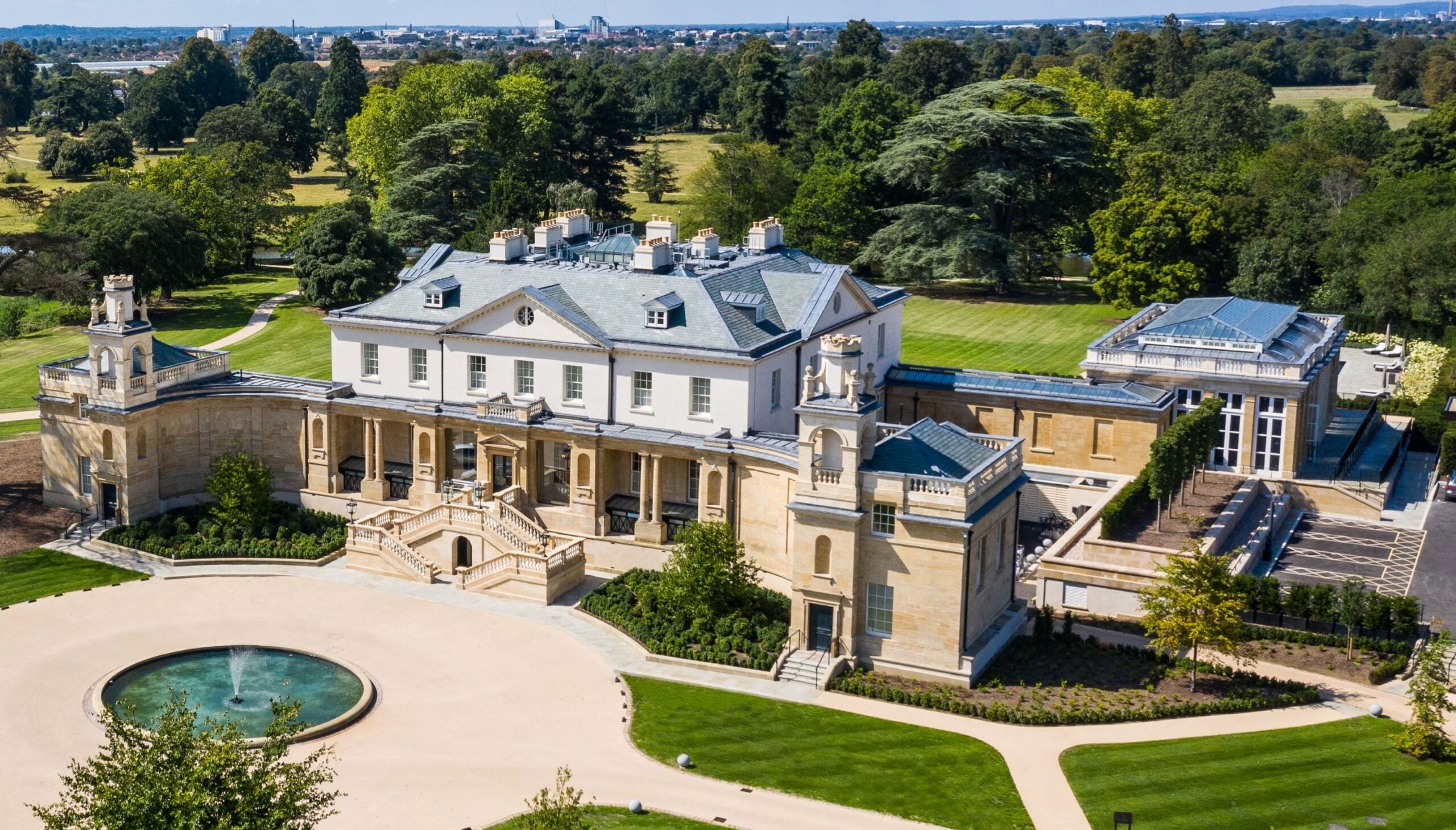 The Langley sits within a perfectly manicured garden originally designed by Lancelot 'Capability' Brown complete with an enormous centuries-old cedar tree and tranquil lake.
A winding path from the hotel leads to an arboretum and sprawling rhododendron garden (climb to the top of the hill and you can just catch a glimpse of Windsor Castle).
Around the corner is Pinewood Studios (we were told celebs often stay at The Langley during shoots) and the beautiful rose garden at Cliveden House is just a short drive away.
The helpful concierge team is happy to organize a range of activities from falconry to polo and, of course, the bright lights of London can be reached in under an hour.
[See also: Inside The Harper: Norfolk's Boutique Bolthole]